Vegan Butter Chicken is one of my absolute favorite vegan Indian dishes. It's so creamy and has the perfect mix of sweet and spicy. The rich sauce layered over perfectly spiced tofu is seriously to die for. I just adore this dish and could easily make it once a week because it's so easy, hearty, satisfying, and tasty!
Where does Butter Chicken Come From?
Butter Chicken is a very popular Indian dish. It's commonly found in Indian restaurants in North American and is definitely a top favorite for Indian food lovers.
Traditionally, butter chicken is prepared with a gravy sauce that contains butter. Here in this recipe, we're using good old tofu as our chicken replacement and a delicious sauce made of incredible spices, tomato, onions, garlic, and also cashews to give it that creamy, rich "buttery" flavor that you would find in a traditional Butter Chicken dish.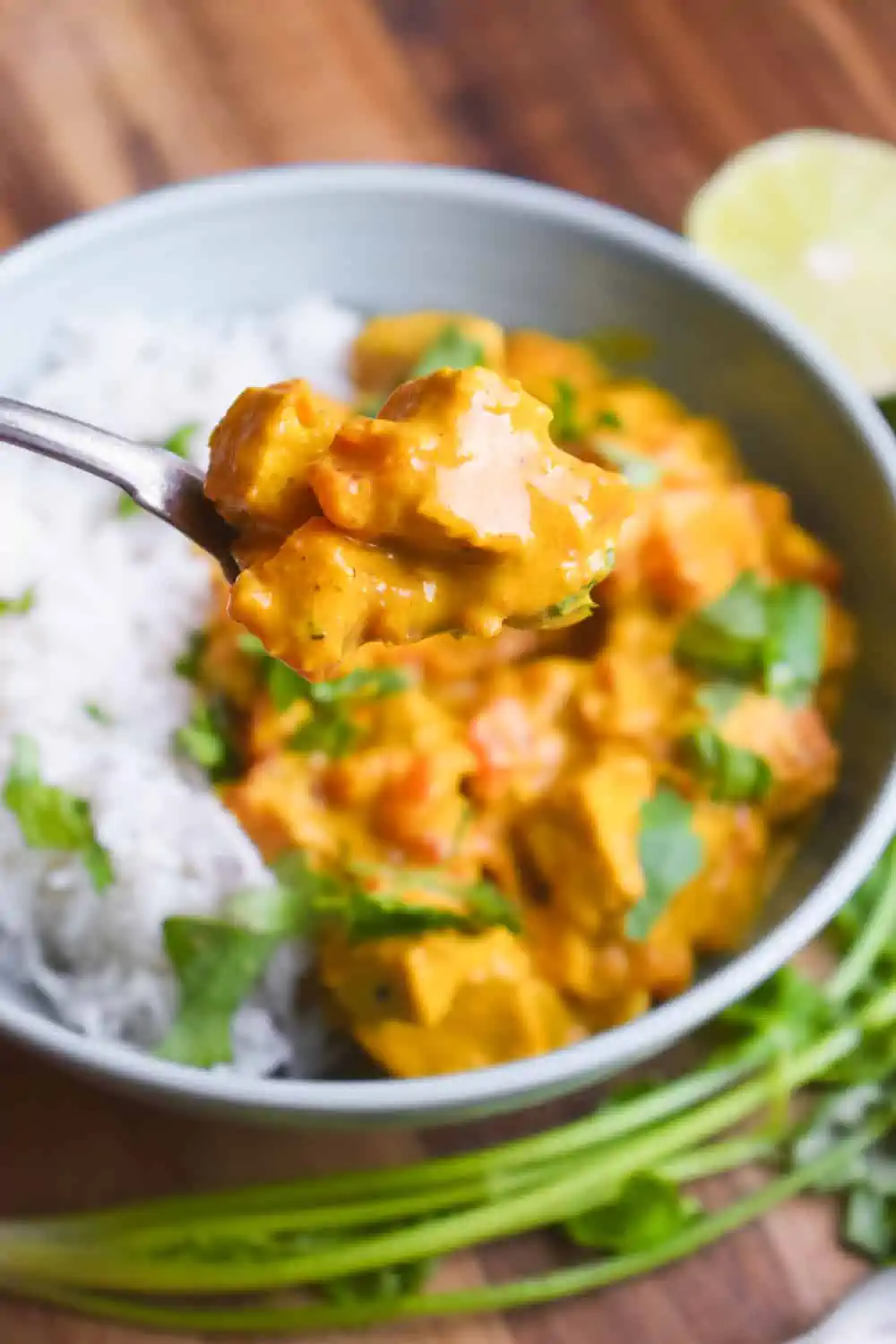 Let's Get Prepping!
Get ready because your kitchen is going to smell like heaven and your neighbors will be knocking at your door wondering what incredible dish you're making. The recipe is quite simple and takes no more than 35 minutes to make! You begin making the dish by cutting up your tofu. You can cut it into any shape you like. I like either slicing it into strips or cutting it into little cubes. Any shape works well as long as the pieces aren't too big. The pieces should be roughly around an inch long.
Next, you'll prepare the marinade for the tofu. In a small bowl, simply combine all of the marinade ingredients and whisk well. Then coat the tofu with the marinade so it's saturated on both sides. If you want to you can actually let the tofu sit and marinate for an hour or longer to really enhance the flavors. However, it's not necessary and for the sake of convenience, I typically don't marinate it. The spices are so flavorful and will definitely infuse into the tofu.
If you want to save time and meal prep a little bit, you can certainly prepare the tofu ahead of time and just let it sit in your fridge until you're ready to make the dish! Then once you're ready to cook the tofu, transfer it to a baking tray and bake it until it is crispy on the outside, but still soft and chewy on the inside.
Rice: The Perfect Side!
I really love serving this dish with basmati rice, which is typically used in Indian dishes. I suggest making the rice after the tofu goes into the oven. Just set it in the stove to cook and then you can make your sauce. Alternatively, you can serve the butter chicken on a bed of brown rice, millet, quinoa, or another grain. Note that if you use brown rice, it typically takes longer (around an hour or less) to cook, so just keep that in mind for when you're planning this dish.
Also, if you like to eat grain-free, quinoa is technically a seed, and it's completely grain and gluten-free. So this is most definitely an alternative for grain-free eaters!
Once you've got your tofu in the oven and optional rice or other grain on the stove, now you can make the delicious butter chicken sauce. Start by sautéing onions, garlic, and fresh ginger in a large pan. I LOVE fresh ginger and it really makes a huge difference in this dish. If you don't have fresh ginger, you can use dried ginger to taste instead. Then add the tomatoes and all of the spices and allow this to cook down.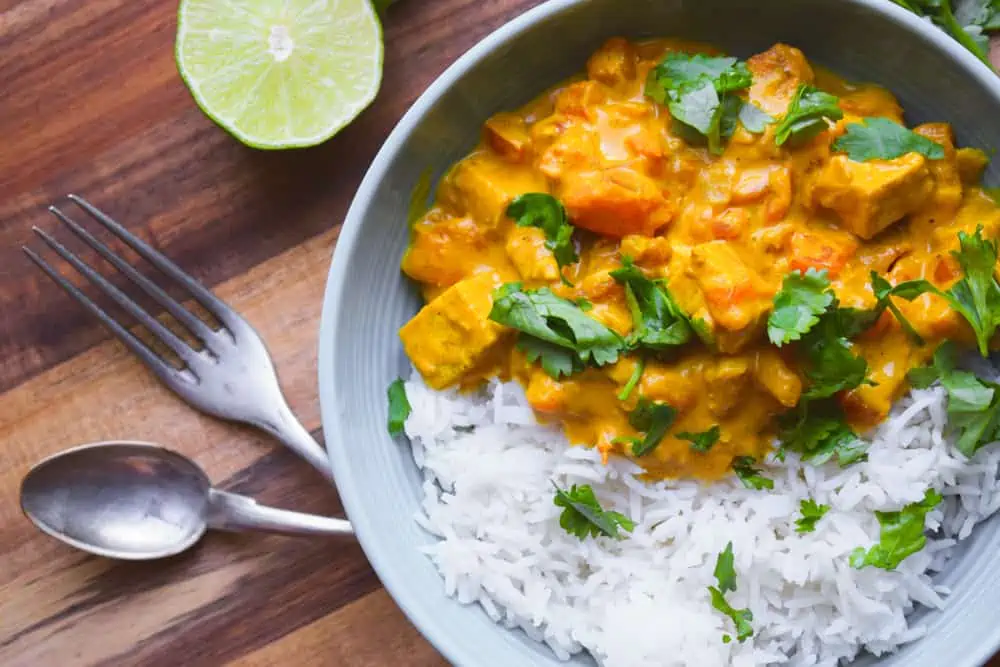 Blend It Up!
You'll need a high-speed blender (such as a Vitamix) to make the sauce. If you have a blender that's not quite so powerful, you can still definitely make this recipe, I just suggest soaking the cashews overnight so that they are soft and easy to blend, and then just discard the soak water before blending. Add water and the cashews to the blender and blend until it's as smooth as can be. Then transfer the sauce from the pot into the blender. You'll want to blend it on low speed, just for about 30 seconds. This will gently combine the mixtures to create a sauce with a lovely texture. You don't want to blend it until it's perfectly smooth because the sauce will lack texture and be a little thin.
Next, transfer the sauce back to the pan and cook it gently for about 5 minutes. This will allow it to thicken nicely and infuse the flavors even more. Add sugar, salt, and pepper to taste. If you'd like, you can use coconut sugar which is a lovely, low glycemic sweetener that compliments this dish extremely well. The sugar really balances out the spices and creates a delicious sweet and spicy finished product. I usually add 2 tablespoons, but you can add the sugar a little at a time until it suits your taste. Now at this time, you can add any additional spices if needed, to taste.
By this time, the tofu should definitely be finished. Remove the baking tray with tofu from the oven and transfer the tofu to the pot. Mix together, and you have your vegan butter chicken!
Now you can serve this any way you like it, but I love it served over rice with cilantro for garnish. If you want to make the flavors in this dish pop even more, you could prepare coconut rice which is simply rice cooked with a little bit of coconut milk. It is divine and compliments this dish so well. Another option is to serve this dish with naan bread, which is a traditional Indian bread that can be eaten on the side!
A few options for substitutions:
If you can't eat cashews, you can use coconut cream instead!
If you can't eat tofu or soy products, you can use chickpeas or even jackfruit, and just marinate as instructed and adjust the cooking time as needed. The texture will be completely different but the taste will still be delicious!
If you like more spice, you can add a red chili into the pan while the onion, garlic, and ginger is sautéing.
You'll love this dish for the flavor, heartiness, and the fact that it's extremely healthy! This dish is vegan, gluten-free, and packs some powerful anti-inflammatory ingredients such as turmeric and ginger. So dig into this incredible dish and try not to eat the whole batch in one night (if you can). One batch makes 3 servings and can very easily be doubled to serve multiple people or make leftovers. Enjoy!!
Tofu
14 ounces firm or extra firm tofu, one standard package (cut into bite-sized cubes)
2 teaspoons fresh grated ginger
1 clove garlic, minced
2 teaspoons olive oil
2 teaspoons lemon juice
1 teaspoon nutritional yeast
½ teaspoon paprika
½ teaspoon garam masala
½ teaspoon turmeric
¼ teaspoon salt
Sauce
2 teaspoons olive oil
⅓ cup yellow onion, roughly chopped
2 medium cloves garlic, minced
1 teaspoon fresh grated ginger
2 very large tomatoes, diced into small chunks
1 tablespoon nutritional yeast
2 teaspoons turmeric
½ teaspoon paprika
½ teaspoon garam masala
¼ cup cashews
1 cup water
2 tablespoons granulated sugar
salt and pepper, to taste
Preheat your oven to 425 degrees F and grease or line a small baking tray with parchment and set aside.

Begin by preparing the tofu. Slice the tofu into cubes. In a small bowl, whisk together the ginger, garlic, oil, lemon juice, and spices. Add the tofu to the marinade and coat the tofu evenly. Transfer the tofu along with the marinade to the pan and bake for 30 minutes.

While the tofu is baking, prepare the sauce. In a large pan or pot, add olive oil and saute the onions, garlic, and ginger over medium heat for a few minutes.

Add the diced tomatoes to the pan along with the nutritional yeast, turmeric, garam masala, paprika, salt, and pepper. Stir to combine and cook down for about 7-10 minutes.

In a blender, blend the cashews with the water until smooth. Add the sauce from your pot into the blender and blend for about 30 seconds on low speed. You don't want to make the sauce completely smooth as you want to leave some texture.

Transfer the sauce back to the pan. Add the sugar (it will balance out the spices). Season with salt and pepper, and adjust any seasonings to taste. Simmer the sauce on low heat for about 5 minutes so it can thicken.

When the tofu is finished baking, add it to the sauce and stir to combine. This recipe is delicious served over basmati rice with a bit of cilantro. Enjoy!
Calories: 285kcal | Carbohydrates: 21g | Protein: 16g | Fat: 16g | Saturated Fat: 2g | Polyunsaturated Fat: 5g | Monounsaturated Fat: 8g | Sodium: 208mg | Potassium: 243mg | Fiber: 3g | Sugar: 10g | Vitamin A: 335IU | Vitamin C: 4mg | Calcium: 187mg | Iron: 3mg
Love The Texture of This Vegan Butter Chicken? Check These Other Recipes!
Vegan Butter Chicken photos by Kathy Chrzaszcz for World of Vegan. Recipe and photographs copyright of World of Vegan™, all rights reserved. Please note that this article contains affiliate links which means shopping through them helps lights on at World of Vegan!