This is a classic Chinese family recipe from World of Vegan writer Gina House. Enjoy!
Growing up, steamed sticky rice was a staple in our humble home. When I was very young, we lived in an aging, three-story apartment building with my Chinese grandparents and many of my dad's brothers and sisters. Having really good rice always ready to eat not only made it easier to feed such a flourishing family (my dad is the second oldest of 11 children!), but was also economical and simply sensible.
My dad loved having a bowlful of rice with almost every meal. You may think that this plain, white grain would be pretty boring, but I actually loved it then and I still do now. When I finally asked my dad to teach me how to make it, he was happy to show me step-by-step and I've been making it ever since.
If you're searching for a single, satisfying side to add to your sizzling stir-fries or bean-filled burritos, this is the recipe for you. Peek in your pantry and fill up a nice cup of rice—you'll be surprised at how much this makes for such a low price.
The Chin Family Restaurant in Rhode Island
My grandfather, Ting George Chin, (after a couple of small successes with restaurants in the early 60s) opened up his final Chinese restaurant, Ho Ho's, in 1967 in Johnston, Rhode Island and all of the family had a job helping out (even my sister and I cleaned and waited tables when we were old enough).
When the restaurant became wildly popular for its tempting Cantonese cuisine, they opened up a larger location in Smithfield, Rhode Island in 1980. Even when the doors finally closed in 2018, there were many people still dreaming of the delightfully delicious dishes they had enjoyed over the years.
One main item that was never in question was serving steamed sticky rice with most meals. Although the restaurant was far from vegan, the most authentic offerings on the menu were more plant-based—such as rice, vermicelli noodles, steamed and stir-fried vegetables (bok choy, pea pods, Chinese celery, broccoli, and mushrooms), soups with greens (napa cabbage, winter melon, and spinach), black bean sauce, and tofu. Although white rice is more processed than brown, you can still get the benefits of B-vitamins and a punch of protein from this fat-free food.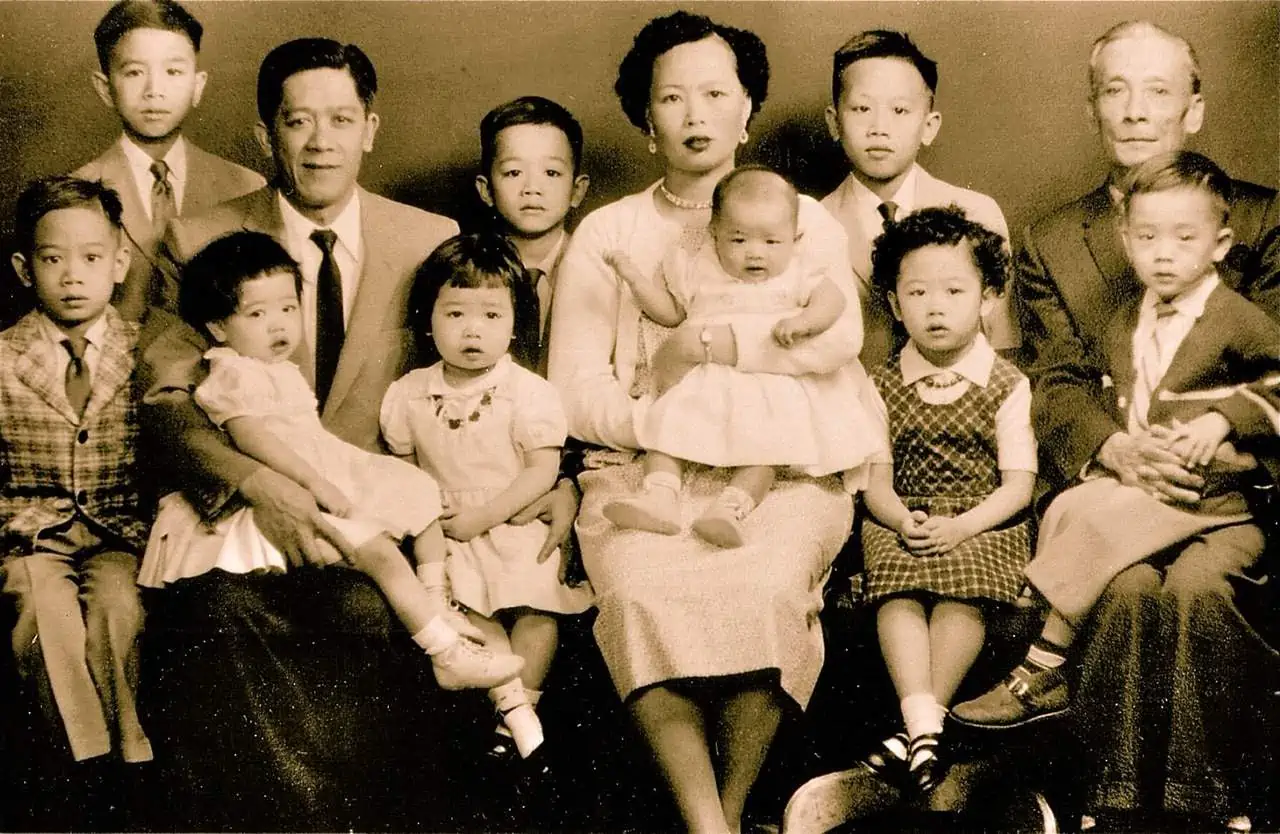 PHOTO: The Ting George Chin Family, owners of Ho Ho Restaurant in Rhode Island. My father, Thomas, is standing on the left of his mother (my grandmother), Jean. Photo taken in the 1960s.
Does Rice Come From China?
Yes, it does! Did you know that rice has been cultivated in China for over 10,000 years? There are also two main types of rice grown in this country—japonica (moist and sticky when cooked, ideal to use for steamed sticky rice) and indica (flakier and drier than the japonica plant).
Rice is not only produced to eat cooked along with a meal (or as a meal itself), but is additionally important in the production of noodles, alcoholic beverages (ie. rice wine), and also oil (as with rice bran). Because rice is naturally free of gluten, it makes a wonderful substitute for anyone who is sensitive to wheat and still wants to enjoy a grain-based dish.
Ingredient Notes
Short grain white rice is the key ingredient to make sticky rice. It may also be referred to as sticky rice, sweet rice, or glutinous rice. This type of rice is different from regular long-grain or jasmine rice.
Glutinous rice is known for its sticky and chewy texture when cooked, making it ideal for dishes like sushi, rice cakes, and various Asian desserts. It gets its sticky quality from a higher starch content. This allows the grains to stick together, creating the desired sticky texture.
Look for glutinous rice at your local Asian grocery store or in the international section of a well-stocked supermarket.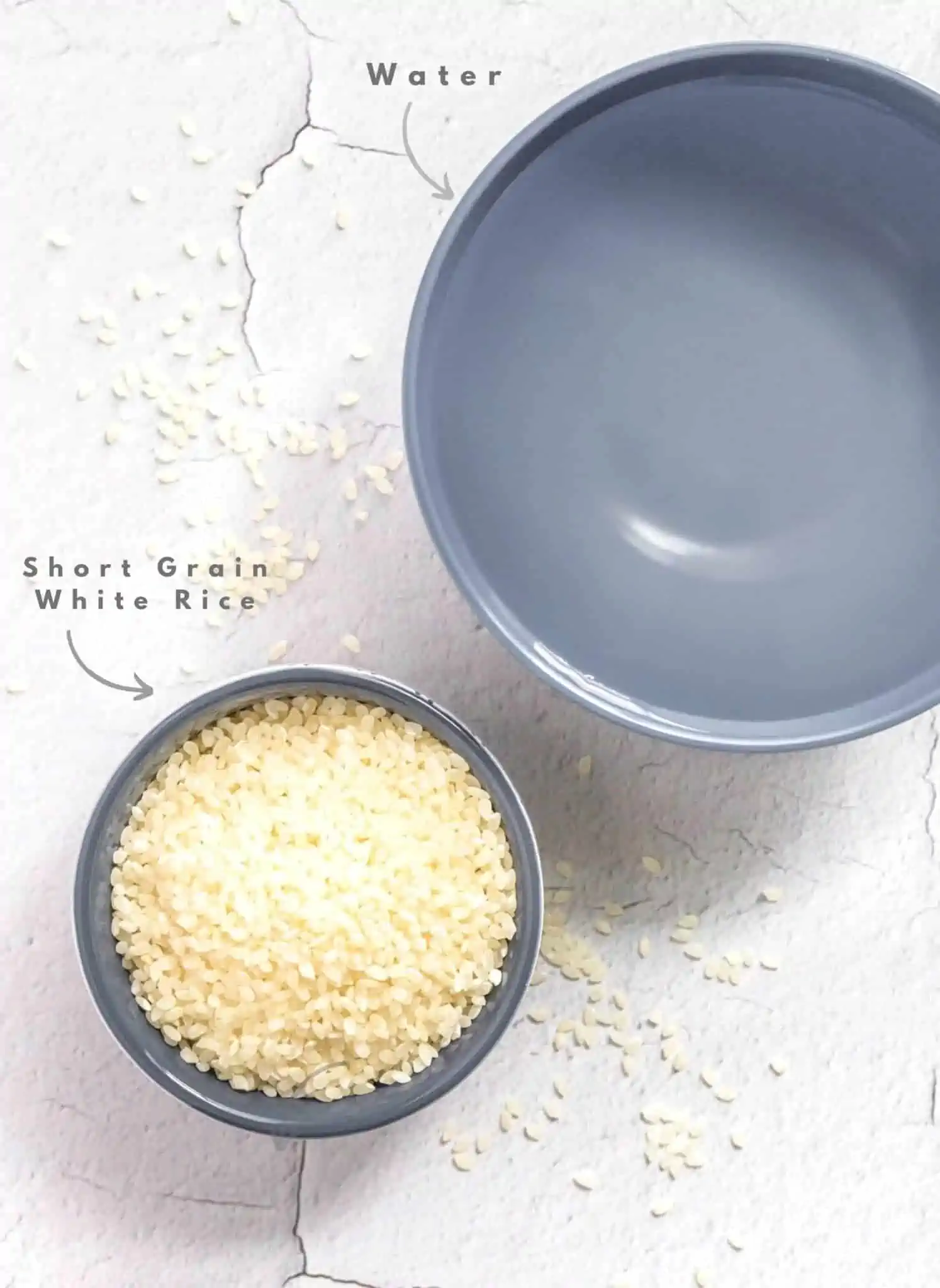 How To Make Sticky Rice
Rinse the Rice:
Place the rice in a large bowl and add enough water to cover it completely.
Using both hands, grasp a handful of rice and vigorously rub it between your palms. Allow the rice to fall back into the bowl. Repeat this process with another handful.
Continue rubbing the rice grain for about 2 minutes. Drain the cloudy water and give the rice one final rinse under cold water before draining it again.
Cook the Rice:
Transfer the rinsed rice to a medium-sized saucepan.
Add cold, fresh water to the saucepan until it reaches about ¾-inch above the rice's surface (approximately up to the first knuckle on your index finger).
Place the saucepan on the stovetop over high heat. Once the water begins to boil, reduce the heat to medium-low, cover it with a lid, and let it simmer for 10 minutes. Avoid lifting the lid during cooking to prevent an increase in cooking time.
Towards the end of the cooking time, keep a close watch on the rice. If it appears to be drying out, you can add a few tablespoons of water and quickly replace the lid.
When all the water has been absorbed, and you notice several steam holes on the surface, remove the saucepan from the heat.
Allow the rice to stand, covered, for 10 minutes before serving. Remember, the longer you wait, the stickier your rice will become!
How to Serve Up Your Steamed Sticky Rice
I don't know about you, but I could eat rice with pretty much any dish. There's just something so satisfying about a perfect mound of white rice resting next to crisp, colorful veggies or a saucy tofu stir-fry. If you're stumped on ideas of how to serve your sticky rice, I'm here to help!
Code Name Curry – For all of you curry-lovers out there, this is for you! A creamy, rich vegan curry is only enhanced by eating it with a neutral grain. The rice soaks up all the spicy sauce and creates a stew-like texture that's incredibly tasty.
Just Roll With It – Sticky rice is the mainstay of all maki (cut, rolled sushi). Surprisingly, sushi is not actually a fish dish (a common misconception), but a Japanese meal that consists of vinegar rice, nori sheets, and ingredients such as veggies (non-vegans also use fish). You can make your own vinegar rice to add to maki by mixing 2 tablespoons of rice vinegar, 2 teaspoons of organic sugar, and ½ teaspoon of salt together and then drizzling it onto your cooked rice, folding gently.
Bring On the Buddha Bowl – Who can resist a bowl bursting with all of your favorite foods? Not me! Make a marvelous meal by adding a solid scoop of steamed rice to a big bowl and then add in roasted vegetables, sliced avocado, crunchy chickpeas, and a thin drizzle of tahini dressing. Delicious!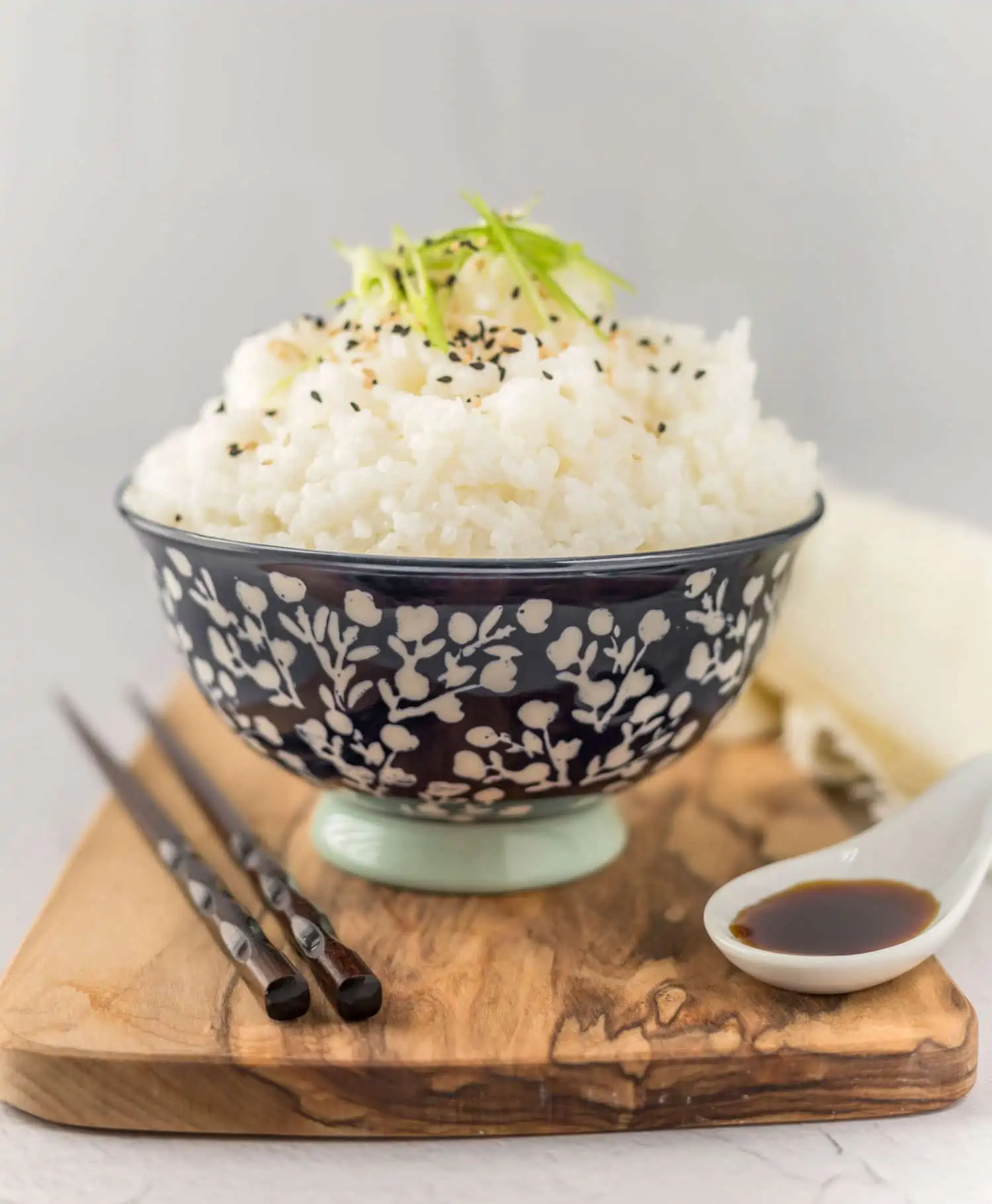 Simple Storage
Unless you're feeding a few people, you'll probably have some leftover steamed sticky rice. Place any remaining rice into a closed, covered container. It will last in the fridge for at least a few days.
This is a great recipe to batch cook. Simply double the amount of rice and water so that you can have enough rice to last all week or half to freeze for later use. You may need a larger saucepan or dutch oven if you're doubling this recipe.
Rice is super easy to store and can taste just as good the next day if you know the right way to reheat it. One way is to add your rice to a microwave safe container with a splash of water, cover, and heat for 1-2 minutes (depending on the power of your microwave). Another way is to add to a steamer basket, cover, and steam for 1-2 minutes or until desired temperature.
To freeze, add the cooled, cooked rice to a freezer safe container or sealed bag. It can safely be frozen for up to one month. To reheat frozen rice, follow the above directions. Then, stir after 2 minutes and then cook for another 2 minutes after that.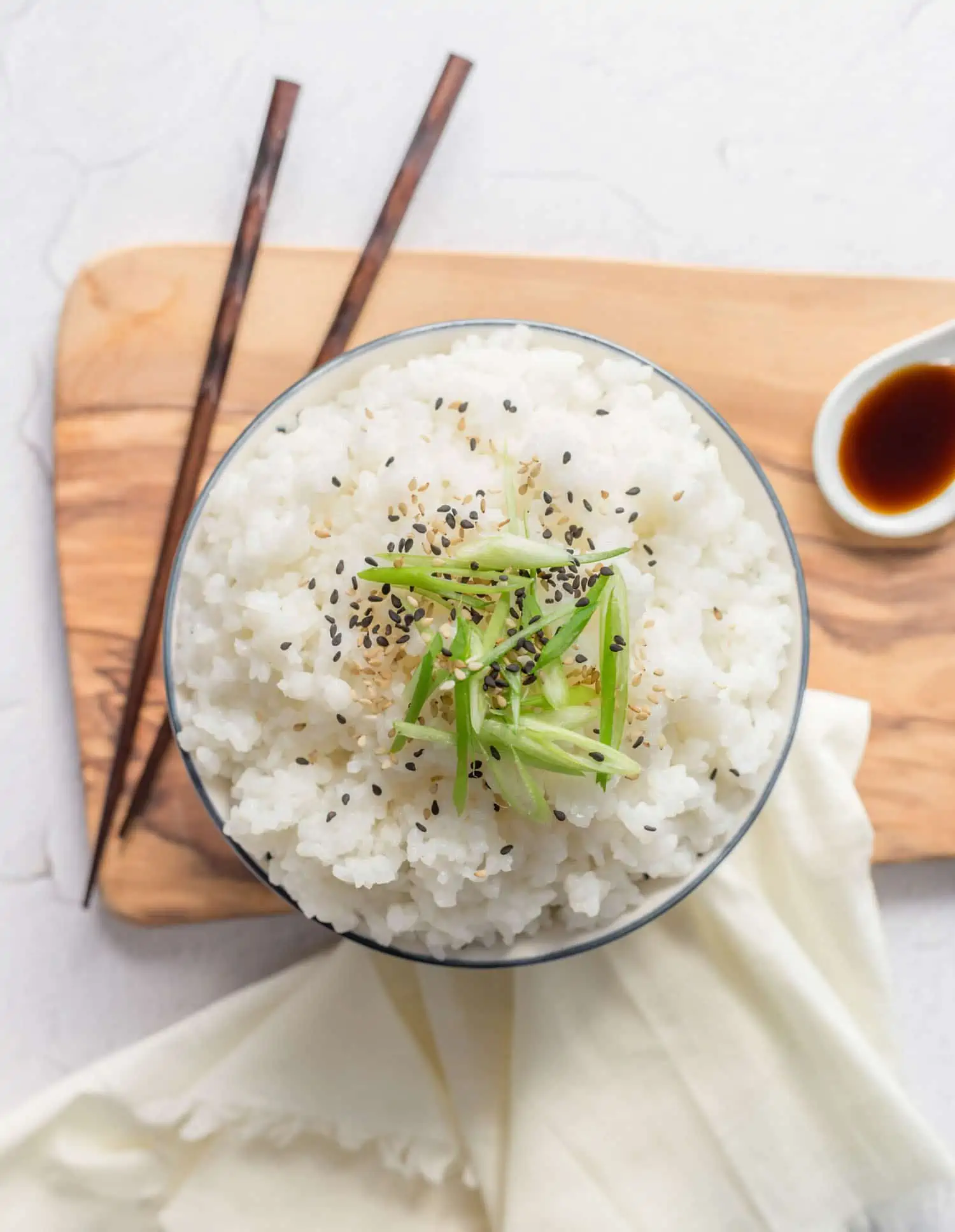 More Asian-Inspired Sides to Try
If you try this Steamed Sticky Rice recipe, let us know what you think by leaving a comment and rating below! Be sure to follow along on Pinterest, Instagram and Facebook for even more vegan recipe inspiration.
Medium Saucepan with Lid

Large bowl

Mixing Spoon
1 cup short grain white rice
2+ cups water
To Rinse The Rice:
Pour the rice into a large bowl and add enough water to cover.

Using both hands, grab a handful of rice and rub vigorously between your hands. Allow the rice to drop back down into the bowl. Grab another handful and repeat.

Keep rubbing the grains of rice for about 2 minutes. Drain out the cloudy water and give it one last rinse in cold water and drain.
To Cook The Rice:
Place your rinsed rice into a medium saucepan.

Fill with cold, fresh water until it measures about ¾ inch (or up to around the first knuckle on your index finger) above the top level of the rice.

Place the pan on the stovetop over high heat. When the water starts boiling, turn the heat down to medium low, cover and let simmer for 10 minutes. Do not take the lid off during cooking or it will increase the cooking time.

Keep an eye on your rice close to the end of cooking time. It helps if you have a glass lid and can take a look without lifting the lid. If your rice looks like it is starting to dry out, you can add another few tablespoons of water and replace the lid.

When all of the water has been absorbed and you see a number of steam holes on the surface, take off of the heat.

Let stand covered for 10 minutes before serving. The longer you wait, the stickier your rice will be. Enjoy!
The dry rice can also be soaked for 30 minutes to about 5 hours in cool water for extra stickiness.
You can add salt to the rice when cooking if you really need to, but I always feel that it gives the rice a different consistency. Since you'll most likely be eating this with a salty dish, the extra salt seems unnecessary.
For added flavor, you could use a homemade or reduced salt vegetable broth instead of water.
This will not work with instant rice. Use whole grain, uncooked rice.
You can use medium (like jasmine or basmati) or long grain white rice, if desired.
Calories: 228kcal | Carbohydrates: 50g | Protein: 4g | Fat: 0.3g | Saturated Fat: 0.1g | Polyunsaturated Fat: 0.1g | Monounsaturated Fat: 0.1g | Sodium: 5mg | Potassium: 47mg | Fiber: 2g | Calcium: 7mg | Iron: 1mg
Steamed Sticky Rice Recipe and article by Gina House. Photos by JJ Steele, copyright of World of Vegan™, all rights reserved.