Now that our introduction to the pressure cooker has really sparked your interest in the Instant Pot, we want to go a little bit further and break out the beans. We've been sharing more recipes and videos using this handy, silver and black, budget-saving appliance and we hope that this Instant Pot Cooking Guide for Beans will be your next step in creating a better relationship between the two of you.
Why did we choose beans for this cooking guide? There are so many reasons to love beans and we want you to bring more of them into your daily diet. Dr. Greger suggests three, ½ cup servings per day—whatever your level is now, consider adding more. Not only are beans high in fiber, protein, and nutrients, but they're also very low in fat. And cheap, too!
If you're ready to visit the Land of Legumes, Beans, and Peas along with your Instant Pot, let's get started!
Why Use the Instant Pot for Beans?
Glad you asked! Using a pressure cooker for beans not only saves you hours of cooking and cleaning, but also helps you to prep food ahead of time for easier meal decisions and better health. If you've got beans made, you'll use them. If you don't, you probably won't.
If you have dried beans on hand, you just throw them into the instant pot with some water and they'll be done in less than 2 hours. All you have to clean is the lid and the insert and nothing else. You'll have a bounty of beans that will last you at least a few days. Even if you add in soaking time, cooking legumes in the pressure cooker instead of on the stovetop (or having to drive and go shopping for pre-packaged, canned beans) is quicker and much less frustrating.
Tasty Types of Beans & Lentils
From standard pinto beans to delicate red lentils, whatever your bean or lentil of choice, you can make it in the pressure cooker. Here are a few of our favorites:
adzuki beans
black beans
black-eyed peas
cannellini beans (white kidney beans)
chickpeas
great northern beans
kidney beans (red)
lentils, green
lentils, red
lentils, yellow
lentils, brown
lima beans
navy beans
pinto beans
peas
soybeans
How Long Does It Take to Cook Beans in the Instant Pot?
We thought we'd make it super easy for you with this hand-painted Instant Pot Bean Cooking Chart to download as a free PDF! This way, you can print it out (in color or black or white) and stick it on your fridge or inside a cabinet door for easy access and a cute reminder to prep your beans during the week. Cool beans!
Make sure to tag us #worldofvegan and @vegan on Instagram with your Instant Pot Bean Cooking Time Table fridge photos! We'd love to see them!
How Do I Make Instant Pot Beans?
The process sounds more complicated than it really is. Once you make the beans, you'll wonder why you hadn't tried making them like this in the first place. Here are simple, step-by-step directions for making your beans:
Soak beans overnight in fresh water (optional).
Rinse your beans well and pick out anything that doesn't belong.
Measure out your beans and pour into your pot.
Add desired amount of water (see below) or, generally, a 2-3 inches above the level of your beans.
Add any seasonings you wish.
Secure the top to the Instant Pot and move the lever to the sealed position.
Press the 'bean' or 'manual' button and adjust to the correct timing for your particular beans.
Allow the beans to pressurize and cook.
When the Instant Pot is done, let it naturally release for at least 30 minutes. You can release the pressure manually (be careful of the steam!), but we recommend letting the beans rest until the pressure is completely gone.
Drain any excess liquid from the pot and allow to come to room temperature before storing in the fridge. If you're making refried beans, you might want to save some of the liquid and blend directly into the batch.
See? Wasn't that much easier than you thought it would be?
Are Homemade Beans Better Than Canned Beans?
Absolutely. There's nothing wrong with having a canned bean backup in your pantry, but homemade beans definitely have the advantage. Here's why:
Zero Waste – No plastic container, bag, or aluminum can to recycle or throw into the trash.
Lower Sodium – Nothing in your beans but what you choose to add.
Shelf Stable – Dried beans stored in sealed containers will last a lot longer and without refrigeration or freezing.
Cheaper – Dry beans cost pennies per pound and are easily accessible.
Better Taste & Texture – You can flavor the beans with anything you fancy and cook them to your desired firmness.
Easier to Digest – Many people report having a much easier time eating beans that have been made at home compared to beans sitting in a can for months, if not over a year.
What Is the Ratio of Beans to Water?
There are a couple of ways to think about this. You can either add your dried beans to the pot and pour water over the beans until the water reaches a few inches over the top of the level of the beans. Then, when your beans are done, you can either keep the liquid for storing your beans in later (totally optional) or drain the water from the beans before storing.
Another option is to specifically add the amount of water you wish for a desired effect. For each pound of dried beans, add this much water:
4 Cups – Thick, super starchy, and the most flavorful beans that do not need to be drained.
5 Cups – A little less starchy and less flavorful with only a little bit of extra liquid.
6 Cups – Very mild flavor and slight starchiness with more liquid remaining for storing, freezing, or blending.
Which way do you think you'll try with your beans?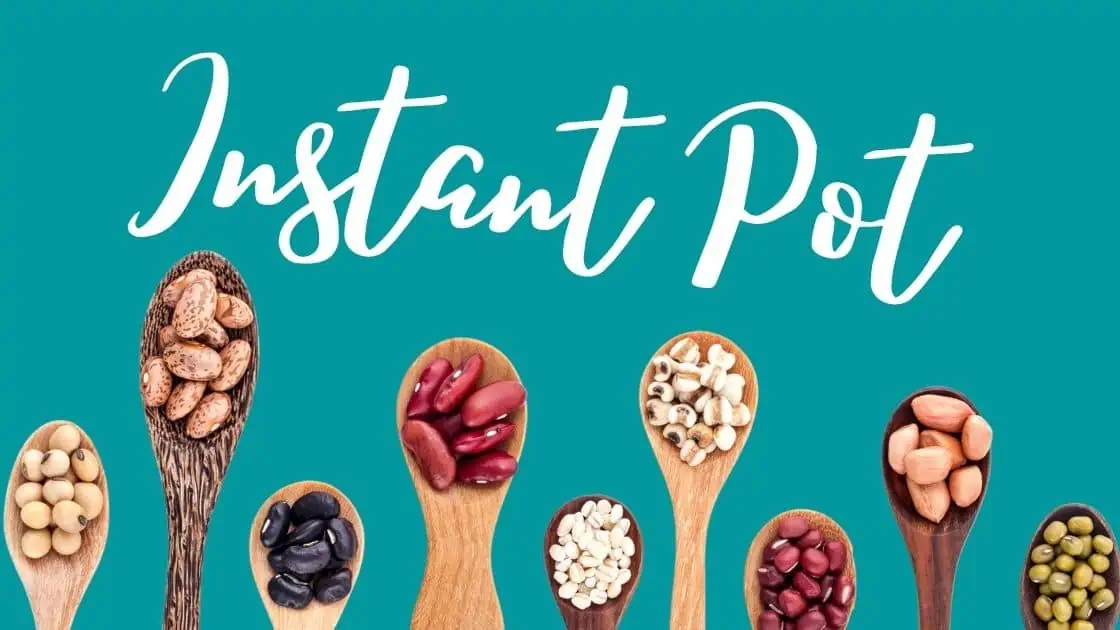 How Many Beans Can You Cook in the Instant Pot?
It's better to err on the side of less rather than more when it comes to beans. Because the pot needs room for liquid to boil and beans to grow, you should only fill your pressure cooker halfway at most. To be on the safe side, only add a maximum of 2 pounds of dry beans to your pot.
Pre-packaged dry beans are usually sold in one pound bags, which makes the perfect amount. If you're able to buy from the bulk bins (yay for less plastic waste!), grab a pound or two for your next bean bake.
To Soak or Not to Soak, That Is the Question
There are definitely two separate sides to this question. Some people swear by soaking your beans beforehand, while others say that it simply makes no difference. Either way, the Instant Pot has you covered and gives cooking time for both soaked and unsoaked beans.
If you're interested in trying the soaking process, here are a few tips that might help:
Soak Overnight – Soaking for at least 8-12 hours seems to be the minimum amount of time to get the beans to release any unnecessary chemicals in the skin of the beans that (possibly) make them harder to digest. If you are sensitive to beans, this might be the way to go.
Additions to Aid With Gas – It's been suggested that adding 1 teaspoon of apple cider vinegar or 2 tablespoons of kosher salt (or 1 tablespoon of table salt) to the water when soaking the beans can help you to digest the beans better.
Rinse Thoroughly – Once the beans have been soaked, make sure to rinse the beans with fresh water (at least once) before adding the beans to the pressure cooker. If you add the water you soaked the beans in overnight, you'll be ingesting the very chemicals you wished to avoid from the exterior of the bean.
How Can I Add More Flavor to My Beans?
You can easily add more flavor to your beans! Both before and after cooking. Here are a few of our favorite flavor enhancing suggestions:
Call in the Kombu – Many people swear by the addition of kombu, a dried seaweed. The amino acids in a 4 inch strip is supposed to help soften the beans, make them more digestible, and also give a tasty quality to the cooked beans.
Cayenne for an Extra Kick – To spice things up, add ½ teaspoon (or to your liking) of cayenne pepper to the mix or chop up some fresh hot peppers and throw them in with the beans before cooking. That'll take it up a notch!
Sprinkle in Some Salt – Again, less is more when it comes to salt. A little salt (less than ½ teaspoon) will give just enough seasoning. You can always add more to the amount on your plate.
Vegetable Broth Boost – Feel free to use vegetable broth instead of water to cook your beans. It's a quick way to add flavor without having to think too much about it. Use the low sodium version so that, when the beans reduce, they aren't too salty.
Honor Those Herbs – If you've got a garden with fresh herbs, now is the time to use them! Chop up your favorites and add them to the pressure cooker. If using dried herbs, use a lot less. Using ½ –1 tablespoon would work well.
What Is the Dried Bean Equivalent of a 15 oz. Can?
Great question! This seems to be a stumbling block when it comes to making recipes when you only have homemade beans on hand. But, not to worry!
Most cans of beans include 1¾ cups of beans and ¼ cup of aquafaba or bean liquid. If a recipe calls for a 15 ounce can of beans, you'll need a little less than 2 cups cooked beans or, if you haven't made any beans yet, ½ cup dried.
An approximate ratio is: 2 cups dry = 6 cups cooked
How to Serve Up Your Instant Pot Cooked Beans
Besides all of the bean recipes we have to share, there are also really quick and simple ways to serve your cooked beans. If you have any other awesome ideas, we'd love to know and add them to the list! Make sure to drop them in the comments below.
Classic Beans on Toast – How can you not adore this breakfast (or lunch) combo? A thick slice of crispy herb toast topped with a scoop of scrumptious beans and maybe some tangy tomato sauce—heavenly!
Bold Beans & Fancy Franks – Was this a childhood favorite for you, too? Or perhaps food that you loved to take on camping trips with friends and family? Cook up a pot of creamy beans and then add in chunks of your favorite plant-based hot dogs (Lightlife Smart Dogs and Field Roast Classic Smoke Frankfurter are all good choices!)
Mouthwatering Mexican-Inspired Meals – Bring on all of the tacos, burritos, and bowls your belly can handle. With a single batch of homemade Instant Pot beans, you can make dozens of delicious dishes by only including a few ingredients like lettuce, avocado, tortillas, and rice (though you can always add more!).
Storing Leftover Instant Pot Beans
Cooked beans can last around 5 days in the refrigerator in a covered container. If you have any leftover cooking liquid from the pressure cooker, feel free to pour it in along with the beans before sealing. It's not necessary, but it may help to keep your beans from drying out so quickly.
If you have way too many beans and just can't bear to eat another bite, consider freezing them. Just place them in a freezer safe bag or container and they will keep for up to 3 months. To thaw, simply place in the fridge overnight or on the countertop for a several hours. Reheating is easy – you can either throw them in the microwave for a minute or two, heat them in the oven (perfect when making roasted savory or sweet chickpeas!) for around 10 minutes or give them a quick pan fry over medium heat until desired temperature.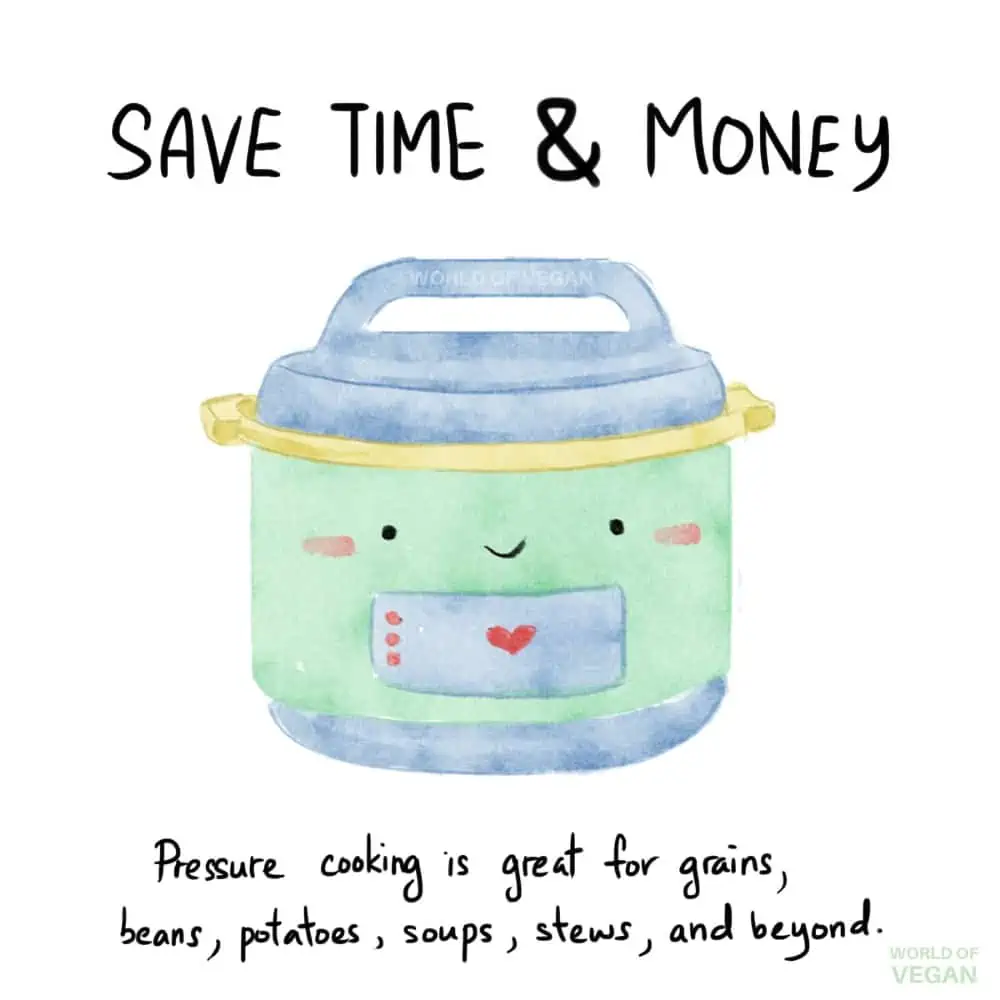 More Incredible Instant Pot & Bean Recipes to Try
Instant Pot Beans Cooking Guide written by Gina House (aka Gina Beana), Instant Pot Cooking Table for Beans Art by Gina House, and photos by JJ Steele, copyright of World of Vegan™, all rights reserved. Article edited by Amanda Meth. This post is not sponsored—we wish! We just sincerely love this cooking tool and want to share it with the world! Please note that this article may contain affiliate links which helps support our work at World of Vegan.