Dr. Michael Greger is a well-known physician, author, international speaker, and founder of NutritionFacts.org who focuses on nutrition as it relates to public health.
He recently released the popular book How Not To Die: Discover the Foods Scientifically Proven to Prevent and Reverse Disease, which covers the many plant-based foods and spices we can incorporate into our diet to prevent and combat ill-health and disease. It is a truly fascinating and entertaining read that I recommend to everyone!
What Is The Daily Dozen?
To help his readers integrate the countless nuggets of wisdom shared throughout his book, Dr. Greger introduced a concept he calls "The Daily Dozen" that pulls from today's most comprehensive nutrition research. The Daily Dozen identifies 12 things you should be incorporating every single day to enjoy optimal health.
We decided it would be fun to create a perfected meal plan that shows exactly how you can eat Dr. Greger-style without breaking the bank. We got to work and released a special one-week Daily Dozen meal plan for you! It's packed with simple, affordable recipes that you can easily integrate into your life. 
You can download The Daily Dozen App to see the full list and get a virtual checklist that you can use every day. I've also outlined a simplified version below!
The Daily Dozen Checklist
Beans, Tofu, or Tempeh (1.5 cups cooked)
Berries (1/2 cup fresh or frozen)
Other Fruits (3 medium fruits or three cups chopped)
Cruciferous Veggies (1/2 cup)
Greens (2 cups)
Other Veggies (1 cup non-leafy veggies)
Ground Flaxseeds (1 tablespoon)
Nuts & Seeds (1/4 cup)
Whole Grains (3 servings)
Spices & Herbs (1/4 Teaspoon Turmeric)
Beverages (5 12oz glasses)
Exercise (40 minutes)
BONUS VITAMINS: Vitamin B12 + Vitamin D
The Daily Dozen Challenge
I recently took The Daily Dozen Challenge and documented what I ate throughout the day to incorporate all of Dr. Greger's recommendations. You can watch the "What I Eat in a Day" video here. Enjoy! 
Recipes featured in the video:
So, are you in? To join the challenge simply download Dr. Greger's free Daily Dozen app and commit yourself to integrating all 12 of the healthful ingredients into your meals throughout the day. It just may save your life.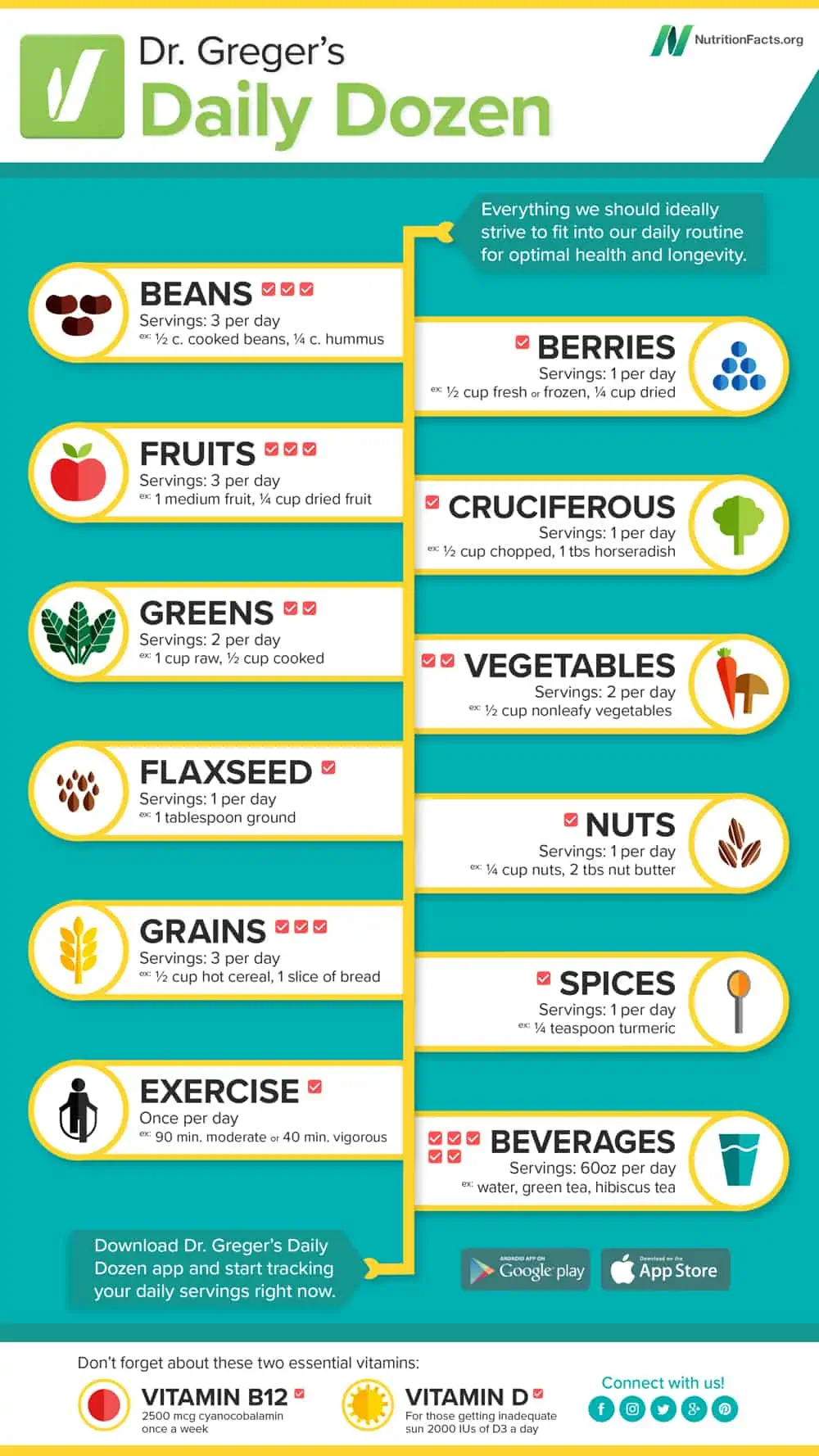 Daily Dozen Meal Plan
Want to join the fun? I teamed up with Toni Okamoto from Plant Based on a Budget to create a budget-friendly Daily Dozen meal plan that shows exactly how you can eat Dr. Greger-style without breaking the bank. Check it out!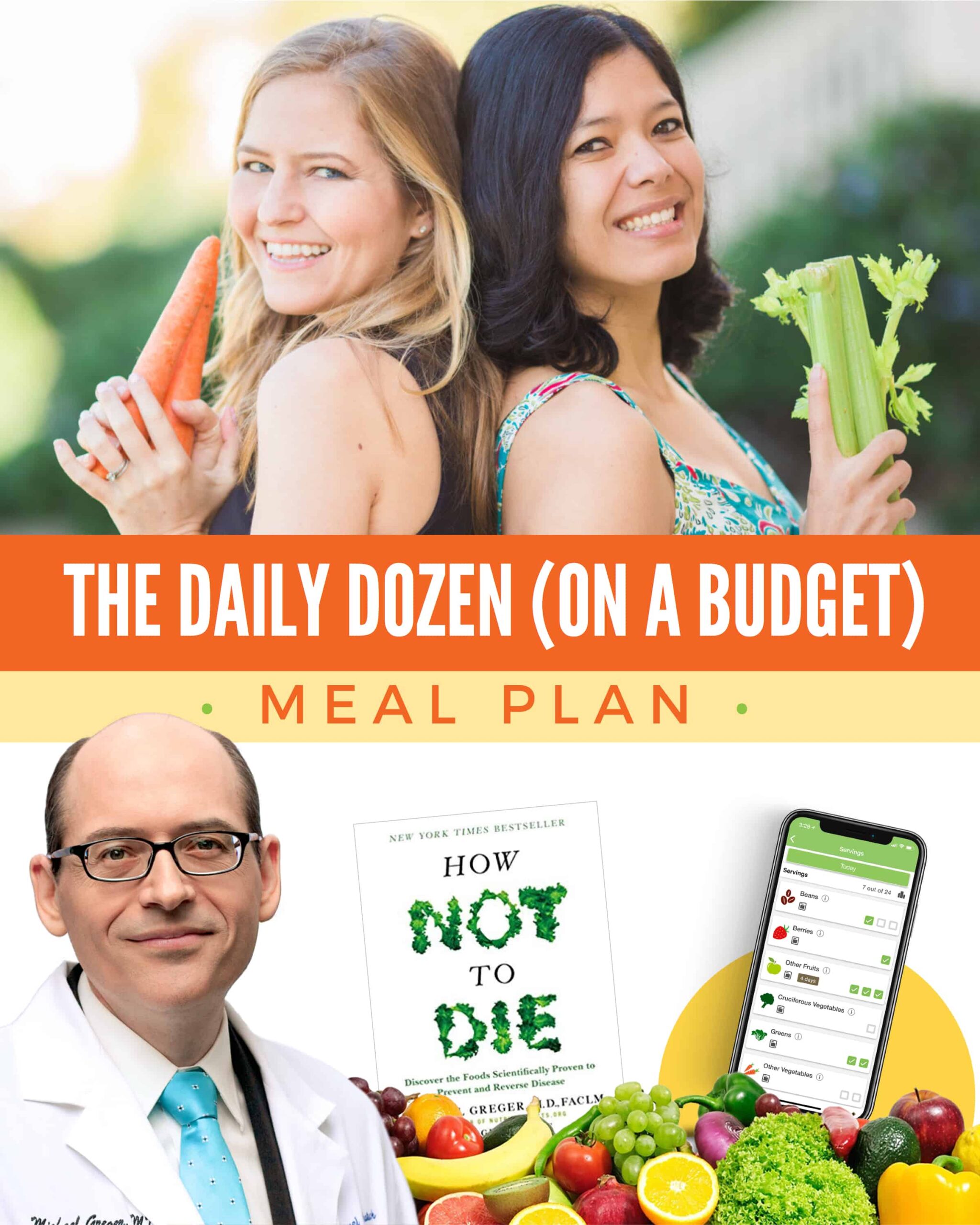 This meal plan comes with a shopping list and all the recipes you'll need to get you through the week. Each recipe was handpicked to be as nutritious as possible and cover several Daily Dozen items in one meal. They're also easy to make and absolutely delicious!
Hungry for even more inspiration? See what happened to 24-year old Raul's health when he went plant-based for just 7 days in our mini-documentary. Hint: you'll never believe how much his cholesterol and weight dropped in just a week!
More Healthy Plant-Based Recipes
Want more recipes to get you started on this healthy food journey? Here are more ideas that are packed with nutrition and fit well into The Daily Dozen Challenge!
Breakfast Recipes
Lunch and Dinner Recipes
Snacks and Desserts
This guide was written by Michelle Cehn and edited by Rachel Lessenden. Feature photo sourced from Canva.