Here's a dish I bet you've never made (or even heard of) before: Enchilada Pasta! A dinner packed with all the flavor and fixin's of enchiladas served up pasta-style. Epic? Yes, yes indeed it is. 
The idea for this vegan enchilada pasta came when my husband and I were thinking about ridiculous food combos. But after a quick internet search I realized enchilada pasta was already a thing. A pretty popular thing, in fact! And for good reason. It's a pasta lover's dream: cheesy, meaty, sauce-y, and packed with flavor.
I especially love that this dish is made in a single pan—even the pasta is cooked along with everything else, meaning less cleanup when you're done! Let's dive in.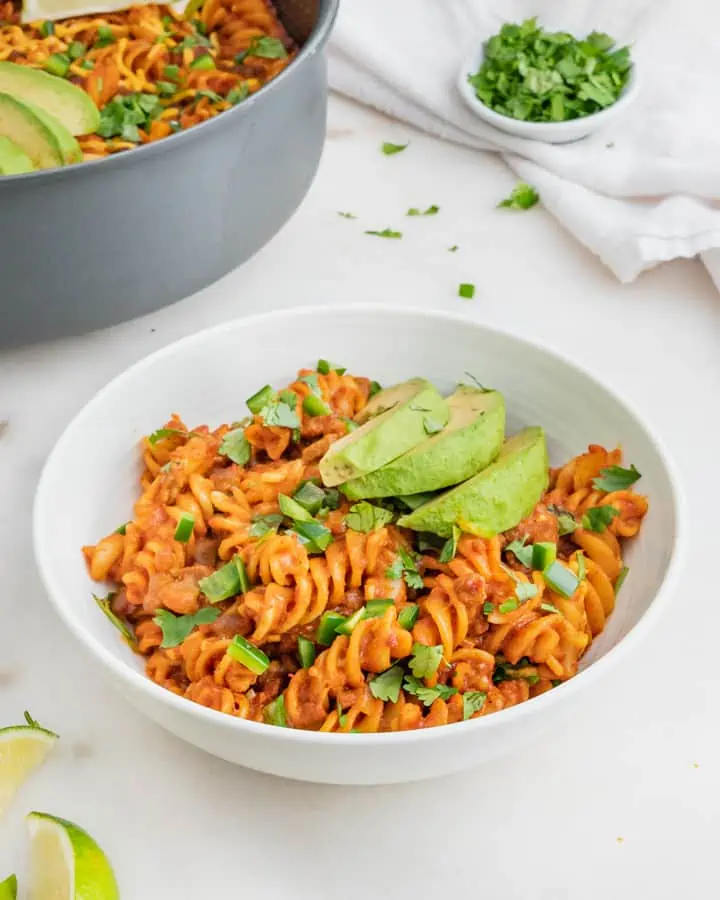 Why You'll Love This Recipe
I love this recipe because it is:
Made in a single pan for easy cleanup
Loaded with plant-based protein
Free from meat, dairy, eggs, and all animal products
Combines two of my favorite genres—Mexican and Italian—in one
Uses some fun vegan ingredients like vegan meat and vegan cheese
Easy enough for beginners in the kitchen
It makes for a great weeknight dinner, but it's also a great dish to share for:
Parties
Pot Lucks
Picnics
Barbecues
Holidays
Superbowl
4th of July
…and beyond.
Ingredients You'll Need
If you're new to vegan cooking, let me tell you a bit more about the ingredients you'll need to make this.
Olive Oil – I like using Extra Virgin Olive Oil, but any vegetable oil will work here (such as canola oil or avocado oil).
Garlic – I recommend fresh garlic, but if you don't have any or are short on time, feel free to substitute ¼ teaspoon of garlic powder instead.
Onion – this recipe calls for diced yellow onion, but you can use any variety you have, and can cut it up however you like! Some like it chunky, some like it sliced, some like it diced—they'll all work.
Vegan Beefy Crumbles – There are a number of brands that make vegan beefy crumbles. You can find them today at many (if not most) mainstream grocery stores in the refrigerator or freezer sections.
Taco Seasoning – Using pre-mixed taco seasoning makes this recipe even easier, and you can find little paper taco seasoning packets at most grocery stores. You can mix your own based on recipe online, but that will take more time as taco seasoning is usually a mix of many spices (like chili powder, cumin, paprika, oregano, cayenne, garlic, and onion) along with some thickeners like starches or flours.
Better Than Bouillon's "No Chicken Base" – I love using Better Than Bouillon's "No Chicken Base" in this dish, but their "Seasoned Vegetable Base" will work as well. If you don't have Better Than Bouillon, you can use 2 cups of any vegetable broth in place of the bouillon and water in this recipe.
Red Enchilada Sauce – Enchilada sauce is essentially a smooth, spicy, Mexican-flavored tomato sauce. You can find it at most grocery stores in cans or jars.
Rotini Pasta – I like using rotini or fusili pasta in this dish because they hold the sauce nicely, but you can really use any type of pasta, just adjust the cooking time accordingly (based on the pasta cooking time listed on the package).
The Secret Sauce: Better Than Bouillon
This recipe is loaded with flavor from the onions, garlic, and all the spices in the taco seasoning and the enchilada sauce. But when you add in the Better Than Bouillon "No Chicken Base," it takes it to the next level!
For those who are new to the concept of bouillon, bouillon is essentially a condensed soup stock in the form of dehydrated cubes or pastes that you can mix with water to get flavorful broth.
I've been using Better Than Bouillon in my soups and stews for years. They make several varieties that are vegan:
No Chicken Base
No Beef Base
Seasoned Vegetable Base
Mushroom Base
Roasted Garlic Base
It's a paste that comes in little glass jars that you keep in the fridge (they have a long shelf life and fridge life). To use Better than Bouillon as a broth, you simply add 1 teaspoon of the bouillon paste for every 8 ounces of water.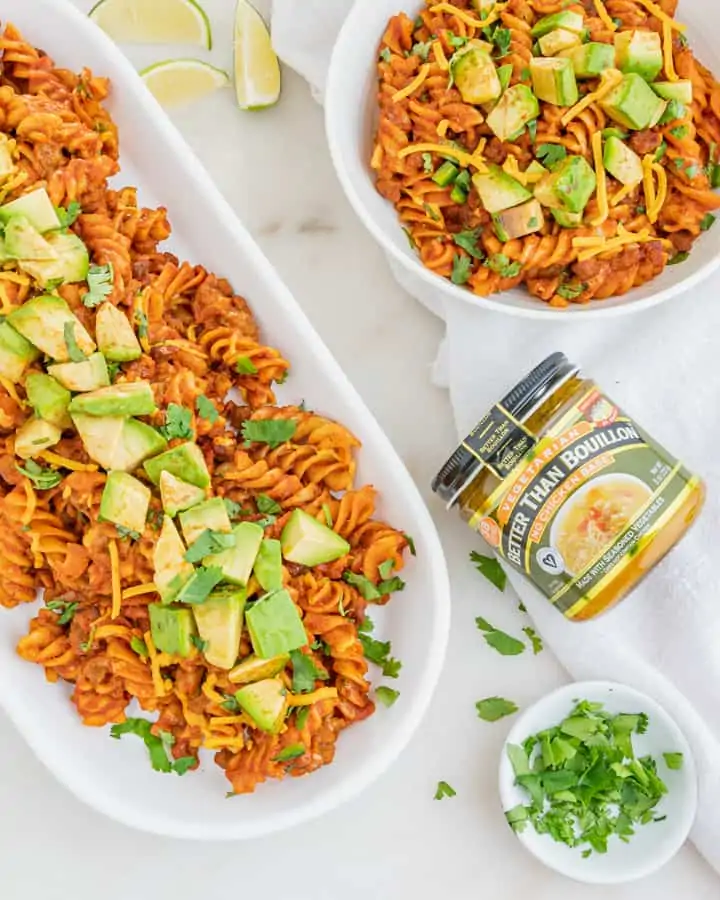 Reuse the Jars!
The jars it comes in are recyclable, although I've been collecting mine to use for homemade baby food when my newborn graduates from breastmilk to eating solids. You can wash them and use them for anything! Choosing bouillon is a great way to reduce packaging waste from those big bulky containers of broth you can find at the store, and it's more affordable.
Benefits of Bouillon:
It takes up less space in your pantry
Uses less packaging than vegetable broth
It's more sustainable (zero-waste)
If you choose Better Than Bouillon, you can reuse the cute little jars indefinitely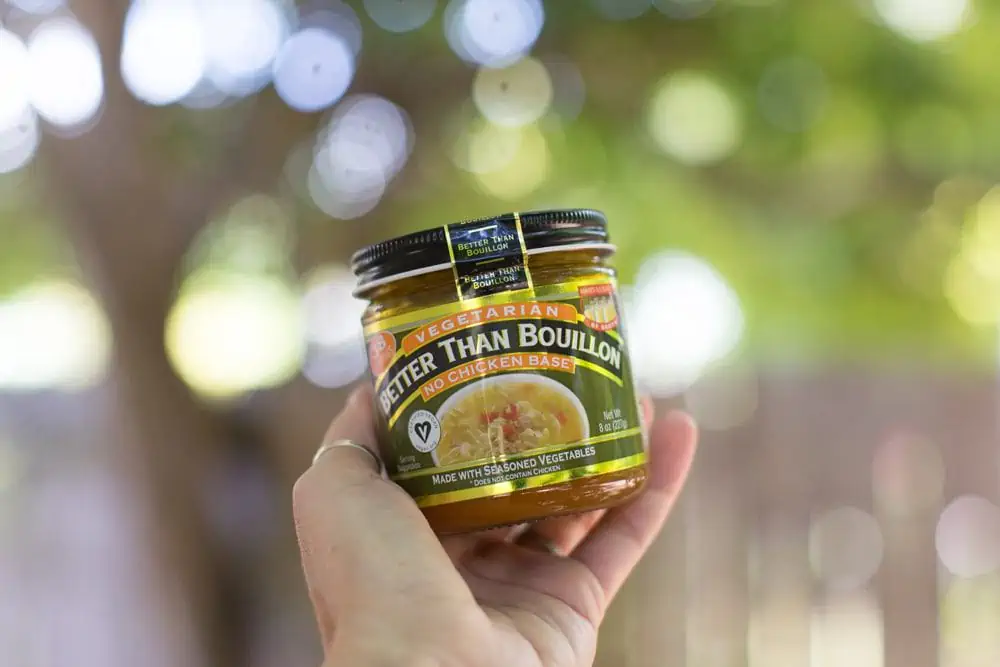 Meal Prepping
This recipe works beautifully for meal prep. You can make a big batch, which is around 4 – 6 servings, and store it in the fridge for up to one week. If you're making this for meal prep, prepare it without the fresh toppings and store in a covered container in the fridge. It reheats beautifully, and you can add the fresh toppings once it's heated when you're ready to enjoy your meal.
More Epic Vegan Recipes
Enchilada Pasta:
2 tablespoons olive oil
2 cloves garlic, large cloves, minced
½ yellow onion, diced
1 10-ounce package, vegan beefy crumbles (any variety)
1 tablespoon taco seasoning mix 
2 cups water
2 teaspoons vegetable bouillon, we used Better Than Bouillon's "No Chicken Base"
1 15-ounce can of red enchilada sauce
8 ounces rotini pasta, about 3 cups of dried rotini
½ cup vegan shredded cheese, any variety
Toppings:
¼ cup sliced black olives
¼ cup chopped cilantro
1 medium jalapeno, sliced
½ large ripe avocado, cubed
1 lime, sliced into wedges
In a large sauté pan (with a lid), heat oil over medium heat, add garlic and onions, and sauté for 3 minutes.

Add vegan beefy crumble and taco seasoning and sauté until cooked (about 5 minutes).

Add water, Better Than Bouillon, enchilada sauce, and pasta and bring to a boil. Reduce the heat to low and cover with the lid.

Cook on low, with pan covered for 15 minutes.

Remove the lid and allow to simmer for an additional 5 – 10 minutes until the pasta is cooked through and the sauce has thickened.

Remove from heat and stir in shredded vegan cheese, reserving some to sprinkle on top for serving.

Garnish with sliced black olives, cilantro, jalapeno, avocado, and lime wedges and enjoy!
Serving: 1g | Calories: 390kcal | Carbohydrates: 66g | Protein: 12g | Fat: 9g | Saturated Fat: 1g | Polyunsaturated Fat: 1g | Monounsaturated Fat: 5g | Sodium: 1403mg | Potassium: 201mg | Fiber: 5g | Sugar: 10g | Vitamin A: 777IU | Vitamin C: 9mg | Calcium: 30mg | Iron: 2mg
Vegan enchilada pasta recipe and photos by Michelle Cehn, copyright of World of Vegan™, all rights reserved.