This vegan spin on a classic Mexican rice recipe has become a favorite here at World of Vegan. It's a family recipe that was passed on to Michelle by her dear friend Toni Okamoto, founder of Plant Based on a Budget. It's one of the most popular recipes she's ever published and for good reason! It's easy to make using simple everyday ingredients, plus it's fast, budget-friendly, fantastically filling, and cruelty free!
Not only is this vegan Spanish rice recipe easy and super-delicious, you'll love how affordable this one-pan rice dish is for your weekly budget. This entire dish (which has several generous servings) can be made for about $2, especially if you shop in bulk. Many thanks to Toni for sharing this veganized family recipe!
How to Serve Up This Vegan Mexican Rice Recipe
Rice is so handy to have around and goes wonderfully with virtually any dish. This vegan Spanish rice is also a really versatile recipe and can be altered to your particular appetite. If you don't love onions or garlic, you can leave it out and add other spices that spark your interest. Here are other ways to mix things up:
Turn Up the Heat
For those who love a little (or a lot!) of spiciness in their food, consider adding a kick of cayenne pepper, some chopped chili peppers, or a hint of hot sauce to the finished recipe. A sassy, hot salsa mixed in at the end would also do the trick.
Bring On the Rice Balls
Have you ever tried making rice balls with leftover rice? It's super fun to make and to eat. Just take 2 cups of leftover rice from the fridge, add extra spices if you wish, ½ cup of flour, ½ cup of bread crumbs, 1 tablespoon of water (or veggie broth), and roll into balls. Bake at 350 degrees for 20-25 minutes until crispy.
Opt for Oil-Free Red Rice
If you're trying to limit your fat intake or extra oils, you can easily leave out the teaspoon of oil added in the recipe. Your rice might be a bit on the drier side, but it will still taste incredible.
Bundle This Spanish Rice Into a Burrito
There's nothing better than adding a flavorful rice to a burrito––the same goes for a tasty, crisp taco or a nourishing Buddha Bowl. As a bonus, you'll incorporate a lovely chewy texture whenever you top your tortilla with this great tasting grain.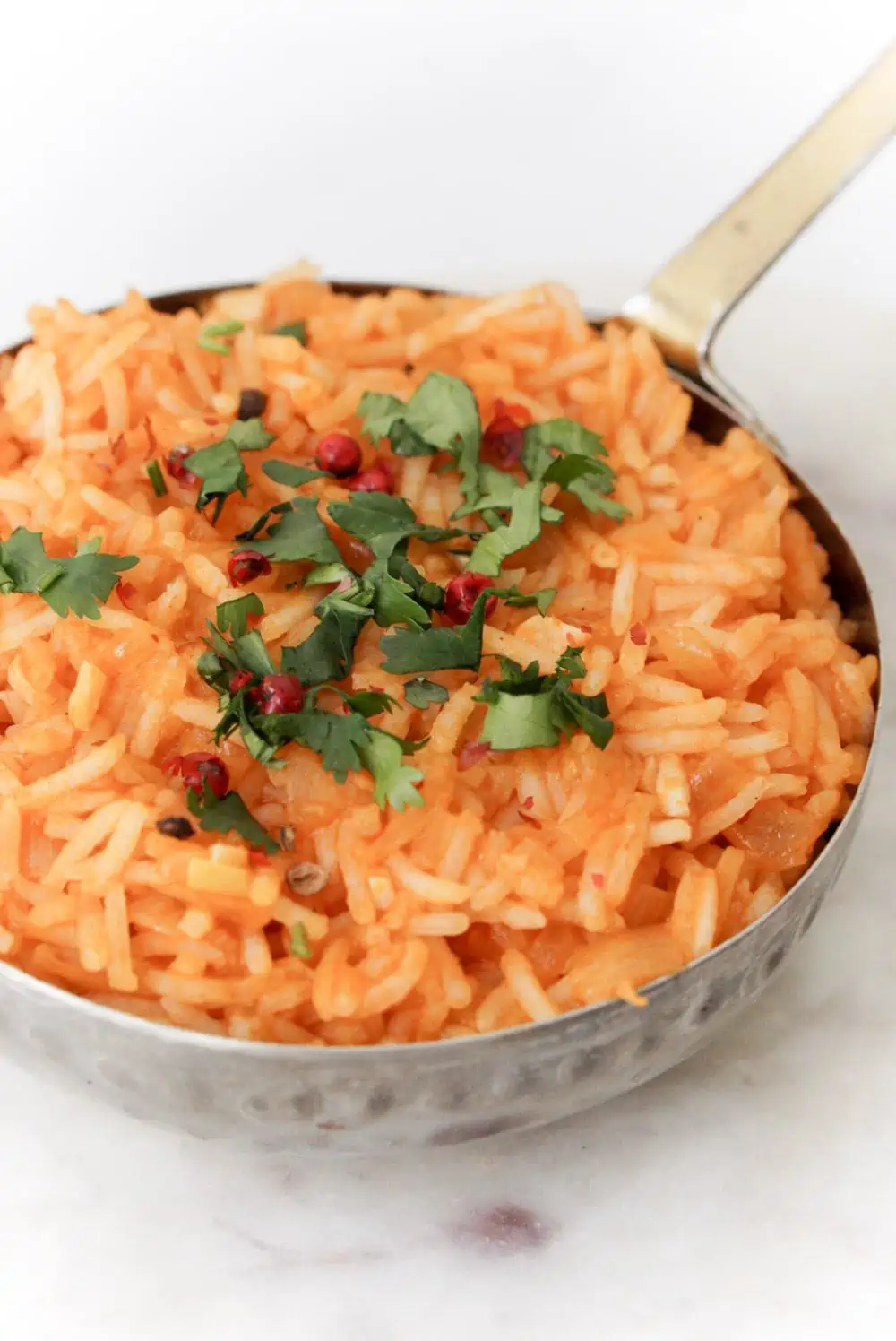 Is Eating Rice Healthy?
You may have heard varying accounts of whether rice is healthy or not. The Kendall Reagan Nutrition Center says this about rice: "Rice is a rich source of carbohydrates, the body's main fuel source. Carbohydrates can keep you energized and satisfied, and are important for fueling exercise….In short, YES, rice is a healthy staple that offers many nutrients."
Adding whole grains to your diet brings a bunch of B vitamins and a dose of healthy fiber, as well as a good amount of manganese, selenium, and magnesium. The less processed your grain is, the more nutrients you can gain from it. Whenever you're able, consider upgrading to brown rice and let your body benefit from a bigger boost of all the good stuff!
Five Fun Facts About Rice
The Great Wall of China is actually held together with sticky rice! (Well, a mixture of rice and calcium carbonate as a mortar.)
Rice is grown on every continent except Antarctica.
Wild rice isn't actually rice, but a type of grain that is harvested from marsh grasses grown in North America and China.
There are over 40,000 varieties of rice around the world.
Uncooked white rice lasts 10-30 years stored properly, while brown rice only lasts 3-6 months because the outside layer of bran will oxidize.
Simple Storage
Any leftover red rice can be stored in a covered container in the refrigerator for around 4-5 days. You can also freeze any remaining rice that you don't think you'll use up within a week or two. Just make sure that the sealed container (or bag) is sealed well. The rice will keep up to 3 months frozen and you can leave it on the counter overnight to thaw or give it a quick run in the microwave for 2 minutes with a couple of tablespoons of water to bring back to life.
Equipment You'll Need
Sharp Knife
Medium Sized Pan with Lid
If you try this red Spanish Rice recipe, let us know what you think by leaving a comment and rating below! Be sure to follow along on Pinterest, Instagram and Facebook for even more vegan recipe inspiration.
1 teaspoon vegetable oil
¼ cup large yellow onion, diced
3 cloves garlic, minced
1 cup medium-grain rice
8 ounce can of tomato sauce
2 cups water
1 teaspoon salt
1 teaspoon pepper
Heat vegetable oil in a medium-sized pan.

Add onion and garlic and let cook until onions become translucent.

Add the uncooked rice and fry for a few minutes until golden.

Add tomato sauce and two cups of water, then stir with salt and pepper.

Bring water to a boil, cover the pan with a lid and bring down heat to a medium-low temperature. Let it sit for 20 minutes at medium-low heat (without removing the lid) until the liquid has completely absorbed.

Remove the lid and serve!
Calories: 244kcal | Carbohydrates: 52g | Protein: 5g | Fat: 2g | Saturated Fat: 0.3g | Polyunsaturated Fat: 1g | Monounsaturated Fat: 0.4g | Trans Fat: 0.01g | Sodium: 858mg | Potassium: 244mg | Fiber: 3g | Sugar: 2g | Vitamin A: 249IU | Vitamin C: 5mg | Calcium: 22mg | Iron: 3mg
More Mexican-Inspired Recipes to Try
Spanish Rice Recipe by Toni Okamoto and vegan food photography by J.J Steele, copyright of World of Vegan™, all rights reserved. This vegan Spanish rice article was written by Gina House and edited by Amanda Meth. Please note that this article may contain affiliate links which helps support our work at World of Vegan.