Ready to make some vegan feta tomato pasta? Even if you're not on TikTok, you've probably come across this trending baked feta pasta recipe. Invented by Finnish food blogger Jenni Häyrinen in 2019, it took off as a viral hit during the height of the pandemic, right when everyone was hungry for something new and exciting to make at home.
Featuring cherry tomatoes that are baked until bursting right alongside a block of feta that melts in the oven to create a creamy sauce, the appeal of such an easy dish is universal. Add in a generous dose of garlic and basil, and you have a guaranteed recipe for success. In fact, there were even feta shortages in some markets attributed to the social media craze.
For a dish that depends so heavily on cheese, you might think that vegans can't join in on the fun. Happily, that's not the case! Thanks to incredible new dairy-free options on the market, everyone can enjoy vegan feta pasta that's even better than the original inspiration.
Why You'll Love This Recipe for Vegan Feta Pasta
Hands-off – Turn on the oven and you're halfway done! This dish is so simple that it almost cooks itself. You just need to stand by and watch the magic happen.
Veggie-packed – You won't even notice you're getting in a full pound of tomatoes and a generous serving of spinach with you noodles. If you struggle to eat your greens, this is the best way to get your daily recommended allowance without hiding it.
Umami bomb flavors – Tomatoes are an excellent source of umami, otherwise know as the fifth taste that makes everything savory and incredibly delicious. It's often associated with meats, but this plant-based source makes meals much richer and more satisfying. By baking the tomatoes, that umami taste is concentrated and further heightened for an explosion of bold flavor.
Crowd-pleasing – Seriously, who doesn't love pasta and cheese?! This is one that the whole family will love, including the pickiest eaters.
Key Ingredients in Feta Tomato Pasta
Not counting oil, salt, or pepper, you only need six ingredients to get this stellar dinner on the table. In most cases, you barely even need to measure!
Pasta – Any shape will work here, but short shapes are generally best. Try rigatoni, penne, shells, campanelle, ditalini, or rotini instead of long noodle like spaghetti or linguine. Short pasta is easier to stir into the sauce and holds on to it better in various nooks and crannies.
Cherry tomatoes – They can range in size from a marble up to a golf ball, but I've never met a cherry tomato I didn't like. If yours are particularly large, you might want to cut them in half first to ensure even cooking.
Garlic – Garlic goes with everything, really, so don't be shy here. You could even double the amount if you wanted.
Vegan feta – The real star ingredient that give this dish its name, invest in high-quality vegan feta made with coconut oil. If it's tofu-based, it won't melt, and you won't get that luscious, creamy, cheesy sauce. I used Violife's vegan feta cheese in this recipe and it was perfect!
Spinach – Though not part of the original formula, this is my personal addition based on what I had growing in the garden. It wilts down to almost nothing and makes it effortless to eat your greens!
Basil – Nothing says summer quite like fresh basil. Don't bother with dried; it will never measure up. In a pinch, you could always try switching up the seasonings with oregano or thyme instead.
Tips For Success
With a recipe so easy, it's honestly tough to mess this one up. However, there are a few simple tips and tricks for taking your vegan feta pasta to the next level.
Save your pasta water. Some tomatoes are just drier than others. If your noodles are looking thirsty for more liquid, add in a splash of pasta water to keep things creamy.
Don't be shy with the oil. It may seem like a lot, but for the best results, some cooks swear by adding up to ½ cup of oil. This is what makes it so decadent, after all. For a slightly less indulgent, everyday dish, ¼ cup should still be plenty.
Be patient. You want to bake the tomatoes low and slow for their skins to burst and juices to concentrate. That depth of flavor just can't be rushed.
Measure your pasta. It's tempting to just dump the whole box in and call it a day, but you won't have nearly enough sauce and veggies to go around. The average box of pasta is 12-16 ounces, so weigh it out with a kitchen scale if you've got one.
Save the salt for last. Since feta is already very salty, you don't want to go overboard by salting too much, too soon. Add it to taste at the very end.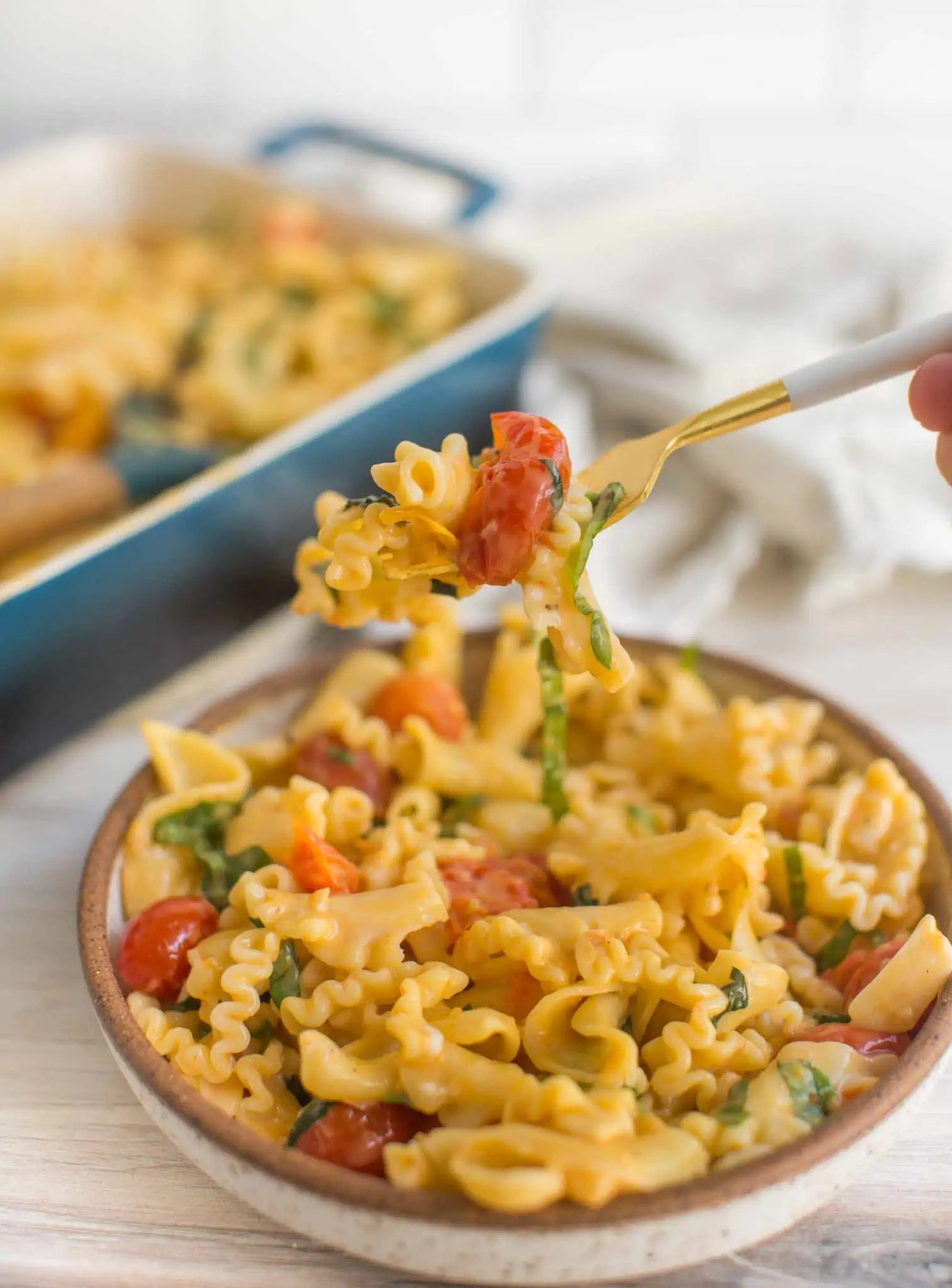 Frequently Asked Questions About Vegan Feta Tomato Pasta
Can I make this gluten-free? Absolutely! Use your favorite gluten-free pasta (made from chickpeas, lentils, quinoa, rice, or more) and cook according to the instructions on the box. You may want to under-cook them by a minute or two, so they don't get too soft in the oven.
What if it's winter and I don't have fresh tomatoes? Never fear; canned tomatoes are here! Although the sauce won't be as fresh or chunky, it will still be delicious with diced, canned tomatoes. Use a large, 28-ounce can and drain off the excess liquid before adding it to the pan.
How can I add more protein? Power-up your pasta by adding a can of drained chickpeas or white beans in the last 5 minutes of cooking, just so they can warm though. You could also try meatless sausages, sliced, and added at the beginning of the baking process so they get lightly browned in the oven.
What can I serve with vegan feta pasta? Round out the meal with a simple soup, salad, or both! A side of veggies is also always nice, like this roasted asparagus, these sheet pan peas, or a rainbow of roasted vegetables. Something light would be ideal to balance out such a rich entrée.
How long will leftovers keep? Although it's best enjoyed right away, once cooled, it can be stored in an airtight container in the fridge for up to five days. Just bear in mind that the pasta will become softer over time.
Equipment You'll Need
8 ounces pasta, any shape
Olive oil, to taste, divided
16 ounces cherry tomatoes
4 large cloves garlic, sliced thinly
¼ teaspoon salt
¼ teaspoon pepper
2 cups chopped spinach
1 block vegan feta cheese, I used Violife
1 handful sliced fresh basil
Preheat oven to 400 degrees F.

In a baking dish, add the whole cherry tomatoes, garlic, salt, and pepper, and very lightly drizzle with a splash of olive oil. Mix well and bake for 27 minutes.

While the tomatoes are baking, cook 8 ounces of pasta according to package instructions. Then rinse pasta, drizzle with olive oil to prevent sticking, and set aside.

Remove the baking dish from the oven and mix in the chopped spinach. Place the entire block of vegan feta cheese in the middle of the tomatoes, pushing them aside to surround the block of vegan feta. Place in the oven uncovered and bake for 11 minutes until feta is softened, but not completely melted.

Remove from oven, and using a large serving spoon, press down the feta cheese and mix it throughly with the tomatoes. Press down on the tomatoes with the spoon to pop most of them to allow their juices to combine with the cheese and create a tomato cream sauce.

Add the cooked pasta and mix to combine.

Top with sliced fresh basil and serve.
This dish is best enjoyed fresh out of the oven, but if you have leftovers they can be stored in the fridge for up to 5 days. You can reheat the vegan feta pasta in the microwave or oven. If needed, you may add additional water, oil, salt, pepper, or some garlic powder when reheating, as the flavors can dull over time.
Calories: 240kcal | Carbohydrates: 49g | Protein: 9g | Fat: 1g | Saturated Fat: 0.2g | Polyunsaturated Fat: 0.4g | Monounsaturated Fat: 0.1g | Sodium: 176mg | Potassium: 473mg | Fiber: 3g | Sugar: 4g | Vitamin A: 1988IU | Vitamin C: 31mg | Calcium: 46mg | Iron: 2mg
More Pasta Recipes to Try
Vegan feta pasta recipe, baked TikTok pasta photos, and article by Michelle Cehn. Article edited by Amanda Meth. Please note that this recipe for vegan feta pasta may contain affiliate links which supports our work at World of Vegan.