Whether you're hosting for the holidays or just planning a fun gathering with friends, serving up an epic hummus board that your guests can enjoy is surprisingly simple. And today I'm going to show you exactly how it's done.
I've long been a fan of cheese boards featuring some of my favorite plant-based cheeses, but they can get pricey really fast. Each artisan nut cheese can run you $10 or more. So if you're trying to save some moolah, living on a budget, or just don't have access to fancy vegan cheeses, try a hummus board instead. You get the same fancy feel without breaking the bank.
I consider hummus to be way up there with avocados as a food of the gods. If you're not already intimately familiar with this creamy, flavorful, filling spread, hummus is a delicious dip made from a blend of chickpeas and tahini with a touch of garlic, oil, and lemon juice. Hummus is traditionally a Middle Eastern and Mediterranean food, but vegans everywhere have claimed it as their own. You'll find it at almost any vegan gathering.
Instead of showing up to a party with a simple tub of hummus, try putting a little extra TLC into spicing up your hummus by turning it into a hummus board! Just hurry up and put down your amazing hummus board and get out of the way before you're attacked by all the hungry hands diving in!
In this video, I show you how to design a hummus board using an array of fruit, nuts, veggies, dip-friendly crackers, and Sabra's classic hummus with pretzels. I'm thrilled to have partnered with Sabra, the most widely accessible hummus brand out there today, to bring this video to life. Thank you, Sabra! Now…take a look and let the hummus-board-spiration commence.
This year I'm hosting multiple vegan Thanksgiving celebrations. Between all the vegan turkey roasts and other ingredients, I needed to find a way to cut down on food costs. This hummus board trick came in handy! In fact, I made this hummus board for my annual Friendsgiving potluck this past weekend! I filmed the video you just watched above moments before my friends came knocking at my door. Needless to say, it was a hit. People love getting to pick and choose what they dip and snack on, and with a diverse platter like this, there's sure to be something for everyone.
The wonderful thing about hummus boards is that you can use whatever ingredients you have and let your creativity go wild as you assemble your board. Don't have crackers? It's cool, chop up some extra veggies instead (carrot spears, celery sticks, and cucumber rounds are all perfect for dipping). Are grapes and persimmons wildly expensive at your local grocery store? You can use fresh figs, strawberries, cherries, peaches, apples, oranges, cherry tomatoes, jam, dried apricots, or even skip the fruit altogether. This is the most flexible appetizer of all time.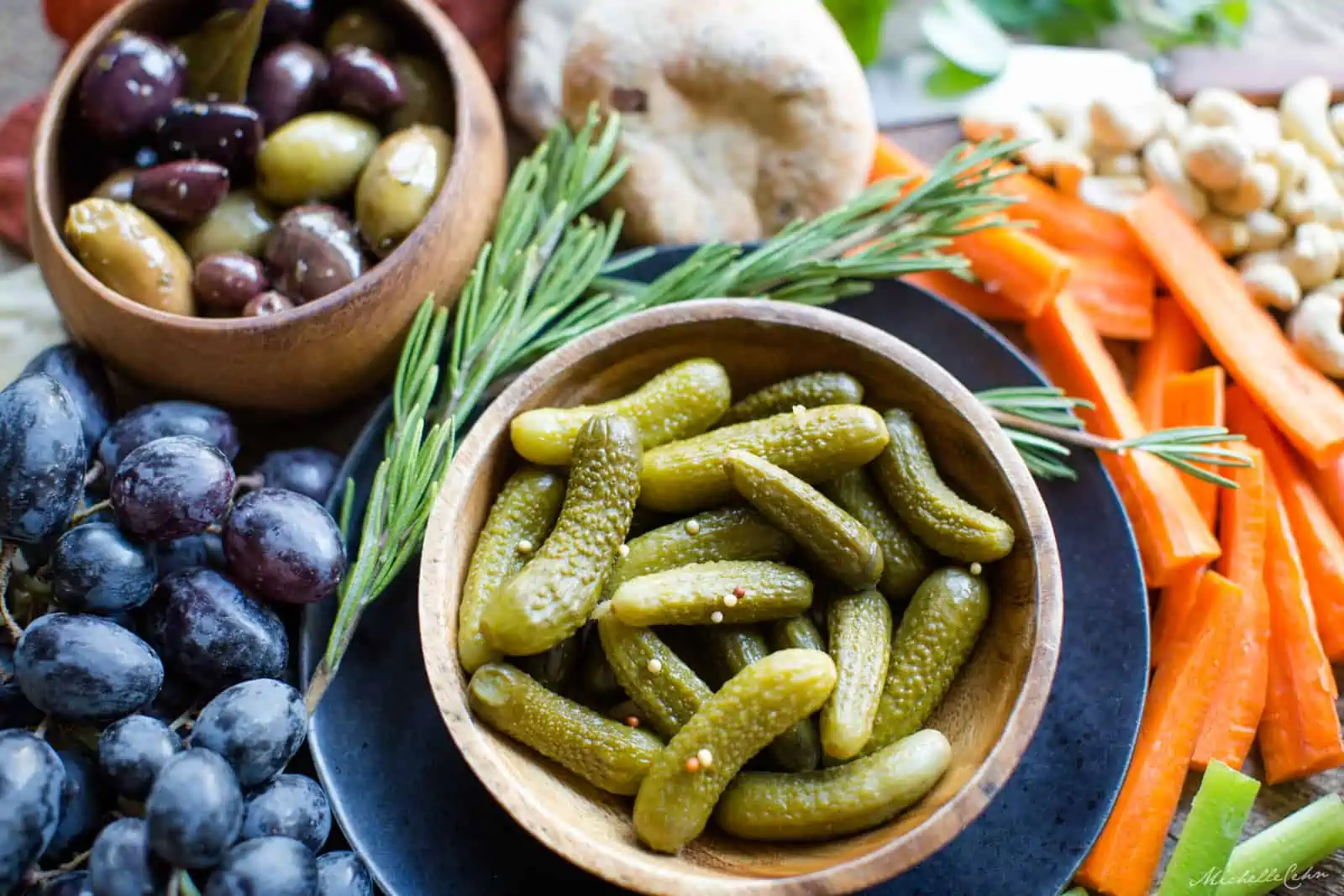 What You'll Need to Make A Vegan Hummus Board
Below you'll find items that go great on a hummus board—but none are necessities. Pick a few of your favorites and work with those! You likely already have many of these ingredients in your pantry.
Bread & Crackers
Baguette
Pita bread
Pretzels
Breadsticks
Crackers
Chips
Pita chips
Veggies
Carrots, celery, cucumber, radish, bell pepper (sliced)
Snap peas
Roasted red pepper
Grilled eggplant
Nuts & Seeds
Raw nuts (almonds, cashews, pistachios)
Candied walnuts or pecans
Roasted pumpkin seeds
Sunflower seeds
Fruit
Grapes, strawberries, cherries, figs
Persimmon, apple, oranges, peaches (sliced)
Dried apricots
Jam
Cherry tomatoes
Olives
Pickles
Dolmas
Vegan meats
Vegan cheeses
Decorative Elements
Fresh rosemary, thyme, sage, oregano
Toothpicks
Chives
Pomegranate seeds
Edible flowers
Serving platter and small cheese knives
…and of course, hummus! Keep reading to see how to make your hummus shine.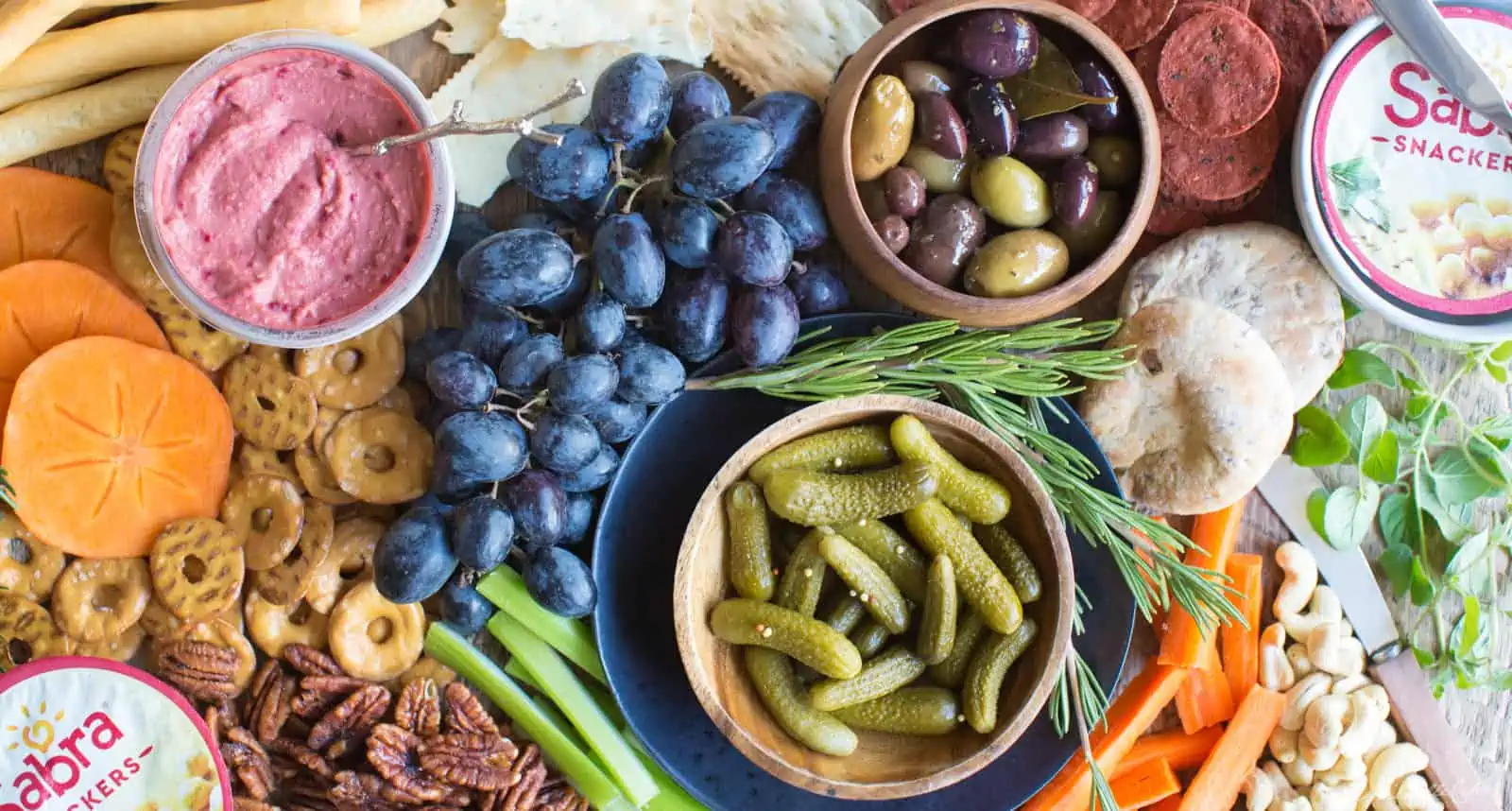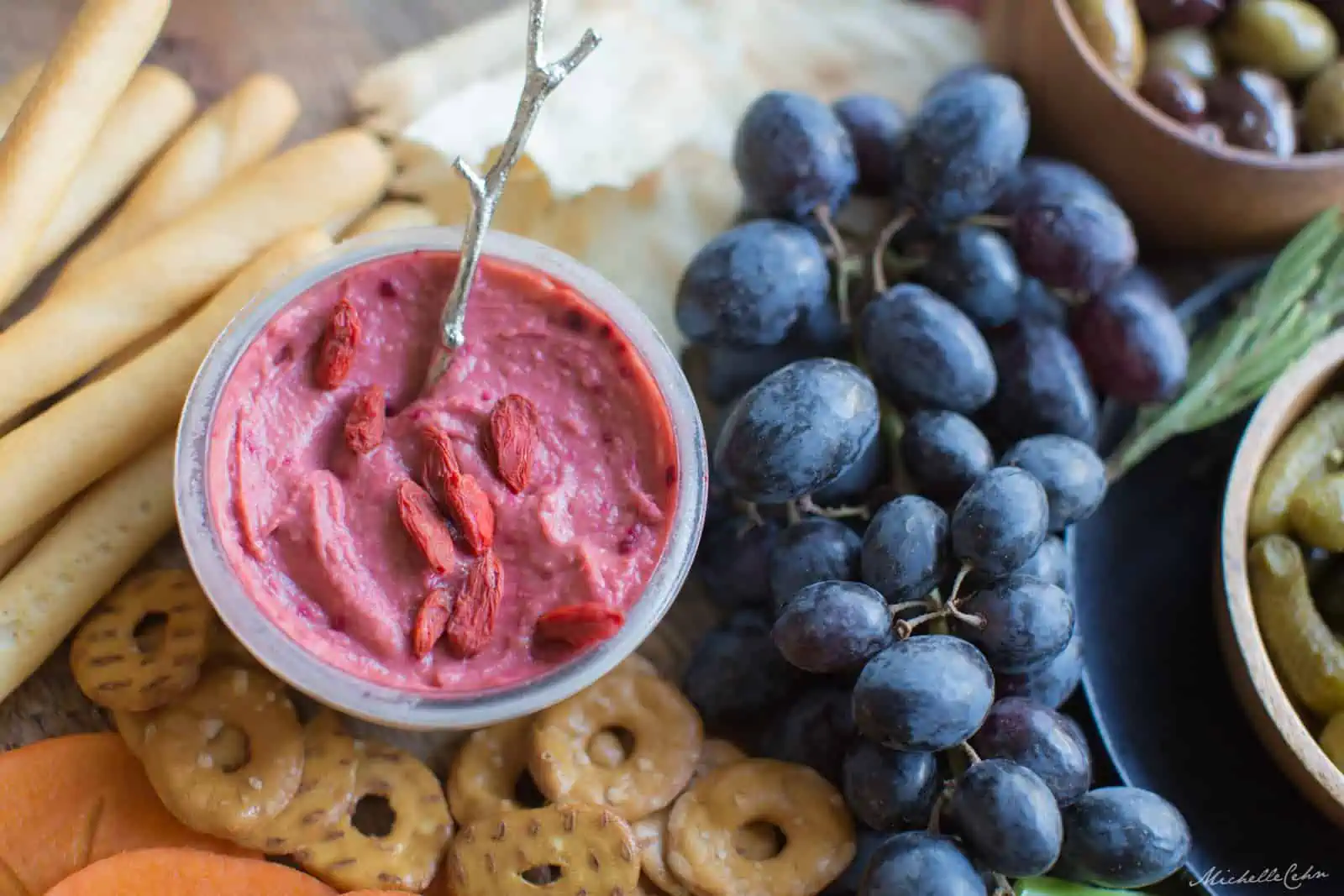 Make Your Hummus Shine!
You can easily spice up your hummus board even more by adding toppings or mix-ins to your hummus. For my board, I made three varieties all starting with the classic hummus from Sabra.
Pink Hummus With Goji Berries
The first was a pink hummus topped with goji berries. I dyed the hummus pink by adding a sprinkle of beet root powder with a few drops of water and mixing it in until it was thoroughly combined. You could also use dragonfruit powder which I turn to often to color my oatmeal and smoothies a magical shade of pink! Or, if you're making your own hummus from scratch, you can simply add a chunk of beet or frozen dragonfruit to the food processor so it blends right in.
Once you've turned your hummus pink, sprinkle some goji berries or pomegranate seeds on top as a finishing touch! Goji berries are superfoods that are packed with nutrients and will add a delightful chewiness to the hummus, while pomegranate seeds will add a festive burst of sweet, juicy flavor.
Hummus With Olive Oil & Roasted Red Pepper Flakes
Using a spoon to create some texture on the top of your hummus and adding a drizzle of olive oil is the simplest way to make it feel fancy. I always love to top that off with some red pepper flakes or paprika to give it a little kick.
Classic Hummus Sprinkled with Chives
For the third variety, I kept it very simple. I chopped up some chives and sprinkled them on top of the hummus to add a little extra flavor dimension and a whole lotta' visual interest. This is the easiest way to make your hummus (or any other savory dip) Instagram-worthy in a snap.
Other Delicious Hummus Mix-Ins
The sky is the limit with hummus add-ins. Here are a few more ideas for ingredients you can either mix in or sprinkle on top:
Roasted garlic
Carmelized onions
Roasted red pepper
Pine nuts
Garbanzo beans
Cannellini beans
Parsley
Paprika
Olive tapenade
So, what do you think? Will you give a hummus board a try for your next party? I hope you do! You can go ahead and pin it on Pinterest by hovering over any of the photos in this post. And while you're at it, come connect with World of Vegan on Pinterest for even more vegan food-spiration!
Until the next recipe…hummus cheers from my home to yours!
More Amazing Appetizers to Try
Photos and video by Michelle Cehn for World of Vegan. Please note that this article contains affiliate links which help us keep the lights on at World of Vegan. Many thanks to Sabra for partnering with us on this recipe video—I hope you love it!