Whether you are hosting a party or a holiday get-together, a vegan charcuterie board is a fantastic way to delight your guests. These vibrant arrangements provide a variety of choices, flavors, and textures, making them a gorgeous focal point for guests to gather around. While creating your own vegan charcuterie board might seem overwhelming, it becomes easy with these helpful tips and inspiring ideas to guide you.
What Is A Vegan Charcuterie Board?
A vegan charcuterie board is a visually stunning and mouthwatering assortment of plant-based foods and snacks. While "charcuterie" typically brings to mind cured meats, a plant-based adaptation may seem contradictory. However, the vegan version delights without the use of animal-based products.
These boards typically feature an array of vegan cheeses, plant-based cold cuts or slices, and an assortment of fresh and dried fruits, vegetables, nuts, olives, pickles, dips, and various crackers or bread.
The aim is to offer a diverse range of textures and flavors, creating a balanced and aesthetically pleasing spread that caters to both vegans and non-vegans. These grazing boards are not only delicious but also a creative way to showcase cruelty-free alternatives for those who choose a plant-based diet.
How To Make A Vegan Charcuterie Board
Creating your own stunning and balanced vegan charcuterie board is not only a super fun experience but also an opportunity to showcase your creativity while catering to a variety of tastes. A vegan grazing board can have as many or as few elements as you like. Follow these steps to create an elaborate or simple board for any occasion!
Gather Your Essentials
The first step in preparing your own vegan charcuterie board is to gather all the essentials you'll need. Begin by selecting a suitable canvas for your masterpiece, such as a large wooden platter, a slate slab, or a marble board.
Next, take some time to research or create a list of your favorite vegan cheeses, plant-based cold cuts, fresh and dried fruits, vegetables, nuts, dips, pickled items, and crackers or bread. Keep in mind that a successful grazing board engages the senses, so aim for a diverse array of flavors, colors, and textures when planning your selections.
Mock-Meat Munchables
Add plant-based cold cuts to your board, creating attractive folds and rolls. Choose from options like vegan salami, deli slices, and plant-based pepperoni and ham. These choices provide a savory and protein-rich element to your board. Here are some brands that we love:
Field Roast Vegan Deli Slices, Pepperoni, and Mini Sausages – Adorn your grazing board with a selection of Field Roast plant-based meats made from vegetables, grains, legumes, and fresh herbs & spices.
Sweet Earth Plant-Based Deli Slices – With a selection of flavors like applewood smoked ham, Italian-style pepperoni, and oven-roasted deli turkey slices, you can build your board with an impressive selection of vegan meats!
Tofurky Deli Slices – Offering a selection of oven-roasted, peppered, and hickory smoked deli slices, this is a great option that's sold at most chain grocers.
Our vegan pepperoni guide has more options for store-bought brands, plus a recipe for homemade, plant-based pepperoni if you'd like to give that a try!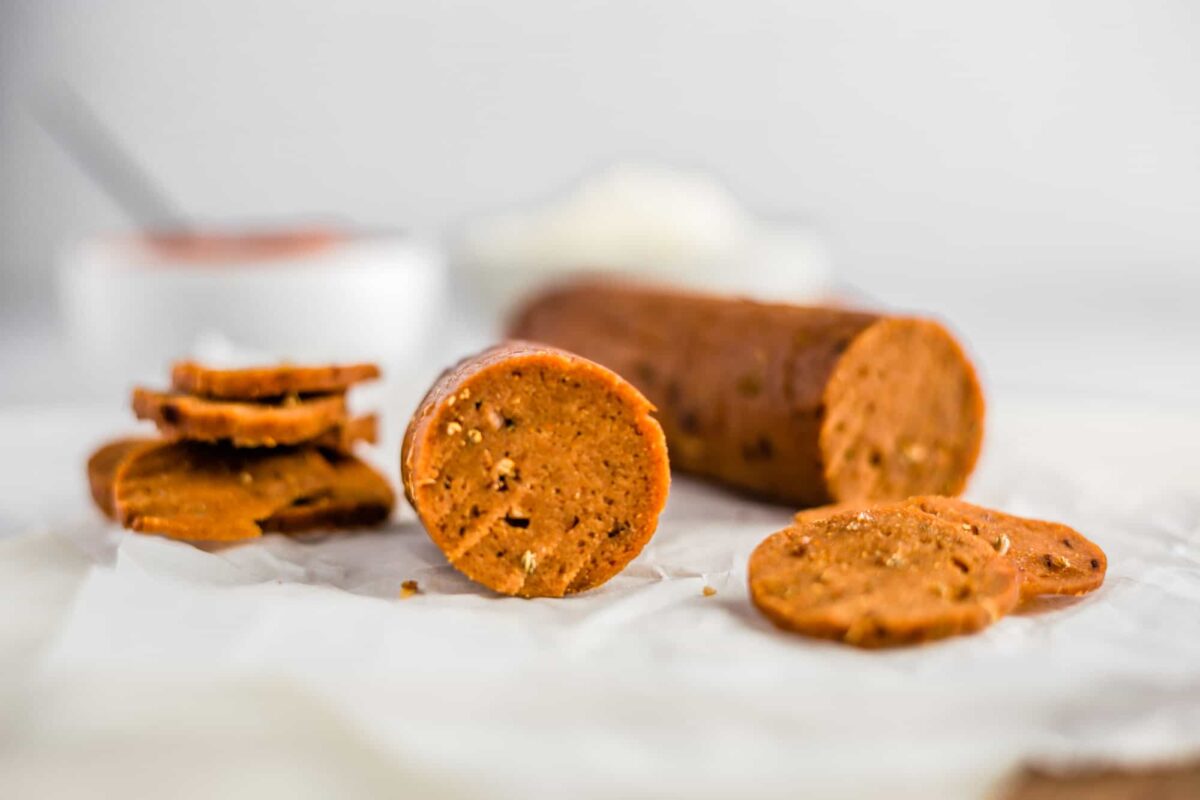 Vegan Cheese
When selecting vegan cheeses for your board, aim for a mix of hard and soft cheeses with different flavors. Serve the entire wheel, slices, or cubes for easy serving, and position them in groups around the board.
Some ideas for vegan cheese can include:
Need more cheese ideas? Check out our article on the best vegan cheese brands for more options and recipes.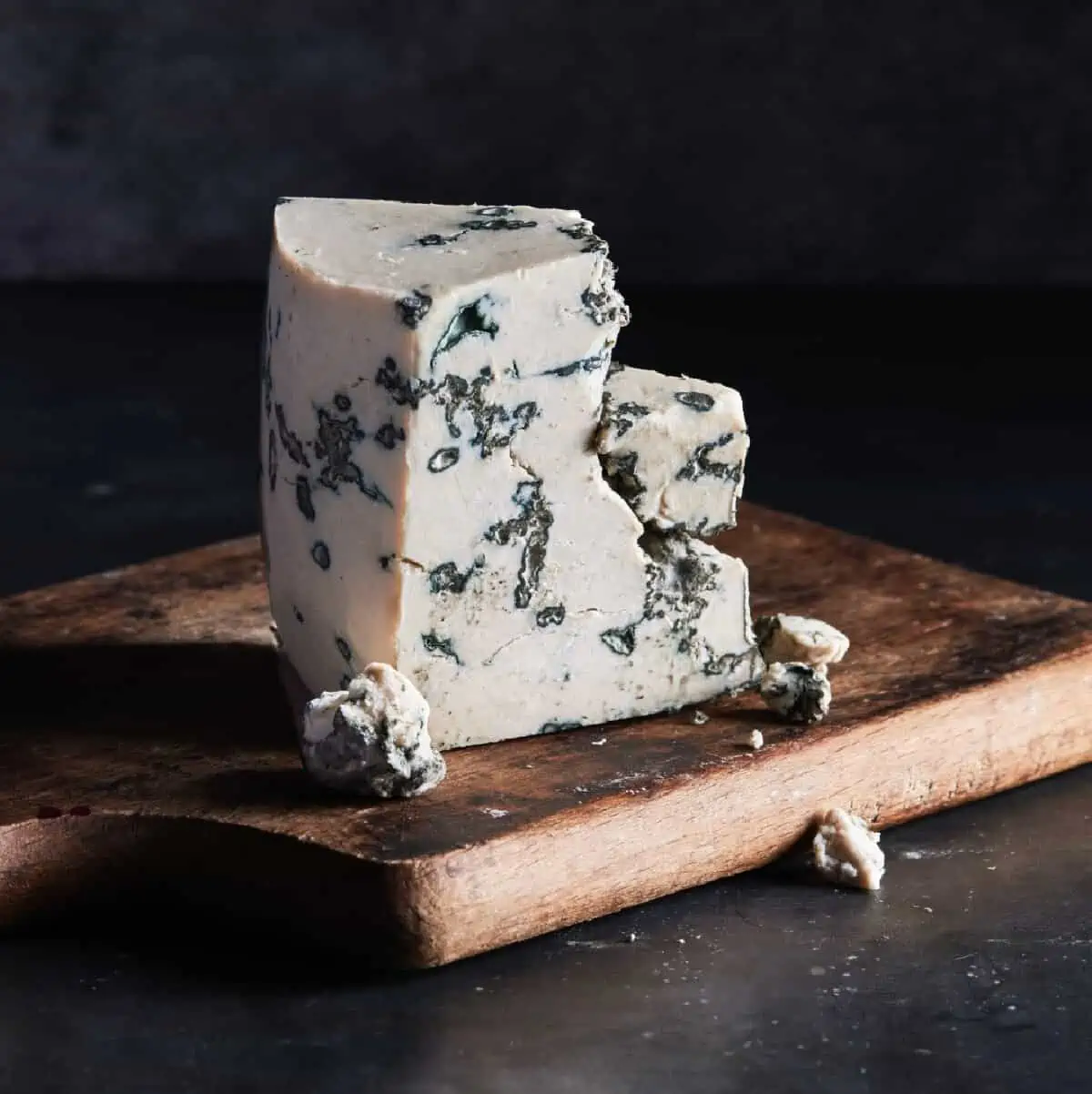 Fruits (Dried and Fresh)
Add some fruity and nutty goodness to your arrangement! Scatter fresh grapes, apple slices, strawberries, blackberries, and peaches around your board. They add natural sweetness and a refreshing contrast to the savory elements. Enhance the color and texture by placing dried fruits such as apricots, figs, or cranberries in the gaps.
Consider adding jam or fruit spreads to your board for a festive touch.
Fresh Vegetables
For a pop of color, add cut vegetables to your board for freshness and crunch. Sliced carrots, cucumbers, radishes, bell peppers, snap peas, cherry tomatoes, broccoli, and celery are all great choices!
Dips and Spreads
Dips add some fun and curiosity to a grazing board. Some great options are homemade hummus, fresh pesto, vegan tzatziki, or even a spicy mustard. Place these in small bowls around your board for easy dipping.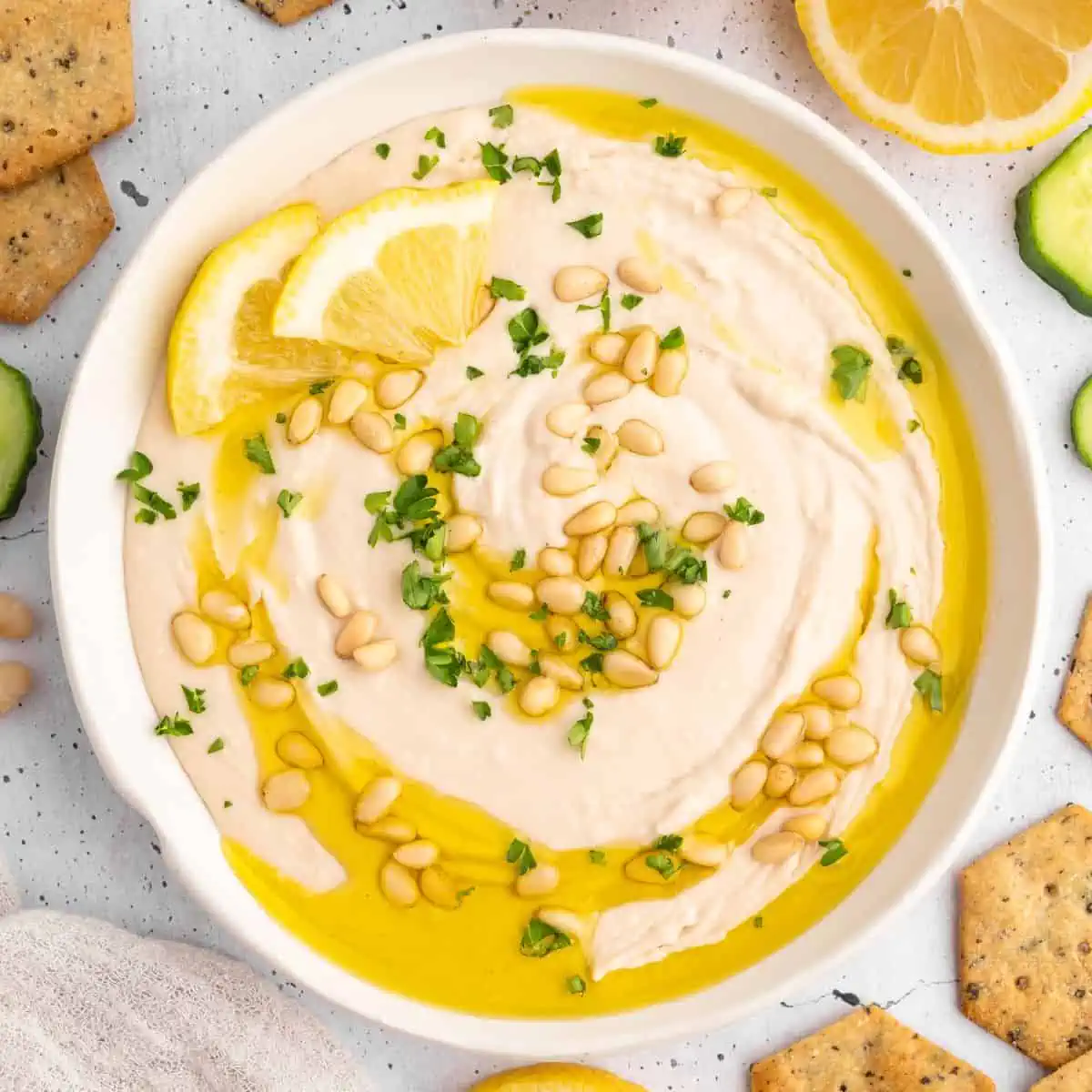 Bread, Crackers, And Nuts
Adding an assortment of baguette slices, pita bread, pretzels, and crackers gives your guests something to scoop dips up with. It also adds some heartiness. For a gluten-free cracker option, try making our easy almond flour crackers.)
You may want to add small bowls of infused olive oil for dipping the bread into. You can find sweet, savory, and spicy infused oils for adding a unique choice and touch!
Add nuts like walnuts, pistachios, almonds, and macadamia nuts for a bit of crunch. Selecting candied or savory-flavored nuts offers even more choices for your guests.
Want more bread options? Check out our guide to vegan bread with delicious homemade recipes and store-bought options.
Pickles And Olives
Pickled components add a zesty and bright component to the board. It also offers a vibrant, acidic pop of flavor that works well with the other ingredients.
An assortment of olives, marinated mushrooms, cornichons, Japanese Pickled Cucumbers, tapenade, or pickled onions add great crunch, color, and tang.
Finish Your Vegan Charcuterie Board
Complete your masterpiece by filling any remaining gaps with leftover items you have. For a finishing touch, garnish your board with fresh herbs like rosemary, chives, or thyme, which look beautiful and add a festive flair.
You may want to consider serving vegan wine, cocktails, and non-alcoholic beverages with your beautiful charcuterie board!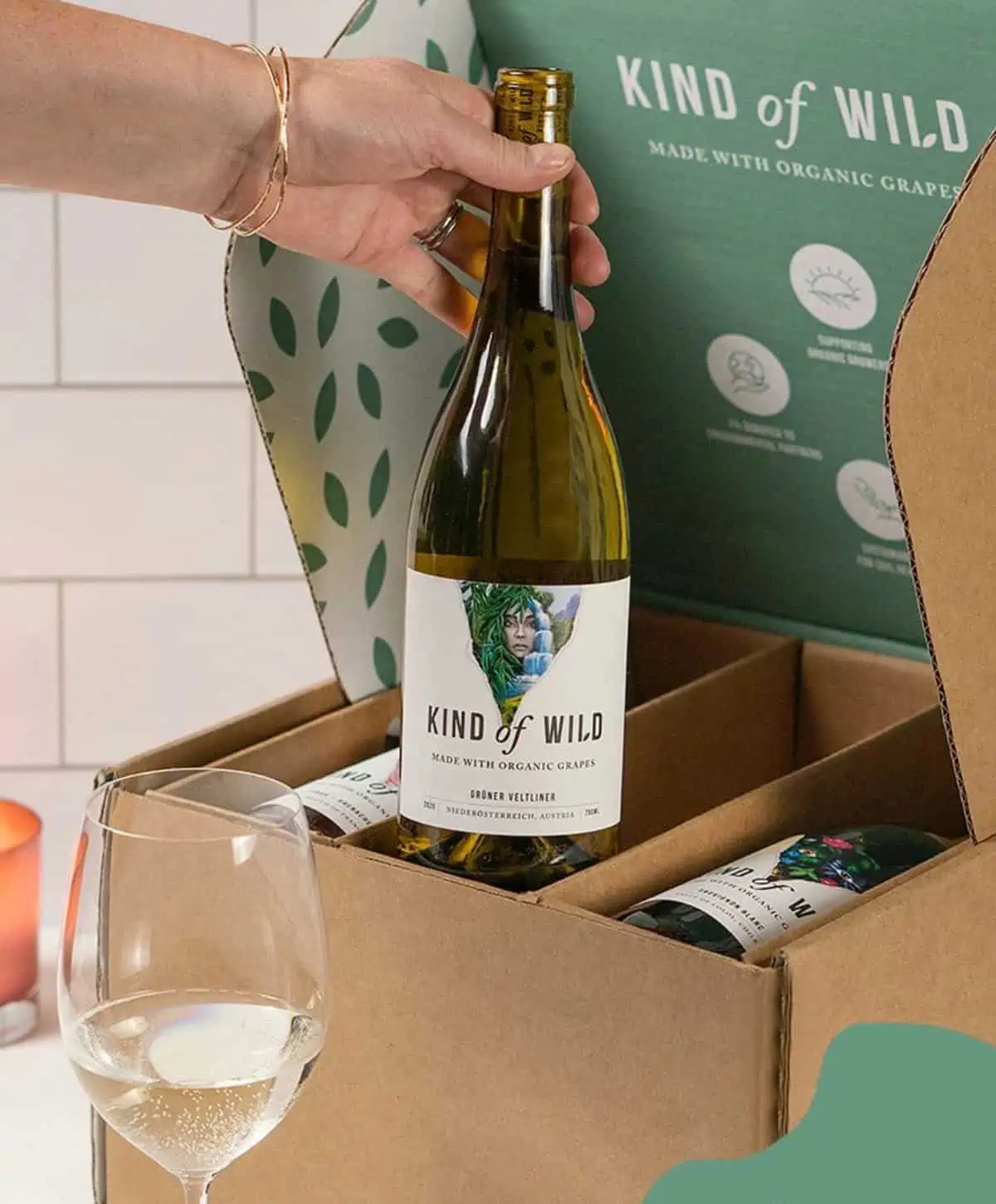 Creating a welcoming and gorgeous vegan charcuterie board is all about embracing your own style and having fun. Experiment with colors, shapes, and flavors as you like… it's your culinary canvas!
Don't hesitate to play with different pairings; that's where the magic happens. Once you create a beautiful, plant-based spread that everyone can dig into, you've mastered the art of creating your own plant-based charcuterie board!
Vegan Charcuterie Party: Recipes, Ideas And Inspiration!
The ideas for a vegan charcuterie party are endless. You can gather your favorite ingredients or choose a theme to build around. Here are a few inspirational ideas and vegan charcuterie recipes to get you started.
This epic vegan charcuterie board is perfect for big parties or the holidays! Consider adding seasonal ingredients when drafting your shopping list to celebrate the holidays in style. Dried cranberries, rosemary sprigs, pomegranate seeds, persimmons, and citrus are great choices to include.
More epic-themed board ideas can include Mediterranean, football, dessert, Asian fusion, tropical, Mexican, breakfast or brunch, French, rustic farmhouse, and Italian.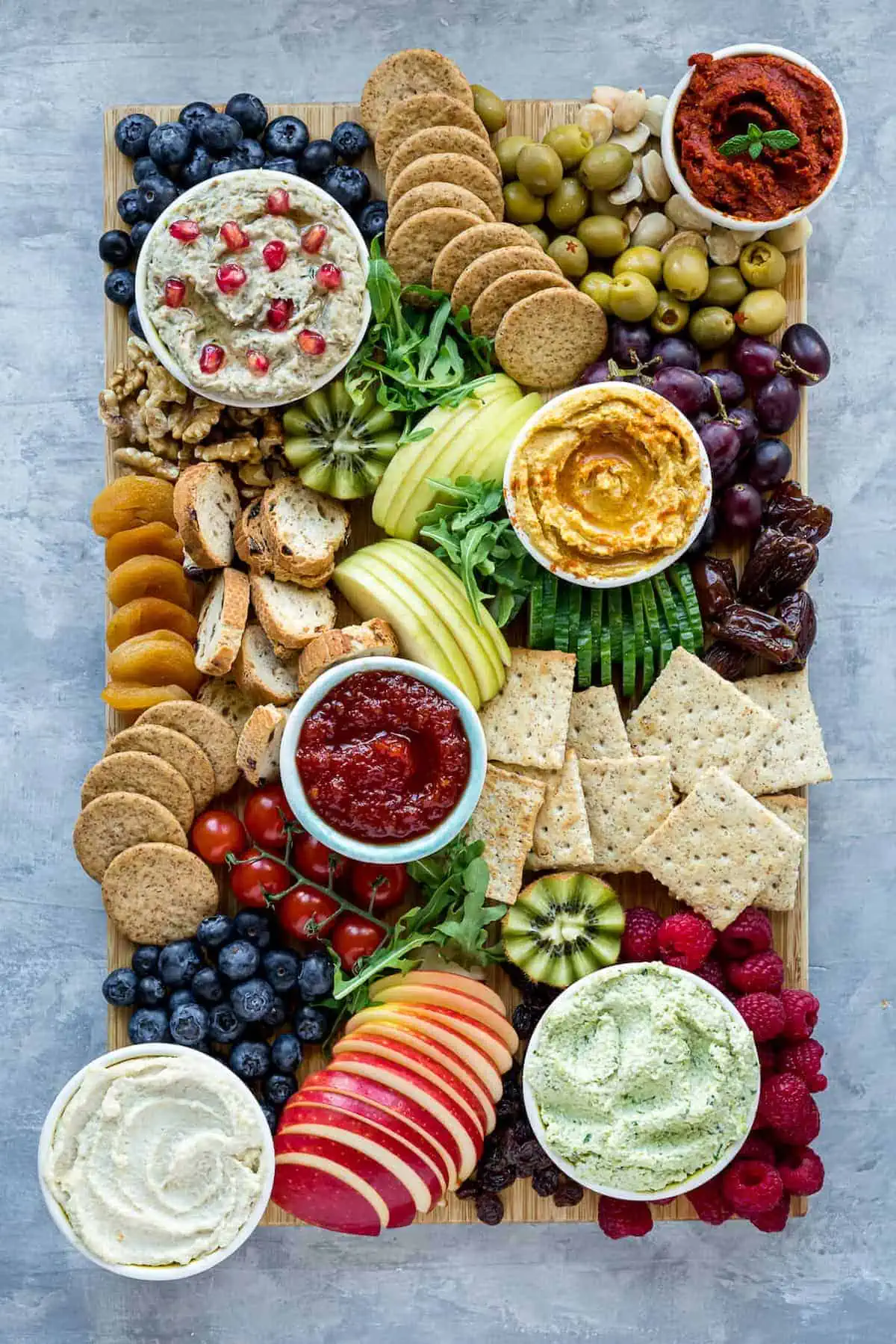 Skip the expensive vegan cheese boards and go all out on hummus. Adding simple toppings to your hummus can turn plain hummus into three different flavor varieties! This is a very budget-friendly option if you'd love to try vegan charcuterie boards but are concerned about the cost.
This colorful vegetable charcuterie board has such a beautiful array of flavors and textures. Adding bowls of dip to the board adds an interesting visual statement and also gives your guests choices.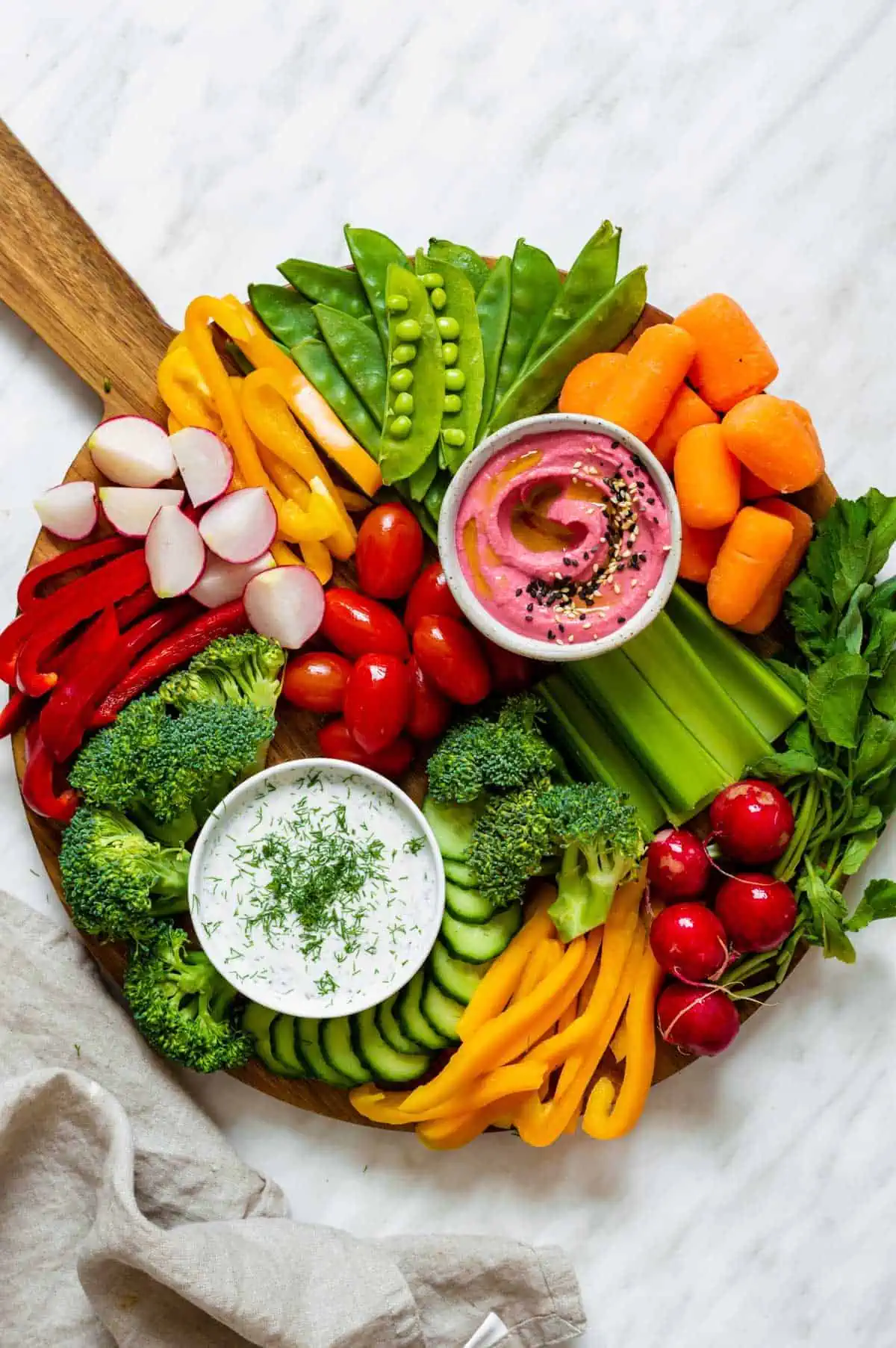 There are so many amazing plant-based cheeses available in stores and online. Grabbing a few wheels and pairing them with fresh fruit offers your guests a stunning and delicious display.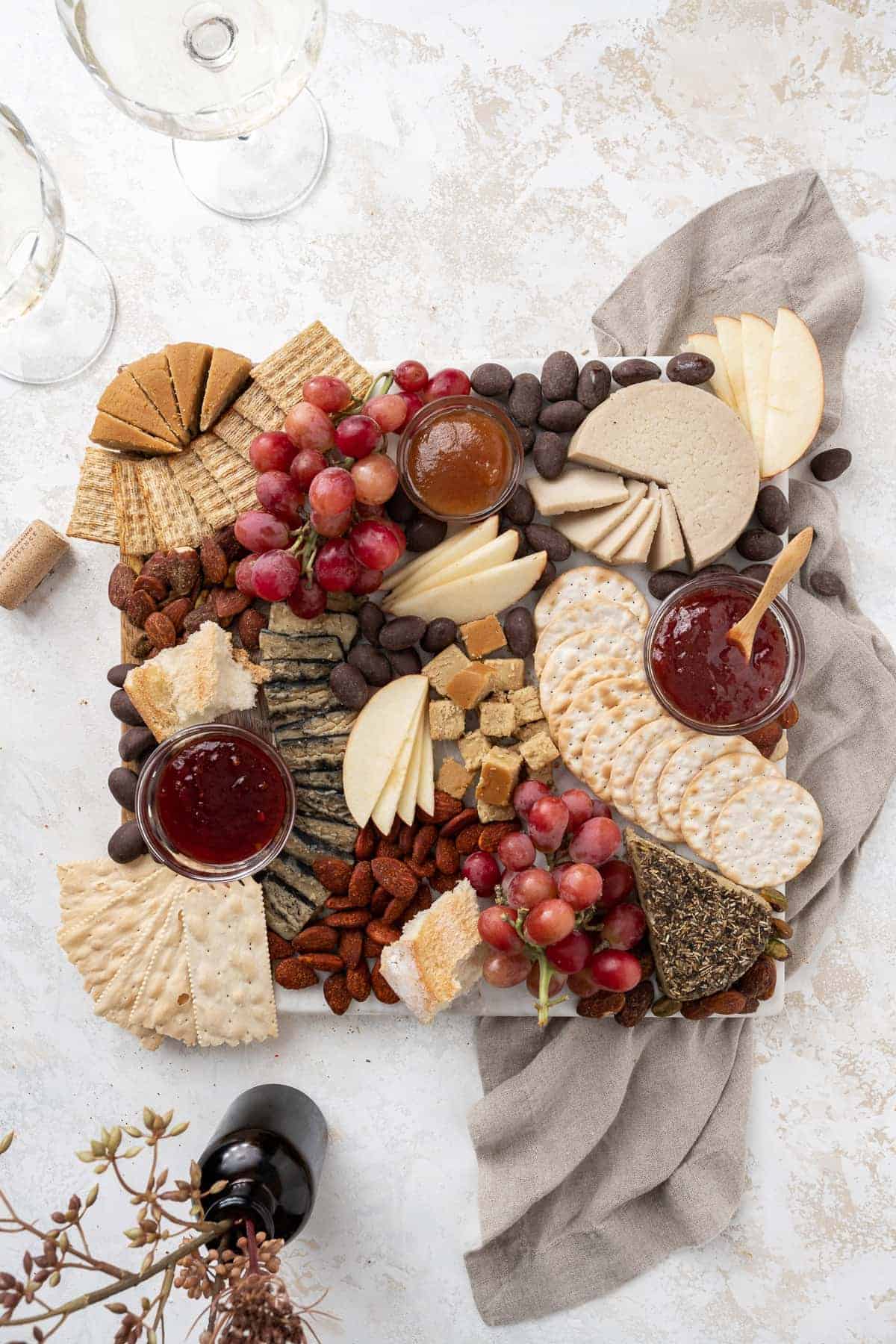 Arranging a charcuterie board is easy once you've gathered your ingredients. Placing bowls in various locations around your board and then filling the space in between with them is a great strategy!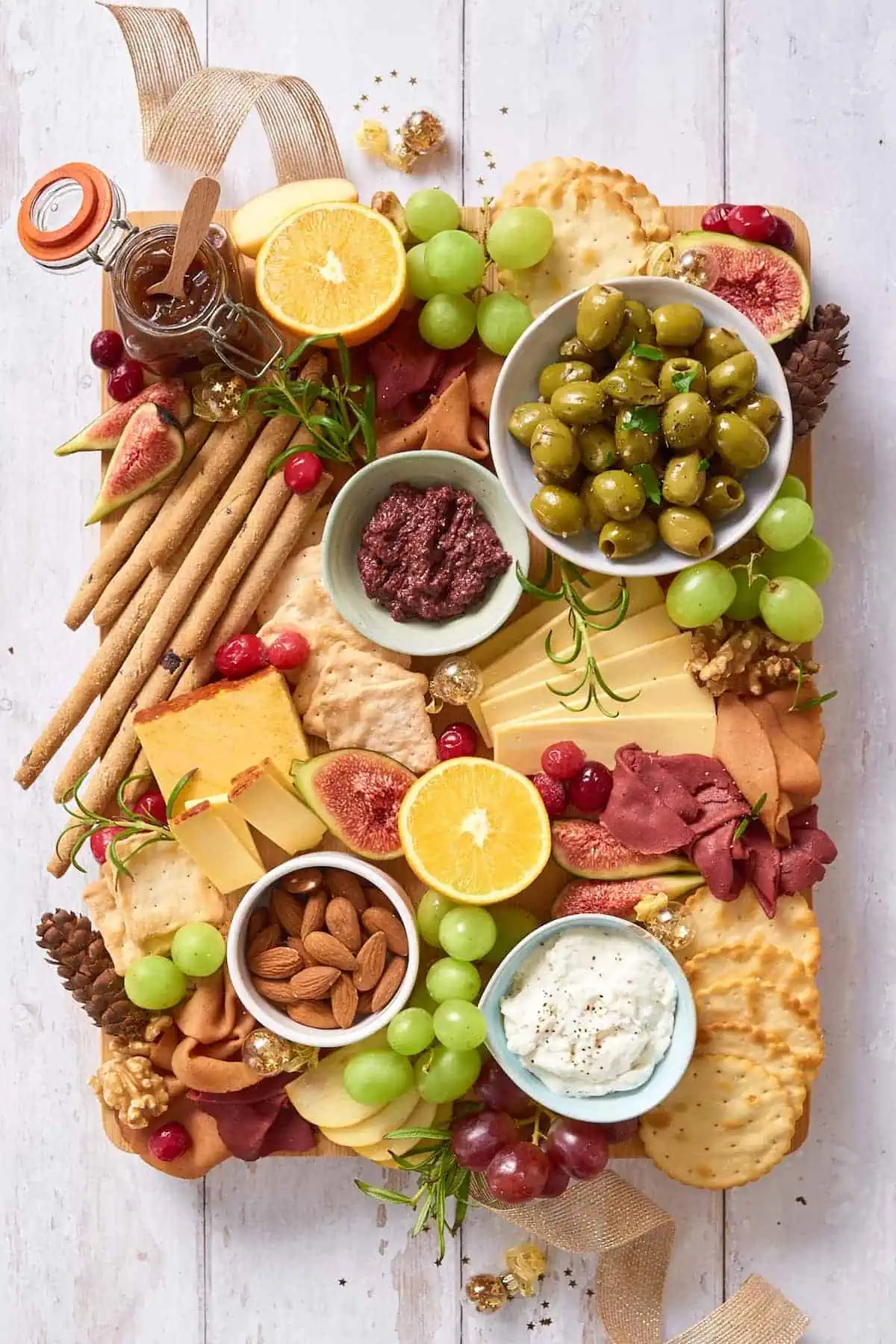 The key to a great veggie charcuterie board is all about choices. The more diverse flavors, textures, and colors it offers, the more likely your guests will be going back in for that extra bite.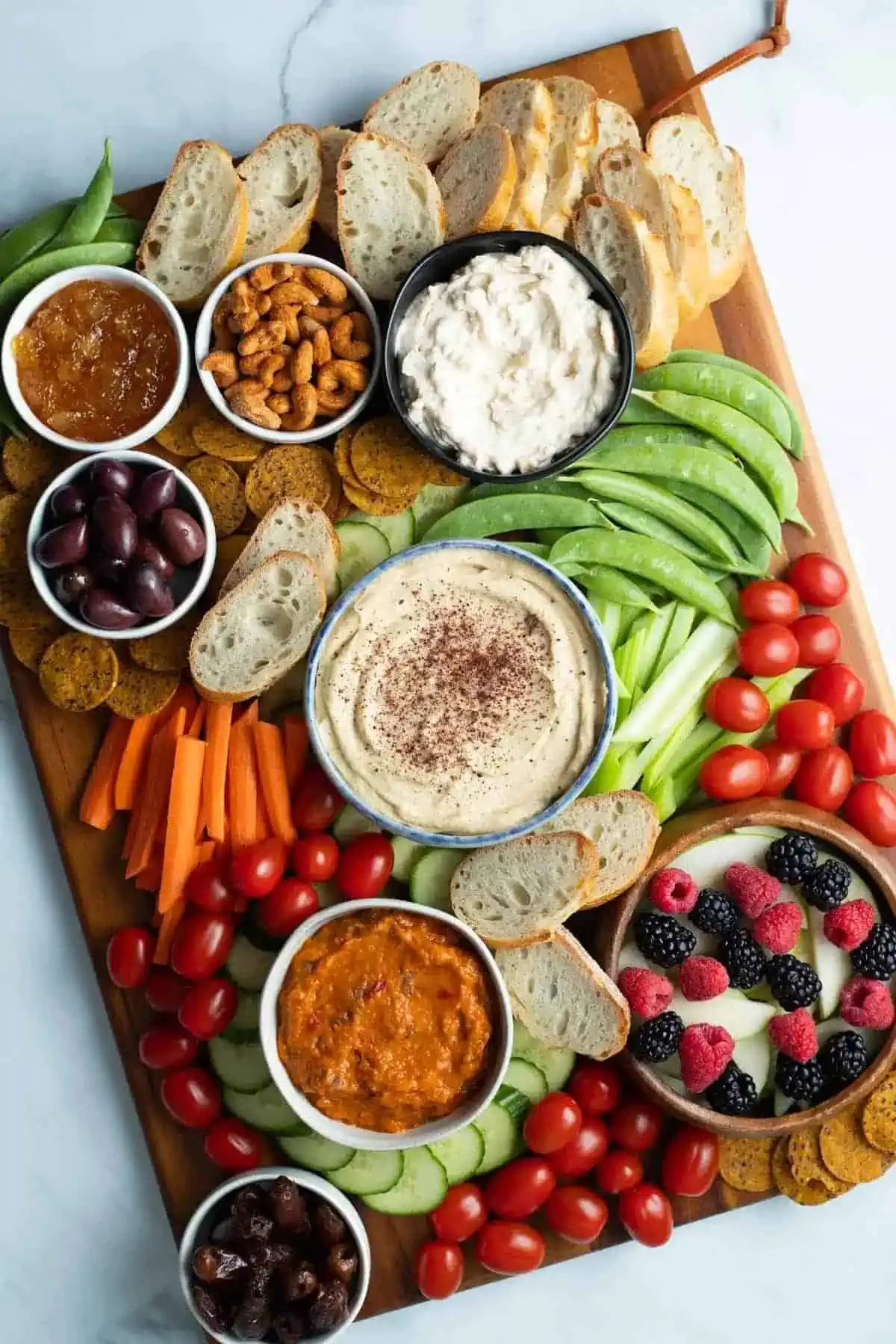 Fresh produce is key to creating a beautiful grazing board. Choose from every color of the rainbow, and don't be afraid to add in some green veggies to pump up the vibrancy. Add some vegan honey for some extra sweetness!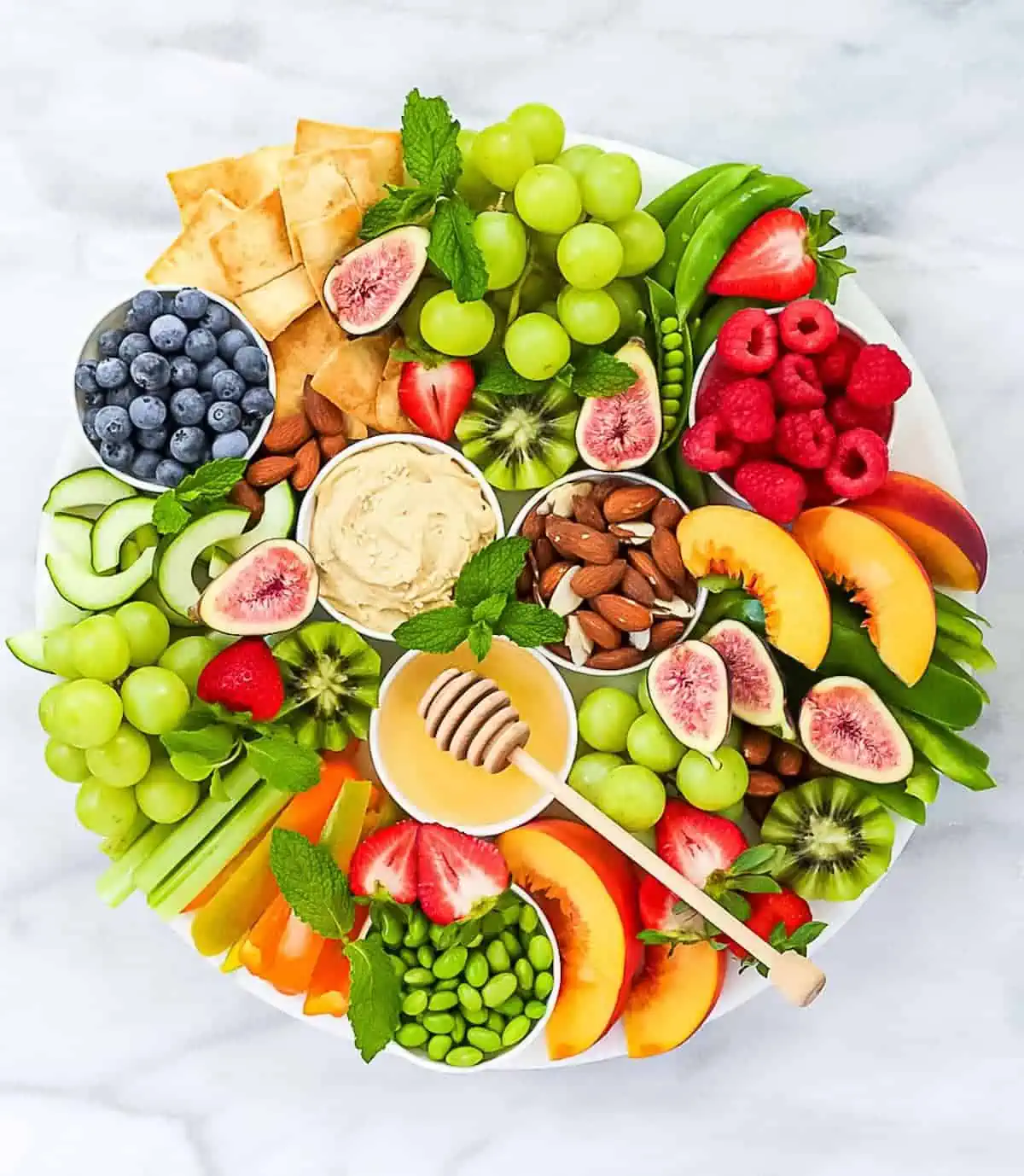 Charcuterie boards are great for kids too because they have perfect-sized components that are easy for little fingers to pick up!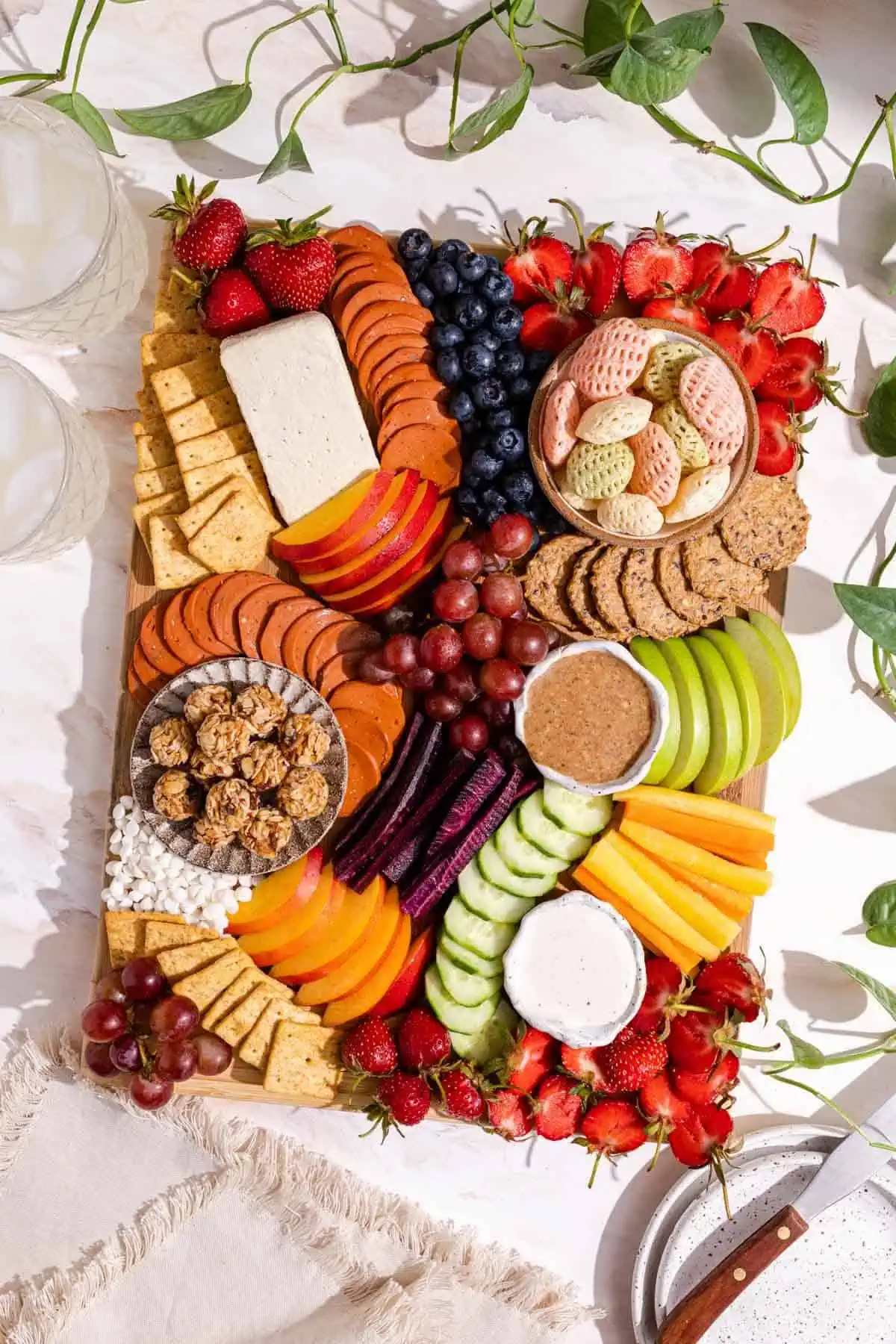 Top Tips For Making A Beautiful Charcuterie Board
Now that you have guidance, tips, and inspiration for arranging a vegan grazing board, here are some additional tips to help you along the way:
Arrange your items with intention. Start by placing larger items like vegan cheese wheels or blocks as anchor points, then fill in the gaps with smaller items, ensuring a balanced distribution of colors and textures.
Use complementary colors. Consider the color palette of your board. Incorporate colorful ingredients like red bell peppers, purple cabbage, or vibrant berries to make the board visually appealing.
Play with shapes and sizes. Vary the shapes and sizes of your items for visual interest. You can cut vegan cheeses into different shapes, such as wedges or cubes, and arrange them alongside circular crackers or sliced baguettes.
Invest in quality serve ware. A beautiful wooden or marble platter can elevate the overall presentation of your vegan charcuterie board. Alternatively, consider using a slate board for a rustic touch. You may also consider choosing eco-friendly serveware, napkins, and utensils!
Add edible flowers. Edible flowers like nasturtiums, pansies, or violets can bring a pop of color and elegance to your board. Ensure they are safe to eat and pesticide-free.
Include artistic touches. Don't be afraid to get creative! Consider incorporating vegan chocolate truffles, decorative fruit carvings, or personalized touches to make your board uniquely yours.
Ordering A Vegan Charcuterie Box Online
The holidays can be a busy time. Purchasing a vegan charcuterie box online may be a convenient choice for you. Here are some choices to consider if you'd like to take that route!
Harry and David have created a deluxe vegan charcuterie and cheese assortment with a wide array of plant-based meat, vegan cheeses, fruit pastes, and crackers!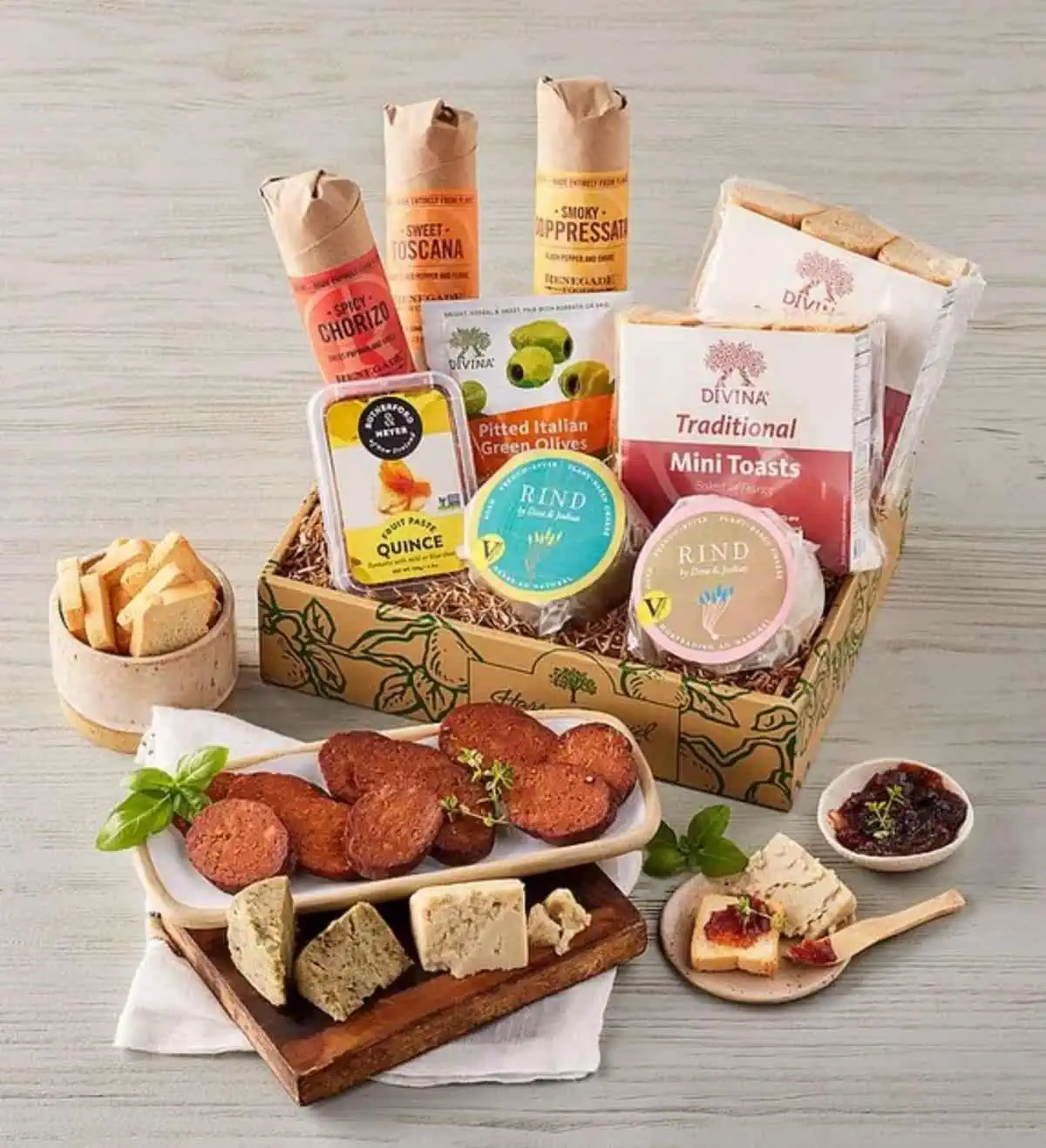 Platterful offers a Plant-Based Perfection Charcuterie Kit complete with lots of plant-based products including cheese, fig salami, vegan jerky, crackers, and more.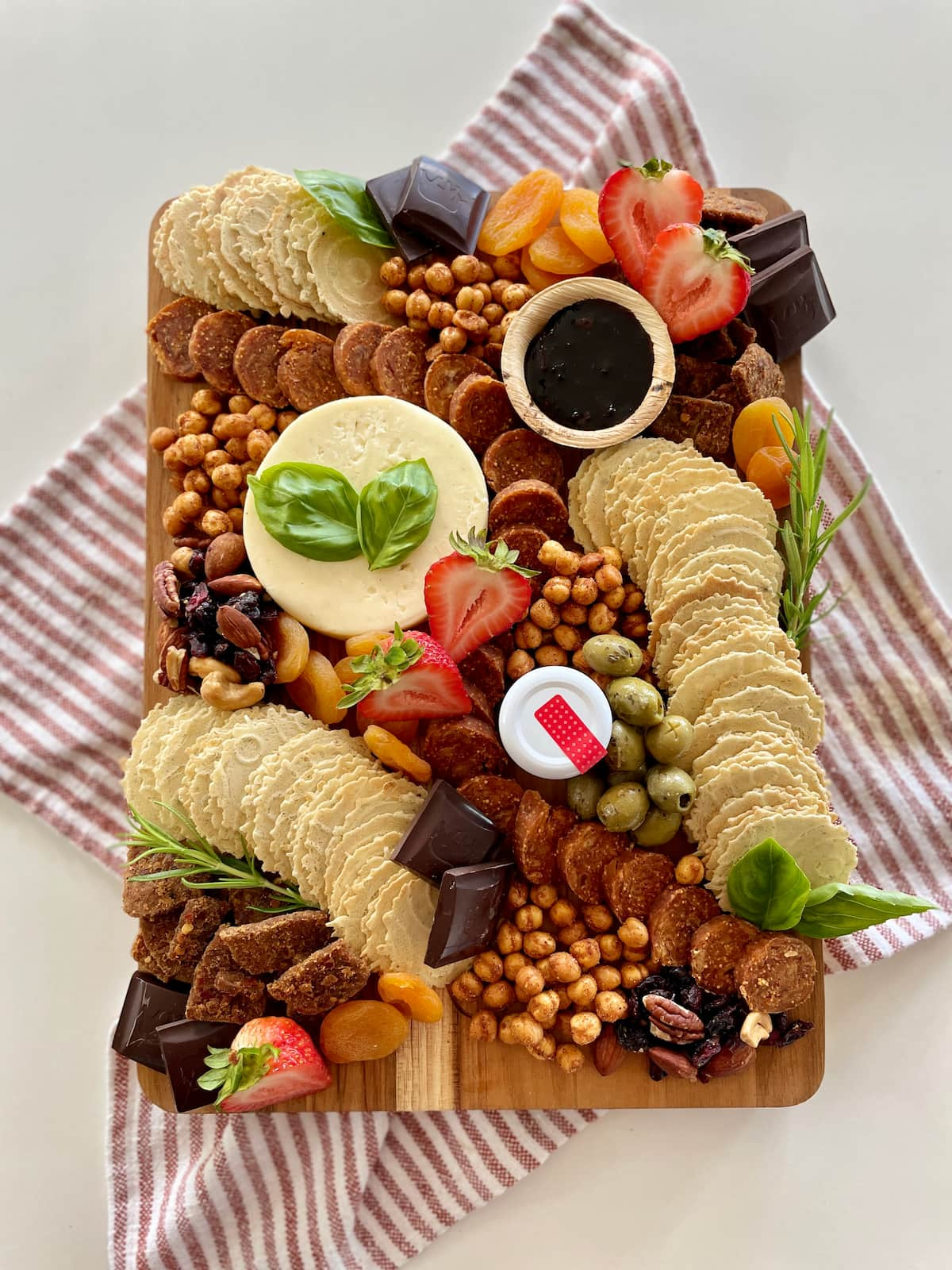 This gorgeous plant-based grazing box from Nibel offers a gorgeous display of fresh fruit, vegan cheese, olives, nuts, and plant-based salami.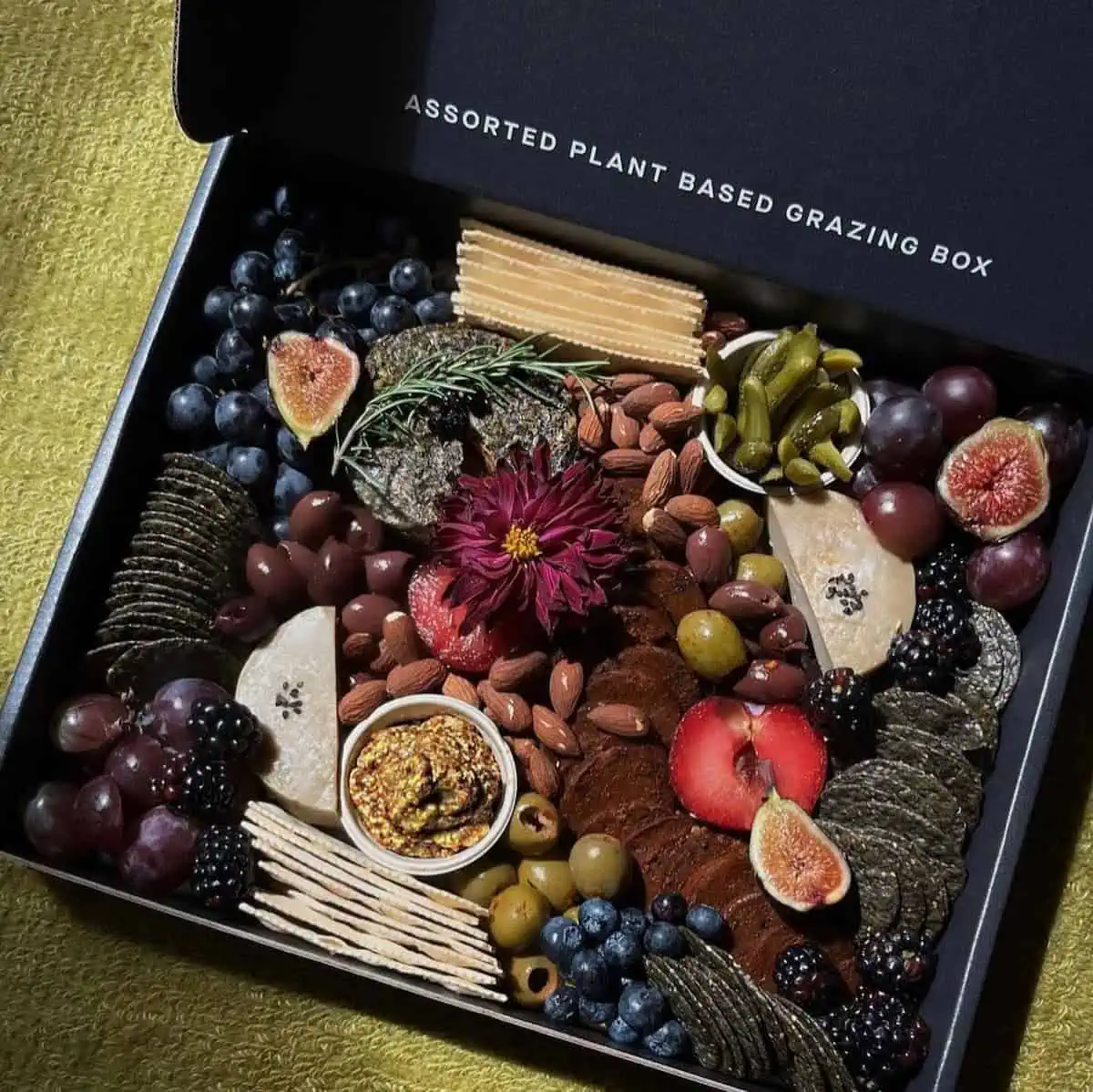 Plant-Based Meats (Choose At Least 2)
Plant-based pepperoni
Plant-based deli meats
Plant-based ham slices
Plant-based salami
Plant-based mini sausages
Plant-Based Cheeses (Choose At Least 2)
Plant-based cheese wheels
Plant-based cheese blocks
Plant-based cheese spread
Plant-based cheese slices
Plant-based cheese crumbles (like feta or bleu)
Dried And Fresh Fruits (Choose 2-3)
Grapes
Apple slices
Berries
Persimmons
Pears
Citrus fruits
Dried fruits like figs, apricots and cranberries
Fresh Vegetables (Choose 2-3)
Cherry tomatoes
Celery
Carrots (baby or sliced)
Radishes (halved or quartered)
Snap peas
Broccoli
Dips And Spreads (Choose At Least 2)
Hummus
Fresh vegan pesto
Baba ganoush
Vegan French onion dip
Bread, Crackers, And Nuts (Choose At Least 3)
Pita bread
Baguette slices
Crackers
Pretzels
Candied and savory nuts
Pickles and Olives (Choose At Least 2)
Pickled onion or mushrooms
Cornishons
Olive assortment
Tapenade
Garnishes
Fresh herbs like parsley, rosemary, chives, and thyme
Gather your ingredients by choosing from each section above.

Select a large wooden or marble board large enough to accomodate your ingredients.

Start to assemble your board using bowls scattered around to anchor your arrangement. Fill the bowls with dips and pickled ingredients.

Start to assemble your board using the largest ingredients first. This may be your crackers or baguette slices. Fan them around the bowls.

Next, start to fill it in even more with your medium-sized ingredients. Follow up with your smaller ingredients until the spaces are filled.

Garnish with fresh herbs or edible flowers.

Assemble your board just before guests arrive.

Store any leftovers in seperate containers and refrigerate as needed.
Feel free to buy or make your own plant-based cheeses, vegan meats, dips, and pickled items.
For the freshest taste, select from produce items that are in season.
This is a suggested guide. Feel free to use this as a framework, but let your own creativity be your guide!
Include chilled and room-temperature items to add even more diversity on your platter.
Opt for eco-friendly serveware like bamboo or reusable platters to reduce waste and enhance sustainability
Select vegan wine or beverage pairings that complement the flavors on your board, enhancing the overall dining experience.