If you love authentic Mexican tacos, you're going to love this vegan oyster mushroom recipe! These pulled oyster mushroom tacos are next-level delicious. 
Vegans and tacos go together like peanut butter and jelly or cashew and nooch. These chipotle mushroom tacos go one step further by recreating that meaty mouthfeel and tender texture that you were used to before becoming vegan.
This simple and savory recipe will soon become a weekly favorite and you'll be whipping out the pan with pleasant anticipation. Find your favorite fungi, a pile of potent peppers, and your choice of tortillas and let's tackle this taco recipe!
Many thanks to Mirza from Wiwiurka for contributing this authentic plant-based Mexican recipe. We connected with Wiwiurka while looking for sustainable wood toys for kids for our vegan parenting content and were thrilled that Mirza was interested in contributing this family recipe. All our recipe testers loved it, and we hope you will too!
Tips for Serving Up Your Vegan Oyster Mushroom Tacos
Thankfully, tacos are terrific for any meal, at any time of day. The fact that you can add anything at all to your tempting tortilla is an even bigger bonus! If you're out of ideas for the best way to bring out the best in your taco, here are a few flavorful suggestions:
Turn Up the Toppings – Pile on the greatest guac, the sassiest vegan sour cream, spoonfuls of scallions, and all the homemade salsa you can handle!
Heat It Up or Cool It Down – The heat level varies widely from person to person. One person's "mild" might be another person's "meltdown". The marinated peppers in this recipe can be taken out, added onto, or simply substituted for a hot pepper that you can tolerate. Not as hot peppers include: poblano, anaheim, and serrano, while truly hot peppers consist of: habanero, cayenne, jalapeño, scotch bonnet, and ghost pepper.
What Are the Health Benefits of Mushrooms?
Oyster mushrooms in particular have an impressive amount of positive nutritional benefits. With their pleasant pale shade, paper-like gills, and soft seashell quality, they are soothing to the eye and satisfying to the stomach. They also shine in these ways:
Low in calories and fat
High in fiber and protein
Trace amounts of extra nutrients such a vitamin D and selenium
Good source of antioxidants
Time to start adding more vegan recipes with oyster mushrooms to your repertoire!
What if I Don't Like Mushrooms?
You might easily have passed right by this fiery fungi recipe, but we're glad you didn't! Even though mushrooms are the main ingredient, you can make these tantalizing tacos with other plant-based foods. Wanna know which ones?
Jackfruit – A bit like "pulled pork" and doesn't need to be cooked as long as the mushrooms (maybe 5-10 minutes), but you may wish to marinate it beforehand to give it some extra flavor.
Tofu or Tempeh – Slice up some tofu triangles or nutty tempeh and substitute them for the meaty mushrooms in this dish.
Quinoa – Full of protein and fiber, this is another great way to fill up your chipotle tacos. Best to make the the quinoa ahead of time and then add to the pan after the tomatoes and peppers cook up.
Vegan Crumbles – With so many vegan meat options cropping up these days, there is no lack of yummy plant-based crumbles for purchase. Choose your favorite brand/flavor and cook along with the tomatoes and peppers, or according to the package instructions.
Which Vegetables Would Work Well With This Recipe?
We love adding more vegetables to our recipes, don't you? For these chipotle mushroom tacos, we recommend boosting with thinly sliced bell peppers, zucchini, corn kernels, or even broccoli. The sky's the limit when it comes to adding veggies—ignite your imagination!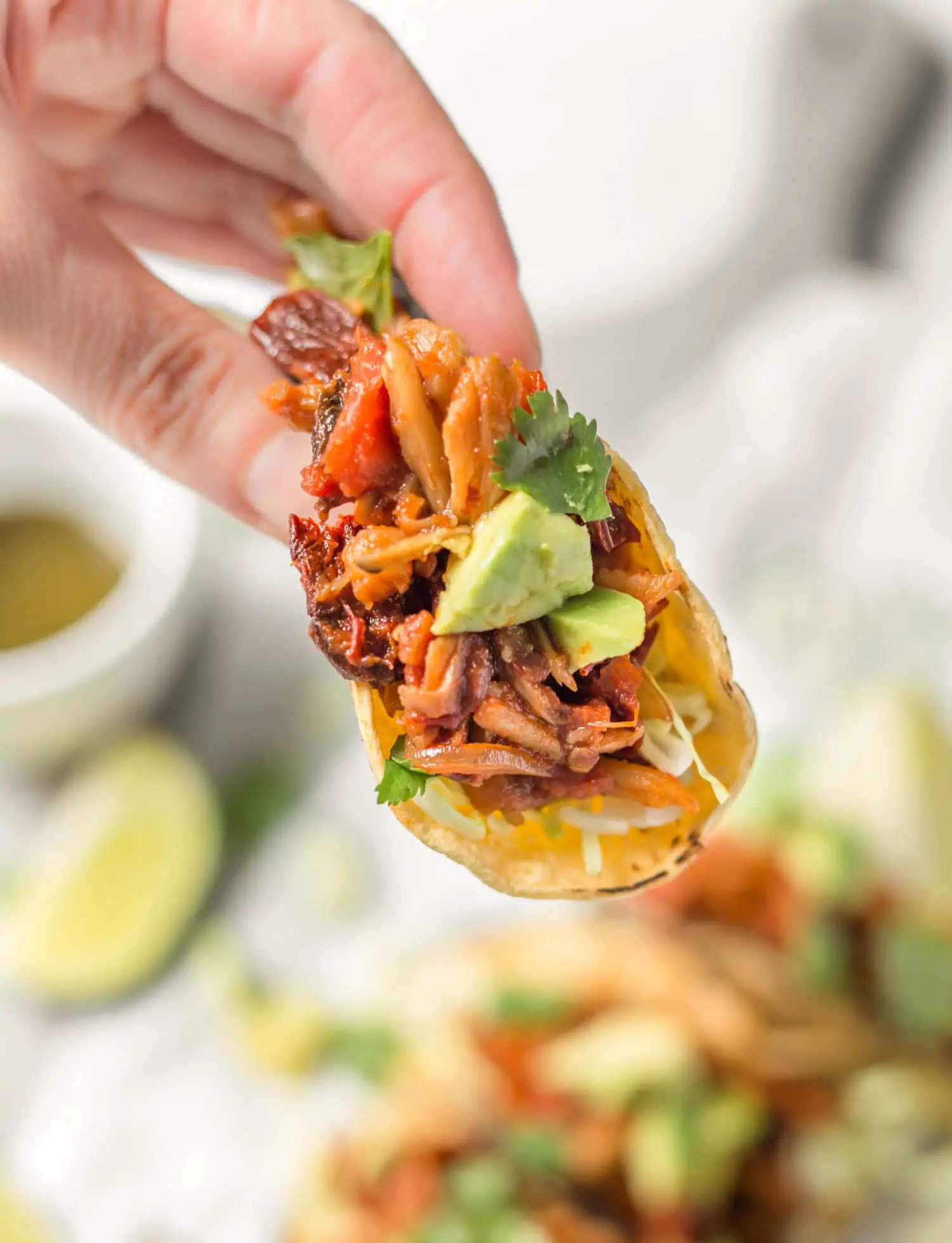 Step-by-Step Instructions
1.  In a medium pan over medium heat, sauté the onion and garlic.
2.  Add the diced tomatoes and peppers and cook until they become a darker color. Season with salt and pepper.
3.  Toss in the mushroom strips and cook until soft, about 10-20 minutes.
4.  Remove from heat and scoop filling into tortillas, along with toppings such as vegan sour cream, avocado, refried beans, lettuce, or vegan cheese.
Equipment You'll Need to Make These Oyster Mushroom Tacos
Sharp Knife
Medium Pan
Serving Spoon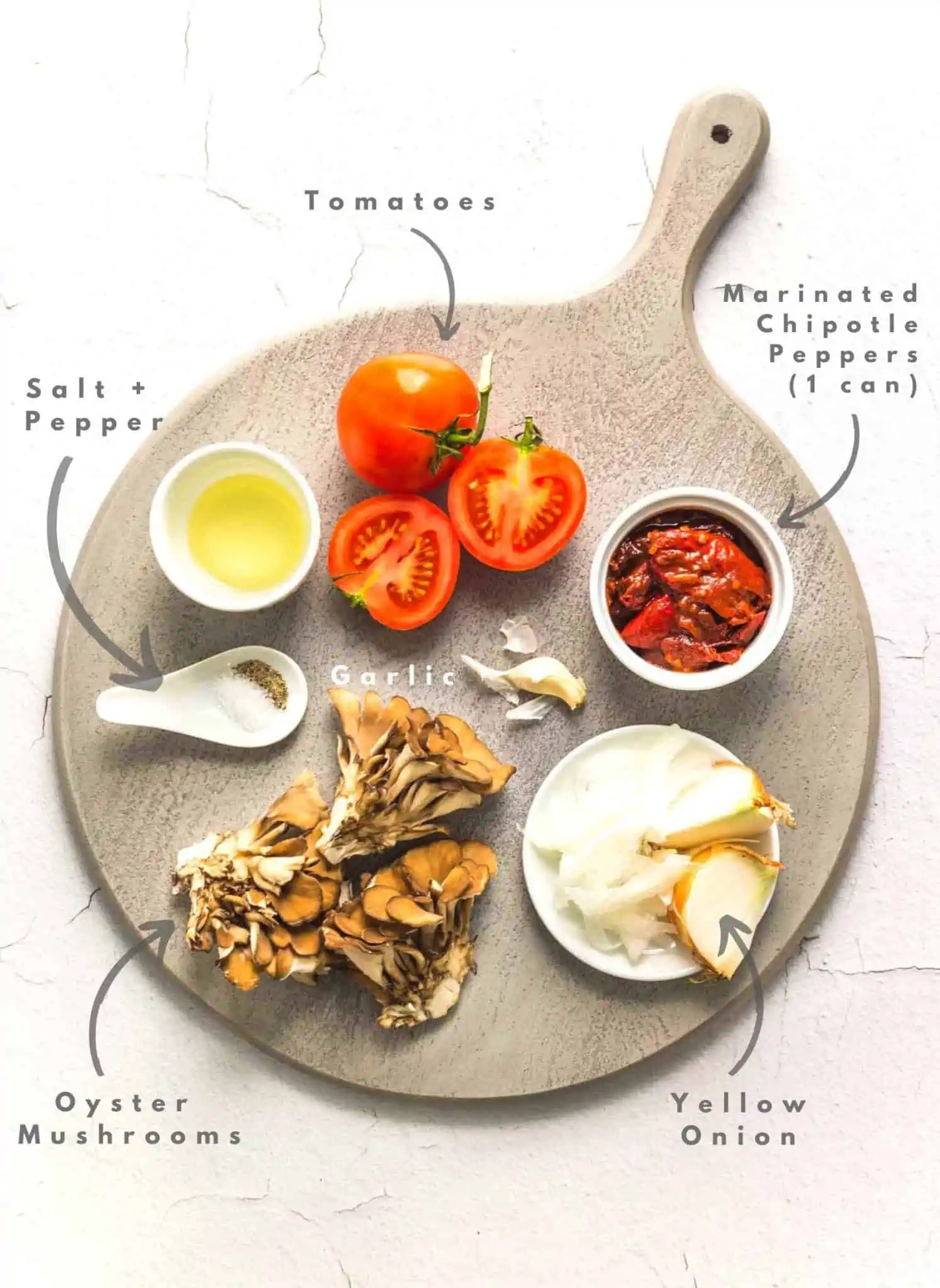 How to Shred Oyster Mushrooms
Tackling oyster mushrooms for the first time can be a bit intimidating, but don't let that stop you. It's actually fun and easy once you get the hang of it. The trick is to cut off the base first. Then, use your hands to pull the oyster apart (like you would with pulled pork or chicken) into strips.
If using another kind of mushroom (like basic button or portly portobello), chop in any way you like: thin strips, thick strips, chunky cubes, or into wonderful wedges. The advantage of using the oyster mushroom is that is shreds like a dream. But, it's totally up to you what type you choose for your tacos.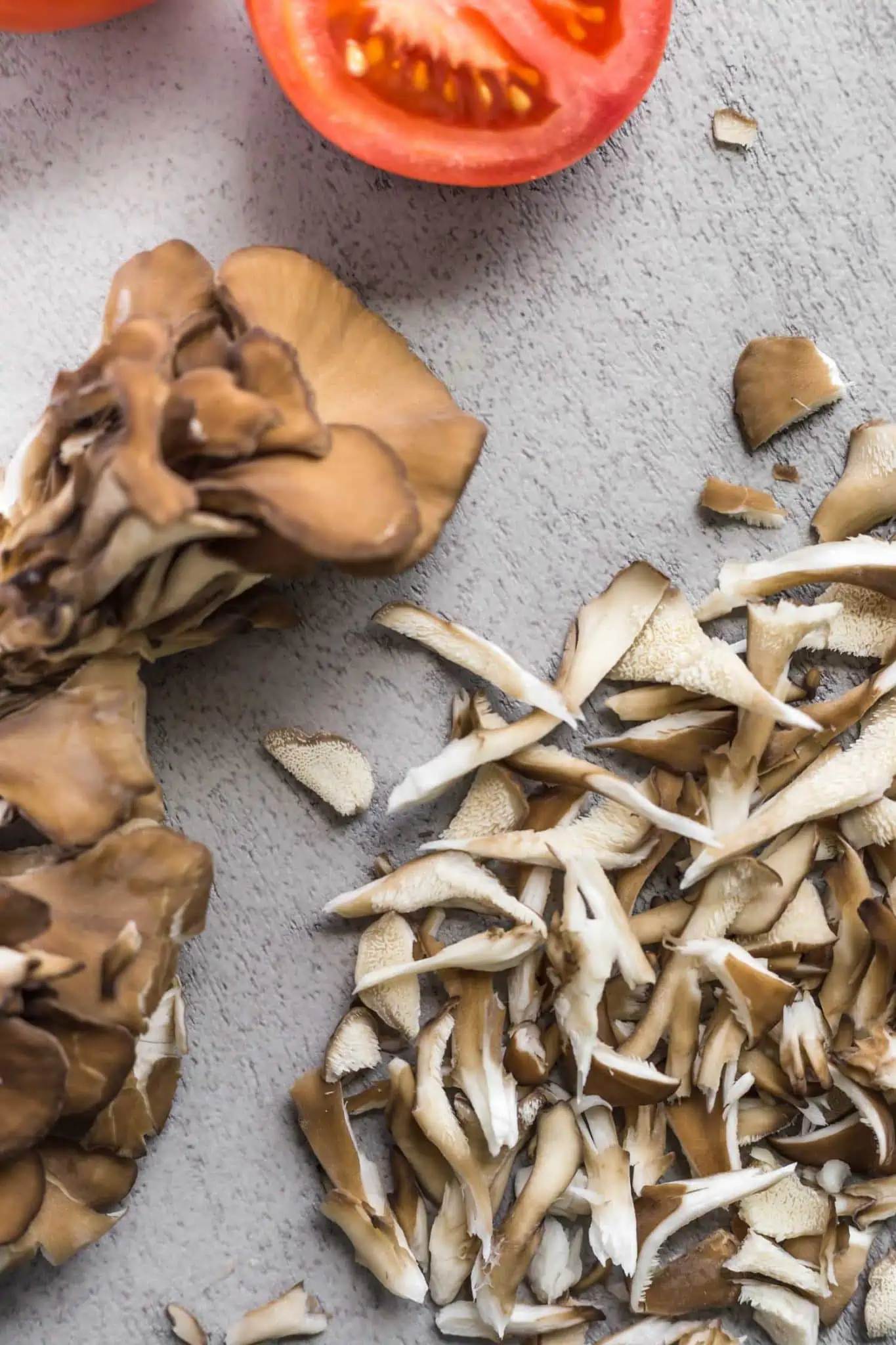 If you try this Chipotle Mushroom Tacos recipe, let us know what you think by leaving a comment and rating below! We'd also love to hear if you have other favorite oyster mushroom vegan recipes you recommend. And be sure to follow along on Pinterest, Instagram and Facebook for even more vegan recipe inspiration!
¼ cup canola oil, or your favorite vegetable oil
1 large onion, thinly sliced
1 clove garlic, minced
5 large tomatoes, finely diced
1 7-8-ounce can marinated chipotle peppers
1 pinch pepper
Salt, to taste (approximately 1 teaspoon)
1 pound wild oyster mushrooms cut or pulled into strips, like chicken
In a medium pan over medium heat, add the oil. Once hot, add the onion and garlic and sauté until the onion becomes transparent. 

Add the diced tomatoes and chipotle peppers and cook until the sauce turns a darker color. Season with salt and pepper. 

Add the mushroom strips and cook until soft, about 10-20 minutes depending on how thin it's shredded. If using oyster mushrooms, make sure to cut off the bottom parts of the mushrooms and shred into fine pieces with your hands. If using button or portobello, just chop however you'd prefer. Test single mushroom for taste and adjust salt and spice levels according to preference. 

Remove from heat and spoon mushroom filling into corn or flour taco tortillas. Top with fresh cilantro and serve with refried beans, avocado, and any other fillings of your choice.
It works with any mushrooms, but oyster mushrooms can be pulled like chicken!
Sensitive to spice? Start by testing a small batch of mushrooms to see if the heat is to your liking and adjust accordingly.
Calories: 218kcal | Carbohydrates: 20g | Protein: 6g | Fat: 15g | Saturated Fat: 1g | Polyunsaturated Fat: 4g | Monounsaturated Fat: 9g | Trans Fat: 0.1g | Sodium: 33mg | Potassium: 1074mg | Fiber: 6g | Sugar: 9g | Vitamin A: 1950IU | Vitamin C: 34mg | Calcium: 36mg | Iron: 2mg
How to Store These Oyster Mushroom Tacos
It's best to keep the chipotle mushroom tacos filling separate from the tortillas if you have any leftovers. Scoop your tasty taco filling into a closed container and wrap your remaining tortillas up well before placing both in the refrigerator.
The tortillas (both flour and corn) should last about a week or so and you can always freeze them if you don't think you'll use them up quick enough. Any fantastic flavored filling will last about 2-3 days in the fridge and can easily be stored in the freezer (well sealed in a freezer-safe container or bag) for at least 4 months.
More Vegan Mexican Recipes to Try:
Many thanks to our recipes testers Milan Shah and Helen DiRenzo for helping us perfect this recipe!
This authentic Mexican Chipotle Mushroom Tacos recipe was created by Mirza S. López Gil from Wiwiurka Toys for World of Vegan. Let's hear it for amazing vegan oyster mushroom recipes! Vegan food photography by JJ Steele. Copyright of World of Vegan™, all rights reserved. Article written by Gina House and edited by Amanda Meth. This article is not sponsored, but may contain affiliate links that support our work at World of Vegan.