If I had to choose only four foods to eat for the rest of my life, it would be apples, romaine, potatoes, and chickpeas. I'm embarrassed to say that chickpeas were on my list of 'ugh' eatables and I never gave them a chance until I was in my 30s.
Now, I can't believe that I ever lived without eating them every day. I could make an entire day's worth of meals with only chickpeas and be as happy as can be! Morning, noon, and night-—these heart shaped little beans are my best friends.
Chickpeas Can Do It All!
Is there anything chickpeas can't do? Not much. Chickpeas can be magically transformed into:
Pizza Crust
Baking Flour
Bean-licious Burgers
Indian Chana Masala
Body Care Products
They definitely deserve a Most Inspirational Bean Award. Not only can they morph into everything listed above, but of course they can be used to add a lovely protein punch in all kind of plant-based recipes. Think: salads, soups, stews, stir fries, sandwiches, and wraps.
Chickpeas vs. Garbanzo Beans
We're asked about the difference between chickpeas and garbanzo beans all the time. But guess what? They're the exact same thing! To different names for one beautiful bean. Take your pick!
Protein-Packed & Good for Your Gut
These buttery and nutty legumes (also known as garbanzo beans) are also packed full of nutrition. They're high in soluble fiber and protein, as well as rich in vitamins and minerals such as folate, iron, phosphorus, copper, and manganese.
If you're looking to add more prebiotics to your diet, chickpeas are a great choice. The type of fiber they contain helps to increase all of the healthy bacteria in your gut and keep down the amount of unhealthy bacteria overgrowth at the same time.
Very Versatile
You really can't go wrong when choosing chickpeas. They can be used in so many different ways and for so many different reasons. From snacks and salads to soups and stews (even shampoo and scrubs!), these creamy little beans can't be beat.
Chickpeas are also super filling and have a lovely mild flavor. When using canned beans, make sure to save the bean water (aquafaba) when draining. You'll get two meals in one—one dinner and maybe one dessert. How amazing is that?
Holler for Hummus
Hummus is a staple in almost every vegan's diet, and it's essentially blended chickpeas with some delicious add-ins (like tahini, garlic, olive oil, and salt).
Hummus Recipes:
If you're looking for the perfect appetizer platter for a vegan party but don't want to spend lots of money on a cheese board, try an epic hummus board instead!
All About Aquafaba
You might be wondering – what is this mysterious liquid called aquafaba? Where can I get it? What do I do with it? Who came up with it?
Aquafaba is the viscous, semi-translucent liquid created after cooking chickpeas. When you open up a can of chickpeas, the bean brine inside is actually aquafaba. While a Frenchman named Joel Roessel gets credit for his exploration of the molecular properties of this fluid, Goose Wohlt came up with the brilliant idea to use it as a baking ingredient.
This discovery took the internet by storm a few years when Wohlt realized that you can easily substitute egg whites for an equal amount of aquafaba––they work the same way. Such a cool contribution to vegan cooking! Now, we can make light and airy mousses, mouthwatering meringues, and even wonderful whipped cream!
Aquafaba is such an incredible ingredient that we created an entire article about the awesomeness of aquafaba. We'll tell you everything you need to know about this fascinating fluid and how to make the most of its positive properties. All aboard the Aquafaba train!
Watch the magic of aquafaba in action here!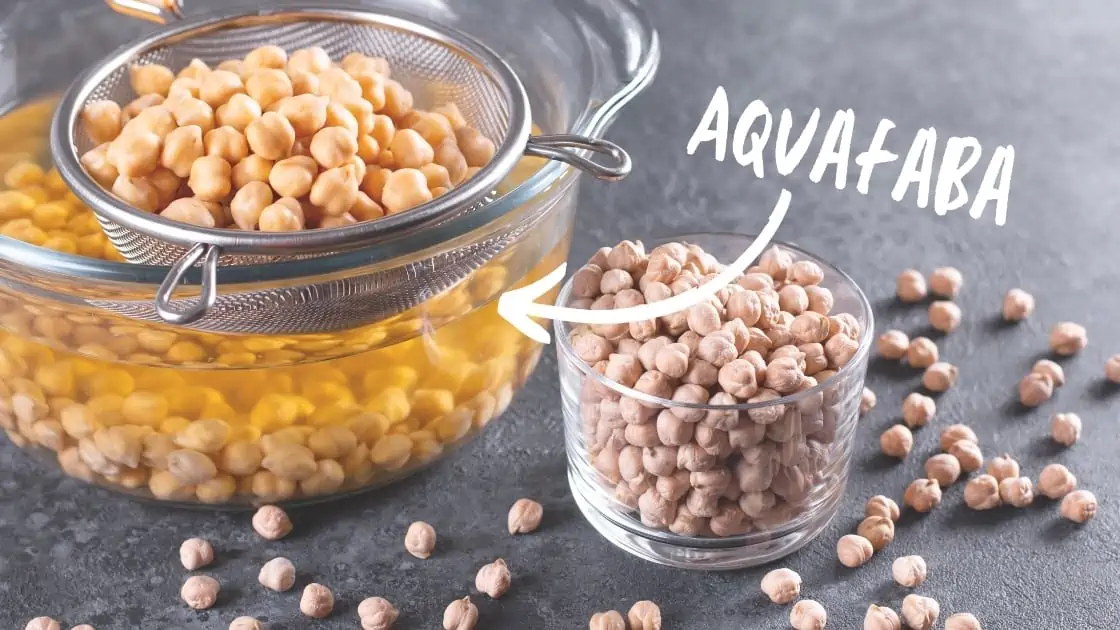 Our Favorite Aquafaba Recipes
Recipe Roundup!
Here are our favorite chickpea recipes from World of Vegan: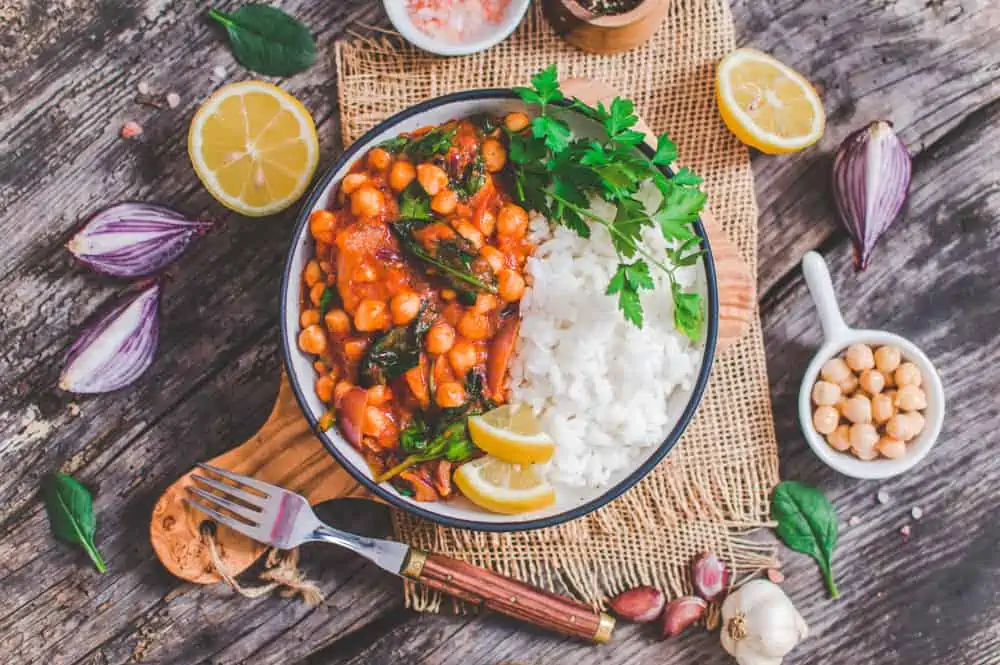 Beauty and Body Care With Beans
Would you believe that these beautiful beans are not only delicious to devour, but also super for your skin? Garbanzo bean flour (also known as 'gram' or 'chickpea' flour) is inexpensive and all-natural and can usually be found in your local grocery store.
Shampoo – Use a paste made of the chickpea flour and water to cleanse your hair. Mix 1 tablespoon of the flour, a couple of drops of your lavender essential oil (optional) and enough water to make a thick paste. With your hair completely saturated with water, apply the paste mainly to the roots of your hair. Rub gently on the scalp and then let sit for a minute or two. If you're in the shower, you can wash your body before rinsing your hair. Works best if you use an apple cider vinegar rinse after washing. Mix 1 tablespoon of ACV into one cup of water for a super quick rinse recipe.
Face Cleanser – I love this recipe from Fairyland Cottage for a DIY Face Wash Powder. Gentle on the skin and simple to put together. All you need are some herbs (lavender and chamomile), turmeric and flour (oat, chickpea and rye). I use oat, chickpea, and almond in mine and I love how it makes my skin feel!
Body Scrub – Easy as can be! Find a clean container with a lid and fill with chickpea flour. You can add some gentle herbs or other additions if you wish, like lavender, chamomile or ground oats. When ready to use, make sure your skin is wet and rub a small handful gently over your body. Leave on for up to 20 minutes if you want to have more of a 'body mask' before rinsing off. Apply a generous amount of body lotion, oil or cream after rinsing while your body is still damp. Perfect for a spa day!
How to Cook Chickpeas
While it's super convenient to use canned beans, you may want to make your own from scratch. It's a bit cheaper, you can buy them in bulk, and the beans might even be better for your digestion.
How to Cook Chickpeas on the Stove:
Soak 1 cup of dry chickpeas overnight in filtered water.
The next day, drain and rinse the beans thoroughly.
Add beans to a pot and cover with several inches of water.
Bring to a boil on high heat, lower heat, and simmer for 1.5 – 2 hours.
If you'd like to save the aquafaba, drain bean water into another pot or large mason jar to cool.
Let the beans cool completely before storing them in the refrigerator or freezing.
How to Cook Chickpeas in an Instant Pot (Pressure Cooker)
Soak 1 cup of dry chickpeas overnight in filtered water.
The next day, drain and rinse the beans thoroughly.
Place beans into the Instant Pot and add just enough liquid to cover the beans completely.
Pressure cook on HIGH for 15-18 minutes. The longer you let them cook, the softer they will get.
Quick release and drain off the bean liquid into a large mason jar or other container if you'd like to save the aquafaba.
Let the beans cool completely before storing them in the refrigerator or freezing.
NOTE: You can store the aquafaba liquid in the refrigerator for a few days or freeze in a freezer-safe container. The aquafaba should last at least 3 months frozen.
Do you love chickpeas as much as we do? Do you have any essential chickpea recipes that you find helpful (or delicious) and want to share with us? Tag us on Instagram, share with us on Twitter or post on our Facebook wall. We'd love to hear from you!
Article by Gina House, edited by Amanda Meth. Photos from Canva.com. This chickpea guide includes affiliate links when available, and shopping through these links supports World of Vegan.