Are you constantly searching for a soft, satisfying dish to soothe your soul? You're in luck because this recipe is the remedy for all (or at least most) of your wary woes. In other words, you won't believe how much these vegan stuffed cabbage rolls mean to you (and your belly) until you've tried them.
With simple ingredients such as cabbage leaves, rice, tomatoes, veggies, and herbs, you can create the most pleasing pot of comfort for you and your family. After getting the leaves prepped and the vegetables cooked, the rest of the routine is just rolling. Call all hands on deck for extra help!
The time that you put into this toasty, rolled up recipe from the Jewish vegan cookbook Beyond Chopped Liver by Kenden Alfond is definitely worth it. Who's with me?
What Is the History of Stuffed Cabbage Rolls?
Many in the Jewish community believe that this warm, sustaining dish was part of the Jewish tradition as early as 1500-2000 years ago. The recipe has roots in the Middle East, specifically in Israel, and is usually made using ground beef, rice, and raisins. Jewish stuffed cabbage rolls (called 'holishkls') are sometimes finished off with a simmered sauce using lemons, brown sugar, and tomatoes.
What are the Benefits of Eating Cabbage?
Cabbage is actually super cool! There are numerous health benefits from eating this cruciferous vegetable. Here are some of the best ones:
Great source of fiber, calcium, magnesium, and potassium
Contains additional vitamins such as C, thiamine, niacin, and folate
High in antioxidants like flavonoids, zeaxanthin, lutein, choline, and beta-carotene
How to Serve Up Your Stuffed Vegan Cabbage Rolls
All of your hard work is worth it when making these comforting rice rolls. Firstly, they're incredibly good. Secondly, they are super to have on hand for a quick lunch. Most importantly, these ravishing rolls are really filling, too! What else can you do with them you ask?
Pump Up the Protein – If cabbage leaves full of fresh veggies doesn't sound quite as satiating as you'd like, you can always add a pop of protein. The rice mixture is great because you can add in anything you like! Tempeh, beans, lentils, or chopped walnuts would all work well.
Extra Spice Is Twice as Nice – The spices in this dish are mild and fresh, so that you can incorporate your own level of heat or flavor as you wish. Consider mixing in a smidge of smoked paprika, an extra handful of herbs, or even a peep of cayenne pepper.
Go for the Grain! – Sometimes rice can be a bit boring and you may want to switch things up a bit with other alternatives. How about quinoa, millet, or bulgar? Any one of these glorious grains would bulk up the fiber and protein in your stuffed cabbage rolls.
Save Room for Sauce – Because of the smooth, cylindrical shape, they're the perfect size for dipping. Think about serving the rolls with a dish of vegan sour cream or make your own mixing 6 ounces of a plain, plant-based greek yogurt with ¾ teaspoon of lemon juice.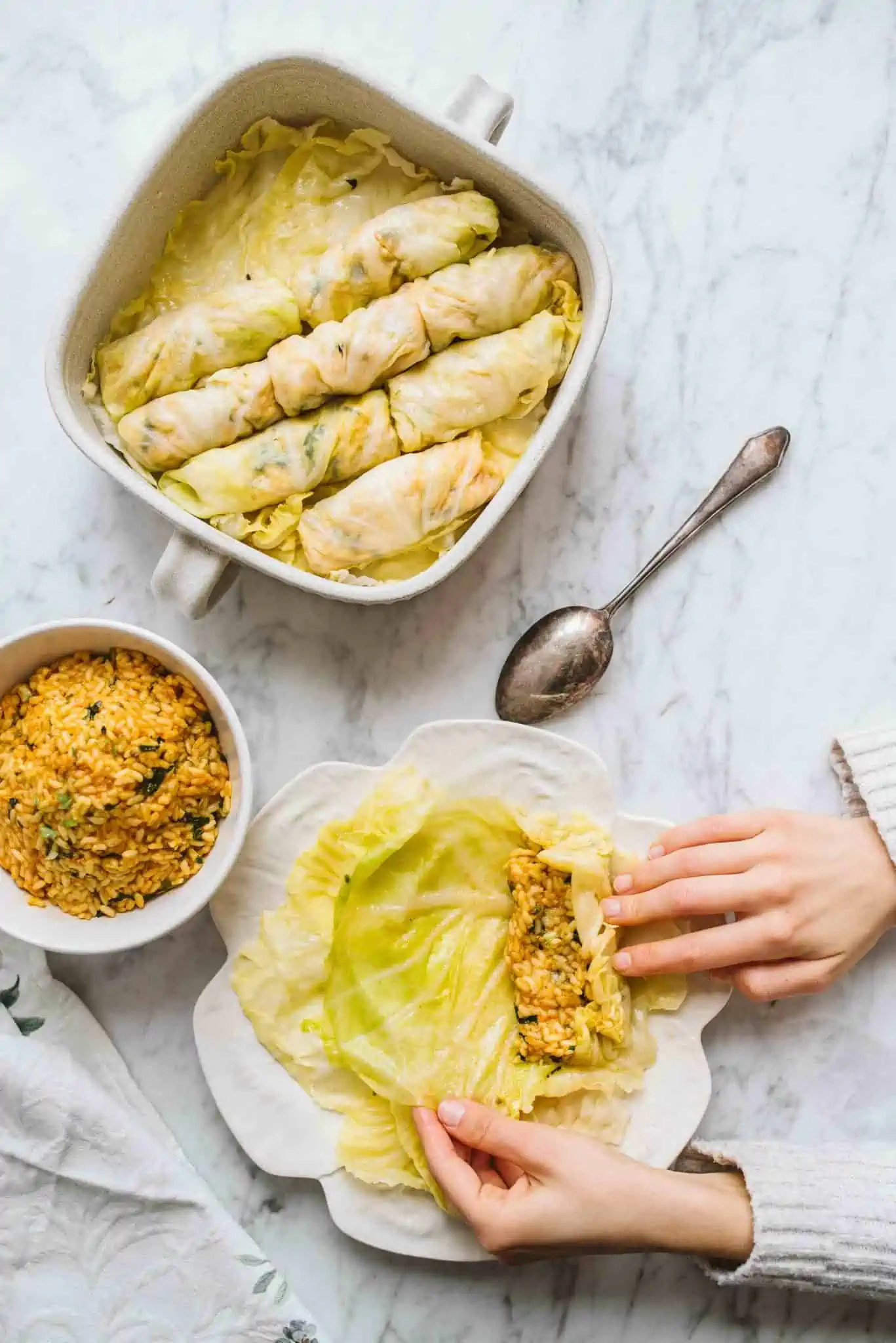 Simple Storage
For this vegan stuffed cabbage rolls recipe, we highly recommend making a double batch since you'll be spending a bit of time in the kitchen anyway. Leftover rolls can be store in a shallow, covered container in the fridge for up to 3-4 days. Alternately, you can wrap them tightly in heavy duty wax paper or aluminum foil.
To freeze your fragrant rolls, make sure that they're completely cool first. Then, line a tray with freezer safe paper and lay the rolls next to each other (leaving a little room between each). Place the roll-filled tray into the freezer for 2-3 hours. Once frozen, they can be stored in a freezer-safe bag or sealed container for up to 3 months.
To reheat frozen vegan stuffed cabbage rolls, add them to a baking pan and bake for 30-45 minutes in a preheated, 350 degree oven. To reheat rolls from the refrigerator, you can either microwave them for a minute or two or bake in a pan (like the frozen rolls) for 10-15 minutes, depending on your oven and desired temperature.
Equipment You'll Need
Sharp Knife
Tongs
Large Skillet
1 large green cabbage
2 onions, diced
3 cloves garlic, minced
2 medium tomatoes, diced
3 tablespoons tomato paste
2 teaspoons ground cumin
1 teaspoon dried mint
2 cups short-grain rice, 360 grams
Salt and pepper to taste
½ bunch fresh parsley, chopped
½ bunch fresh dill, chopped
2½ cups vegetable broth, (600 ml)
Fill a large pot with water and a generous pinch of salt. Place over medium-high heat.

Using a sharp knife, cut out the core of the cabbage. Place the whole, cored cabbage into the water and boil for 2-3 minutes.

Using tongs or forks, start removing the cabbage leaves from the pot, one by one, and transfer to a colander. Repeat the process until you have removed all of the cabbage leaves.

Wash the leaves under cold water and allow to drain thoroughly. Reserve a few cabbage leaves separately.

In the meantime, add the onion, garlic, and tomatoes to a large skillet and place over medium heat. Season with a pinch of salt and pepper and add a splash of water so they don't stick. Cook, stirring occasionally, until the vegetables become soft and translucent, around 5-6 minutes.

Add the tomato paste, cumin, and dried mint and stir well to combine the vegetables. Add in the rice and season with a generous pinch of salt and pepper. Continue cooking, stirring constantly, to prevent the rice from sticking. When the rice starts to toast, remove from heat and stir in the fresh parsley and dill.

Lay the reserved cabbage leaves to cover the bottom of your large pot to stop the cabbage rolls sticking.

Lay the reserved cabbage leaves on your work surface. Using a sharp knife, slice off the thick stem from the back of the cabbage leaf. Flip the leaf and spoon a tablespoon of the rice mixture on the side closest to you. Roll like a cigar. Alternatively, you can fold the leaves like a burrito. Repeat the process until you've filled all of the cabbage leaves.

Arrange the cabbage rolls side by side in the prepared pot. If you have any leftover filling, scatter around the cabbage rolls.

Place a large plate over the cabbage rolls, gently pressing them down. The plate will prevent the rolls from moving around and becoming undone. Slowly pour the vegetable stock over the plate to cover the cabbage rolls.

Place the pot over medium-high heat and bring the broth to a boil. Once it starts boiling, carefully remove the plate and cover with a lid. Reduce the heat to medium-low and allow to simmer for 30-40 minutes.

Allow to cool for 10-15 minutes before serving.
Protein - add tempeh, lentils, or chopped walnuts to the rice filling.
Spice - add smoked or hot paprika for a warmer tasting cabbage roll.
Grain - replace the rice with bulgar, millet, quinoa, or barley
Calories: 334kcal | Carbohydrates: 72g | Protein: 9g | Fat: 2g | Saturated Fat: 0.5g | Polyunsaturated Fat: 1g | Monounsaturated Fat: 1g | Sodium: 503mg | Potassium: 811mg | Fiber: 9g | Sugar: 11g | Vitamin A: 1301IU | Vitamin C: 93mg | Calcium: 138mg | Iron: 3mg
If you try these Vegan Stuffed Cabbage Rolls, let us know what you think by leaving a comment and rating below! Be sure to follow along on Pinterest, Instagram and Facebook for even more vegan recipe inspiration.
About the Author
Kenden Alfond is a psychotherapist based in Paris, France who started Jewish Food Hero as a community service project to support personal and environmental health. Before she was even a teenager, she decided to become a vegetarian and is now 99% vegan. She created Jewish Food Hero in 2015 to try and get healthier Jewish food onto people's tables all around the world.