This recipe was generously sponsored by our friends at NOW Foods featuring their incredibly practical, nutritious, and delicious 5-minute Quinoa Q Cups! Enjoy 🙂
Here we meet again to introduce you to yet another delicious recipe that will make your life easier and healthier. This vegan burrito recipe will simplify your life and set you up for a healthy mid-day lunch or evening meal. It's full of fresh ingredients and protein-packed grains and beans. You'll love it!
Homemade burritos are a staple easy lunch at my house. I always keep tortillas in the fridge (with backups in the freezer) and cans of vegetarian refried beans in my cupboard so when hunger strikes a filling meal is just minutes away.
Burritos are traditionally made with rice, but I love swapping rice for quinoa. Quinoa is widely loved by vegans for being a complete protein (meaning it contains all the essential amino acids). It usually takes about 20 minutes to cook in a pot on the stove—but with these Q Cups, you can have fluffy microwaved quinoa ready to spoon onto your tortilla in just 5 minutes.
Now that's lunch in a snap!
Of course, you can top your tortilla with any veggies, grains, or beans you've got on hand so you'll be eating healthy while staying on budget (and waste-free)! What more can you ask for?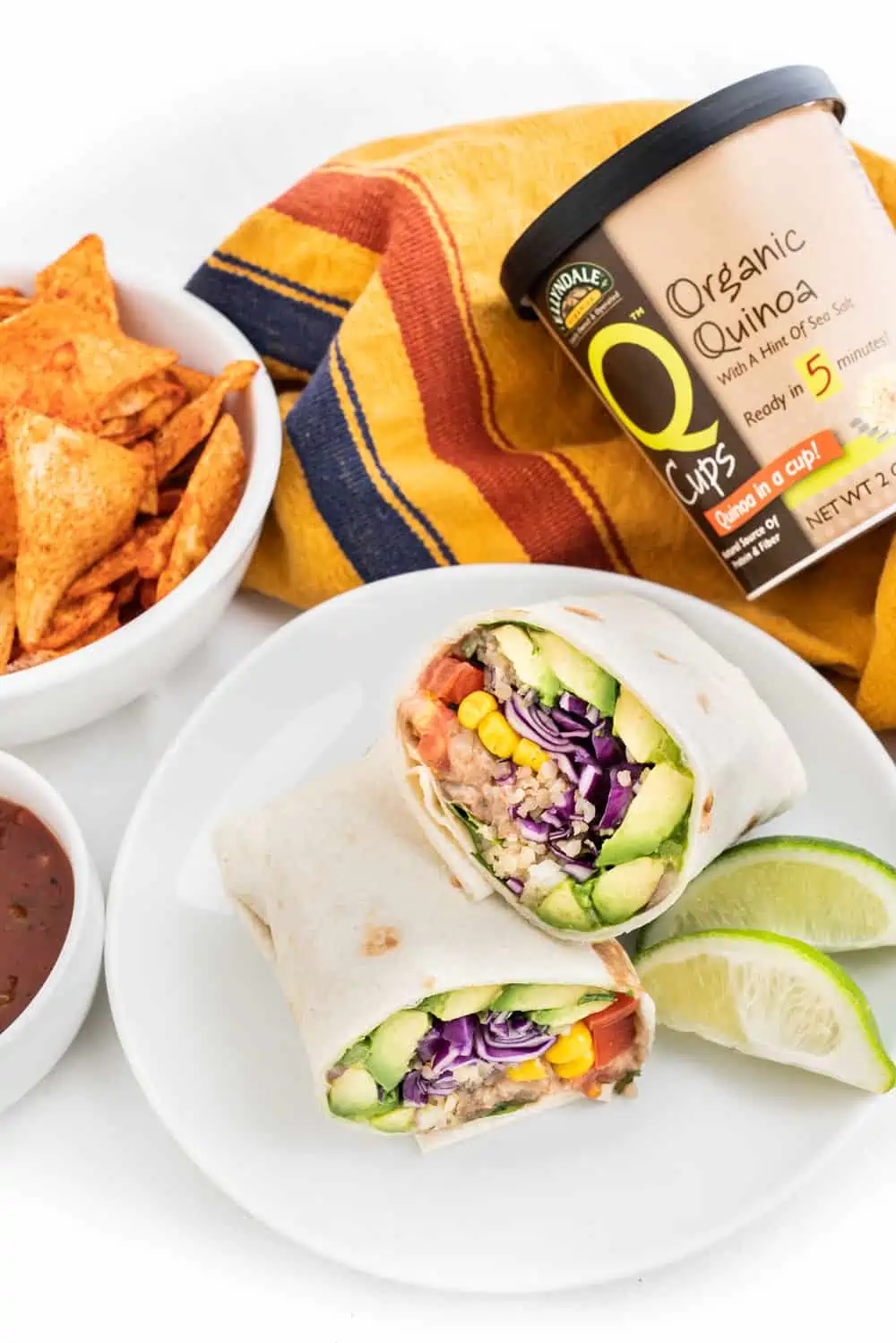 1 large burrito-sized flour tortilla
¼ cup vegetarian refried beans, heated
½ cup cooked quinoa, we used Q-cups quick-cook quinoa
Tomatoes, diced, to taste
Canned corn, drained, to taste
Onion, diced, to taste
Guacamole or sliced avocado, to taste
Purple cabbage, shredded
Cilantro, roughly chopped, to taste
Hot sauce or salsa
Warm up your tortilla in a hot pan on both sides (it will take only about 30 seconds per side).

Lay the tortilla on a plate and spread a layer of the refried beans followed by the quinoa, tomatoes, corn, onion, guacamole or avocado, purple cabbage, and cilantro. Be careful not to overstuff.

Once you have all the fillings in place, wrap the tortilla by folding both ends over the filling and then tightly rolling your tortilla until you have a stable burrito. If you've never wrapped a burrito before, see our more detailed instructions (and an example video) below.

Warm a pan over medium heat and place burrito, seam down, on the pan. When the tortilla begins to lightly brown, flip over and allow to lightly brown on the other side.

Remove from heat, serve with salsa and/or hot sauce, and enjoy!
Calories: 243kcal | Carbohydrates: 41g | Protein: 9g | Fat: 4g | Saturated Fat: 1g | Polyunsaturated Fat: 2g | Monounsaturated Fat: 1g | Sodium: 572mg | Potassium: 197mg | Fiber: 6g | Sugar: 3g | Vitamin A: 54IU | Calcium: 79mg | Iron: 3mg
The Art of Rolling a Burrito
Picking and chopping your ingredients is the easiest part of the process but rolling your (probably overstuffed) vegan burrito has a technique of its own. Let's just say that rolling your burrito the right way can take you from having an enjoyable experience to a rather messy and unpleasant one. I'm talking about half of the goodies ending up on your plate (or floor!) instead of your mouth. Let's try to avoid that, shall we?
So, how do you master the rollin'?
1. Place a large tortilla on a flat surface and add your fillings in a horizontal line across the tortilla, leaving a few inches on either side bare.
2. Once you have all the fillings in place, take one long flap of the tortilla and wrap it tightly over the fillings.
3. Take the two sides of the tortilla and fold them over the filling to keep it all tucked nicely in place.
5. Finally, tightly roll up your tortilla until you have a perfect, beautiful burrito.
And there you go! You have a perfectly rolled burrito capable of holding all it's glorious and much-appreciated fillings. Here's a visual tutorial showing how it's done. Will you give it a go?
Queen Quinoa
Quinoa is pretty awesome! First of all, it's pronounced "keen-wa" so that's already a fun start. Also, it's an exceptional ancient "grain" from South America, although it's not exactly a grain but a pseudo-cereal grain! Surprisingly it was only just recently introduced to the kingdom of superfoods but since then it seems like quinoa is everywhere, right? Well, it's for a good reason!
This cereal is packed with protein and key nutrients like calcium, magnesium, and manganese, plus it is gluten-free.
Quinoa is actually one of the least allergenic of the "grains" which makes it a fantastic choice for those who suffer from food allergies.
To add to all of these amazing facts, quinoa is super easy to cook and so tasty. When cooked, it has a slight crunch, a nutty flavor, and a pleasant earthy taste.
Fun fact: Did you know that the seed of quinoa is from the same family as the seed of beets, chard, and spinach? I guess they all share their earthy flavor.
Vegan Burrito: The Best Lunch on the Go!
We always rave about good ideas for those "take-with-you" lunches, but we have to admit that burritos seem to tick all the boxes! No need for a container or eating utensils and no heating up. Perfect! You don't even need to sit down to eat! You can munch on it while you're driving to a meeting or you're picking up kids from school or walking from one location to another on a busy day.
Although it's not ideal to eat lunch in such a rush, we all have those days when there doesn't seem to be enough hours of the day to accomplish all of those things on our to-do list. Vegan burrito to the rescue!
Thankfully though, not all lunches-to-go are mixed up with work or being super-busy. We also have days when we just want to go out on a fun day trip to the park or the beach, and good simple snacks or meals to-go are the only way forward.
Bringing the whole family? Roll one for each, wrap them in paper and put them in your tote. As a reminder, don't forget to pack plenty of napkins! It can get messy! But in a good way…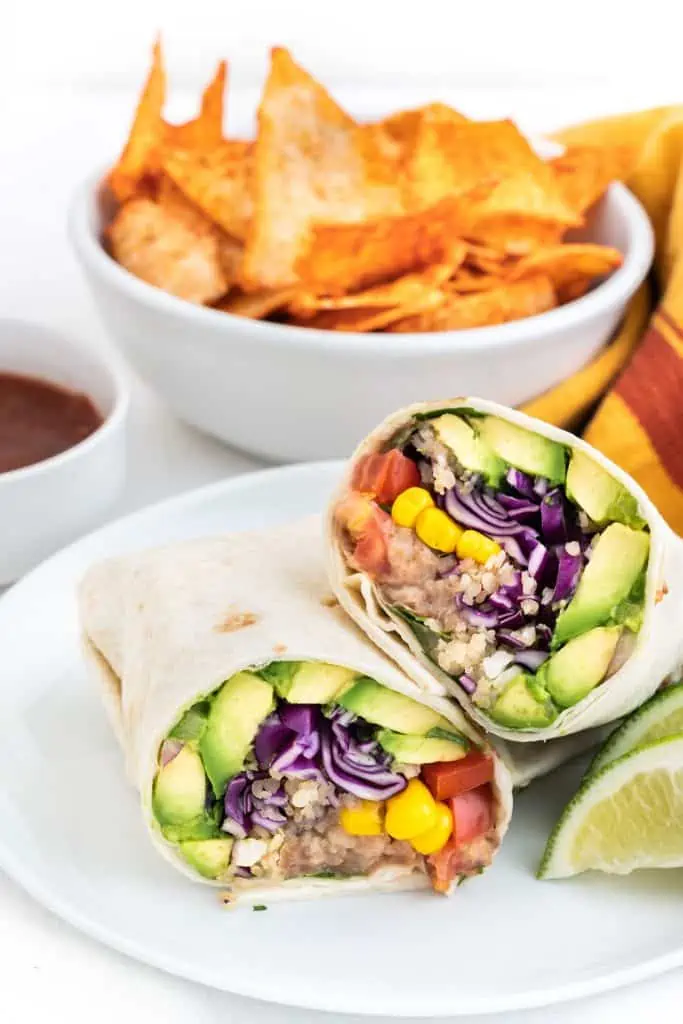 Can I Make This Vegan Burrito Gluten-Free?
The answer is yes, absolutely! You can turn this vegan burrito into a gluten-free one just by swapping the tortilla to a gluten-free version. Nowadays, there are plenty of options for those avoiding gluten, like brown rice tortillas or teff.
Can I Skip the Tortilla?
Yup! You can turn this into a quinoa burrito bowl! Yum! Just make the quinoa and beans your main ingredients and add all the veggies as toppings. To give it more volume and make it fresher add some shredded romaine as a base. And if you like to add another Mexican touch to it then make sure you add some fresh salsa in the center of the bowl. Ready!
NOW Organic Quinoa Cups (Q Cups)
These uber-convenient organic Q Cups are a lifesaver! A fantastic option on its own and ready in 5 minutes! It's not easy to find prepared foods without any additives or other unhealthy ingredients. These natural flavor cups only use organic quinoa and sea salt! Nothing more! You could add some tofu and avocado on top, and you have yourself a super nutritious and filling lunch!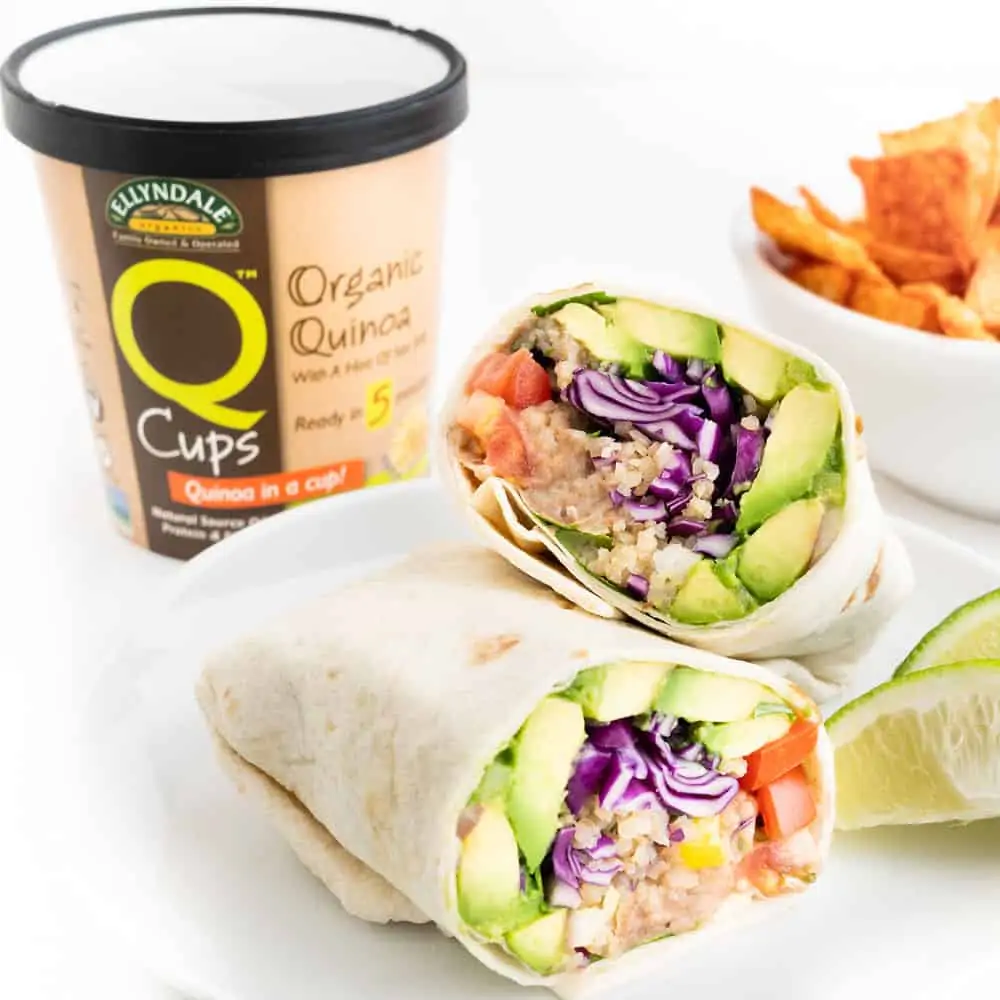 To prepare them, all you have to do is add water and microwave for one minute (or add boiling water) and allow to sit for 5 minutes. And boom—you've got fluffy gourmet quinoa ready to use in recipes like this one!
NOW Foods is a company that started selling a few organic health foods and slowly became a renowned name in the health food world! And since they've had their humble starts, they have decided to give a helping hand to those in need. They have a long list of charitable projects you will be supporting when buying their products.
As if this was not enough, the brand takes pride in being consciously trying to reduce their carbon footprint and support other efforts to help the environment.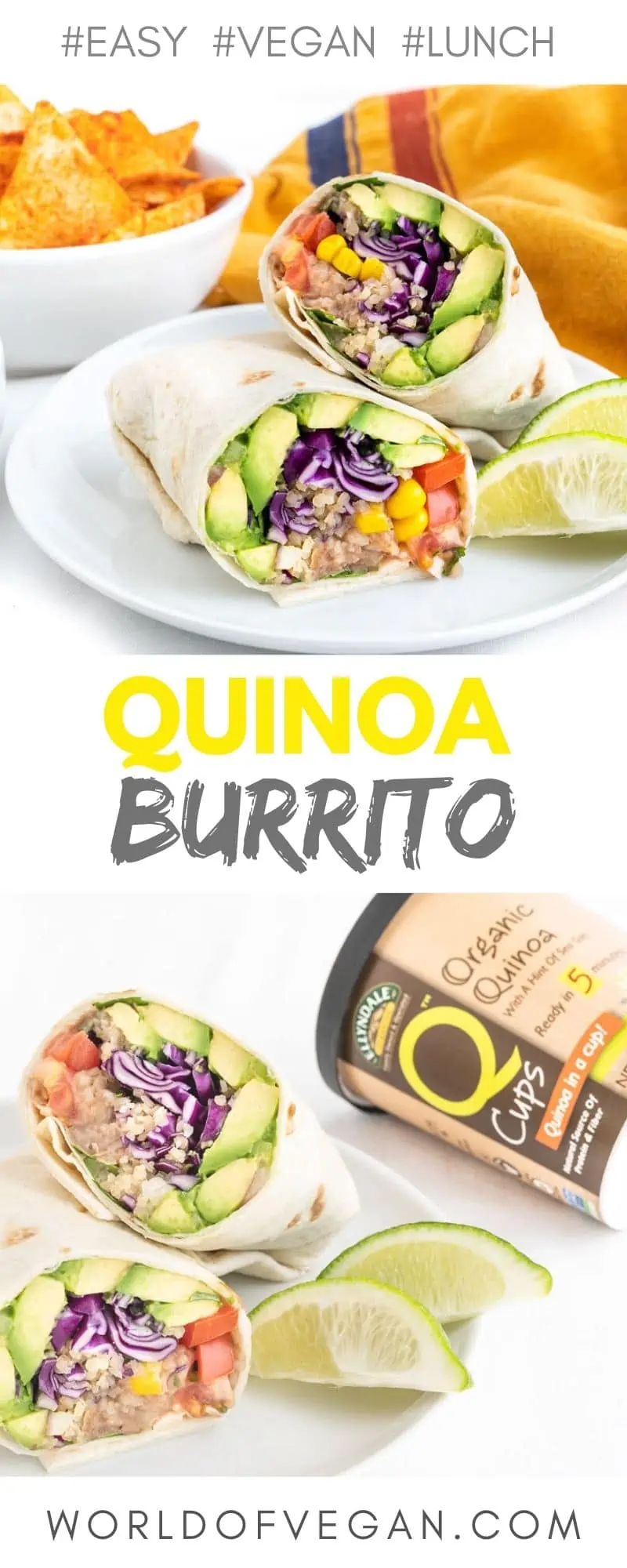 Hungry For More Mexican Vegan Recipes?
Recipe and photos copyright of World of Vegan™, all rights reserved. Please note that this article contains affiliate links. Many thanks to NOW Foods for supporting our work at World of Vegan!