How can you resist this perfect, plant-based party food? This barbecue seitan wings recipe from the new Southern Vegan cookbook will really sell you on seitan. Try even a tiny taste and you'll be tempted to make another batch (just for you)!
If you've been intimidated in the past by this vegan meat substitute, you're in for a treat. These Vegan Seitan Wings are super-easy to create and to cook. Grab some vital wheat gluten and bring that pot to boiling!
Secret of Seitan (What The Heck Is Seitan?)
Many people confuse tofu and seitan. Tofu is made out of soybeans and is made by pressing curds from coagulated soy milk into blocks. Seitan is made out of wheat gluten (sold in grocery stores as a powder called "vital wheat gluten") and is made by developing sticky strands of gluten protein from kneading wheat flour with water.
Both are plant-based foods and make excellent meat substitutes, but they are decidedly different. While both are low in fat and high in protein, they have different ratios of each and have markedly different textures. Tofu is great for people who have gluten sensitivities and seitan works well for those with soy allergies.
Tofu has a terrific egg-like texture that is slightly squishy, but also a bit firm and mildly moist. Seitan has a particularly meaty chewiness that, when cooked and seasoned well, can fool even the most staunch meat lovers. It's also often used to make plant-based jerky with a dense chewiness that jerky lovers adore. Although distinctive, both are delicious in their own dishes. For these well-seasoned wings, seitan is the sure winner!
Wing it On!
Who isn't wow-ed by a platter of succulent and savory seitan wings? The combination of sweet and savory with chewy and crispy creates some serious snack cravings!
A fan favorite, Barbecue Vegan Seitan Wings are not only an awesome appetizer, but they're also amazingly addictive. The marvelous mustard sauce is crucial for an authentic, southern style tang. Grab a handful of these nifty nuggets and you'll fall in love with their fantastic flavor.
Don't worry about diving into the Sea of Seitan. It's not as scary as you think and it's actually pretty easy to prepare.
Bask in the Barbecue
There's nothing quite as satisfying as a homemade sauce. This is especially true when it comes to barbecue!
You can certainly count on this Carolina style BBQ sauce to be both rich and robust. Tart tomatoes and tangy apple cider vinegar are balanced out by thick maple syrup and sweet brown sugar. A pleasantly pungent punch is provided by the mustard, onion, garlic, and cayenne.
If you love your B-B-Q as much as I do, you may wish to make a double batch of this vegan barbeque sauce for the next day! Leftover wings may warrant more of this amazing marinade.
How to Serve Up Your Vegan Seitan Wings
Perfect Pairing with Potatoes – it's like a marriage made in heaven! Sticky sweet seitan paired with this slightly savory starch is the perfect choice for sure. These wings would be wonderful with our super-crispy vegan Hasselback potatoes.
Complete with Crudite – crunchy carrots, cucumber, cauliflower, and even a bunch of bold broccoli combine with the Carolina Barbecue Seitan Wings in the best possible way! Boost any party platter by adding these barbeque wings to our Epic Hummus Board.
OMG Onion Rings – who can resist these crispy, sharp, and scrumptious circles? A tantalizing and tasty team. You'll love our outstanding onion ring recipe!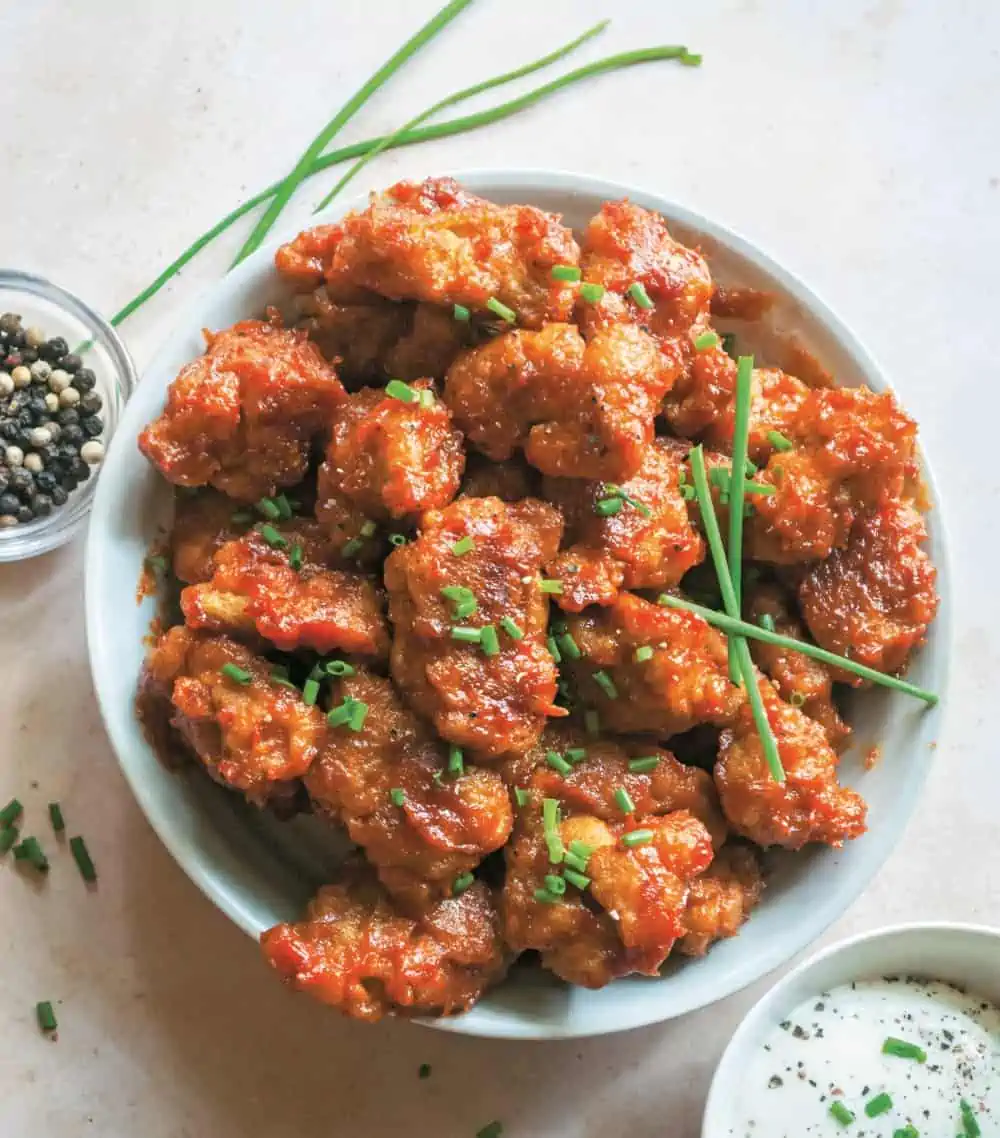 Storing Your Saucy Seitan Wings
Sadly, stored seitan can dry out quite quickly. If you have any leftover sauce, make sure to spoon over the seitan before setting it into a container or reusable bag. Leftovers will last about 10 days in the fridge and can be reheated either in the microwave or sauteed in a pan.
When microwaving, add extra sauce or water to your container before heating for a minute or two. To reheat in a saucepan or skillet, it's also a good idea to include additional liquid and cook over medium heat for about 4-5 minutes. Be careful not to overcook or your seitan will become dry and dense.
Freezing is also an option for this fantastic fare. Vegan seitan wings will last about 6 months in a well-sealed freezer bag or container. Thaw overnight before reheating.
Seitan Wings:
2 cups

vital wheat gluten 


1 teaspoon

garlic powder


1½ teaspoon

salt


1¼ cups

vegetable broth 


1 tablespoon

olive oil 


1 tablespoon finely chopped fresh chives, optional
Mustard Barbecue Sauce:
1 cup

tomato sauce


3 tablespoons

apple cider vinegar 


¼ cup

pure maple syrup 


¼ cup

Dijon mustard


1 tablespoon brown sugar
1 teaspoon

onion powder


1 teaspoon garlic powder
Pinch of salt


Pinch of cayenne pepper
To make the seitan wings, stir together the vital wheat gluten, garlic powder, and salt in a large bowl. 

Slowly stir in the broth, and when the gluten becomes too hard to stir, knead it with your hands until the seitan comes together and forms a ball. 

Bring a large pot of salted water to a boil over high heat. Pull tiny pieces of seitan from the dough ball and drop them in the water. Continue this process until all the dough is used. (The seitan will expand; the smaller the pieces you pull off, the better.) 

Boil the seitan, reducing the heat if needed, for 30 minutes. Drain the pot and let the seitan cool completely. 

While the seitan cools, preheat the oven to 375°F (191°C). 

When the seitan pieces are cool enough to handle, squeeze as much liquid out of them as possible with your hands. Place the wings on a medium baking sheet. Drizzle the oil onto the wings and toss to coat them. 

Bake the wings for 20 minutes, flip them and bake for 20 to 25 minutes more, or until they are brown and firm. 

When the wings are almost done, make the barbecue sauce. In a small saucepan over medium-low heat, whisk together the tomato sauce, vinegar, maple syrup, mustard, brown sugar, onion powder, garlic powder, salt, and cayenne pepper. Bring the sauce to a simmer, reduce the heat to low and simmer for 10 to 15 minutes. Taste and adjust the seasonings. Remove the saucepan from the heat 

When the wings are done, toss them in the barbecue sauce and serve them topped with the chives (if using). 
Tester's Tip: Recipe tester Taylor recommends adding a dash of liquid smoke or smoked paprika to give the sauce a smokey flavor!
Calories: 356kcal | Carbohydrates: 31g | Protein: 47g | Fat: 5g | Saturated Fat: 1g | Polyunsaturated Fat: 1g | Monounsaturated Fat: 3g | Trans Fat: 0.003g | Sodium: 1649mg | Potassium: 348mg | Fiber: 2g | Sugar: 18g | Vitamin A: 465IU | Vitamin C: 5mg | Calcium: 133mg | Iron: 4mg
About the Recipe Author
Lauren Hartmann is a self-professed plant-based rabbit among the omnivore wolves of the world. In her new cookbook, Southern Vegan, she wants to prove that she can create "rabbit food that can make the wolves drool!" (She's tried this first on her husband, Chris.)
This Florida-based blogger is not only a mom and a wife but also a classically trained pastry chef. Her vision is to create vegan food that is not only appealing and artistic but also delicious and decadent. We love how Lauren is dedicated to converting traditional southern comfort food to crave-worthy vegan cuisine!
You can find Lauren on Instagram, Facebook, and Twitter! Let her know how much you loved her Carolina Barbecue Seitan Wings and show your support by purchasing her sensational new book.
Other Amazing Vegan Appetizers & Sides to Try:
We want to thank our amazing recipe tester Taylor Gillespie for helping us perfect this recipe!
This recipe for the best Carolina Barbecue Vegan Seitan Wings was reprinted with permission from the Southern Vegan cookbook by Lauren Hartmann (Page Street Publishing Co. 2020). Photo credit: Lauren Hartmann and Julie Grace. Please note that this article contains affiliate links that help support our work at World of Vegan!