Who can resist a plateful of pancakes with a fresh lemon-y flavor? This recipe for gluten-free and vegan lemon poppyseed pancakes reminds us to break out of our boring breakfast routine and try something new. Prepare to fall in love with these perky and plump vegan pancakes from the cookbook Angela's Plant-Based Kitchen!
Because they're made of oats, the cakes are full of heart-healthy soluble fiber, B vitamins, and antioxidants. They'll fill you up in a flash! You'll not only get loads of vitamin C from the lemon juice but also a punch of potassium from the banana.
After a quick blend and a couple of stirs, you're ready to pour. Using a measuring cup makes each pancake symmetrical and allows them to cook more evenly. Let each side bubble and then flip before finishing off.
Servings 1 large or 2 small
1 cup old-fashioned oats
1 banana
1 tablespoon lemon juice
⅓ cup + 1 tablespoon of plant-based milk
1½ tablespoon sugar
¼ teaspoon lemon extract
¼ teaspoon vanilla extract
pinch salt
1 teaspoon baking powder
1 teaspoon poppy seeds
cooking oil spray
¼ cup maple syrup
In a high-speed blender, add oats and blend on high until oats turn to flour.

To the blender, add banana, lemon juice, plant-based milk, granulated sugar, lemon extract, vanilla extract, and salt. Blend on high until smooth.

Transfer blender contents to a small mixing bowl. Stir in poppy seeds and baking powder.

In a non-stick skillet over medium-high, lightly spray with cooking oil.

Pour about ⅓ cup batter into the center of the pan. Cook until bubbles form and the edges of the pancake appear dry. Carefully flip and brown the other side.

Repeat the pancake process with the rest of the batter.
Serve these vegan lemon poppyseed pancakes hot with maple syrup.
Like it extra lemony? Add a pinch of lemon zest to the batter.
Calories: 765kcal | Carbohydrates: 165g | Protein: 14g | Fat: 8g | Saturated Fat: 1g | Polyunsaturated Fat: 3g | Monounsaturated Fat: 2g | Sodium: 476mg | Potassium: 976mg | Fiber: 13g | Sugar: 88g | Vitamin A: 240IU | Vitamin C: 16mg | Calcium: 530mg | Iron: 5mg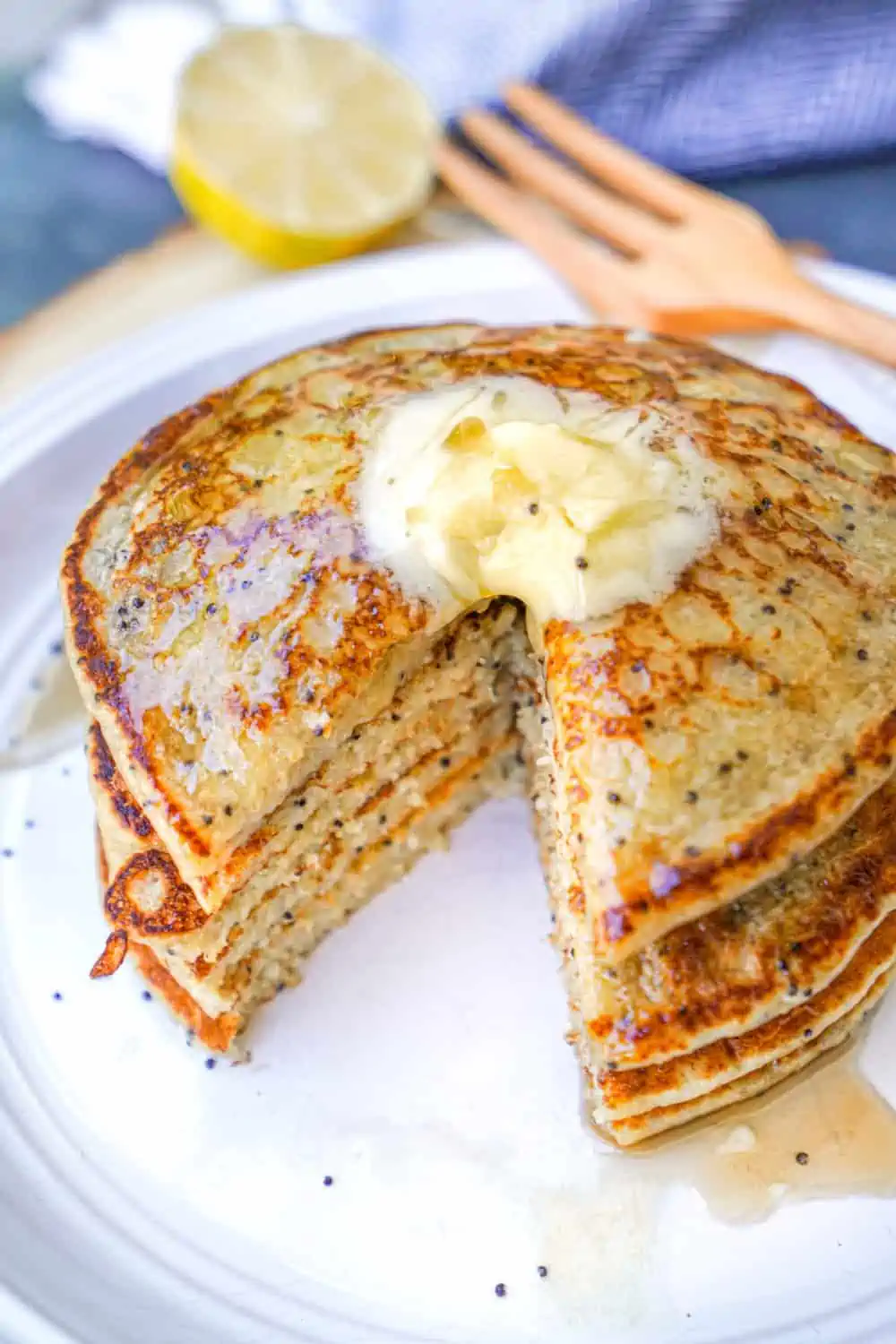 Equipment You'll Need
Blender (preferably high-speed)
How to Serve Up These Vegan Lemon Poppyseed Pancakes
These vegan lemon poppyseed pancakes are pretty impressive on their own, but if you wanted to add a little extra for above-average appetites, here are some options:
Lucky to Have Leftovers?
Any leftover vegan lemon poppyseed pancakes can be refrigerated for a few days or frozen for up to a month. If you have time, consider making a batch that you can freeze for future use. When you're ready, either thaw overnight in the fridge or defrost in the microwave.
To reheat, you can either give them a minute or two to sizzle on a warm skillet or pop them in the microwave. While you're there, you might as well warm up a little bit of maple syrup on side. Super simple to save for a snack, too!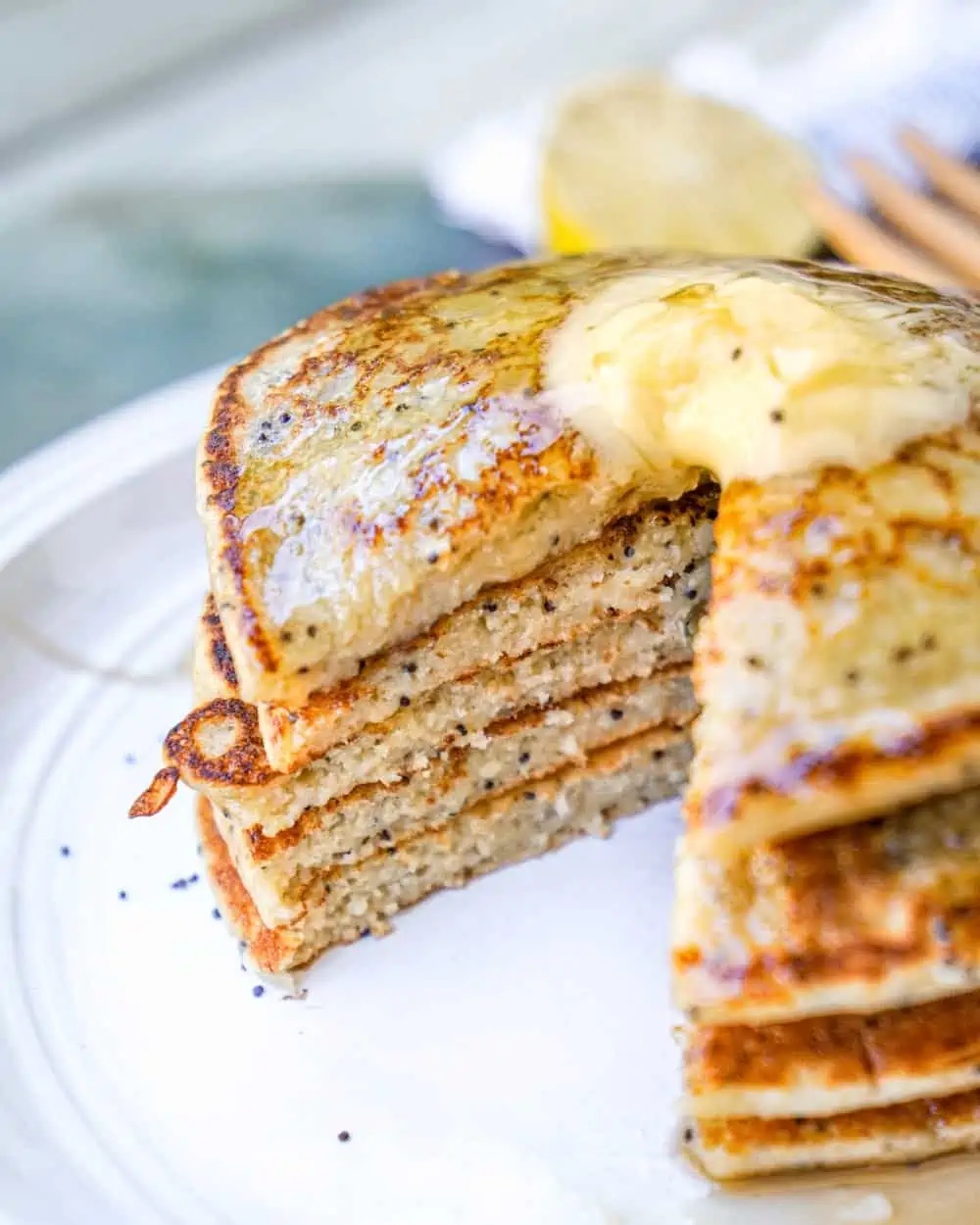 About the Cookbook & Author
This recipe comes from the cookbook Angela's Plant-Based Kitchen by Angela Rummans. An 'untrained chef writing for untrained chefs' is such a brilliant idea. Angela's over 100 favorite comfort meal recipes are incredibly inspiring and accessible for even a beginner in the kitchen. Recipes include No-Chicken Pot Pie, Faux "Crab" Cakes, Bang Bang Cauliflower, and (my favorite!) Ty's Favorite Buffalo Chickpea Pizza. All recipes are plant-based and awaiting your pleasing palate.
Angela Rummans is a TV personality, actor, and model. She is best known for being a contestant on season 20 of Big Brother, but she is also a former professional pole vaulter and a college dropout turned entrepreneur. She is the owner of Paper'd Moments LLC and co-owner of Naut & Chain and lives in Los Angeles with her boyfriend Tyler Crispen. They own the jewelry company, Naut & Chain, together. On top of all of that, they have careers as social media influencers, travel bloggers, models, and actors. Check out her Instagram account for more exciting recipes and adventures.
More Brilliant Breakfast Recipes
This vegan and gluten-free pancakes recipe and photos is reprinted with permission from Angela's Plant-Based Kitchen by Angela Rummans, Angela Rummans Publishing for Kindle, Copyright August 31, 2020. Article written by Gina House and edited by Amanda Meth. Photos by Please note that this article contains affiliate links which means shopping through them supports World of Vegan.