A friend once told me that he could never go fully vegan because he loved feta cheese too much! He's an avid admirer of the Greek culture and was in love with greek salad. We have great news for him, and you, that you can still eat this characteristic Mediterranean dish vegan-style! And we're going to show you how.
But wait—before we jump in. If you feel like my friend did—that you could never go vegan because you can't give up XYZ (say: cheese), then the answer is simple. Go vegan except for cheese! As Colleen Patrick-Goudreau says so often, "Don't do nothing because you can't do everything. Do something—anything!"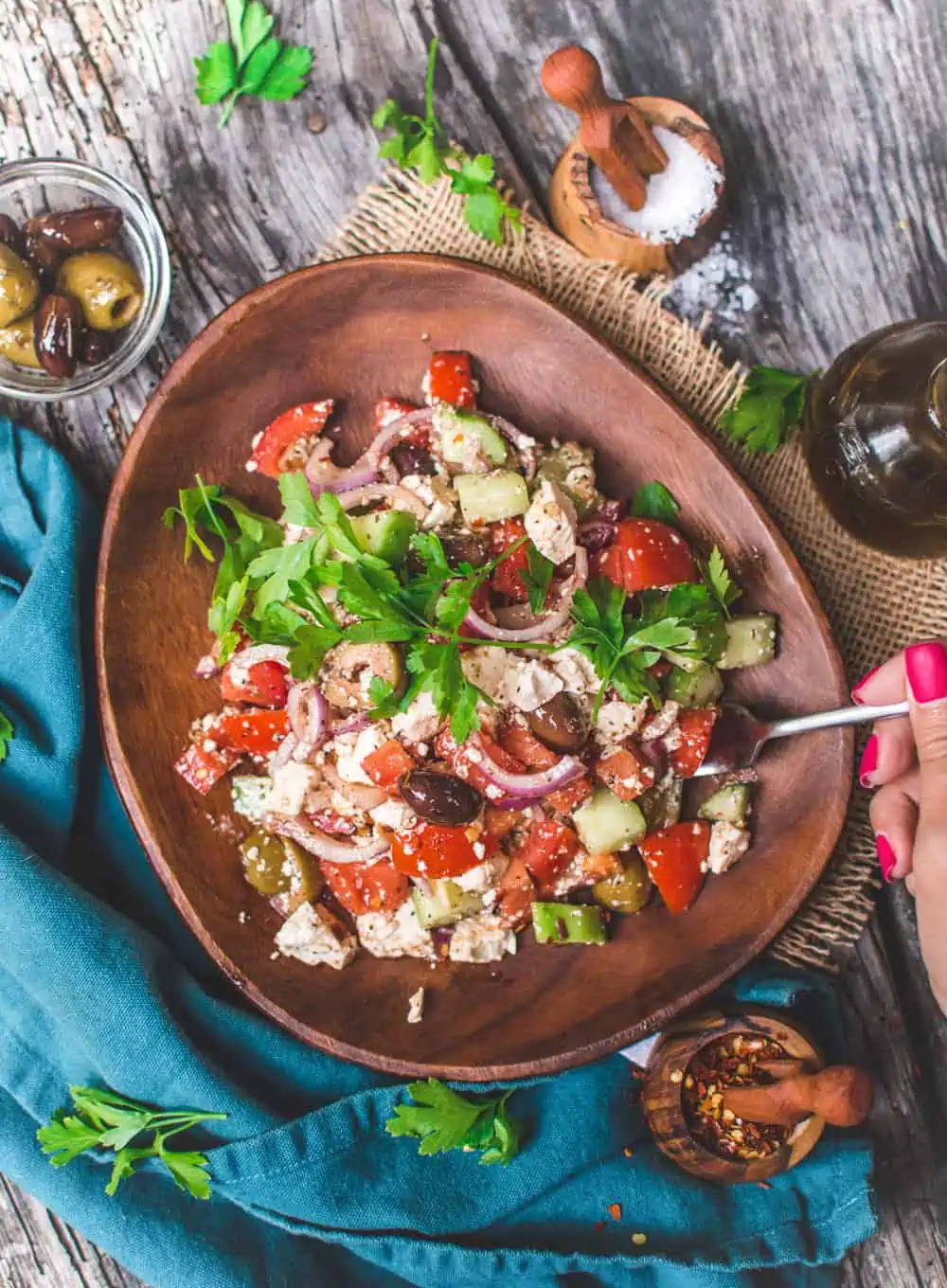 Mediterranean Love
The love we all have for Mediterranean food is undeniable. One reason being the amazing fresh flavors included in the cuisine like those of olives, ripe red and juicy tomatoes, and incredibly aromatic herbs. But I've come to the conclusion that there's so much more to it than the actual food. It's a way of life, a slow and good life. We associate it with people taking it easy, enjoying their meals, and taking the time for those long after meals conversations.
Every bite of this delicious salad takes us on a dreamy Greek holiday under the sun and the warm Mediterranean sea air. Amazing food has that power!
Which is your favorite "feel good" recipe? Maybe something your Grandmother use to make? Or those chocolate chip cookies your Mom made when you were feeling sad? It could be any, but the important thing is they allow us to feel a certain way again and remember our loved ones or a favorite place.
Mediterranean Tofu & Other Marinades
This marinated tofu couldn't be more simple to make! It goes beautifully in this salad, but you can use it for anything. You can marinate a block over the weekend and use it all week as needed. It would go great on buddha bowls, as a pizza topping, or in a wrap.
Want to mix it up? There are so many different ways to marinate tofu. A simple soy sauce and maple syrup mix is my favorite; you can fry it in the pan after and have sweet and salty crispy tofu bites in no time! Feel free to improvise and add any spices or liquids you desire.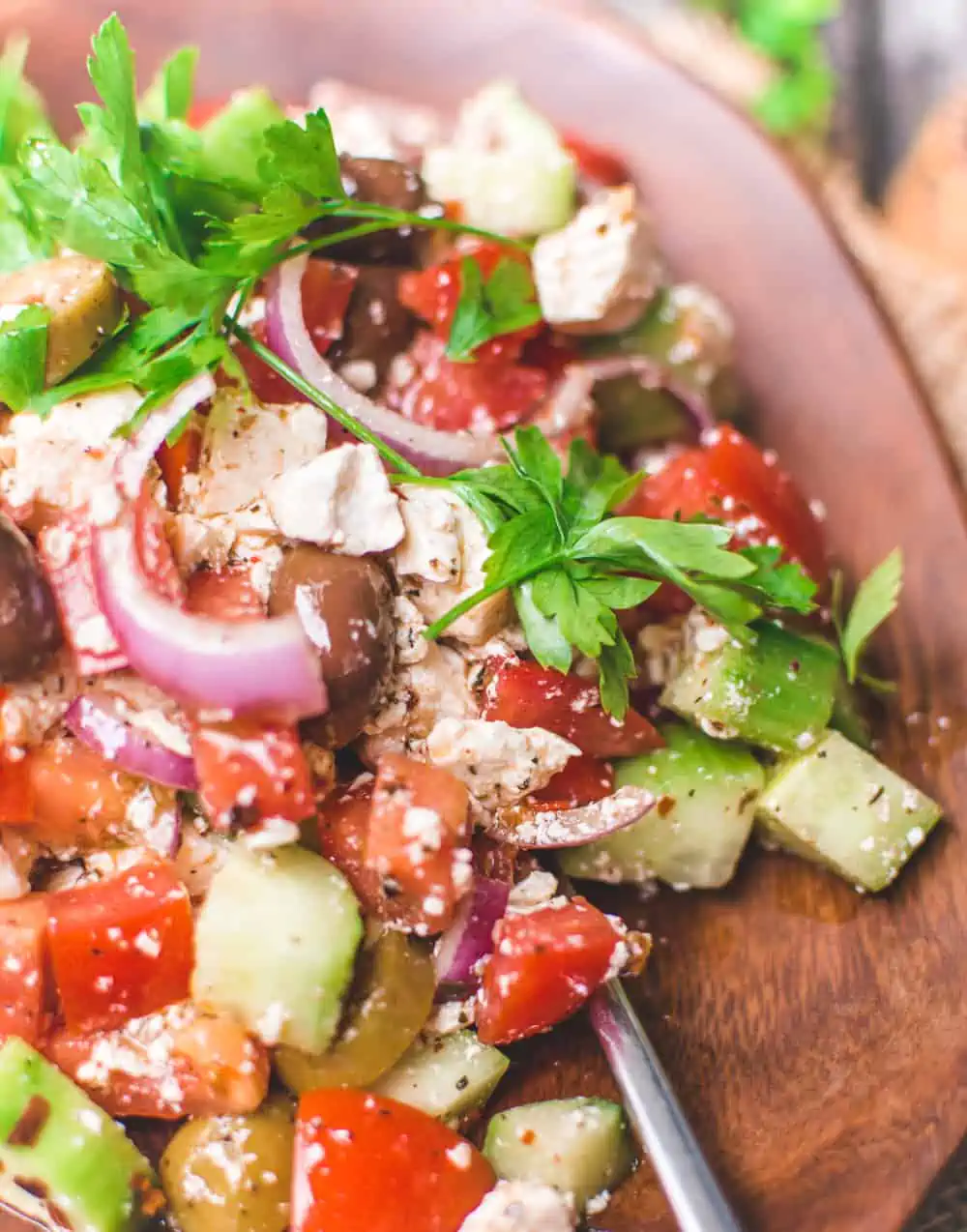 Greek Salad: The Best Ingredients!
In preparations like these, good ingredients make all the difference. The reddest and juiciest tomatoes, the most flavorful Kalamata olives, and the freshest crunchy cucumbers will make this salad the best experience ever!
When it comes to olives, I always prefer to buy the non-pitted kind since they hold a lot more flavor and are usually juicier. Since olives have a super long shelf life, you can stock up when they are on sale and use them as you need them.
The same principle applies to extra virgin olive oil. The best quality olives makes a big difference in the final product, but this doesn't mean you have to buy in super-expensive shops. Sometimes places like Costco and Trader Joe's have a great variety of good quality Italian products for extremely reasonable prices.
½ cup firm tofu, drained, pressed to remove excess liquid, and diced
1 tablespoon flavorful extra virgin olive oil
1 teaspoon dried oregano
1 teaspoon red pepper flakes
2 medium-sized tomatoes, diced
1 cucumber, diced
8 marinated kalamata olives or green olives , (roughly chopped)
¼ medium red onion, thinly sliced
1 medium red bell pepper, diced
salt, to taste (chunky sea salt is best)
¼ cup Italian parsley, for garnish
Rustic bread, sliced and toasted, for serving
Place the tofu in a bowl with the olive oil, oregano, and red chili pepper flakes. Cover the bowl and put it in the fridge to marinate for at least 30 minutes, or more ideally a few hours.

Place the prepared tomatoes, cucumber, olives, onion, and bell pepper in a salad bowl and add the tofu once it's ready. Mix it all up, sprinkle with salt, garnish with parsley, serve with toasted bread, and enjoy!
Want even more flavor? Feel free to add your favorite vegan salad dressing of choice. This salad goes really well with a simple balsamic vinaigrette.
Calories: 189kcal | Carbohydrates: 16g | Protein: 9g | Fat: 11g | Saturated Fat: 1g | Polyunsaturated Fat: 3g | Monounsaturated Fat: 6g | Sodium: 98mg | Potassium: 717mg | Fiber: 6g | Sugar: 9g | Vitamin A: 3957IU | Vitamin C: 109mg | Calcium: 150mg | Iron: 3mg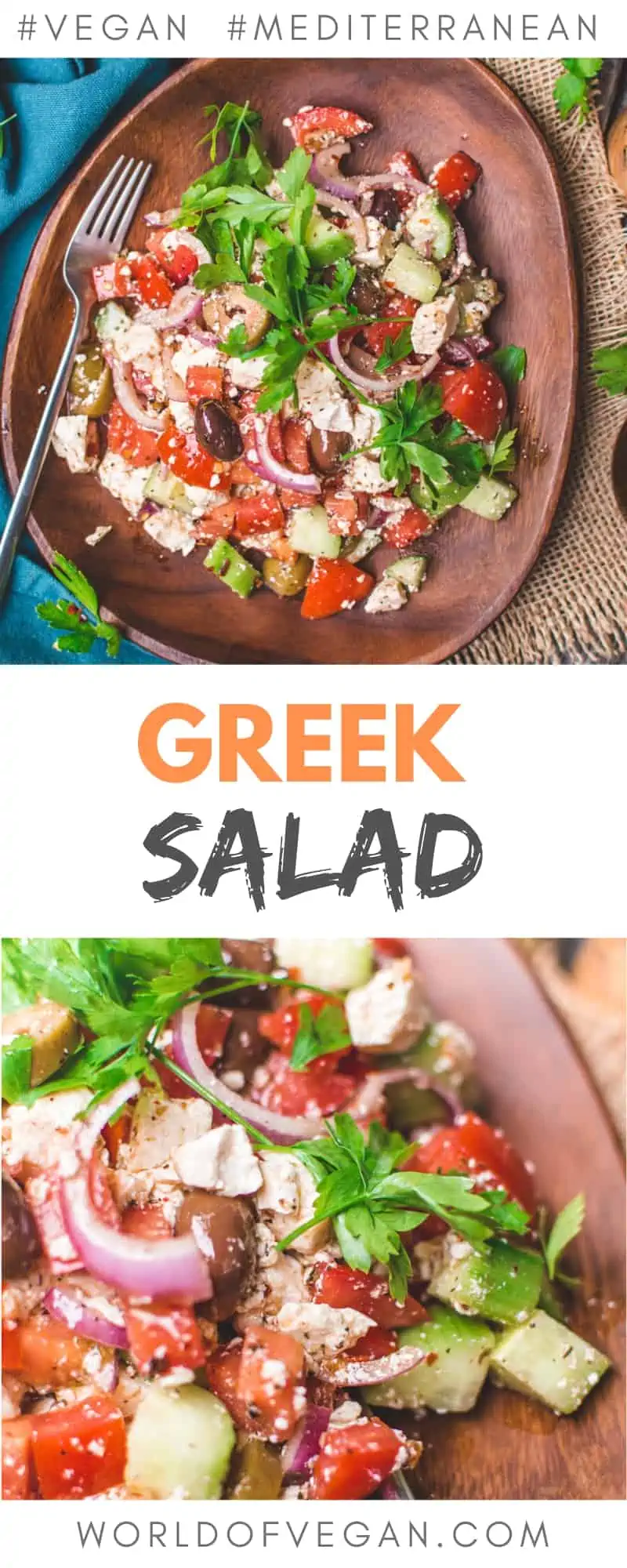 More Vegan Salad Recipes
Are you searching for more salad recipes? Here's a list of our favorites that we encourage you to try out. Your body and your tastebuds will thank you! 
Vegan Greek salad photos and recipe by Zhoro Apostolov for World of Vegan. Recipe and photographs copyright of World of Vegan™, all rights reserved. Many thanks to our recipe testers, Kristen Sinch and Nicole Benson.