I grew up loving asian-inspired "Chinese Chicken Salad" and whenever I saw it on a menu, I'd order it—without the chicken! I know that might sound crazy, but it I loved the toasted sesame dressing, juicy mandarin orange slices, and colorful salad. And as a vegetarian since age eight, I never missed the chicken. This vegan Chinese Chicken Salad recipe is as close as I could get to re-creating that delicious dining experience.
Fast forward a few decades to today. I figure it's about time to create a vegan version—but step it up a notch from my "no chicken" days. In this recipe you'll make your own sesame dressing from scratch, and instead of chicken, you'll add chickpeas to the salad. Chickpeas are delicious and give this Asian-Inspired Chickpea Salad that filling protein boost!
The Best Vegan Chinese Chicken Salad (Copycat California Pizza Kitchen Recipe)
What Can I Use Instead of Chicken?
In this recipe I use chickpeas because it's so quick-and-easy to open a can, rinse them, and sprinkle them on the salad. But by no means are you limited to chickpeas! You can use any number of hearty alternatives to create your own spin on this Asian-Inspired Chickpea Salad. Such as…
White beans or any other beans you enjoy
Grilled or baked tofu
Vegan chicken nuggets, baked and sliced
Veggie burger(s), grilled and roughly chopped
Roasted peanuts or cashews
Sunflower seeds
All of these will give a nice protein boost similar to chickpeas.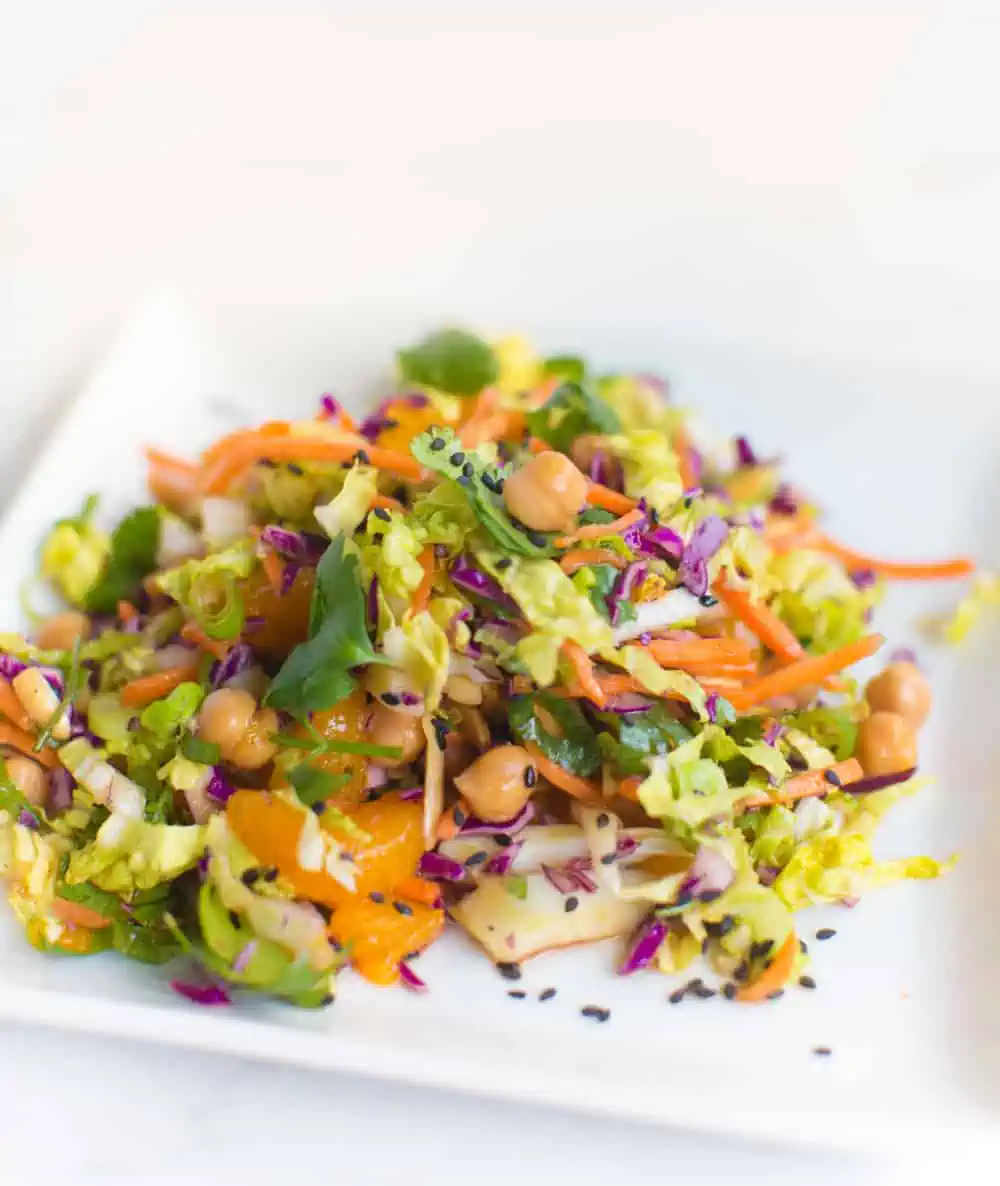 FAQ: What if…
Shred it up and toss it in the salad! There should be plenty of dressing to cover more greens.
Store it in a sealed container in the fridge and use it for your other salads throughout the week!
I don't like raw chickpeas—what can I use instead?
Not to worry! You can toss the chickpeas in a tablespoon of vegetable oil with some salt and garlic powder and roast them in the oven for a crispier bite. If you want to skip the chickpeas altogether you can use any of the other vegan alternatives to chicken listed above (tofu, vegan nuggets, veggie burgers, etc.).
I hate cilantro—is it needed?
Nope! Feel free to leave out the cilantro and this salad will still be delicious. The dressing is so flavorful it won't feel like something is missing.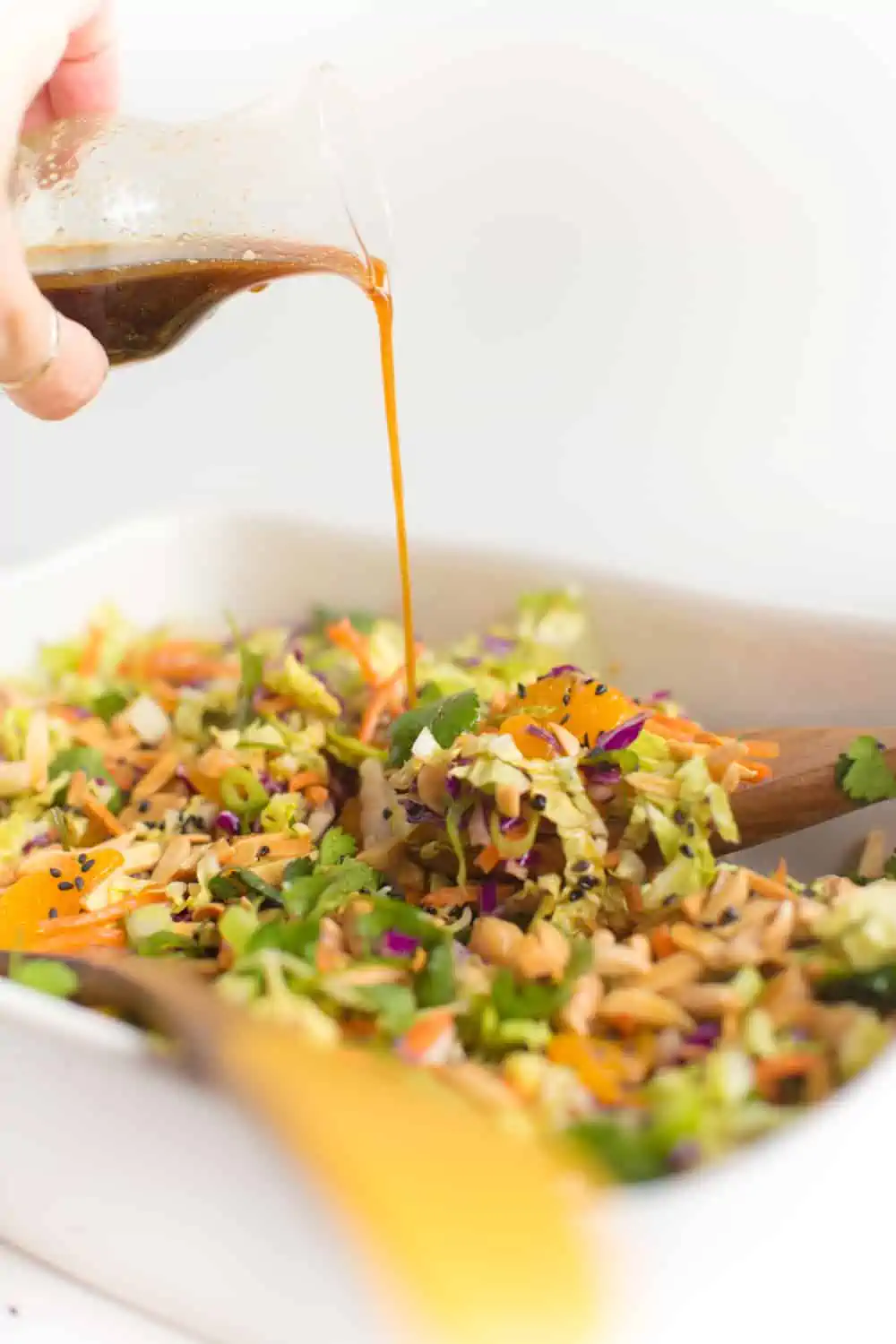 More Delicious Vegan Recipes to Try
Salad
3 cups shredded Napa cabbage
1 cup thinly sliced purple cabbage
1 cup shredded carrots
1 can chickpeas, drained and rinsed
3 green onions, white and green parts sliced into thin rounds
1 cup fresh cilantro, roughly chopped
1 cup mandarin oranges in juice, juice drained
⅓ cup slivered almonds, toasted
1 teaspoon black sesame seeds, optional
Dressing
⅓ cup soy sauce
¼ cup granulated sugar
3 tablespoons toasted sesame oil
2 tablespoons rice vinegar
½ teaspoon ground ginger
½ teaspoon garlic powder
In a large serving bowl, add the Napa cabbage, purple cabbage, carrots, chickpeas, green onions, and cilantro and mix well.

In a small bowl, add all dressing ingredients and whisk together vigorously until fully combined.

Drizzle dressing evenly across the salad, mix well, and top with mandarin oranges, toasted almond slivers, and black sesame seeds. Serve and enjoy!
This salad is best enjoyed fresh since the purple cabbage will turn the chickpeas purple over time. If you'd like to prep it in advance, keep the dressing separate from the salad until you're ready to eat it.
Calories: 262kcal | Carbohydrates: 28g | Protein: 6g | Fat: 16g | Saturated Fat: 2g | Polyunsaturated Fat: 6g | Monounsaturated Fat: 7g | Trans Fat: 0.003g | Sodium: 1120mg | Potassium: 520mg | Fiber: 4g | Sugar: 21g | Vitamin A: 6755IU | Vitamin C: 49mg | Calcium: 114mg | Iron: 2mg
We want to thank our amazing recipe tester J.J. Steele for helping us perfect this recipe!
Asian-inspired Vegan Chinese Chicken Salad recipe by Michelle Cehn, author of The Friendly Vegan Cookbook, for World of Vegan. Copyright of World of Vegan™, all rights reserved.