Looking for a delicious and healthful plant-based snack to feed your vegan toddler? Creating your own vegetable moong dal khichdi is a real treat! These vegan Indian lentil and rice balls from The Vegucated Family Table cookbook are not only high in protein and essential B vitamins, but are seriously tasty and so fun to make.
After giving these a try, we highly recommend cooking up a double batch (at least!) and saving the extras for another day. You can easily eat the entire recipe in one go, especially if you have hungry little helpers.
Comforting Vegan Khichdi
What is khichdi? Loosely pronounced 'kish-dee,' this is a rural Indian porridge dish consisting of rice and lentils. In this particular recipe, the mixture is a little thicker and made into balls for ease of eating.
Comforting, warm, and absolutely addictive are just a few words to describe this traditional fare. If you've never heard of khichdi before, you must know that you've really been missing out! Take time to remedy this situation by making this satisfying snack asap.
Khichdi is a comfort food common throughout India and is a popular dish for babies and toddlers. It's healthy and tasty and easy to eat when you're sick or you just want something relatively simple.

Peas, carrots, potatoes, and other veggies can be added instead of, or in addition to, the tomato and onion. Khichdi can be served in a bowl as is or can be rolled into balls. Our son, Satya, loves eating this in any form, including balls, which is less messy for him to eat."

— Christina and Pulin
Fast Family Food
Jump right into this recipe without fear. If you have family filing in and out of the kitchen, get them to help, too. These lentil and rice balls can be created in no time at all once you get a few things going.
While you sauté the veggies, have kiddies measure out the dried pulses and the rice. They can even rinse out the dry ingredients and add in the water once the vegetables are ready. Once everything is simmering, you can all play a game or (dare we say it) clean the kitchen together.
As soon as the mixture is cool, it can be put into the fridge for a few hours. The final part is the most fun. Form into little balls and eat immediately or warm up in any way that suits you. Don't be shy about scooping it right from the pan into your mouth. No judgement here!

How to Serve Up Your Vegetable Khichdi
Load Up Your Lunchbox – The perfect protein-filled part of your lunch. Add as much khichdi as you wish and fill up the rest with some fresh fruit.
Serve Along With Soup – Want to make this more of a meal? Plan to serve your lentil and rice balls with a savory soup, like our Indian Toor Dal or One-Pot Sweet Potato Soup.
Daring to Dip – Let your khichdi dive into a delicious dip such as Beetroot Hummus or add to an appetizing Hummus Board.
Khichdi Kebabs – Create your own kebabs by alternating khichdi balls with chunks of potato, peppers, onions, and zucchini. Either bake or grill until veggies are warm and caramelized.
Bulk Up With Broccoli – Make this snack even more filling by adding a bunch of steamed broccoli as a side. Any veggie (either raw or cooked) you enjoy would work.
Keeping Your Leftover Khichdi
Your leftover khichdi lentil and rice balls can be stored in an airtight container in the fridge for up to 3 days or in the freezer for up to 3 months.
The khichdi can easily be reheated in the microwave for a minute or two or in the oven at 350 degrees F for 5-10 minutes. Keep in mind that the oven will dry out your rice balls more easily than using the microwave. Steaming them gently would also be an option.
2 tablespoons olive oil
1 medium red onion, diced
1 cup diced tomatoes, canned or fresh
1 teaspoon ground turmeric
1 teaspoon ground cumin
1 teaspoon ground coriander
1 teaspoon salt, optional; only for older kids and adults, not babies
½ cup uncooked brown rice
½ cup moong dal, (dried split yellow lentils)
In a medium saucepan, heat the oil over medium heat. Add the onion, tomatoes, turmeric, cumin, coriander, and salt (if using) and cook, stirring, until the onion is translucent.

Rinse the brown rice and moong dal in a fine mesh sieve and drain, then add them to the pan. Add water—use 2 ½ cups for a thicker consistency (which will be easier to form into balls) or 3 ½ cups for a thinner consistency.

Bring the water to a boil, then reduce the heat to low/medium. Cover and simmer until rice and dal are soft, about 40 minutes.

The khichdi may not look like it will hold together in a ball, but it will! To form balls, let the khichdi cool, then refrigerate it for a couple of hours; it will thicken as it cools. Scoop roughly 1 tablespoon portions of khichdi with your hands and roll into balls. The khichdi balls can be eaten cold or microwaved for 30 to 45 seconds to serve warm. Alternately, you can just serve khichdi in a bowl without rolling it into balls.
Leftovers can be stored in an airtight container in the fridge for up to 3 days or in the freezer for up to 3 months.
Calories: 75kcal | Carbohydrates: 11g | Protein: 3g | Fat: 2g | Saturated Fat: 0.3g | Polyunsaturated Fat: 0.3g | Monounsaturated Fat: 2g | Sodium: 171mg | Potassium: 70mg | Fiber: 1g | Sugar: 1g | Vitamin A: 36IU | Vitamin C: 2mg | Calcium: 15mg | Iron: 1mg
About The Vegucated Family Table Cookbook
Marisa Miller Wolfson, director of the award-winning documentary Vegucated, just released a new cookbook for vegan parents, vegan families, and vegan kids. The Vegucated Family Table cookbook is co-written by Marisa Miller Wolfson and Laura Delhauer, with guest recipes by many wonderful vegan parents.
Mother of two and activist since 2003, Marisa hopes to answer the question that forms in every plant-based parent's mind, "What should I feed my vegan child?"
Laura Delhauer, theater maker and plant-based culinary artist, teamed up with Marisa to create over 125 family-friendly and familiar recipes. Each recipe is dedicated to have both taste and nutrition, focusing on ages 5 and up.
Along with the appealing recipes and full-color photographs, this cookbook also includes tips, Q&As, and advice from renowned pediatric plant-based expert Reed Mangels.
You can find out more about Marisa and Laura here. Let them know how much you loved this Khichdi recipe and show your support by purchasing their fantastic new book.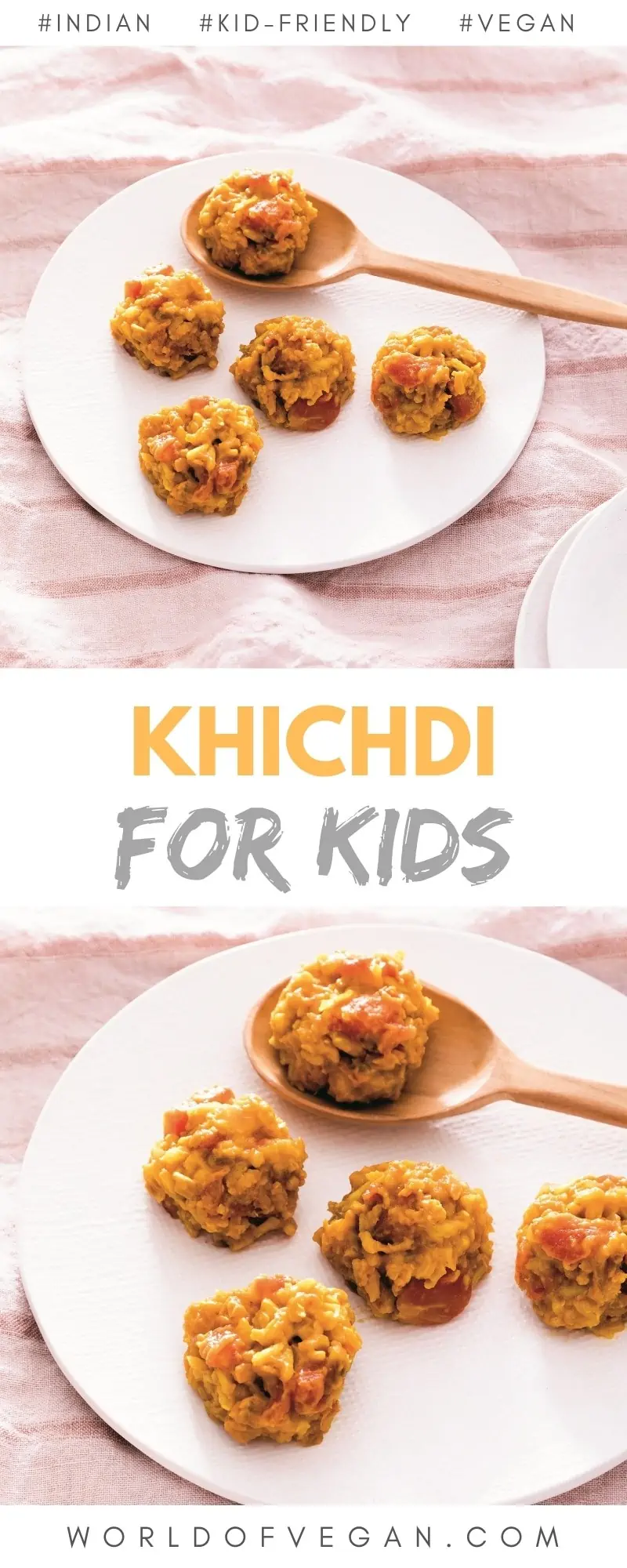 More Simple Vegan Snack Recipes to Try:
We want to thank our recipe testers Anne Sparks and Kathleen Walters for helping us perfect this recipe!
This vegan parenting recipe for the popular vegan Indian dish moong dal Khichdi was reprinted with permission from the The Vegucated Family Table cookbook by Marisa Miller Wolfson & Laura Delhauer (Ten Speed Press, August 2020). Photo credit: Erin Kunkel. Article written by Gina House and edited by Amanda Meth. Please note that this article contains affiliate links that help support our work at World of Vegan!