This guide to celebrating a vegan Easter will help you navigate the holiday without harming animals! Find the best vegan Easter basket options, delicious vegan Easter brunch menu ideas, vegan chocolate bunny brands, plant-based Cadbury cream eggs, and even tips to make your Easter more eco-friendly. Enjoy!
When the first bright, sunshine-y days of Spring come along and the fresh breezes are blowing, I tend to think of Easter. Thoughts of woven baskets full of goodies, creamy chocolate bunnies, and wearing your best Sunday dress (or suit!) come to mind. I eagerly look forward to decorating my home for Easter with golden daffodil heads and perky, sherbet-colored tulips. Such a joy!
How to Celebrate A Vegan Easter
If you're wondering, it's easy to celebrate a vegan Easter without any ethical compromises or personal sacrifice. Plus, this holiday is a great opportunity to teach your kids about the importance of living with kindness and consideration in all aspects of life. I'm happy to share some cruelty-free options for your plant-based Easter celebrations this year.
Vegan Easter Eggs (For Painting)
Before you reach for that carton of eggs, consider this. Every conventional egg subjects a hen to 24 hours in a battery cage (or similarly miserable conditions). The poor hens! Instead of painting chicken eggs, look for more creative and caring alternatives.
Bake a batch of egg-shaped vegan sugar cookies and decorate with frosting made with vegan butter!
Cut egg shapes out of pretty patterned card stock and accent with fun, sparkly stickers. Or, use pastel construction paper and color them with markers. You can hang them on the fridge and save them for years to come. Add a small picture of your family to the front and you also have a fun family heirloom, too!
Buy a set of lovely wooden or ceramic eggs and adorn with acrylic paints, stickers, or cover with your favorite fabric. There are endless, creative ways to make this activity fun for children.
Grab an avocado! Just cover it in a piece of fancy foil and boom—the ultimate vegan Easter egg. Just make sure that it's not overripe!
Vegan Chocolate Bunnies
It makes me so happy to see that several online chocolate shops now offer a selection of vegan Easter-themed goodies—including vegan Easter bunnies. Chocolate bunnies are iconic for Easter, as well as shiny, foil-wrapped chocolate eggs. Just be sure to double check that items are vegan, as some companies that make vegan chocolates also offer products that aren't vegan.
Another good idea to to search on Etsy for homemade, gourmet vegan chocolate bunnies. Though the stores may come and go, I've had good luck getting beautiful chocolate Easter bunnies for gifts.
Vegan Cream-Filled Chocolate Eggs
If you're a lover of the ooey-gooey, cream-filled Cadbury eggs, you're in luck. Several companies have started to replicate this using all vegan ingredients. Obsessive Confection Disorder, No Whey Chocolate, Timeless Coffee (an all-vegan café and bakery in Oakland and Berkeley, California), and Moo Free make vegan Cadbury eggs and they are awesome. You can also find foil-wrapped vegan chocolate eggs (as well as bags, boxes, and vegan chocolate bunnies) at Amanda's Own.
Making your own vegan cream-filled chocolate eggs might be fun, too! Here are a few recipes that I found that are super close to the original. If you don't mind taking the time, they're sooo worth it. They're all slightly different in texture, flavor, and shape, so you can choose which recipe works for you!
Vegan Easter Baskets
While you're carefully considering what to add to your vegan Easter baskets, please remember not to purchase Peeps. Although they are sweet, soft, and squishy, Peeps are made with animal skin and bones (gelatin). Yuck! Instead, try out this super cute vegan marshmallow peeps recipe from LiveKindly.
Suggestions for a beautifully filled basket:
Chocolate bunny
Chocolate and/or cream eggs
Small toy or gift
Shiny coins or money
Sustainable Easter basket Swaps:
Instead of using plastic eggs that open, choose colorful little canvas drawstring bags for storing small gift items.
Wrap your basket with a patterned print fabric and cloth ribbon. The clear plastic gift bag and ribbon that are traditionally used creates a good deal of waste at the end of the day.
Have a hide and seek game with chalk eggs! After all of the eggs are found, each child can receive a little chalkboard to draw on or have a section of the driveway to create original pieces of artwork. So much fun!
More Eco-Friendly Options
We all want to be more Earth-friendly, so I wanted to list some awesome alternatives that will save you money and also save you from using so much plastic waste. As always, only do what you can, you don't have to be perfect. Even a small swap will make a big difference in the long run.
Don't Buy New Baskets – Reuse baskets you already have at home or go to the thrift store to find baskets in good condition. I've bought at least five baskets this way and they only cost $1 each! Choose natural materials over colorful plastic so that you can use the baskets all year long for different holidays and seasons.
Say No to Decorative Straw – This is a hard one. I know that the translucent green (or pink!) filler is incredibly appealing, but it's horrible for the planet. I have two suggestions, though. If you really must have this straw, buy it once and save it from year to year. Because it's plastic, it can be rinsed or washed if necessary, but you can just throw it in a storage bag to use the next year. A better option (if you haven't already bought any filler) is to find paper green "grass". You can even get recycled paper grass at Five Below stores, which can be saved, composted or recycled when you're done.
Earth-Friendly Fun – Pass on the plastic when purchasing vegan Easter toys and gifts for your baskets. Buying a ton of cheap plastic trinkets will only add up to more unwanted junk in your house, and will also leave more refuse for the landfill. Choose wooden puzzles and toys, books, coloring pages, crayons (these are even egg shaped!), art supplies, construction paper, and maybe some vegan yarn and wooden knitting needles.
Easter brunch is one of the highlights of my Italian Grandma's family celebration. She can spend weeks deciding what to make, which cookies to bake, and which candies to buy. Though meals will differ from family to family, here's a list of my favorite vegan recipes that can easily be substituted for traditional Easter meals. They're delicious! What are your family favorites for Easter?
Plant-Based Easter Appetizers
Vegan Easter Main Meal
Delicious Vegan Easter Desserts
Easter Drinks
Searching for egg substitutes or more plant-based egg recipes? Our Vegan Egg Guide is the perfect place to start!

Please Don't Buy Live Rabbits
If you've made a thoughtful and long-term decision to welcome an adorable bunny into your home, that's wonderful! But please be sure to adopt and keep in mind that some bunnies are high maintenance, especially Angora bunnies. They can also be pretty destructive and love chewing on electrical cords and furniture. Sadly, most rabbits given as Easter gifts wind up neglected and unwanted when the novelty wears off.
Different breeds of bunnies also have numerous health issues. It's a good idea to do some research ahead of time to be certain that you have the time and energy to commit to this sweet, sensitive animal. If you feel that you're 100% committed, you can find many resources for adopting at the House Rabbit Society.
Rabbits can live up to 12 years, and the estimated cost of caring for a rabbit over that time is between $3,000 and $4,000 dollars. If that doesn't fit in your budget, then visit an animal sanctuary or head to your local animal shelter to volunteer and play with bunnies instead. Volunteering is far more rewarding with no expense or obligation.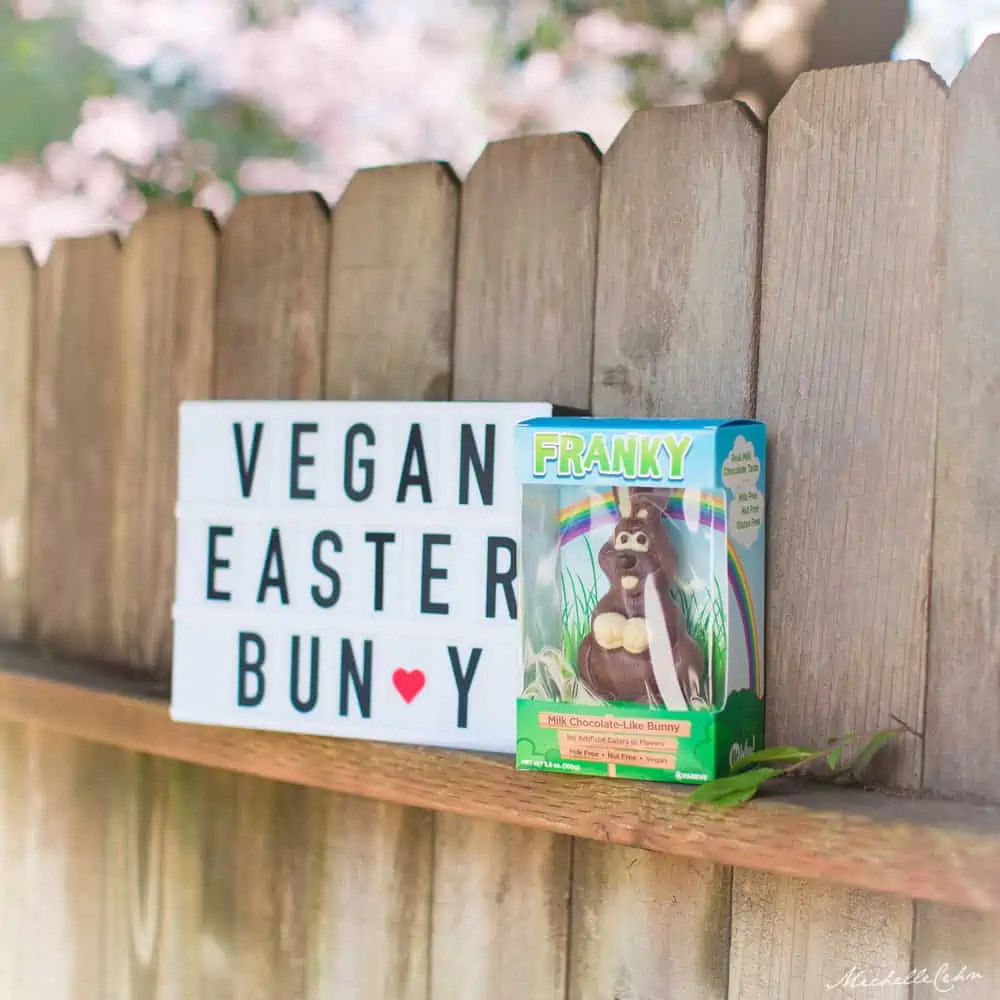 I hope this guide will help you celebrate a compassionate and caring vegan Easter for years to come!
This Vegan Easter Guide was written by Gina House and edited by Amanda Meth. Photos by Michelle Cehn. Content copyright World of Vegan, all rights reserved.