When the first bright, sunshine-y days of Spring come along and the fresh breezes are blowing, I tend to think of Easter. Thoughts of woven baskets full of goodies, creamy chocolate bunnies, and wearing your best Sunday dress (or suit!) come to mind. I eagerly look forward to decorating my home for Easter with golden daffodil heads and perky, sherbet-colored tulips. Such a joy!
How to Celebrate A Vegan Easter
If you're wondering, it's easy to celebrate a vegan Easter without any ethical compromises or personal sacrifice. Plus, this holiday is a great opportunity to teach your kids about the importance of living with kindness and consideration in all aspects of life. I'm happy to share some cruelty-free options for your plant-based Easter celebrations this year.
Vegan Chocolate Bunnies
It makes me so happy to see that several online chocolate shops now offer a selection of vegan Easter-themed goodies—including vegan Easter bunnies. Chocolate bunnies are iconic for Easter, as well as shiny, foil-wrapped chocolate eggs. Just be sure to double check that items are vegan, as some companies that make vegan chocolates also offer products that aren't vegan.
Etsy is also home to many craftspeople who sell homemade vegan chocolate bunnies. Plus, you'll be supporting a small business!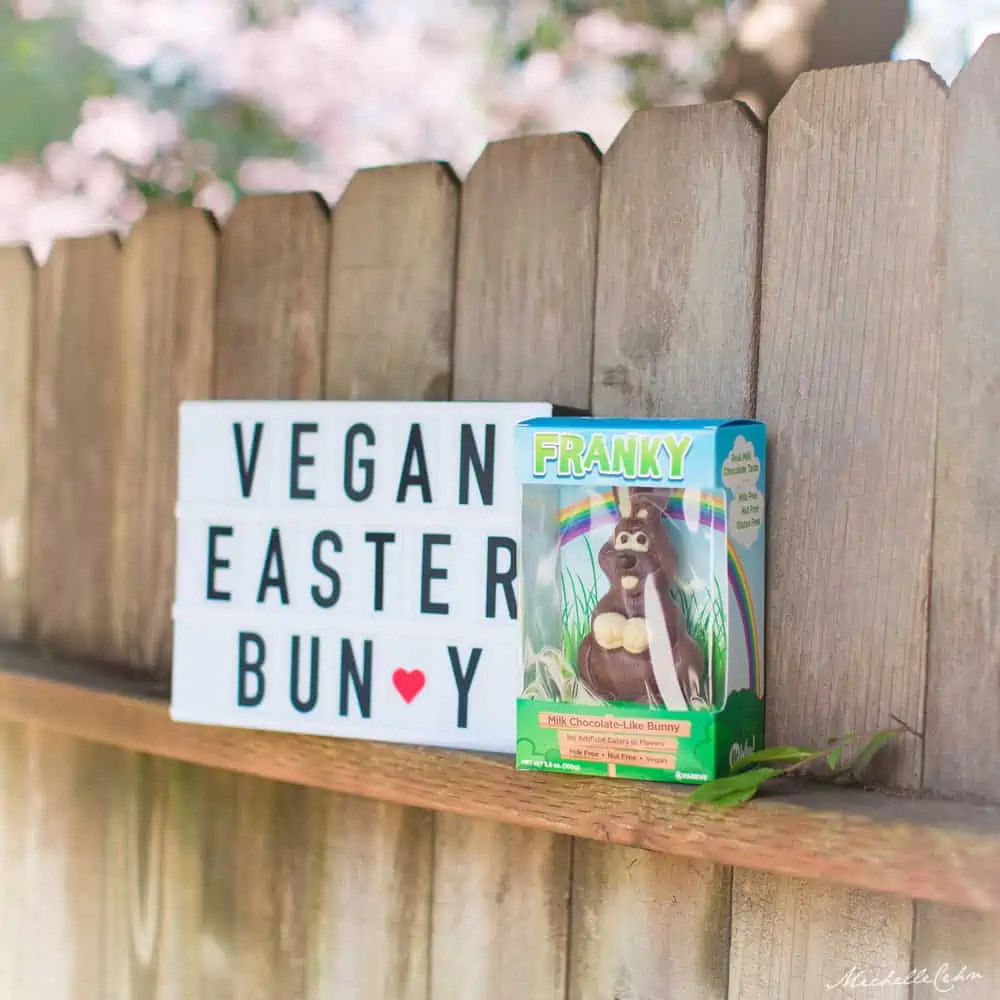 Vegan Cream-Filled Chocolate Eggs
If you're a lover of the ooey-gooey, cream-filled Cadbury eggs, you're in luck. Several companies have started to replicate this using all vegan ingredients. No Whey Chocolate and Moo Free make vegan Cadbury eggs and they are awesome. You can also find foil-wrapped vegan chocolate eggs (as well as bags, boxes, and vegan chocolate bunnies) at Amanda's Own.
Making your own vegan cream-filled chocolate eggs might be fun, too! Here are a few recipes that are super close to the original. If you don't mind taking the time, they're worth it. Each cream egg recipe is slightly different in texture, flavor, and shape, so choose whichever looks best to you.
Vegan Easter Baskets
Suggestions for a beautifully filled vegan Easter basket
Easter Basket Sweets:
Small Toys and Candy-Free Easter Basket Gifts: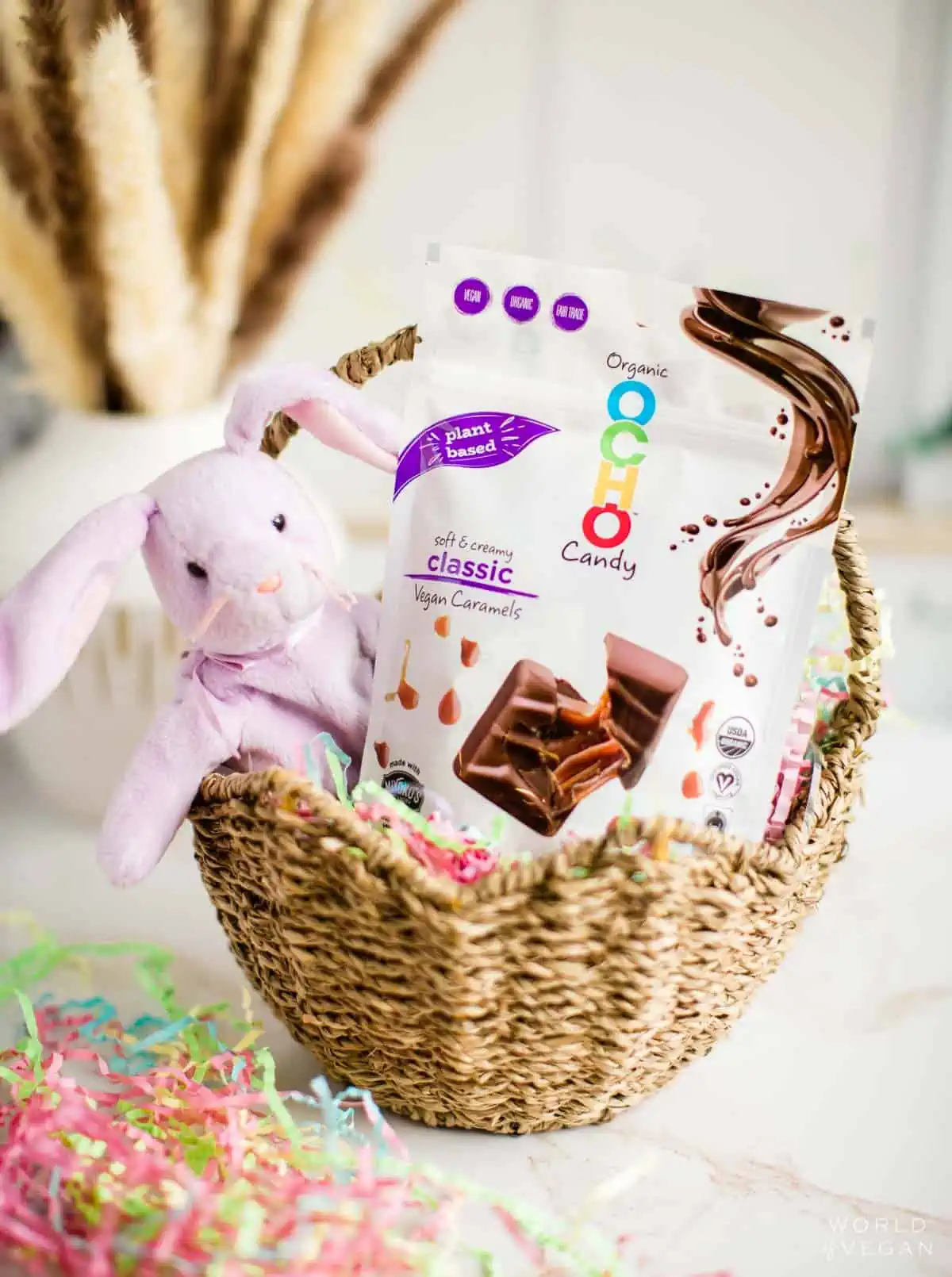 Peep! While you're carefully considering what to add to your vegan Easter baskets, please remember not to purchase Peeps. Although they are sweet, soft, and squishy, Peeps are made with animal skin and bones (gelatin). Yuck! Instead, try out this super cute vegan marshmallow peeps recipe from LiveKindly.
Sustainable Easter basket Swaps:
More Eco-Friendly Options
We all want to be more Earth-friendly, so I wanted to list some awesome alternatives that will save you money and also save you from using so much plastic waste. As always, only do what you can, you don't have to be perfect. Even a small swap will make a big difference in the long run.
Vegan Easter Eggs (For Painting)
Before you reach for that carton of eggs, consider this. Every conventional egg subjects a hen to 24 hours in a battery cage (or similarly miserable conditions). The poor hens! Instead of painting chicken eggs, look for more creative and caring alternatives.
Easter brunch is one of the highlights of my Italian Grandma's family celebration. She can spend weeks deciding what to make, which cookies to bake, and which candies to buy. Though meals will differ from family to family, here's a list of my favorite vegan recipes that can easily be substituted for traditional Easter meals. They're delicious! What are your family favorites for Easter?
Plant-Based Easter Appetizers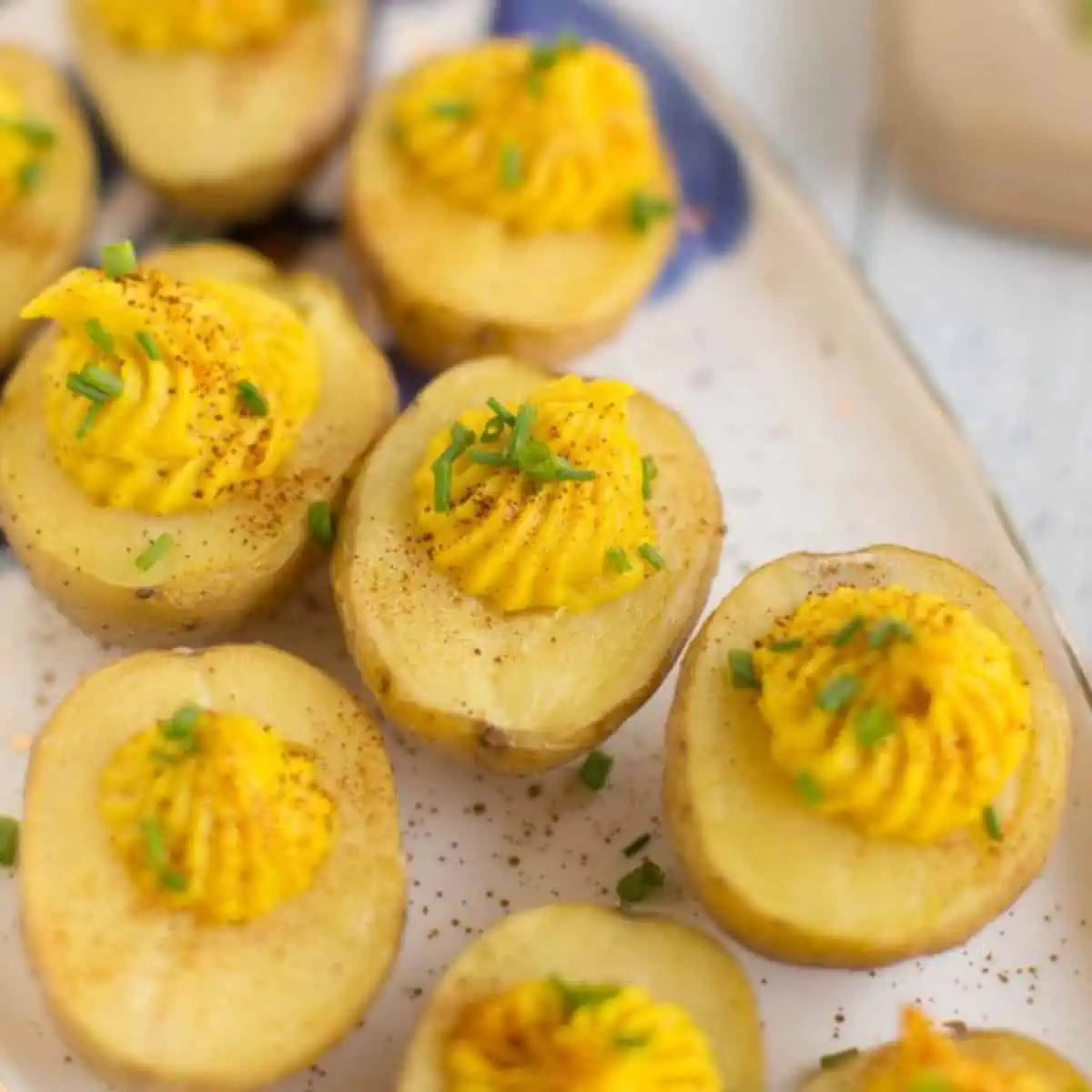 Vegan Easter Main Meal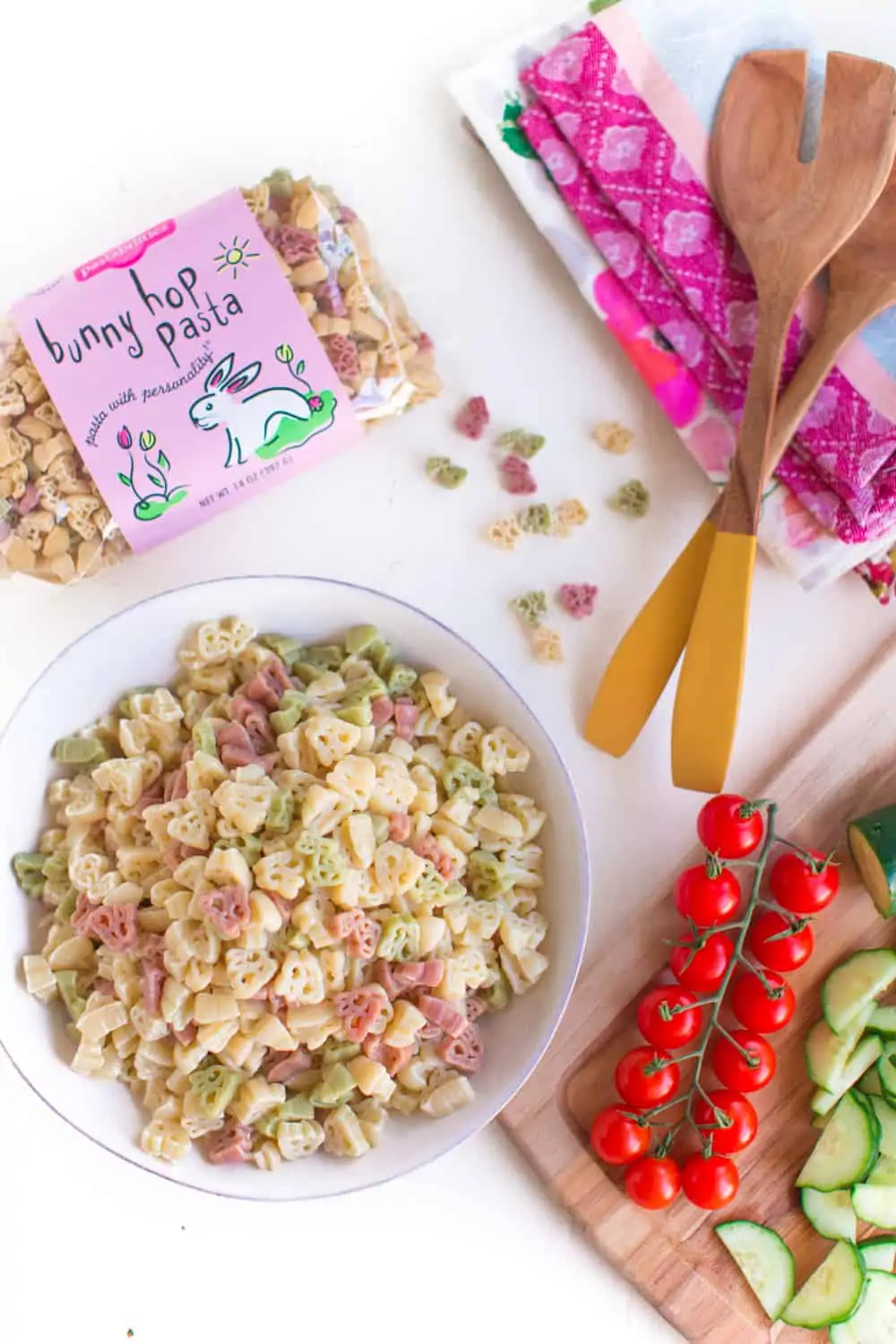 Delicious Vegan Easter Desserts
Easter Drinks
Searching for egg substitutes or more plant-based egg recipes? Our Vegan Egg Guide is the perfect place to start!

Easter PSA: Please Don't Buy Live Rabbits
If you've made a thoughtful and long-term decision to welcome an adorable bunny into your home, that's wonderful! But please be sure to adopt and keep in mind that some bunnies are high maintenance, especially Angora bunnies. They can also be pretty destructive and love chewing on electrical cords and furniture. Sadly, most rabbits given as Easter gifts wind up neglected and unwanted when the novelty wears off.
Different breeds of bunnies also have numerous health issues. It's a good idea to do some research ahead of time to be certain that you have the time and energy to commit to this sweet, sensitive animal. If you feel that you're 100% committed, you can find many resources for adopting at the House Rabbit Society.
Rabbits can live up to 12 years, and the estimated cost of caring for a rabbit over that time is between $3,000 and $4,000 dollars. If that doesn't fit in your budget, then visit an animal sanctuary or head to your local animal shelter to volunteer and play with bunnies instead. Volunteering is far more rewarding with no expense or obligation.
I hope this guide will help you celebrate a compassionate and caring vegan Easter for years to come!
Photos by Michelle Cehn. Content copyright World of Vegan, all rights reserved.