One of my absolute favorite holiday memories is making holiday cookies with my mom and my great aunt! We'd make simple sugar cookies with icing, and it was always so much fun to cut out the cookies and ice them with pretty colors.
I remember one of my first few years as a vegan, when the Christmas season came I really wanted to re-create that childhood favorite recipe. And…I did! I've been baking these vegan sugar cookies for years. I now make them every holiday season because they're so simple, fun, and nostalgic! I hope you enjoy making them as much as I do.
While this recipe is great for anyone, it's especially excellent if you want to bake vegan holiday treats with kids. They'll absolutely adore using cookie cutters to create adorable little cookies, and they'll love icing them too. I sure loved it as a kid!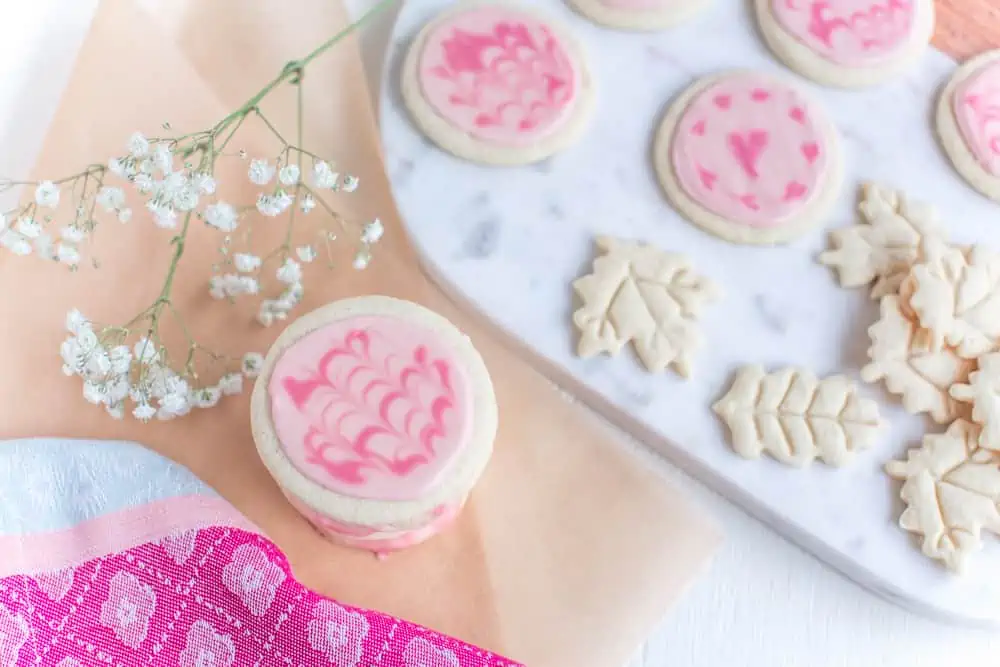 Baking Equipment You'll Need
To make these cookies you'll need some basics. The first and most important piece of equipment is a standing mixer. I highly recommend using a stand mixer if you have one, but if not (they're pricey, I know!) a hand mixer will work. If you don't have either you can try to mix the ingredients by hand, but the texture just won't be the same. An electric mixer is necessary to cream the coconut oil and cane sugar together, as well as incorporate the dry ingredients in order to form a nice dough.
You'll also need a rolling pin to roll out the dough, a whisk to quickly whip up the icing, and a baking sheet to bake the cookies. I personally recommend lining your baking sheet with a silicone baking mat any time you're baking cookies. This will prevent your cookies from sticking to the pan. If you decide to buy one, make sure the size of the mat fits your baking pans at home! If you don't have that, parchment paper will do.
Icing Your Cookies Like a Pro
When it comes to icing your cookies, you have a few options. The first is to apply the icing using a silicone basting/pastry brush. If you don't have one of these, you can dip the tops of the cookies into a shallow dish with the icing to coat them. It may get a bit messy (but hey, the kids might love that!).
If you want to get fancy, you can pipe the icing onto your cookies like the pros. This takes a little more time and finesse, but it can be really fun and rewarding when you have beautiful cookies to show for it! The concept is this: you'll need two types of icing, one thick icing that you'll pipe onto the cookie with a frosting bag and a size 2 piping tip to form the design and border. Then, you'll need to thin out the remaining icing ever-so-slightly by adding a teensy bit of water to create a "fill icing" or "flood icing." You can dollop this flood icing onto the cookie and it will spread out to fill in the cookie design. The thicker icing outline you piped on first will hold that fill icing in place until it dries.
The icing recipe below makes a thicker icing that you can pipe or spread onto the cookie. To make the fill icing, you'll just add a teensy bit of water until you reach the right consistency. Be careful though—you can always add more water but you can't go back, and if you make the icing too wet it won't harden on the cookie. Professionals sometimes use spray bottles so they can add the littlest bit of water until they get a perfect consistency.
If this is all sounding a little confusing or overwhelming, watch this sugar cookie icing tutorial video to learn the basics of sugar cookie decorating (and get some wicked awesome design inspiration).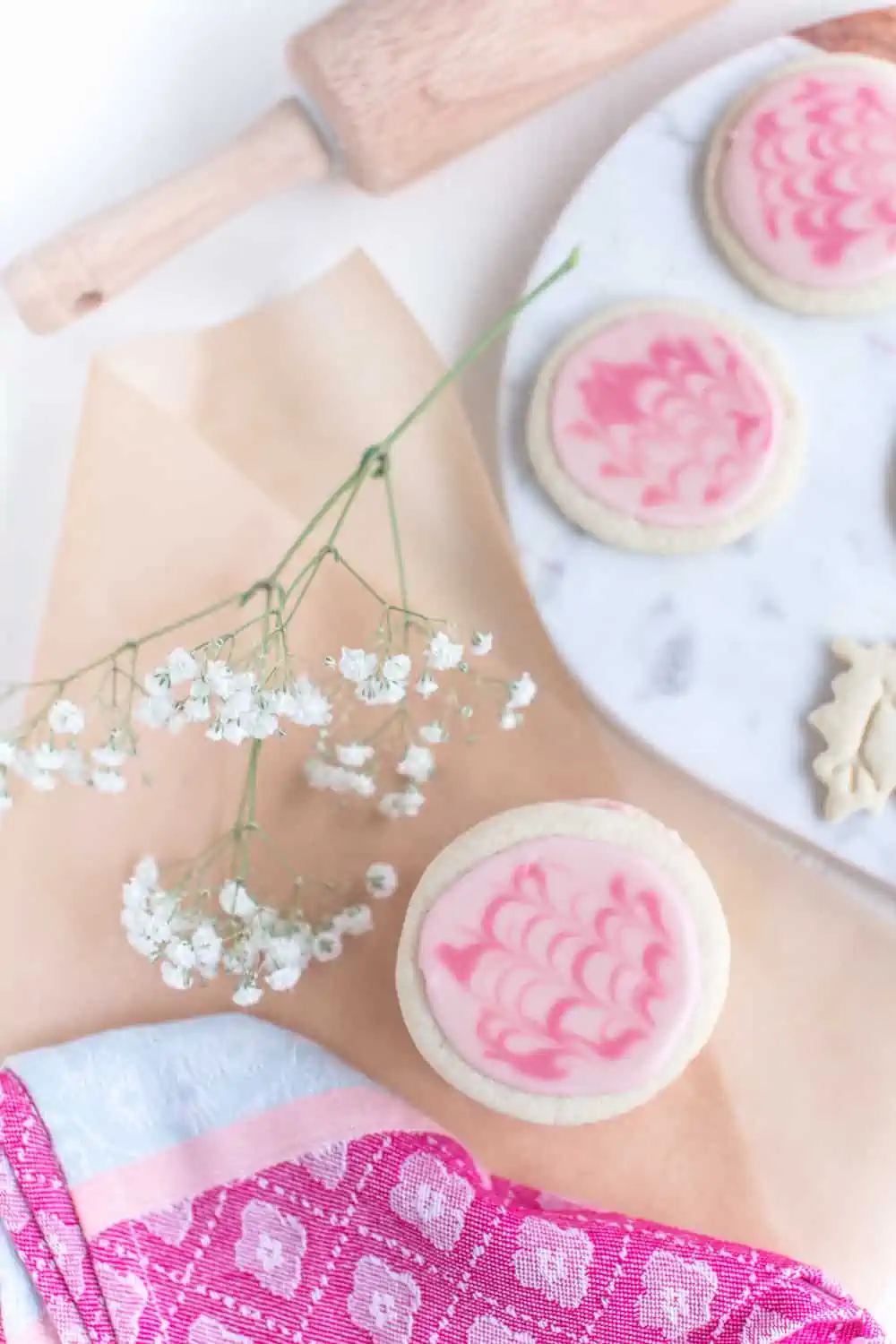 Vegan Sugar Cookie Baking Tips
Make sure to use room temperature almond milk in this recipe. You don't have to remember to leave the almond milk out hours before. You can just gently heat the milk in a small sauce pot until it is at room temperature (but don't let it get too warm). If you use cold almond milk from the fridge it will change the consistency of the coconut oil, and therefore also the dough. Since coconut oil turns very solid when it's cold, the ingredients work much better when all of the ingredients are at room temperature. Then the dough will be much smoother and easier to roll out. It's best to use soft and scoopable coconut oil, rather than cold and hard coconut oil or melted coconut oil.
Also, note that there are different types of coconut oil. If you like the flavor of coconut, go for virgin coconut oil which retains that coconutty flavor. If you're not a fan of coconut, you can use "refined" coconut oil in which—magically—does not taste like coconut at all. Both will work equally well in this recipe.
This recipe for vegan sugar cookies makes somewhere around 35 to 45 cookies depending on the size of the cookie cutters you use. I used pretty small cookie cutters along with a few large ones and it made 50 cookies.
Coloring Your Icing—Vegan Style
I love the super simple icing that goes on these vegan sugar cookies. You can leave it white and decorate it with your favorite vegan sprinkles, or you can add some color to make the icing pop.
Many mainstream food coloring products are not natural, healthy, or vegan. You can find some vegan brands (like Color Garden which was used to turn the icing pictured in the photos pink). You can find these specialty vegan food colorings at many natural food stores or online.
Or…you can get creative and make your own food coloring! I love to use natural ingredients that are highly pigmented to add rich and beautiful all natural coloring to baked goods. With most of these, you only need a really small quantity to make vibrant hues. Here are some great ideas for colors:
Green: Spirulina or barley grass juice powder
Red or Pink: Pitaya (dragonfruit) powder or beet powder
Yellow or Orange: Turmeric (note that turmeric typically creates a mostly yellow hue, and using too much to achieve orange will likely affect the flavor of the recipe you're making)
Blue: Blue Majik or butterfly pea powder (also known as blue matcha)
Purple: Blueberry powder
This is just the tip of the iceberg—there are countless real-food ingredients that you can use for coloring. I suggest experimenting to find the colors you love the most. Consider giving our Vegan Royal Icing recipe a try. It's perfect for topping any and all types of cookies!
Bake Them Ahead for the Holidays!
This is a great recipe to make during the holidays because it's surprisingly easy and it makes a large batch. Since December is always a really busy month for most of us, I like to do my Christmas baking ahead of time and freeze my cookies up until it's time to serve them. All you have to do is thaw the cookies in the morning on the day you plan to serve them. I love freezing all of my different cookie creations because I can pull out a variety of cookies for every holiday event and party and I don't have to worry about scrambling to bake fresh cookies at the last minute if I'm too busy!
And by the way, you can totally make these cookies at any time of the year. I like using stars, gingerbread men, and Christmas trees. And of course, you can use this recipe to make vegan Hanukkah cookies! Or cookies to fit your kiddos themed birthday party. Or New Year's cookies. You get it. You can get creative with fun shapes and colors to make these cookies a big hit any time of the year.
I hope this recipe brings you as much joy and nostalgia it as it does for me. This is truly why I love sharing my recipes. Because for me, great vegan food is pure joy and bliss! Happy baking!
⅓ cup coconut oil
½ cup cane sugar, + 1 tablespoon
¼ cup plant-based milk, unsweetened at room temperature
½ teaspoon vanilla extract
1 ⅓ cups all-purpose flour
¾ teaspoon baking powder
¼ teaspoon baking soda
Icing
1 cup powdered sugar
½ teaspoon vanilla extract
1 tablespoon water, + 1 teaspoon, add more water as needed to get your desired consistency
Add the coconut oil, cane sugar, milk, and vanilla extract to the bowl of a stand mixer (or mix with an electric hand mixer). Cream the ingredients together on medium/high speed for a few minutes until it's well-combined.

Sift the flour, baking powder, and baking soda into the mixer and beat until it forms a dough.

Gently dust a clean work surface with flour. Transfer the dough to your work surface and knead it into a ball. Use a rolling pin to gently roll the dough out until it is around ¼ inch thick. Try not to roll the dough too thin because then the cookies will be more crunchy rather than soft and crispy.

Preheat your oven to 350 degrees F. Line 2 baking trays with silicone mats or parchment paper.

Use cookie cutters to cut cookies out and place them on the baking tray. Form any dough scraps into a ball and re-roll and cut more cookies, until all of the dough is gone.

Bake the cookies on the center rack of your oven for around 10-12 minutes, or until they're golden brown on the bottom.

In the meantime, make the icing by whisking together the powdered sugar, vanilla extract, and water until smooth. Feel free to add vegan food coloring if desired. Set aside.

When the cookies are finished, transfer them to a wire rack to cool. Once they're cooled, apply the icing onto the cookies. Allow the icing to dry completely before serving or storing.
Calories: 324kcal | Carbohydrates: 71g | Protein: 4g | Fat: 15g | Saturated Fat: 12g | Polyunsaturated Fat: 0.5g | Monounsaturated Fat: 1g | Sodium: 136mg | Potassium: 37mg | Fiber: 1g | Sugar: 20g | Vitamin A: 1IU | Calcium: 56mg | Iron: 2mg
Photos by Michelle Cehn. This article contains affiliate links, and shopping through these links supports World of Vegan. This article is not sponsored, and we only share products and companies we sincerely adore!