We are so excited to share this gorgeous recipe with you! A super refreshing and a "feast for the eyes" strawberry mint lemonade. Who doesn't love a sweet and fresh summery drink? It's the perfect way to transport yourself to an instant island vacation vibe or glam up any party. Let's get straight to it then!
2 cups fresh strawberries, sliced into quarters, divided
4 tablespoons maple syrup
2 tablespoons granulated sugar
5 large lemons, juiced
4 cups cold water
15 fresh mint leaves
1 cup ice cubes
1 lemon slice, for garnish
Place one cup of sliced strawberries in a small pot with the maple syrup. Bring to a boil over medium heat and cook for about 2 to 3 minutes, until strawberries start to soften. Remove from heat and allow to cool for a couple minutes.

Pour the strawberries and their cooking juice in a blender, add the granulated sugar, and blend until you have a syrup-like consistency. Some chunks are okay. Allow this syrup to cool down.

In a small pitcher, add the cold water, the juice of the 5 large lemons, and the cooled strawberry mixture (using a spatula to get it all out of your blender). Stir well.

Mix in the mint leaves, ice cubes, the remaining one cup of fresh strawberry slices, and lemon slices. Mix it all up.

Adjust to taste. You can add more lemon and/or sugar if you want a more intense or sweeter lemonade flavor. If it's too strong for you add more water.

Serve in a pretty jar and enjoy!
Calories: 120kcal | Carbohydrates: 33g | Protein: 2g | Fat: 0.5g | Saturated Fat: 0.1g | Polyunsaturated Fat: 0.1g | Monounsaturated Fat: 0.01g | Sodium: 9mg | Potassium: 259mg | Fiber: 4g | Sugar: 21g | Vitamin A: 190IU | Vitamin C: 75mg | Calcium: 69mg | Iron: 1mg
Adjust To Your Liking!
In doing some recipe testing for lemonade, we learned that nearly everyone has a drastically different preference for how tart and how sweet they like their lemonade.
Luckily, this beverage is super-easy to adjust to your liking! If you want more of a lemony punch (or if your lemons are particularly small), add some more lemon! If it's too tart for your liking, add some sugar or additional maple syrup or water. Just be sure to add little bits at a time, and taste as you go, to achieve your own personal strawberry lemonade perfection.
The key to this recipe is the strawberry syrup you'll need to prepare. It makes the color of this lemonade look amazing, and allows the strawberry flavor to really shine through. Since strawberries have naturally occurring sugars, they not only add to the flavor but also help balance the lemon juice in this drink.
Vegan BBQ Drink of Choice
When we think of hosting a vegan barbecue or preparing something to bring to one, we usually think of vegan potato salad, pasta salad, or any "easy to throw together" salad (like this summer tomato corn salad). We seldom think of preparing a super refreshing drink for the guests. And too often, those events end up being overloaded with salads.
Why don't we start a new tradition and agree with adding more delicious and cooling homemade drinks to the mix?
Especially on those hot days under the sun, it's always good to hydrate and eat as many fruits as possible, so this strawberry mint lemonade is perfect for that! Ideally, keep the bottles or jugs in a big bucket of ice in the shade. I'm so ready for a bbq, are you?
Drink More Water!
We're all constantly aiming to drink more water, right? It's common knowledge but not an easy feat. I've started carrying a reusable water bottle with me everywhere, which helps a lot. But I'm continually trying to find other ways to up my water intake.
If you're not a fan of chugging plain water, then lemonades (or infused waters) are a great way to get in some hydration.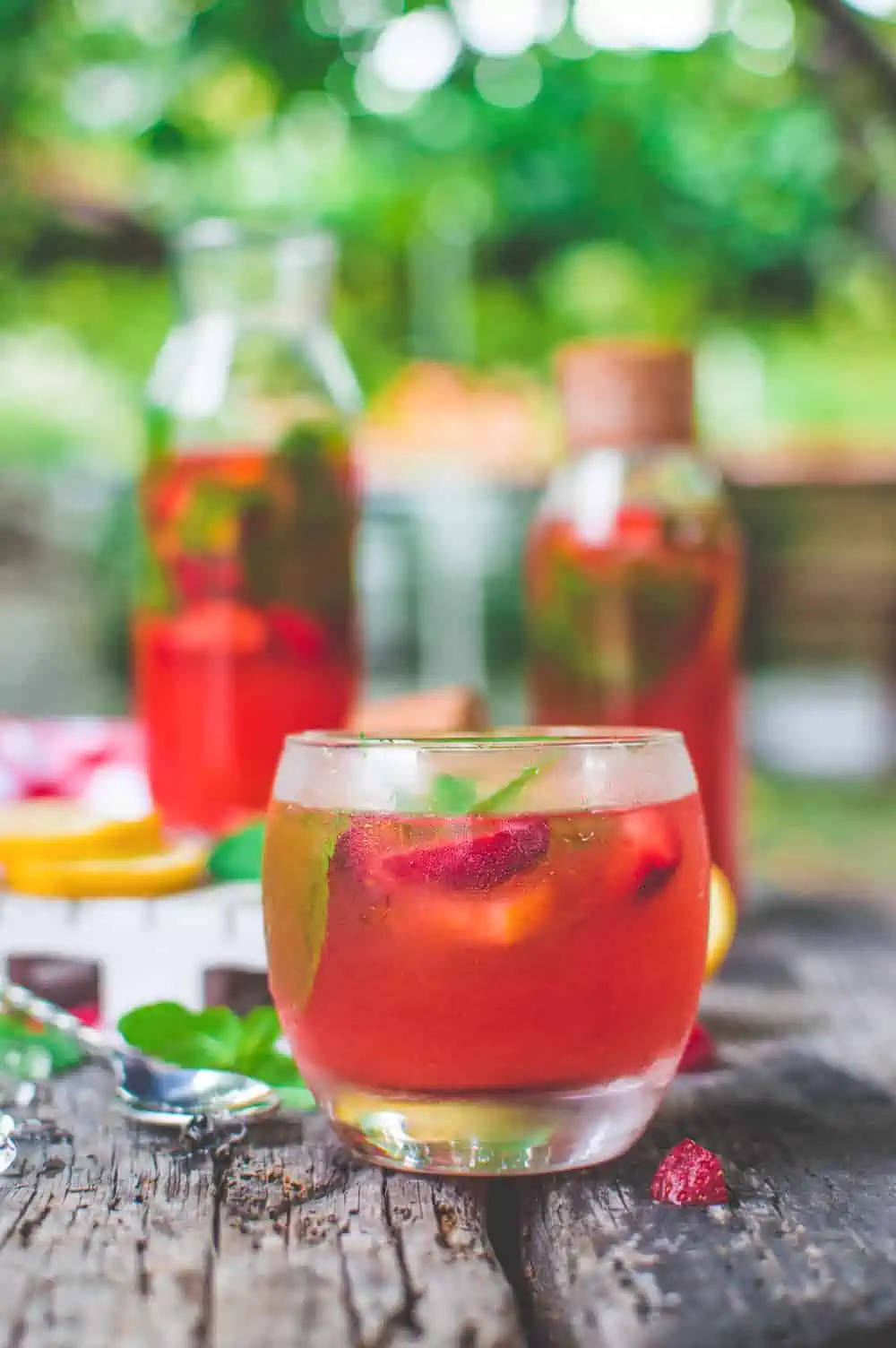 Get Creative With Your Lemonade!
You can take this strawberry mint lemonade recipe and use it as a blueprint to create your own extra-special version. Let's brainstorm some ideas, shall we?
Pineapple mint (or basil)
Grapefruit lime (this one might need the extra sugar since neither fruit is very sweet in itself)
Watermelon lime (these two flavors go so well together!)
Passion fruit & mango (a very tropical lemonade which might inspire your next holiday!)
Ginger lemon (an oldie but a goodie)
Fun, right? So many cool and delicious combinations we could come up with!
Looking For More Vegan BBQ Recipes?
We want to thank our amazing recipe tester J.J Steele for helping us perfect this recipe!
Strawberry Mint Lemonade photos and recipe by Zhoro Apostolov for World of Vegan. Recipe and photographs copyright of World of Vegan™, all rights reserved. Please note that this article contains affiliate links which support our work at World of Vegan!