If you love savory brunch foods, this vegan quiche recipe is going to blow your mind! It's definitely a vegan game changer. It's similar in taste to a classic broccoli quiche, but unique in that it's made with tofu instead of eggs, and inspired by seasonal fall produce.
I used leeks, garlic, and rosemary to give it really delicious savory flavors. Yet it's still an awesome recipe year-round. If you love warm, comforting breakfasts, this dish is definitely for you. You'll be surprised at how easy it is to make!
You can buy a pre-made vegan pie crust (many crusts in stores are accidentally vegan). Or, if you want to make the entire quiche from scratch, you can make my favorite coconut oil pie crust. I recommend using a food processor, but you can make it by hand if you don't have one. Then, to make the tofu quiche filling, simply sauté the veggies and blend the tofu mixture to create the filling. You'll love the use of simple, wholesome ingredients that have bold flavors in this quiche.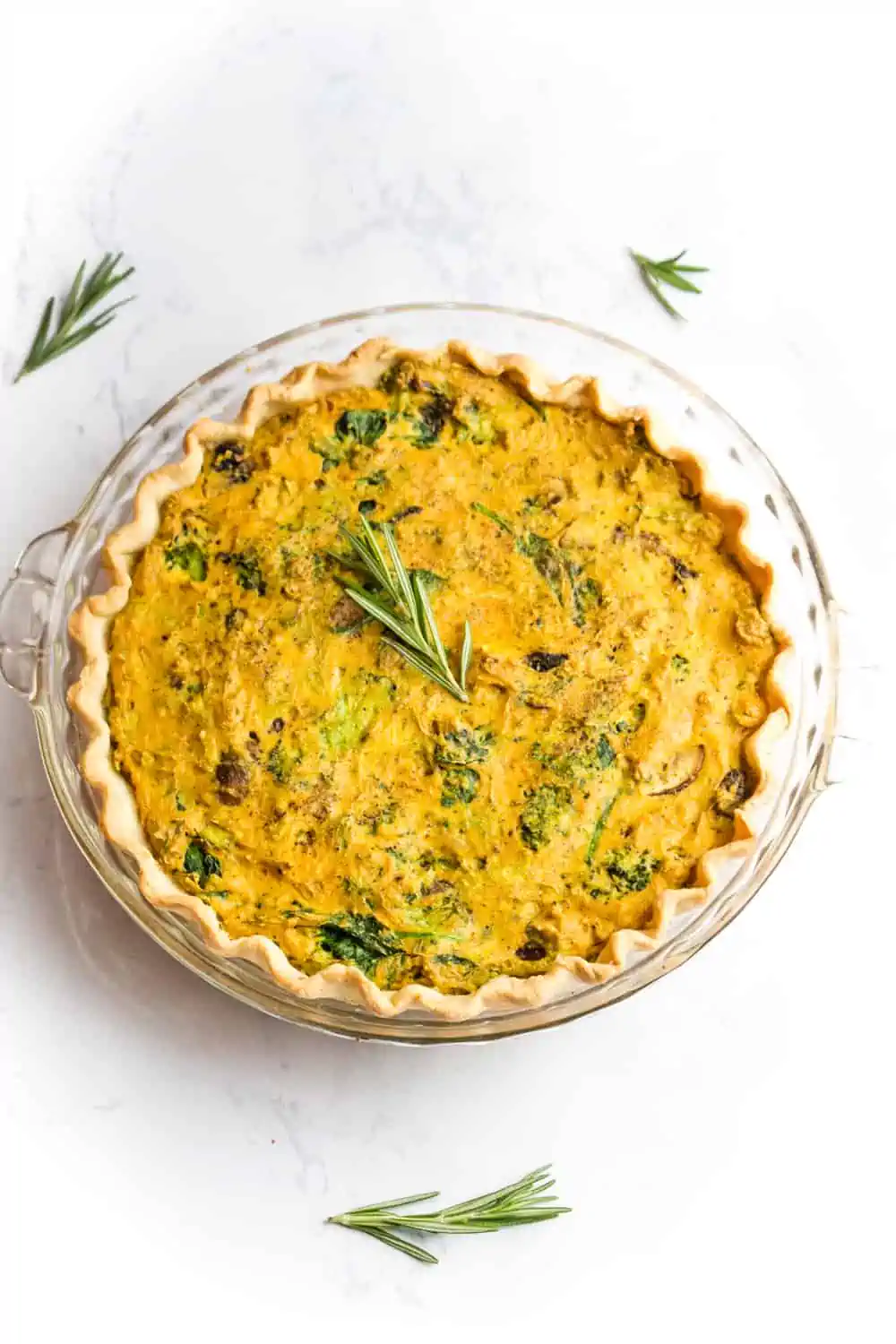 Pie Crust
1 cup + 2 tablespoons of all-purpose flour, plus more for dusting your work surface
¾ teaspoon cane sugar
½ teaspoon salt
¼ cup solid coconut oil
¼ cup ice water
Filling
1½ teaspoon coconut oil
1 cup thinly sliced leeks
3 cloves garlic, minced
1 cup broccoli, chopped into small pieces
1 cup roughly chopped mushrooms
2 teaspoons finely chopped fresh rosemary
¼ teaspoon salt
1 cup spinach
2½ cups extra-firm tofu
½ cup + 1 tablespoon non-dairy milk, unsweetened plain
2 tablespoons nutritional yeast
1 teaspoon  baking soda
1 teaspoon salt
½ teaspoon turmeric powder
¼ teaspoon pepper, plus more for garnish
¼ teaspoon Indian black salt, optional
Begin by making the pie crust. Prepare the ice water by either chilling the water ahead of time or adding a few ice cubes to the water. Add the flour, sugar, and salt to a food processor and blend for a few seconds to combine. Add the coconut oil and pulse a few times to cut in the oil. Run the food processor and slowly pour in the water. Blend until the mixture is well-combined. You should have a nice dough that is just slightly sticky.

Gently flour a clean work surface and transfer the dough ball to the surface. Use a rolling pin to roll out a nice circle to fit the shape of a standard pie pan. Lightly grease the pie pan with coconut oil and place the dough into the pan. You can pinch the edges to create a nice design, or leave it plain. Set aside.

Heat a large pan with the coconut oil and add the leeks and garlic. Sautee for about 3 minutes. Add the broccoli, mushrooms, rosemary, and salt and sauté for about 15 minutes, or until the veggies are cooked nicely.

Add the spinach and cook it for a couple of minutes until it is just wilted. Set aside.

Preheat the oven to 425 degrees F.

Add all of the rest of the ingredients to a blender and blend until well-combined. The mixture won't be perfectly smooth. This adds nice texture to the quiche.

Transfer the tofu mixture to the pan with the veggies and mix until just combined. Pour the quiche filling into the crust and spread it out evenly.

Bake the quiche in the center rack of your oven for 28-30 minutes, until the edges of the crust are golden brown. Remove the quiche from the oven and slice and serve immediately.
Calories: 192kcal | Carbohydrates: 18g | Protein: 10g | Fat: 10g | Saturated Fat: 7g | Polyunsaturated Fat: 1g | Monounsaturated Fat: 1g | Sodium: 710mg | Potassium: 316mg | Fiber: 2g | Sugar: 2g | Vitamin A: 641IU | Vitamin C: 13mg | Calcium: 64mg | Iron: 2mg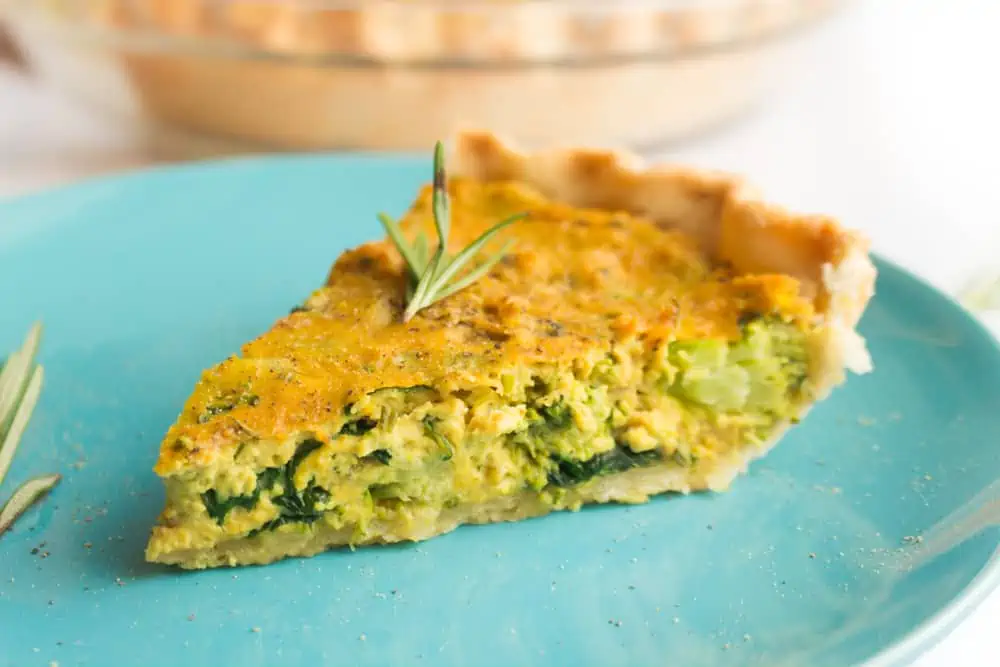 A vegan quiche is a wonderful dish to serve for brunch for your friends and family. It will seriously wow them! But you don't have to have a fancy luncheon gathering to enjoy this recipe.
Pop It in the Fridge or Freezer
This tofu quiche refrigerates beautifully, so you can make it at the beginning of the week when you meal prep and have a slice every day for breakfast, lunch, or dinner. You can slice it up and pack it as an awesome on-the-go packed lunch, or even freeze individual slices and reheat them when you're ready to serve. But beware because you might just eat it in one day as my family did!
Once you've made this vegan quiche recipe once, it'll be super easy for you to experiment with different veggies. In the past, I've made this tofu quiche with ingredients like fresh cherry tomatoes, chives, parsley, bell peppers, and more. So get creative, switch up the flavors, and make your own!
The Crust Works for Sweet Pies Too!
P.S. This pie crust recipe is the perfect crust for any pie, so feel free to use it for sweet dessert pies as well!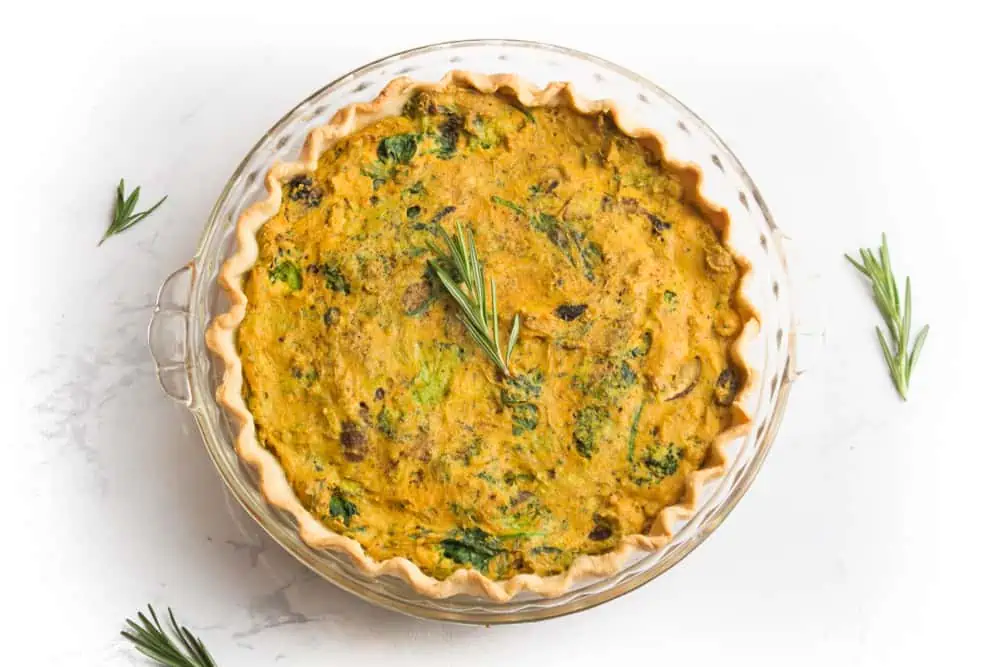 More Terrific Tofu Recipes: