If you're a big fan of cookies but could do with a change from the classic chocolate chip, then you're in for a treat! This vegan Florentine cookies recipe (also known as vegan lace cookies) from the Sweet Vegan Treats cookbook by Hannah Kaminsky will blow your mind! They are crunchy and sweet, just perfect. Would you believe me that they are also very easy to make? It's true! Let's go bake some cookies! 
¼ cup vegan butter
¼ cup dark brown sugar, firmly packed
¼ cup dark agave nectar
¼ cup all-purpose flour
2 tablespoons almond meal
2 tablespoons instant oatmeal
⅛ teaspoon salt
½ cup semi-sweet chocolate chips, (optional)
Preheat your oven to 375°F (190ºC) and line two baking sheets with silicone baking mats or parchment paper.

Heat the butter, sugar, and agave nectar together in a small saucepan over medium-low heat. Remove from the heat once the butter has completely melted, and vigorously whisk in the flour, almond meal, oatmeal, and salt to avoid clumps.

Drop about ½ teaspoon of batter per cookie onto your prepared baking sheets. Take care to place them several inches apart, as they spread like crazy. Bake the crisps for 5 to 6 minutes, until they are caramelized and bubbly, keeping a close eye on them the entire time they're in the oven. They will still be soft and malleable at first; wait a few minutes for the crisps to cool and solidify before handling. They are very fragile after they harden, so be gentle!

If desired, melt the chocolate in the microwave in 30-second intervals, stirring thoroughly until completely melted and smooth. Smear a thin layer of the melted chocolate on the underside of one cookie, sandwiching it between a second. Alternatively, drizzle the chocolate all over the individual crisps, Jackson Pollak-style.

Store cookies in an airtight container at room temperature. Heat and moisture will change their texture, so the crisps may remain slightly soft if you are baking in a very humid climate.
Calories: 31kcal | Carbohydrates: 4g | Protein: 0.3g | Fat: 2g | Saturated Fat: 1g | Polyunsaturated Fat: 0.3g | Monounsaturated Fat: 1g | Trans Fat: 0.2g | Sodium: 14mg | Potassium: 14mg | Fiber: 0.2g | Sugar: 3g | Vitamin A: 1IU | Vitamin C: 0.2mg | Calcium: 3mg | Iron: 0.2mg
What are Florentine Cookies?
These cookies come from one of the prettiest cities! Florence, Italy. They originate during the Italian renaissance, can you believe it? These vegan Florentine cookies sure are fancy! The most traditional recipes use crushed almonds, orange, and vanilla, but, what makes the flavor pop is the drizzle of chocolate at the very end. So good!
In this recipe, you not only drizzle them with melted chocolate, but you also cover one entire side with it. You will seriously adore these cookies! They're crunchy, sweet, and have a hard caramel texture. Did we mention the creamy chocolate it's covered in? They are heaven!
Different Shapes?
Another amazing thing you can do with this recipe is to make the lace cookies into different shapes! Yes! It's like a super moldable cookie. As soon as they come out of the oven, you can turn them into cigar-shaped treats by curling them up in a wooden spoon stick. Or you can shape them into edible bowls by pressing them against the bottom of cupcake tins. A pretty awesome feature, right? Just make sure you do it while they are still warm!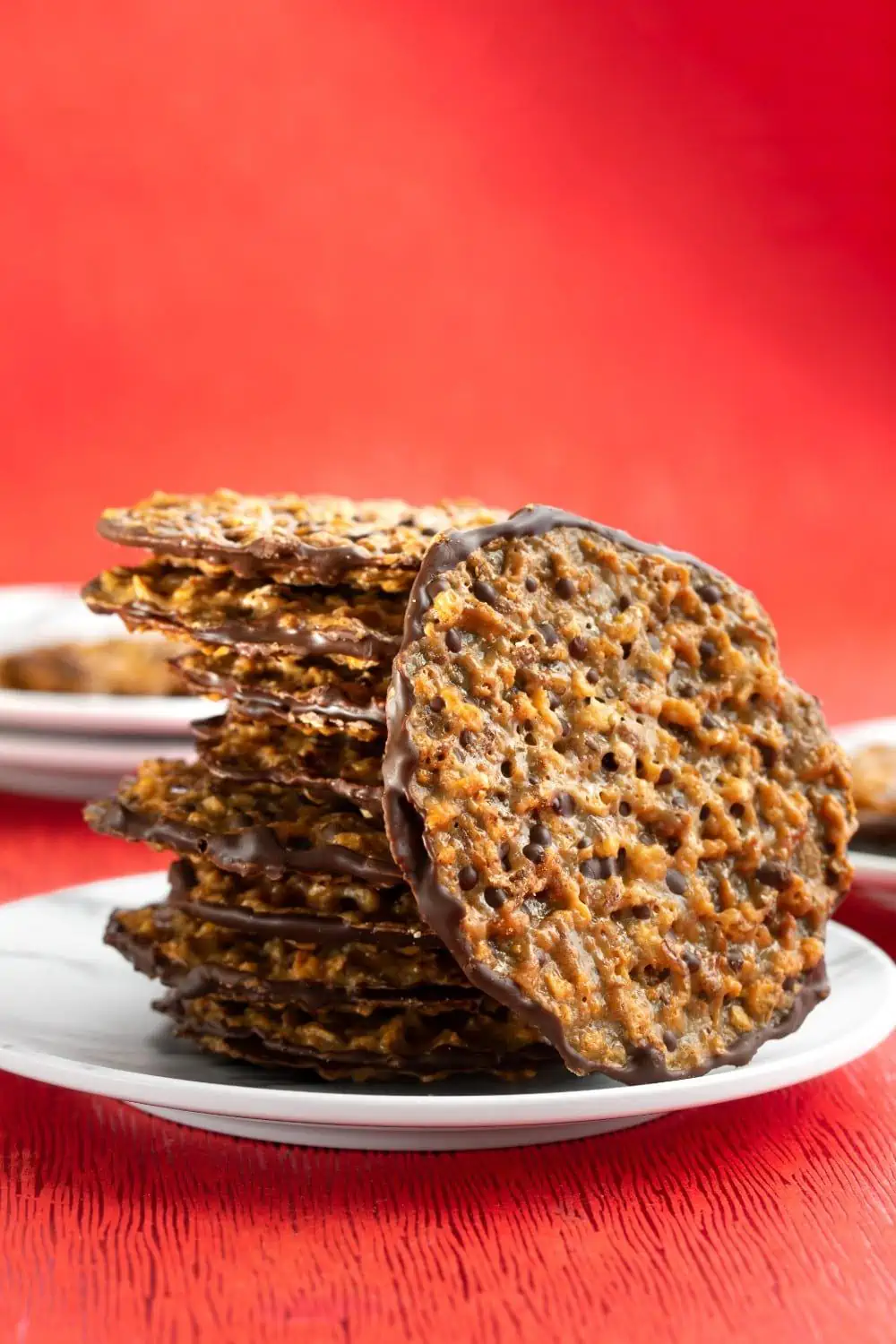 A Perfect Holiday Party Treat!
These fantastic cookies would be such a great addition to a Thanksgiving or Christmas table! They have an elegant feel to them so they will fit perfectly into any celebration like a birthday party. Place them on a beautiful board with some nuts and dried fruits, and your guests won't get enough of them.
What about gifting them as a Christmas present or a gift add-on? Bake a big batch and place them into an airtight glass jar with a beautiful note tied around it. Such a cute idea! Homemade presents are often the best ones, don't you think?
About the Cookbook
The Sweet Vegan Treats cookbook by Hannah Kaminsky is a sweet-tooth-sufferer's dream! Don't take it lightly when I say that your mouth will start to water as you flip through its pages. So many delicious recipes to embrace are in this book. From baklava tart, chocolate chip cookie pie, silken chocolate mousse cake, and many other mind-blowing creations, you'll have lots to play with.
Hannah Kaminsky is not your ordinary food blogger. She was already hard at baking during her senior year of high-school and has published many collection worthy cookbooks! Her award-winning blog, Bittersweet, is such an inspiration. So if you're looking for a gift, then this book would be a great idea! Get your copy here!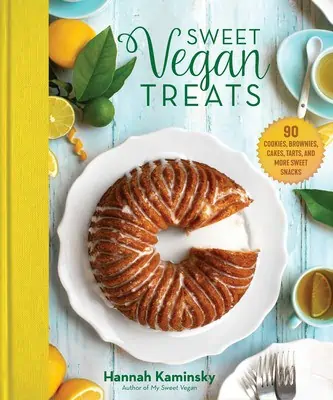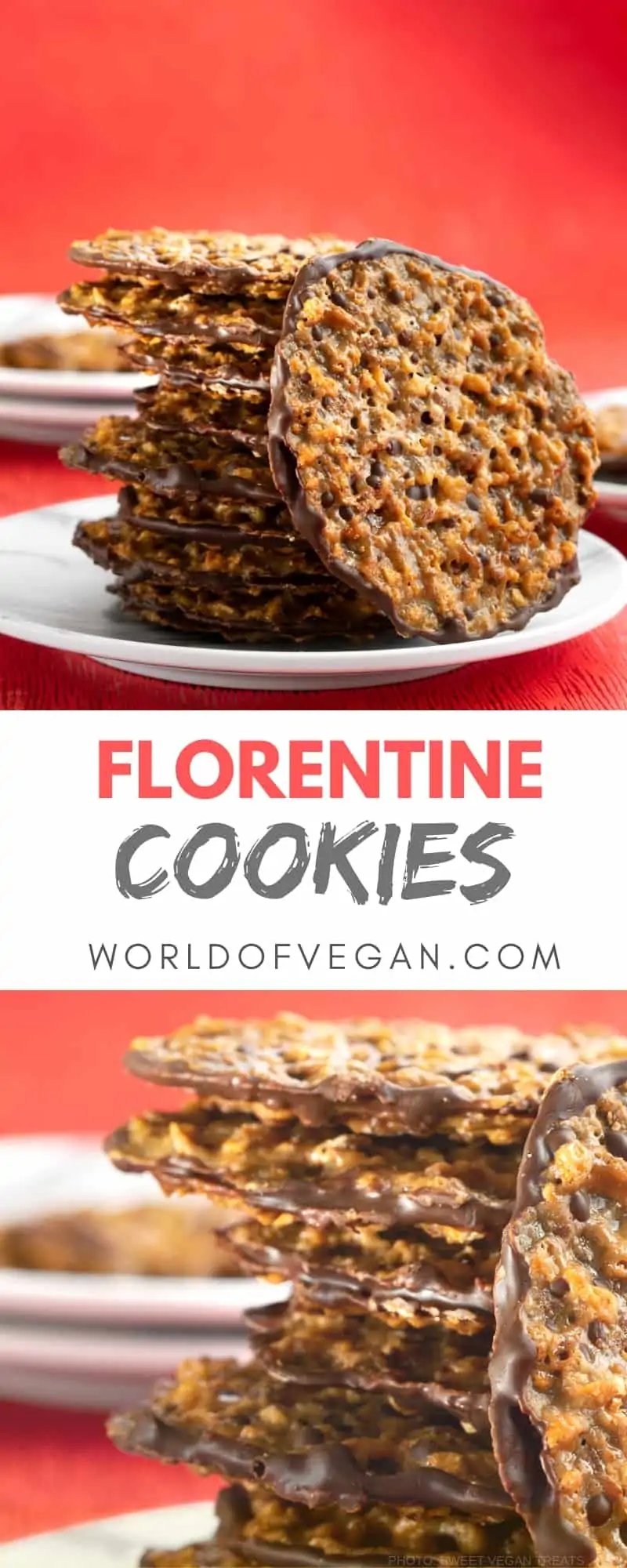 On a Cookie Roll? Here's More Cookie Recipes! 
This Vegan Florentine Cookies recipe was reprinted with permission from Vegan Sweet Treats by Hannah Kaminsky, Skyhorse Publishing, 2019. Photo credit: Hannah Kaminsky. Please note that this article contains affiliate links that help support our work at World of Vegan!