Everyone is born with an innate attraction to all things sweet, so it should come as no surprise that the love of candy transcends all ages and cultural boundaries. As far back as 2000 BCE, ancient Egyptians were making treats from honey, nuts, and dried fruits like dates and figs. Not long after, dried sugarcane was used in India to create the world's first granulated sweetener, and there's been no end to confectionery innovation since then.
Now, candies come in all colors, shapes, sizes, and flavors imaginable, which is both good and bad news for discerning eaters. All too often, undesirable ingredients make it into the mix, including animal products. How can you avoid them while still satisfying your sweet tooth as a vegan? It's easy when you know what to look for!
What Makes Candy Not Vegan?
Animal products have been historically used as cheaper shortcuts to make mass production possible. You may not recognize the names at first, and to make matters worse, it's almost impossible to read all that fine print on such a tiny label. When in doubt, consult the brand's website for a closer look. Keep an eye out for the following:
Milk, whey, butter, butterfat, or casein: Though this may seem obvious, dairy can show up in some surprising places. Beware that "lactose-free" doesn't necessarily mean dairy-free, too.
Eggs, egg whites, or egg albumin: Often used to bind sugary substances together, egg derivatives can be found in sweets such as meringue.
Gelatin: Made from ground hooves and bones, this is what gives many old-fashioned gummies their chew and marshmallows their springy texture.
Beeswax: There are many other perfectly good food grade waxes that will prevent candies from sticking to one another, but this option is harvested from bees that really need it more than we do.
Honey: As a ploy to give sugary treats a health halo, honey is sometimes used as a supposedly more natural alternative to white sugar. It's too bad it's inherently cruel on a commercial scale, and definitely not vegan.
Confectioner's glaze or shellac: This sounds so innocent, and it's included for purely aesthetic reasons. This substance gives many candies a shiny outer shell, but unfortunately, it's the product of bug secretions. (Ewww!)
Carmine or cochneal: Waiter, there's a bug in my candy! That's right, this red coloring comes from the natural pigments found in various insects.
Bone char: This is quite possibly the worst offender on this list because unlike the others, manufacturers don't need to list this as an ingredient, so it's very hard to know when it has or hasn't been used. It's part of the process used to bleach sugar bright white, using cattle bones.
Mainstream Candies That are "Accidentally" Vegan
When you want an accessible, affordable treat to share with everyone for holidays like Halloween or Easter, or just need to satisfy a craving while on the road, there are lots of great candies on the market that are perfectly suitable for vegans.
As always, formulas can change without notice, so make sure you check labels before you purchase.
Chewy Vegan Candies
Airheads
Fruit By the Foot and Fruit Roll-Ups
Mamba Fruit Chews
Mary Janes
Now and Later
Soft & Gummy Candies
Dots
Jolly Ranchers Lollipops and Hard Candy
Jujubes
Laffy Taffy
Panda Licorice
Red Vines
Smart Sweets (all flavors except fruit gummy bears)
Twizzlers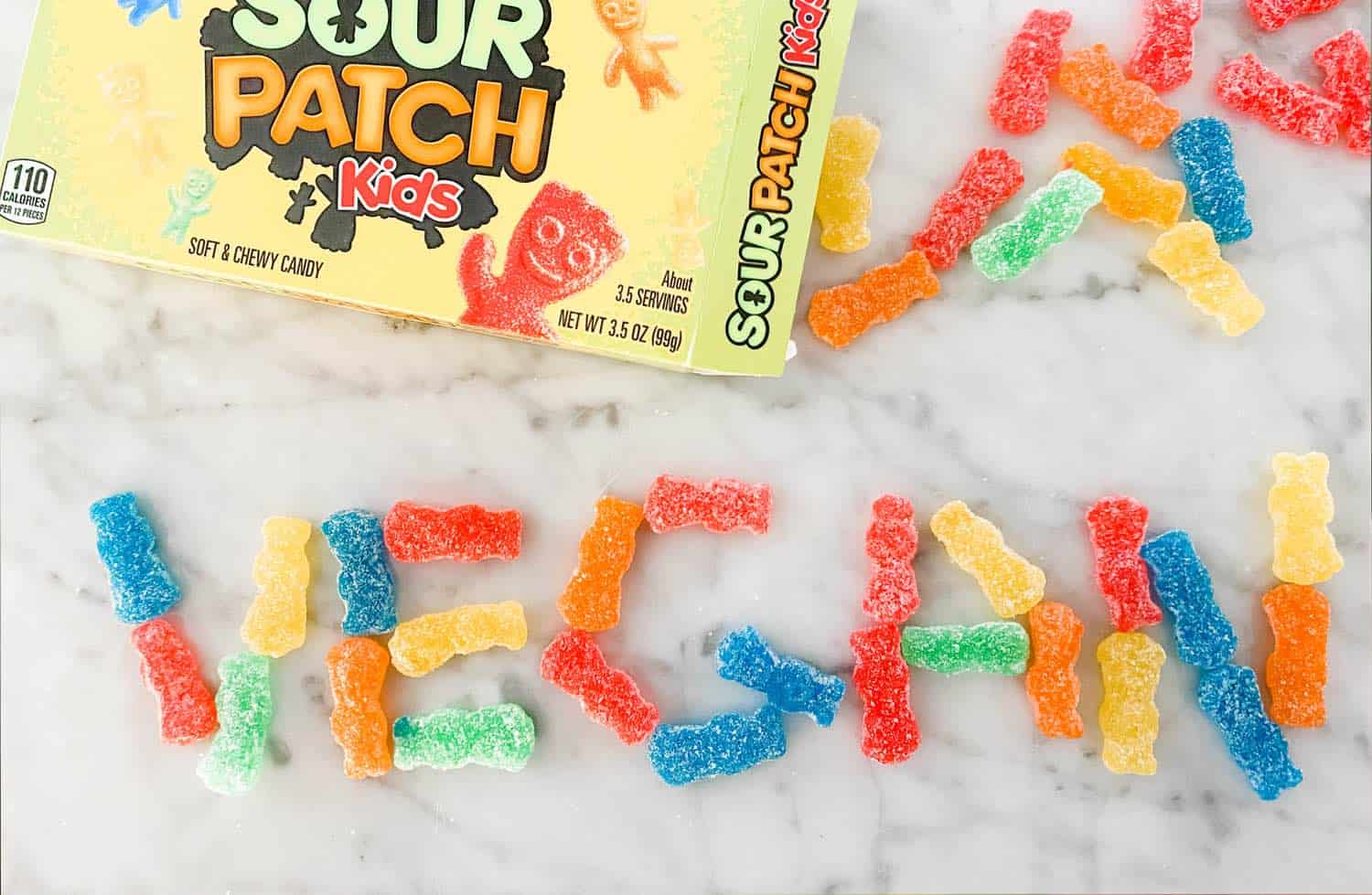 Vegan Hard Candies
Bottlecaps
Brach's Cinnamon Hard Candy, Hi-C Fruit Slices, Hi-C Orange Slices, Beer Barrels, and Star Brites
Charm Lollipops
Chick-O-Sticks
Dum-Dums
Fireballs
Fun Dip
Gobstoppers
Lemonheads
Nerds
Pez
Pixy Stix
Ring Pops
Smarties (made in the US only)
Sweet Tarts
Zotz
Nutty Candies
Atkins Peanut Butter Bar
Chew-et's Peanut Chews
Goldenberg's Peanut Chews
Lance Peanut Bar
Vegan Bubblegum
Big League Chew
Blow Pops
Cry Babies
Hubba Bubba Bubblegum
Super Bubble
Specialty Vegan Candies & Vegan Candy Brands
Gourmet, high-end ingredients, fancy flavors, and dedicated vegan brands are elevating the art of confectionary as we know it. These are truly special treats, some of which may need to be ordered online, but are worth the extra effort.
Vegan Candy Bars
Vegan Chocolate Candies
Don't worry, there's a ton of options for you ethical chocoholics, too! Check out the complete guide to vegan chocolate here!
Vegan Gummies
Vegan Chewy Candies
Vegan Jelly Beans
YumEarth (Everything EXCEPT for Gummy Bears, Gummy Worms, and Candy Corn)
Plant-Based Marshmallows
And so much more! The great news is that there are hundreds, if not thousands, of smaller, local producers that are just getting started. Always seek out these sweet, inventive individuals and support small business!
Homemade Vegan Candy Recipes
If you prefer a DIY approach, you have even more options when it comes to vegan candy, both simple and complex. Here are some sweet ideas to get you started:
Vegan Candy Cookbooks
For more in-depth guides to making candies that are both original creations and copycat versions of all your childhood favorites, snag a copy of these complete vegan candy cookbooks:
Fun Facts and Candy Trivia
National Candy Day is celebrated every year on November 4th.
Americans consume an average of 22 – 25 pounds of candy per person each year, and yet that's still less than Germans, who eat roughly twice that amount!
Sees Candy created the world's largest lollipop on July 18, 2012, in Burlingame, California, which weighed 7,003 pounds.
Despite being a controversial selection for some, candy corn is the bestselling non-chocolate candy in the US, to the tune of 20 million pounds per year. Clearly, someone must be eating it! But is candy corn vegan? No, sadly candy corn is not vegan.
More Vegan Candy Resources
May this vegan candy guide bring some sweetness to your life! If we missed any of your favorite vegetarian candies, feel free to mention them in the comments below. Thanks for stopping by, and we hope to see you again!