Soup is always in season, and this creamy vegan asparagus soup with mushrooms is a perfect way to celebrate spring! Richer than plain asparagus soup and brighter than traditional cream of mushroom soup, you get the best qualities both have to offer, all in one spoonful.
Fresh asparagus is at its prime for such a short window of opportunity, you'll want to load up on the vibrant green stalks every chance you get. Even picky eaters can get behind this mild, tender, subtly sweet veggie. Blending them into a luscious soup makes it even easier to put away a healthy serving (or two!) without even trying.
This recipe from PlantPure Comfort Food by Kim Campbell creates a velvety bisque without a single drop of dairy. Forget butter, heavy cream, and cheese; this is soup for the soul and body.
Why You'll Love This Recipe
Spring weather can be all over the place, but this versatile, hearty meal will always hit the spot. If the incredible flavor alone isn't enough to win you over, here are just a few additional reasons why it's about to become the next big hit on your menu:
High in protein: Would you believe that these humble veggies bring 16 grams of protein to the party in every serving? Now that's real plant power!
Flexible: Sometimes, the seasons don't want to cooperate. If asparagus is slow to show up in your local markets, you can easily substitute more readily available vegetables, such as leeks, broccoli, green peas, or Brussels sprouts. Frozen works instead of fresh, too!
Made for meal prep: Make ahead or keep leftovers for later; this is a brilliant staple to have on hand. Stored in an airtight container in the fridge, it should last for 5 to 7 days. This soup can also be frozen for up to 3 months. To freeze the soup, let it cool completely before transferring to airtight containers or well-sealed freezer bags.
Key Ingredients
It doesn't take much to make an incredible vegan asparagus soup with mushrooms. These are the essentials that go into this dynamic blend:
Potatoes: Adding body and thickness in one fell swoop, potatoes are the secret ingredient to creating a rich, creamy vegan mushroom soup, without adding fat or dairy.
Asparagus: The key for ideal textures throughout is to separate the stalks from the tips. Sauté the tips along with the mushrooms to keep them toothsome and bright green, while the remainder of the asparagus is blended smoothly into the base. If you wanted to get fancy, you could use white or purple asparagus instead.
Mushrooms: Pick a mushroom, any mushroom! All varieties are welcome here, from standard button mushrooms to more exotic oyster or shiitake mushrooms. Make it more exciting with a mixture of varieties.
Unsweetened plant milk: Whether you prefer oat, almond, soy, cashew, hemp, coconut, or something else entirely, all non-dairy milks are welcome here. Just make sure there are no added sweeteners or flavors.
Nutritional yeast: Add a hint of cheesy, buttery, umami flavor with just a pinch of nutritional yeast. As an added benefit, it's high in vitamin B-12 for an extra nutritional boost!
Low-sodium vegetable broth: Keep salt in check by using a low-sodium broth. In a pinch, you could substitute plain water.
Whole wheat flour: Use oat flour as a gluten-free alternative that adds fiber with a smooth, silky finish.
How To Make The Best Asparagus Mushroom Soup
Step One: Sauté the celery and onion in a small amount of water until tender. This technique allows you to cook without using oil or any added fats.
Step Two: Add the potatoes, asparagus stalks, plant milk, nutritional yeast, garlic powder, smoked paprika, salt, and pepper. Cover and simmer for 10 to 15 minutes, until the potatoes are fork tender.
Step Three: Meanwhile, sauté the mushrooms in a separate skillet until tender. Add the asparagus tips and sauté until bright green; set aside.
Step Four: Combine the broth and flour in a blender and blend on high speed to incorporate without any lumps remaining. Add the hot soup to the blender and continue blending until smooth and creamy. If you prefer a chunkier soup, blend only until the vegetables are coarsely chopped.
Step Five: Pour the blended soup mixture back into the pot and heat until bubbly and thickened. Add the mushrooms and asparagus tips and serve immediately.
How To Serve Asparagus Mushroom Soup
While this vegan asparagus soup really is the perfect bowl-in-one meal, you can always add some extra flair with some fun toppings and accompaniments. Make it your own and don't be afraid to try something new!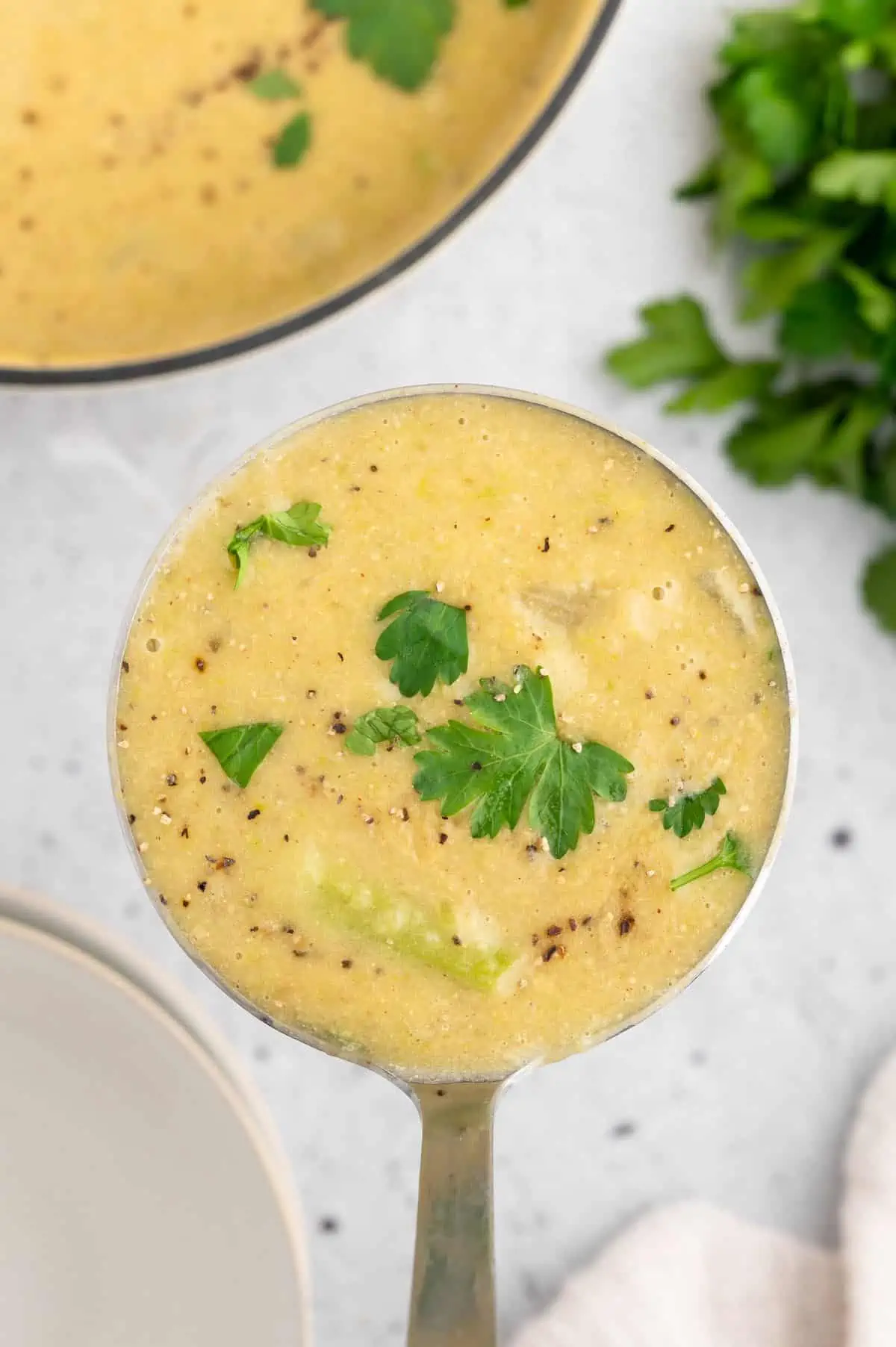 Toppers:
Croutons
Sliced almonds
Vegan bacon bits
Crunchy roasted chickpeas
Fresh chives or scallions
Side accompaniments:
Sliced bread or bread sticks
Leafy green salad
Rice or quinoa pilaf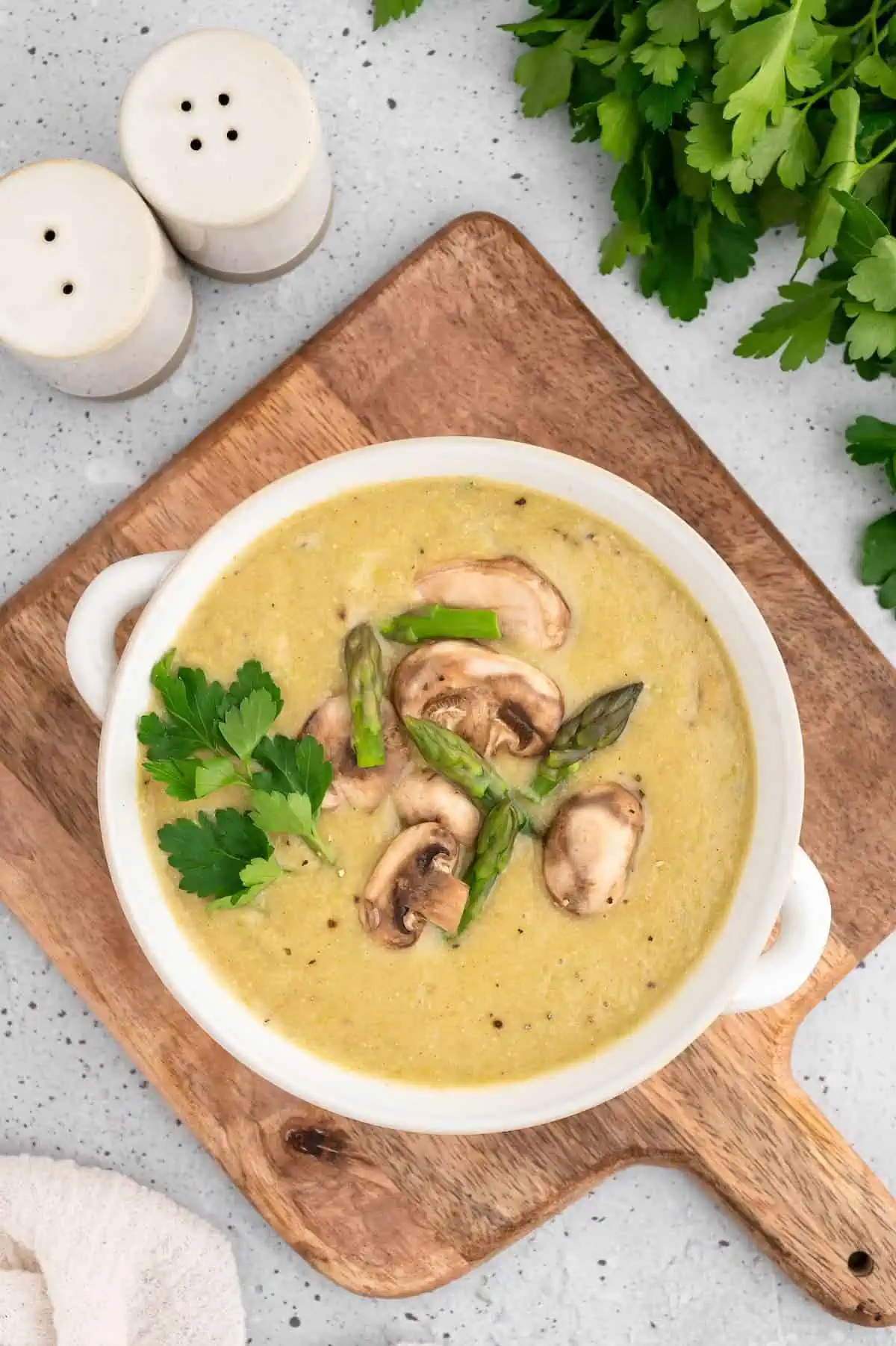 Ideas For Using Asparagus And Mushroom Soup In Recipes
Many recipes start with vegan cream of mushroom soup, providing a rich foundation to build a quick, comforting meal on. Instantly upgrade that approach by using homemade cream of asparagus and mushroom soup instead! Kick-start your next meal by folding the leftovers into…
Nutrition Notes
Most creamy asparagus soup recipes are decadent, delicious, and devoid of serious nutrition. Not so for this genuinely healthy approach! You can get up to a half pound of asparagus per serving, maximizing the benefits of this beloved spring vegetable.
Asparagus is a true superfood, high in fiber, folate, and vitamins A, C and K. It's incredibly low in calories which makes it beneficial for weight loss and maintenance. Studies have shown that it can help reduce blood pressure and cholesterol while reducing inflammation, too.
About The Book
PlantPure Comfort Food: Over 100 Plant-Based and Mostly Gluten-Free Recipes to Nourish Your Body and Soothe Your Soul by Kim Campbell builds upon the 2015 hit documentary film "PlantPure Nation," touting the importance of a plant-based diet. Creating holistic wellness starts with making healthy food accessible, affordable, and delicious, which all starts with a compelling recipe. This book provides over 100 dishes with that in mind, focusing on fresh, whole foods that reinvent family favorites and a world of new flavors alike.
More Fresh Spring Recipes To Try
2 stalks celery, diced
1 onion, diced
2 small potatoes, small diced (about 1 cup)
1 bunch asparagus, (about 1-1½ pounds) trimmed and cut into 1-inch pieces, tip pieces reserved
3 cups unsweetened plant-based milk
3 tablespoons nutritional yeast flakes
1 teaspoon garlic powder
½ teaspoon smoked paprika
½-1 teaspoon sea salt
½ teaspoon black pepper
8-10 ounces mushrooms (any type), sliced
1 cup low-sodium vegetable broth
¼ cup whole wheat flour, (or oat flour for gluten-free)
In a large pot, sauté the celery and onion in a small amount of water over medium-high heat until tender.

Reduce the heat to medium-low and add the potatoes, asparagus stems (do not include the tips), milk, nutritional yeast, garlic powder, smoked paprika, salt, and pepper. Cover and simmer until the potatoes for 10-15 or until they are fork-tender.

While the soup is simmering, in a small skillet, sauté the mushrooms over medium-high heat until tender. The mushrooms have a good amount of moisture, so you shouldn't need to add water to prevent sticking. Add the asparagus tips and sauté only until the tips become bright green. Set aside.

Combine the broth and flour in a blender and blend on high until smooth. Add the hot soup to the blender and continue blending until smooth and creamy. If you prefer your soup to have more texture, you can combine more or less of the vegetables until the desired consistency is achieved.

Pour the blended soup mixture back into the pot and heat over medium heat until bubbly and thickened.

Add the mushrooms and asparagus tips and serve immediately.
If asparagus isn't in season, you can substitute leeks or broccoli.
If you don't like smoked paprika, regular paprika may be used instead.
If you don't have a high-speed blender, a stick or immersion blender may be used instead. 
Calories: 248kcal | Carbohydrates: 40g | Protein: 16g | Fat: 4g | Saturated Fat: 0.5g | Polyunsaturated Fat: 2g | Monounsaturated Fat: 1g | Sodium: 407mg | Potassium: 1246mg | Fiber: 9g | Sugar: 10g | Vitamin A: 1763IU | Vitamin C: 40mg | Calcium: 308mg | Iron: 5mg
This Creamy Asparagus and Mushroom Soup recipe is reprinted with permission from PlantPure Comfort Food cookbook by Kim Campbell, BenBella Books 2022. This recipe received rave reviews from our amazing recipe testers Pamela Heltner, Elana Segal, and Heather Nowakowski, and has been slightly adjusted based on their feedback. Photos by Amanda McGillicuddy for World of Vegan, all rights reserved.