Bright white like freshly fallen snow, royal icing is an equally important harbinger of the holiday season. It's the foundation that every beautiful cookie platter is built upon, the glue that holds together gingerbread houses, and the finishing touch on intricate decorated cakes.
Unlike fluffy buttercream frosting, royal icing can be piped or drizzled in fine lines and artistic patterns that dry to a hard, crunchy finish. It's easy to loosen the consistency to make it spreadable and cover large areas at once, making it an essential component that every baker can master.
This recipe comes from Vegan Christmas Cookies and Cocoa by Audrey Dunham and is perfect for the holiday season and more. This classic royal icing recipe without eggs can be used year round for whatever your cookie decorating needs may be!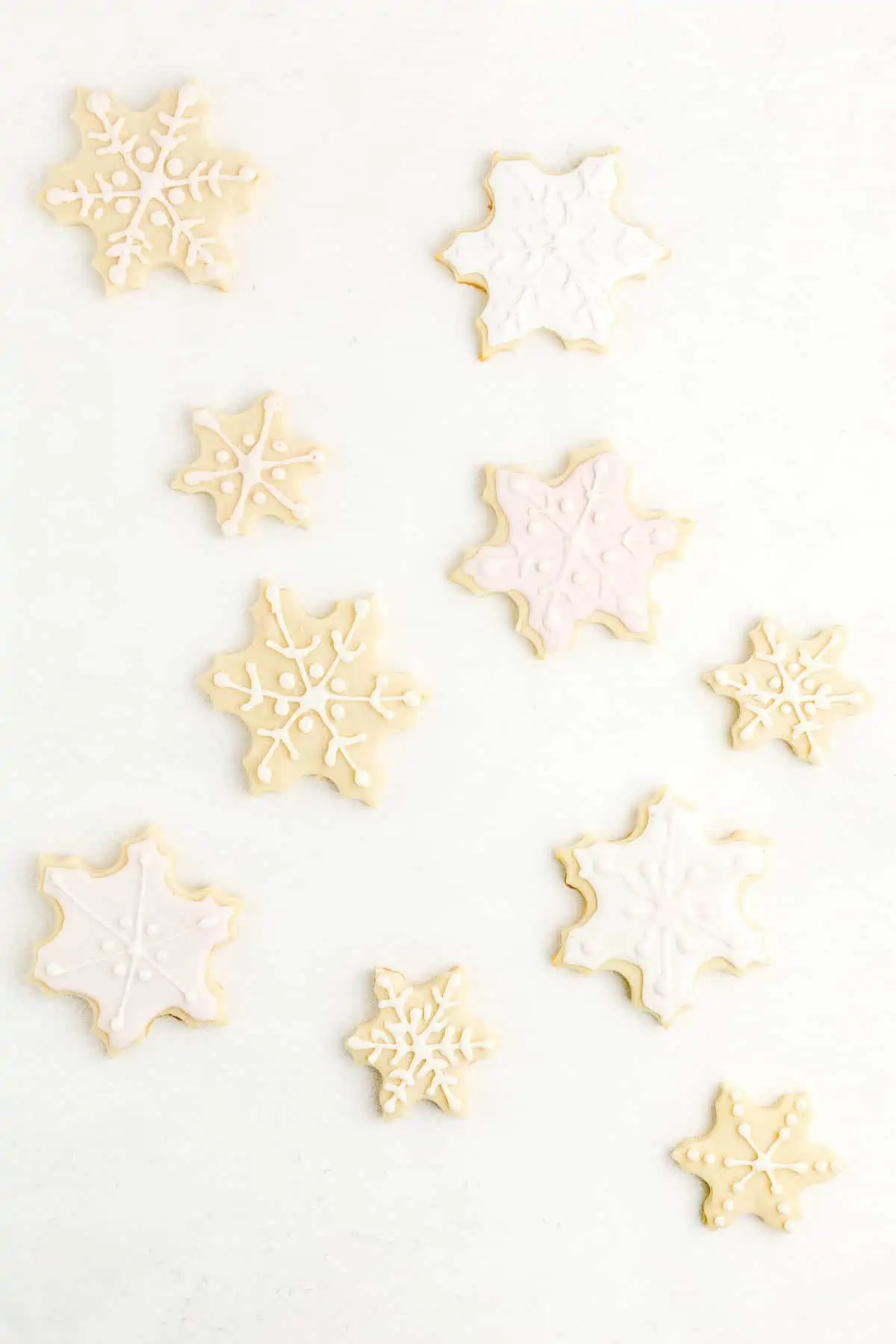 Why This Is The Best Royal Icing Recipe
Only six ingredients: There's a good chance you already have these common pantry staples on hand!
Ready in minutes: This recipe is so quick and easy that it practically makes itself. Your mixer does all the work so you can reap the rewards in no time.
Tastes great: The flavor is subtle and goes well with everything. Using only vanilla and almond extract in the mix, it has an uncanny marshmallow taste that everyone will love.
Free of all common allergens: Everyone should be able to enjoy a beautiful treat. This recipe was made to be shared, since it's naturally nut-free, seed-free, gluten-free, soy-free, dairy-free, egg-free, and vegan.
Light corn syrup: Distinctly different from high-fructose corn syrup, light corn syrup is processed in the same way as cornstarch. It's a clear, flavorless liquid sweetener that's very helpful in candy making to prevent crystallization.
Key Ingredients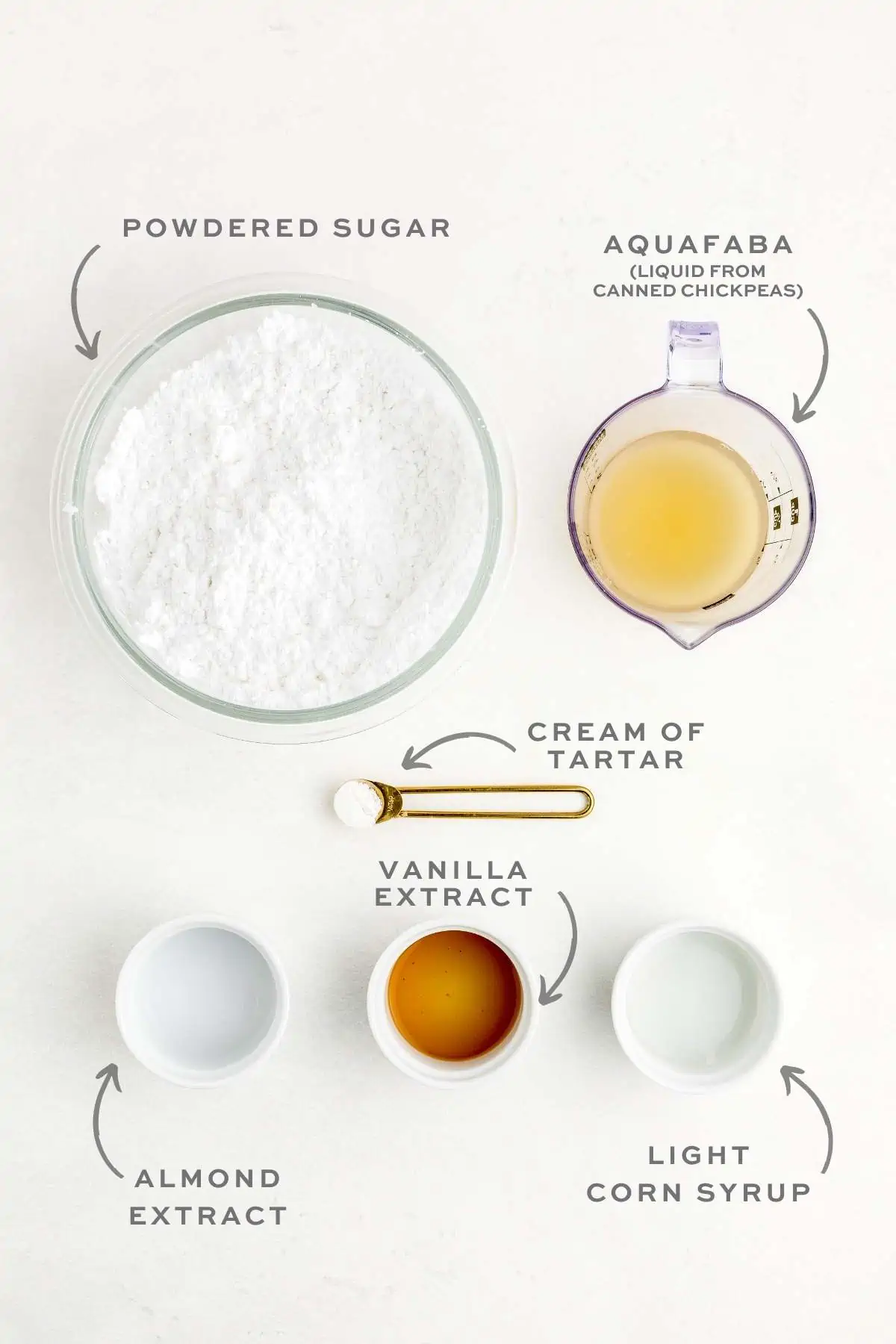 Aquafaba: Once dumped down the drain, the brine in a can of chickpeas is now every bit as valuable as the beans themselves. Aquafaba is the liquid they're packed in, which can be whipped just like egg whites to make cakes, meringues, and in this case, icing!
Cream of tartar: Despite the name, there's no dairy involved here. Cream of tartar is the acidic byproduct of fermenting grapes into wine. It helps stabilize foams, like the beaten aquafaba, to make a stronger structure that will hold up over time.
Confectioner's sugar: Also known as powdered sugar, or 10x sugar, this is the most crucial element in the icing, both for sweetness and structure.
How To Make Royal Icing Without Meringue Powder
Traditionally, royal icing was made with liquid egg whites or meringue powder. This was the secret ingredient that allowed it to set and dry to a hard, glossy finish. Luckily, it's even easier to make eggless royal icing in just a few steps!
To start, use a stand mixer with the whisk attachment installed or a hand mixer to whip together the aquafaba and cream of tartar. Start on a low speed and gradually increase it to the highest setting. It should take about 5 to 7 minutes for the mixture to be light and fluffy, much like whipped cream.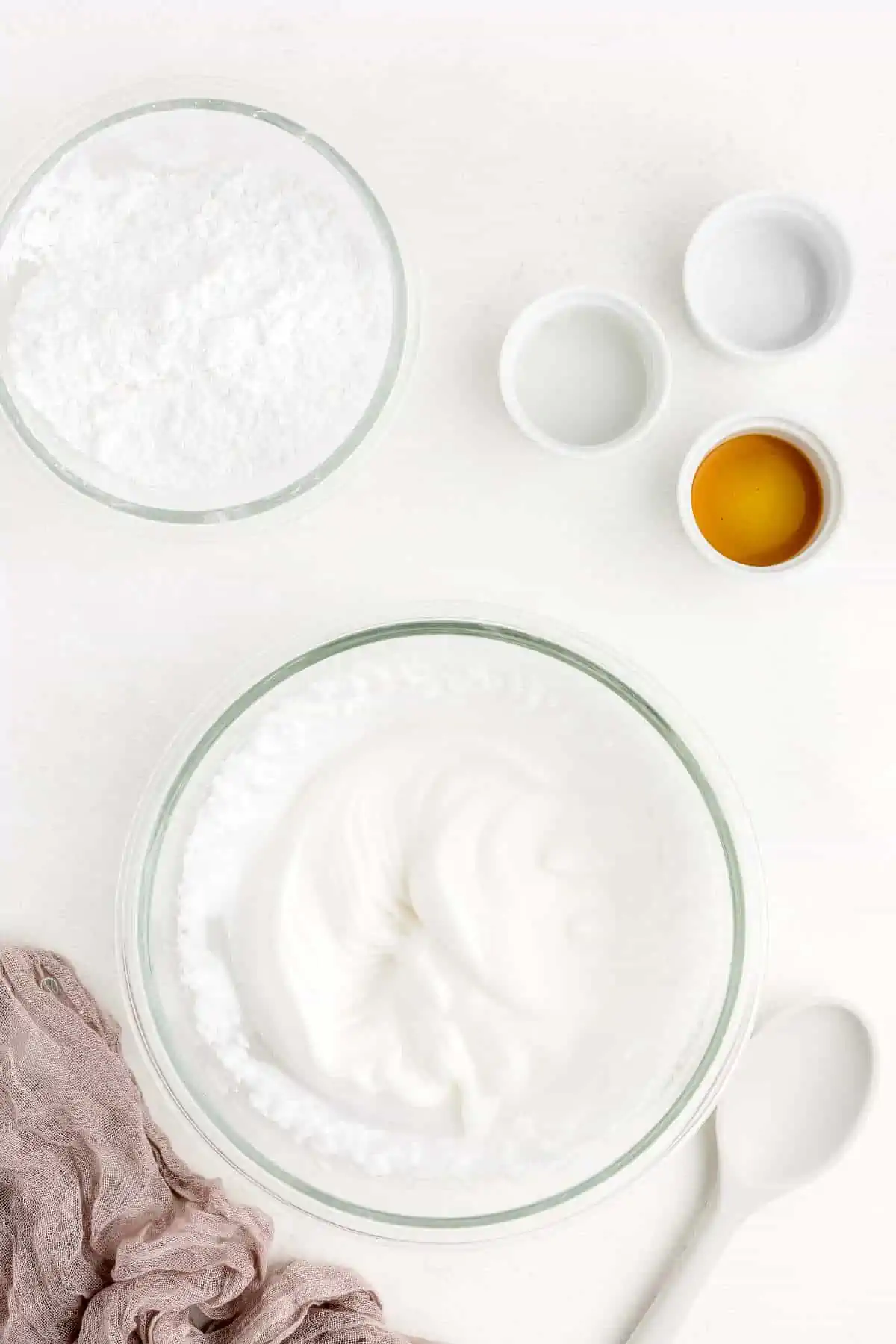 Add half of the powdered sugar, whisk until incorporated, then add the remaining half. Whisk again until smooth and glossy. Follow that with the corn syrup and both extracts, mixing again well.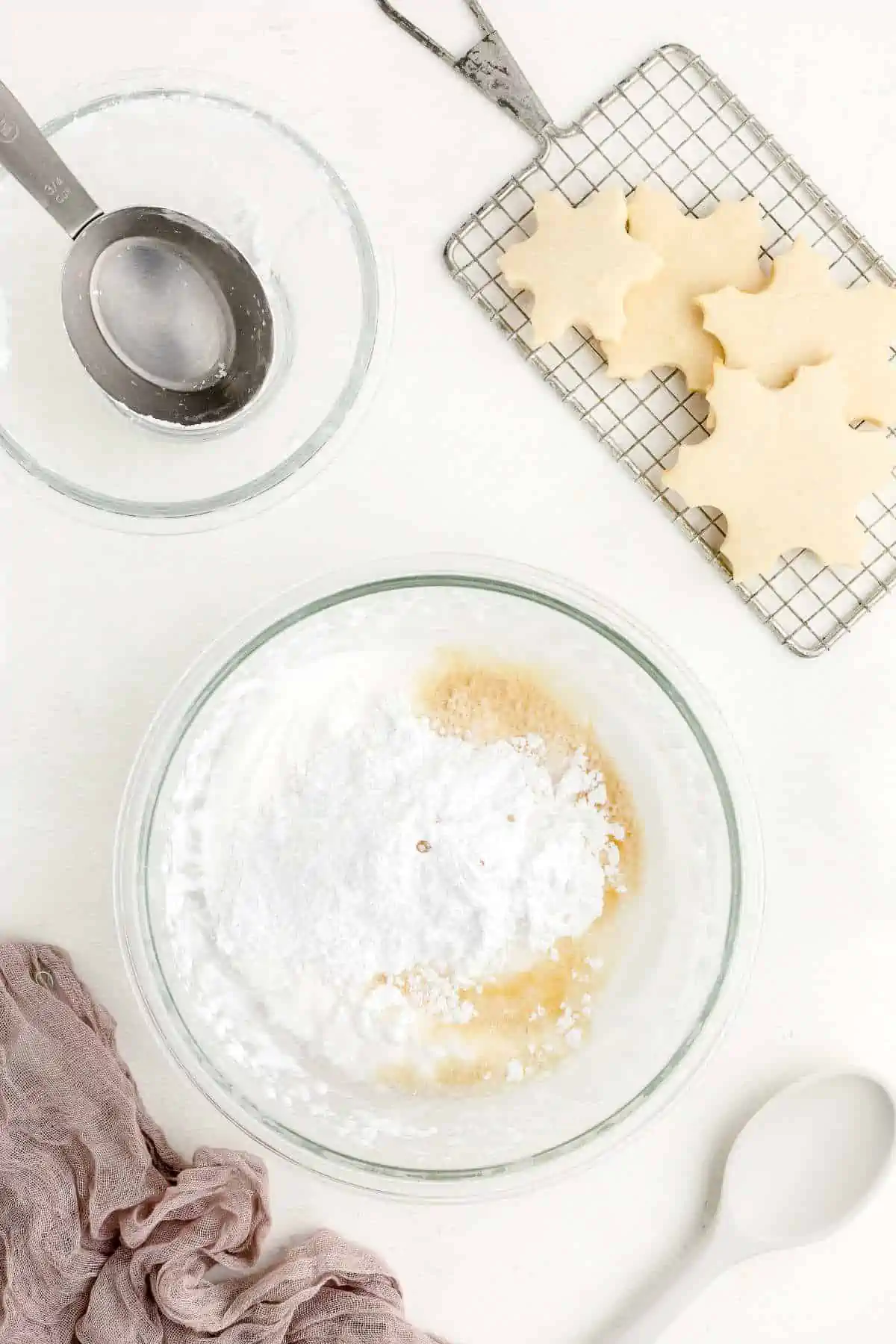 Test the consistency to see if it's thick enough to pipe as desired. If not, add another ½ cup of powdered sugar. If it's too thick, add in more water, just a few drops at a time; a little bit goes a long way.
Divide into bowls and add color if using (see below for natural coloring ideas.) Transfer into piping bags and apply to your desserts. If you don't have traditional piping bags, you can also use zip top baggies with the very tip of one corner snipped off.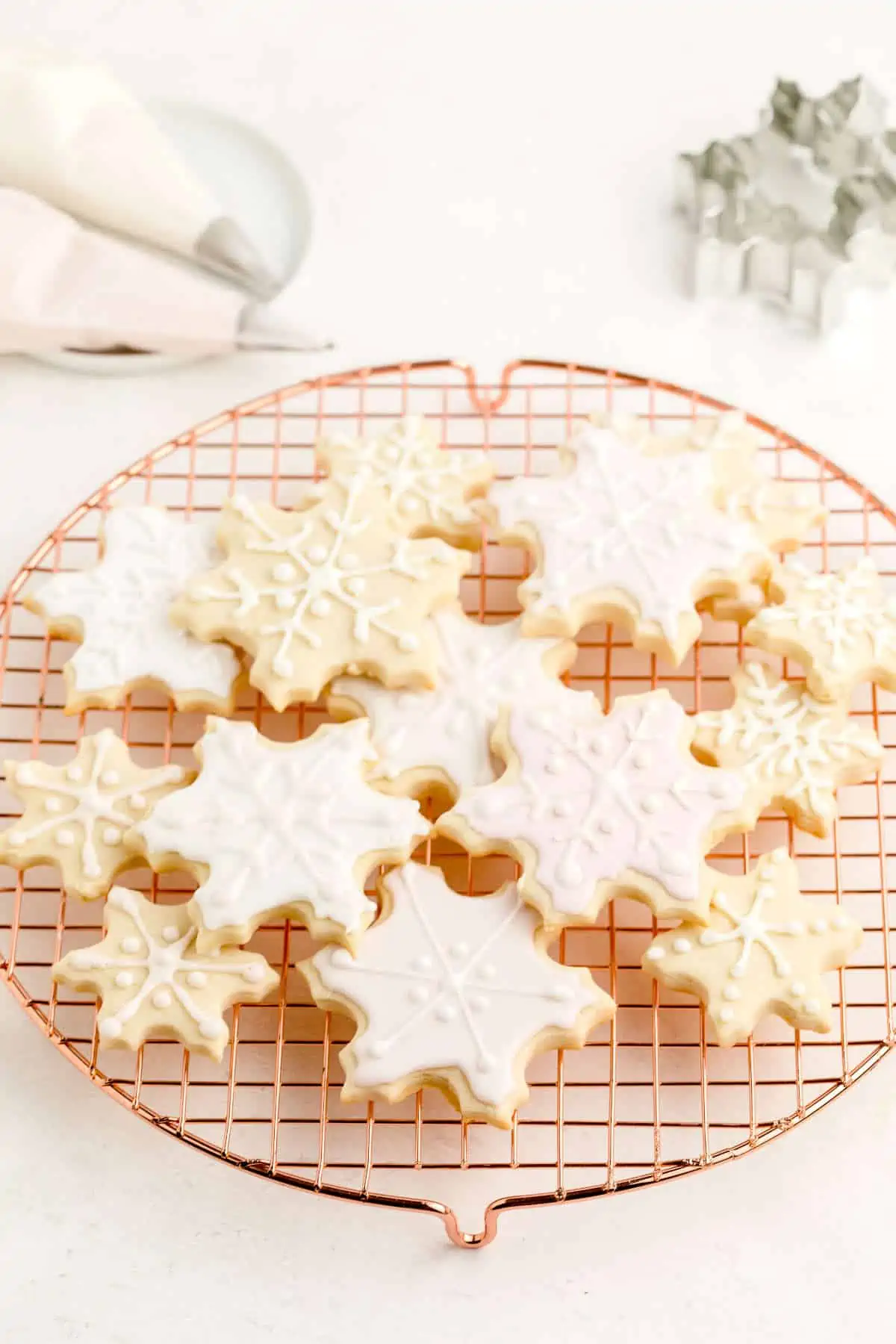 Tips For Success
Always sift your powdered sugar! If it's packed into the measuring cup, the ratios will be off. Clumps are also tricky to beat out once they're already in the aquafaba mixture, so save yourself the headache and take care of it early on.
Liquid food coloring will add more moisture to the icing, which means you'll probably have to add more powdered sugar to achieve a firm, pipable royal icing that isn't too runny.
Play with different flavor extracts to make your icing more exciting. There's everything from coconut to root beer, but also bear in mind that some of these will change the color of the icing too.
If you're working with multiple colors at once, make sure you keep the icing you're not working with fully covered to prevent it from drying out. Keep plastic wrap directly on the surface so it doesn't form a crackled skin on top.
Once applied to your desserts, let the icing stand for at least 1 to 2 hours to dry and fully set. It will take longer in more humid environments.
How To Color Vegan-Friendly Royal Icing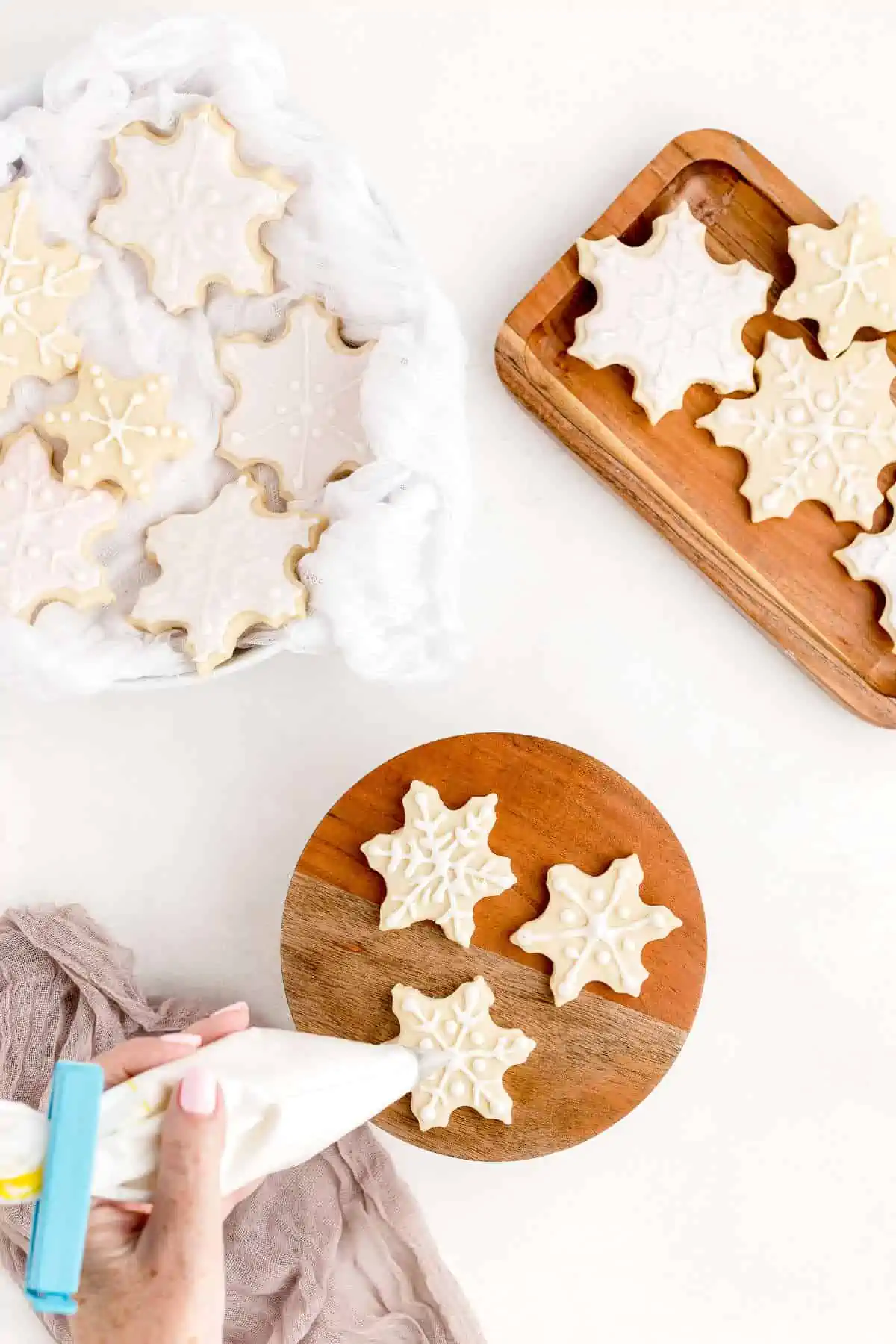 Plain white royal icing has a clean and elegant look. When you want to inject more color into your cookie masterpieces, it's the perfect canvas. You can find natural food coloring in liquid or powder form at most health food stores and online. If you'd like to make your own, there are many easy ways to add color from whole food sources. Add a little bit at a time until it reaches your desired intensity.
Red: Beet powder or annatto
Orange: Carrot powder or pumpkin powder
Yellow: Ground turmeric or saffron
Green: Matcha or spinach powder
Blue: Blue spirulina or butterfly pea tea powder
Purple: Purple potato powder or red cabbage powder
Black: Food-grade charcoal
Brown: Cocoa or carob powder
Frequently Asked Questions
Can I double or triple this recipe?
Since royal icing dries quickly, you're better off making a separate, fresh batch after you finish the first. Only double it if you have several people using it all at once so it doesn't sit and harden.
What can I use instead of corn syrup?
Feel free to use light agave nectar or maple syrup if you'd prefer but bear in mind that these will turn the icing a pale beige color, particularly with the latter option.
How can I make my own confectioner's sugar?
If you run out of confectioner's sugar and can't get out to the store, don't panic! You can simply take 1 cup of granulated sugar and 1 tablespoon of cornstarch, potato starch, or tapioca starch and grind them together in a food processor until finely powdered. Scale up the quantities as needed.
Can I make sugar-free royal icing?
Sugar is the main ingredient here which makes it difficult to swap out. There are powdered sugar alternatives made from stevia, erythritol, and/or monk fruit that can be used at a 1:1 ratio, but if used for royal icing, it may not dry completely. Your mileage may vary depending on the specific blend.
Can I buy vegan royal icing in stores?
Unfortunately, there aren't any brands of prepared royal icing, vegan or not. Since it hardens when it dries, it's not shelf stable. In a pinch, you can use "accidentally vegan" canned frosting such as Betty Crocker or Duncan Hines. It can be piped as is or warmed to loosen it into a more liquid or pourable consistency but bear in mind that it will remain soft after being applied.
About the Book
This vegan royal icing recipe comes from Vegan Christmas Cookies and Cocoa by Audrey Dunham. This book is full of holiday sweets and sips to enjoy with the whole family. It has all of the nostalgic classics plus new favorites to explore.
Every recipe is 100% plant-based, with easy gluten-free options included. Now you can transform your kitchen into Santa's workshop to delight both kids and kids-at-heart.
Named one of VegNews' Top 10 Vegan Cookbooks of the Holiday Season (2020), even the pros turn to these pages for trustworthy treats.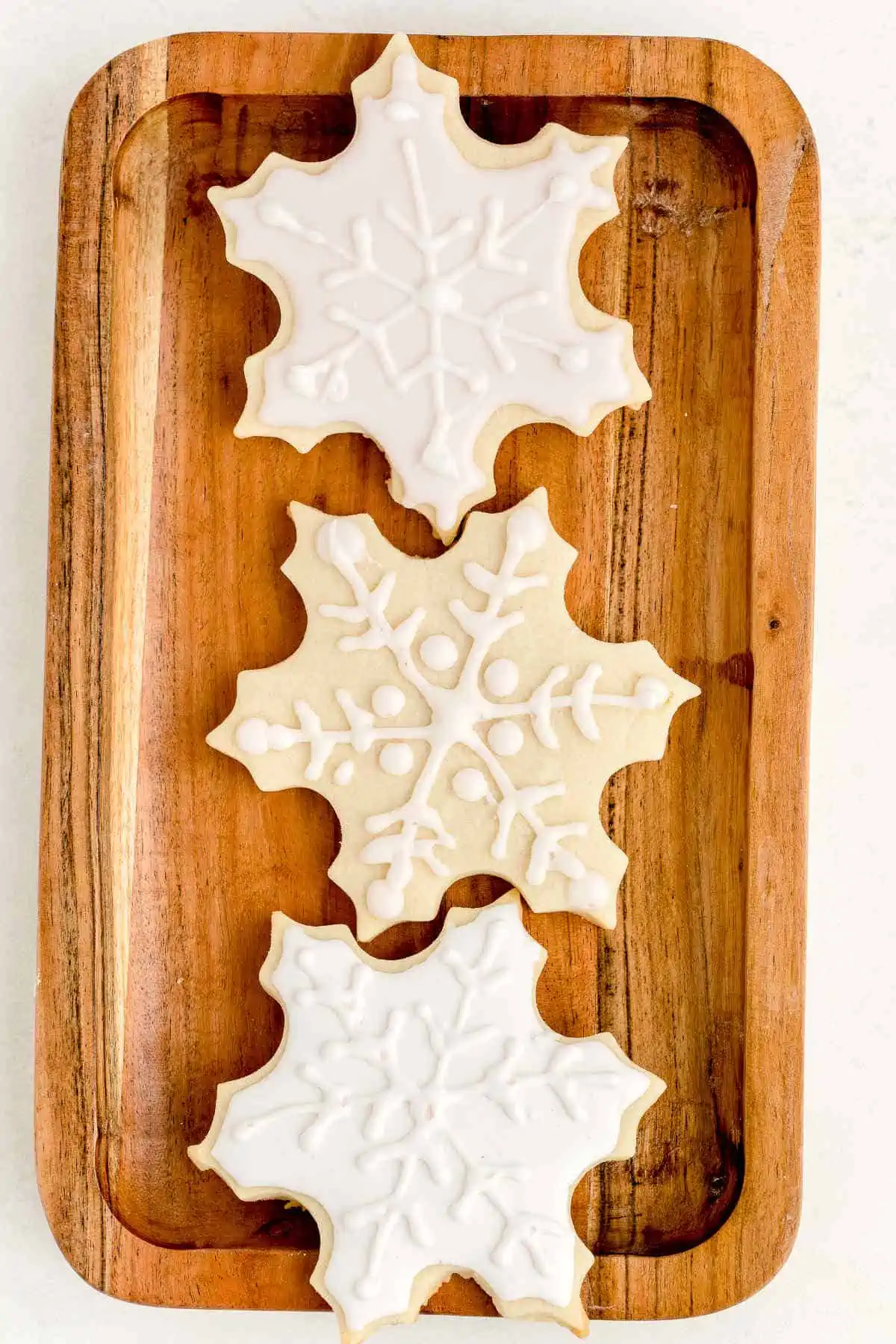 Recipes You'll Love To Decorate With Royal Icing
Super Easy Vegan Sugar Cookies
Soft and Chewy Vegan Gingersnap Cookies
Servings 1.5 cups of icing
1⁄4 cup aquafaba, the liquid inside a can of chickpeas / garbanzo beans
1⁄4 teaspoon cream of tartar
1 1⁄2 cup powdered sugar (confectioners' sugar), measured then sifted, + more as needed
1 tablespoon light corn syrup
1 teaspoon vanilla extract
1⁄4 teaspoon almond extract
Food coloring, optional
Using a handheld or stand mixer with a whisk attachment, mix the aquafaba and cream of tartar on the highest speed possible until fluffy, bright white, and very thick, 5–7 minutes.

Add 3⁄4 cup of the powdered sugar and mix on medium speed until glossy, 30 seconds to 1 minute.

Add the remaining 3⁄4 cup of powdered sugar, the corn syrup, vanilla extract, and almond extract and mix until incorporated.

Decide if your icing is thick enough by adding a small amount of icing to a piping bag fitted with a decorating tip (alternatively, you can decorate your cookies with a butter knife.) Test the icing on parchment paper or on one of your cookies to see if it runs. If it does, add up to 1⁄2 cup more powdered sugar a little at a time until the icing reaches a thick enough consistency.

Add the food coloring, if using, one drop at a time until you reach the desired color. If using multiple colors, divide the icing into small bowls and color each one separately.

Decorate cookies with icing, followed by sprinkles or other decorative candies, if you like.

Allow iced cookies to set at room temperature until completely dry, 1–2 hours.
Be sure to sift powdered sugar before adding to the mixing bowl. The more food coloring you add, the longer the icing may take to dry. For more precise decorating, use piping bags fitted with decorating tips.
Serving: 1tablespoon | Calories: 267kcal | Carbohydrates: 67g | Protein: 0.001g | Fat: 0.003g | Sodium: 10mg | Potassium: 294mg | Fiber: 0.003g | Sugar: 65g | Calcium: 5mg | Iron: 0.1mg
Vegan Royal Icing recipe was reprinted with permission from Vegan Christmas Cookies and Cocoa by Audrey Dunham. Photos by Candi Elm. Article written by Michelle Cehn with support from Hannah Kaminsky and edited by Rachel Lessenden.