Lemon lovers, look no further! We've created the most luscious vegan lemon custard recipe with only three simple ingredients. This elegant lemon curd recipe is as easy-as-pie and perfect for breakfast, snack, or dessert.
If you close your eyes while tasting this cool and creamy custard, you'll soon find yourself dreaming of summer sunshine and ocean waves or sprinkler splashes and picnic baskets. Either way, every spoonful is like a direct path to lemon meringue pie. We hope this childhood favorite flavor will bring you back to brighter days and happy memories.
Unlike traditional custard concoctions, our recipe is free from eggs, dairy, gelatin (take a peek at our vegan gelatin guide), and cruelty. This vegan version is just as creamy (or even creamier) with added protein from the silken tofu. You can't go wrong with this healthy and homemade option.
We think this is, hands-down, the best lemon custard you'll ever make! Be prepared to blend up another batch as soon as you've taken a single scoop…just sayin'.
Why This Vegan Lemon Custard is So Awesome
Takes only minutes to mix together
Fun to make with the family
Perfect blend of tart and sweet
Healthy dessert (or late night snack!)
Plant-based
Cholesterol-free
Dairy-free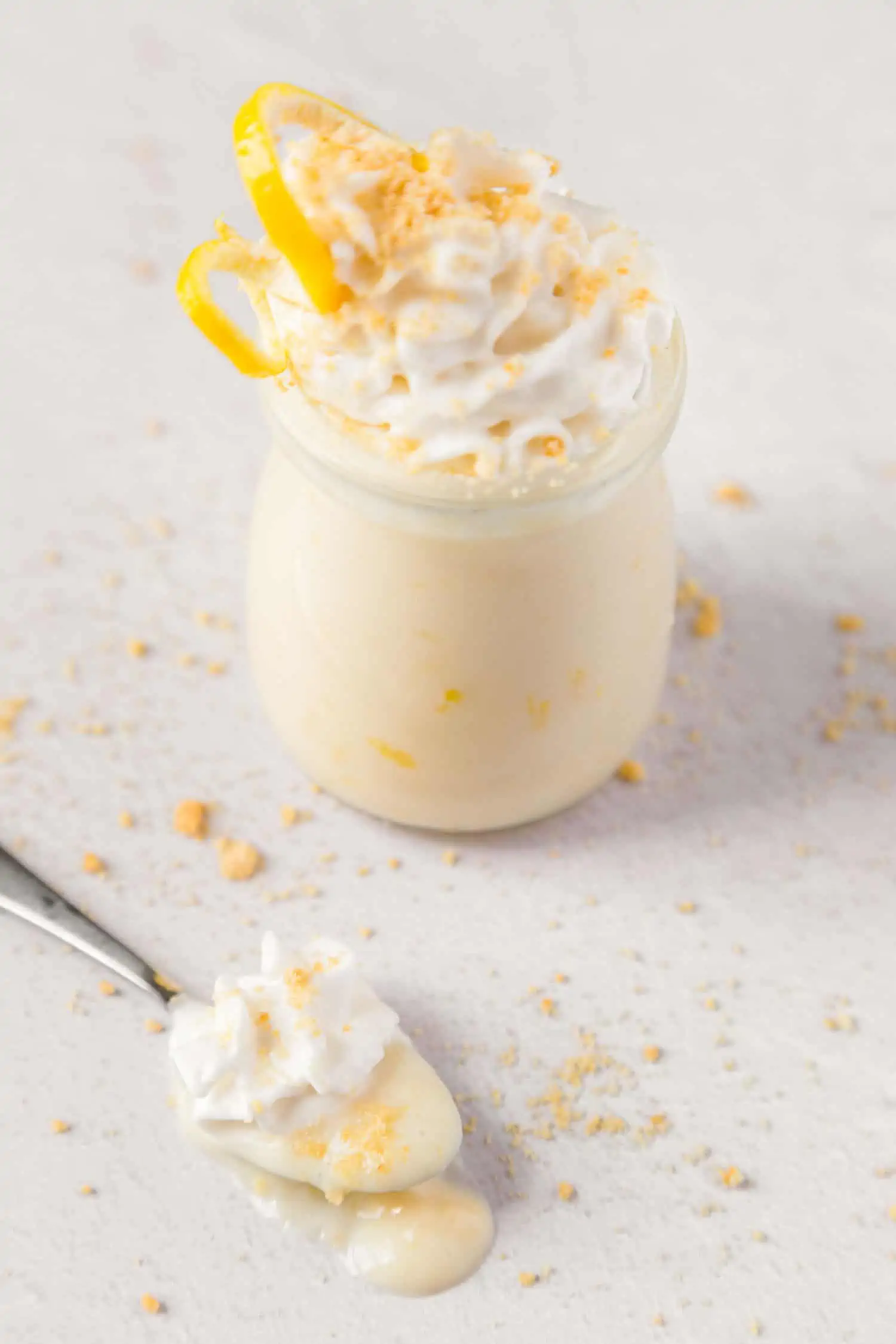 How To Make This No-Bake Vegan Lemon Custard
We wanted to break it down into the single steps, so you'll see how straight forward and simple this recipe is to make. While you're waiting for the tofu to drain, feel free to listen and be inspired by the Plant-Powered People Podcast!
Drain the silken tofu
Zest the lemon and extract the juice
Add the drained tofu, lemon juice, lemon zest, and sugar to a blender. Blend well.
Pour into 1-2 mason jars (or whichever containers you'd like to use) and refrigerate overnight.
Enjoy!
Star Ingredients
Although there aren't many ingredients in this recipe, the ones that are included count as kings! Both of these plant-based foods are superstars when it comes to nutrition, taste, and versatility. If you aren't already using them on a daily basis, it might be time to start.
Lemons
Fresh lemons are the heart of this recipe. Not only do they bring the flavor and "zing," but they are also rich in vitamin C and fiber (from the pectin) and a good source of potassium and B6. They also include beneficial plant compounds (such as citric acid, eriocitrin, diosmin, hesperidin, and d-limonene) which are helpful to the immune system.
Silken Tofu
Silken tofu is the magic in this recipe. When blended, silken tofu creates a beautiful silky smooth pudding base that nobody would believe comes from tofu. Plus, it's healthy! Silken tofu is lower and calories and fat than regular tofu but still very high in protein. Naturally cholesterol-free, gluten-free, and an excellent source of iron and calcium, it's a true win for making desserts that are secretly nutritious.
Don't be intimidated by this list for how to make vegan custard. This list includes every day kitchen items that can easily be substituted for something else if you're in a pinch. Instead of a citrus zester or microplane, you could always use the smallest grating size on a regular grater (being careful not to include the white pith part). No need for a high speed blender, either. Any blender will work for this easy lemon custard recipe.
Citrus zester or Microplane
Citrus squeezer (using a fork is fine, too)
Blender
One large glass or two small glasses
Fresh slices of lemon and lemon zest (optional)
How Long Does This Homemade Lemon Custard Last?
Any leftover lemon tofu custard will last in the fridge for up to 3-4 days. Simply place it in a covered container in the fridge and it should be in super shape for your next serving. If there's a slight separation, just give it a quick blend or whisk with a fork. Not recommended for freezing.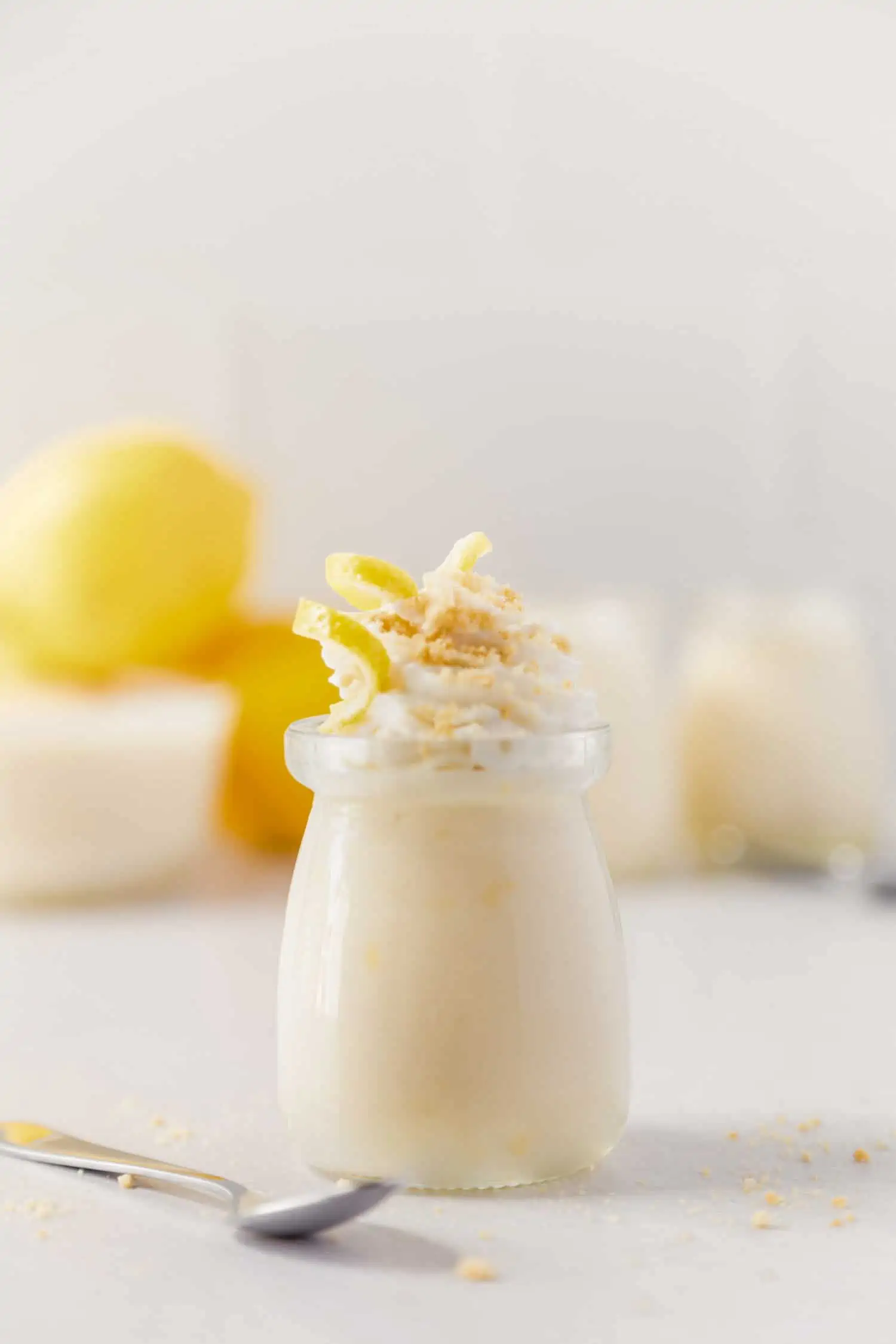 Suggestions For Serving Up Your Easy Lemon Custard Recipe
We have endless ideas for including this delicious and healthy dessert into your day. Because lemon goes so well with so many foods, it's no wonder we can't stop coming up with new concoctions. Here is a list of our first-rate favs!
Tantalizing Toppings – There's no end to the tasty toppings that you could add to this custard. It's totally personal preference. Try fresh fruit (kiwi, berries, orange, etc.), plant-based whipped cream, crushed sugar cookies (especially lemon flavored), and/or chopped nuts (pistachios, macadamia, peanuts, etc.). The ideas are endless!
Make Meyer Lemon Custard – If you have Meyer lemons in season where you are, go ahead and use them! Because Meyer lemons are a cross between a lemon and a mandarin orange, the taste tends to be a little sweeter. Feel free to adjust the amount of sugar added to this recipe if you do use these lovely lemons.
Lovely Lemon Pie – Create the most luscious lemon meringue-less pie by pouring this custard into a pre-baked, vegan pie crust before refrigerating. Cover gently and let sit overnight in the fridge (for up to 3 days) until set completely. Garnish with candied lemon peel, coconut whipped cream, and/or fresh raspberries.
Delightful Desserts Any Time of Day – In addition to the pie variation above, you can use this vegan custard for making lemon custard tarts or lemon custard cupcakes. For the tarts, fill fully baked tart shells of your choosing with vegan custard and then add your favorite toppings. Refrigerate overnight (or longer) before serving. To create tasty cupcakes with a surprise inside, make a batch of cupcakes and let cool completely. Then, cut the top off of the cupcake, scoop out a little cake and add a couple of teaspoons of custard (depending on the size of your cupcakes). Add the top back on, frost as usual, and place back into the fridge until ready to serve.
More Luscious Vegan Lemon Recipes to Try
16 ounce container silken tofu
2 lemons
¾ cup powdered sugar
1 tablespoon fresh lemon zest
4 tablespoons fresh squeezed lemon juice, from one or both of the lemons
Drain the Tofu:Place the colander inside of a large bowl. Add the silken tofu and carefully arrange a heavy bowl on top of the tofu to add as a weight. You just want the bowl big enough to cover most of the tofu and just heavy enough to slowly squeeze out the extra water. Let sit for at least 30 minutes.

While the tofu is draining, use the lemon zester to take the zest off one at least one lemon. Depending on how big your lemons are, you may need to zest both lemons.

Cut the lemons in half and juice. You only need 4 tablespoons, so save any extra lemon juice for later. (You can also pour the juice into an ice cube tray and freeze for future use.)

Add all of the ingredients, including the drained tofu, to the blender.

Blend for one minute until smooth and creamy.

Pour the finished custard into one large or two small glasses or mason jars. Cover with a lid, a small plate, or some type of wrap. Place in the refrigerator and allow to set for at least 8 hours. An entire day is even better for the flavors to develop.

At this point, the contents should be thickened into the perfect custard consistency. Add toppings of choice. Enjoy!
Dried Vs. Fresh – Using fresh lemon juice and freshly grated zest is the key to making this vegan custard so delicious. You could use bottled lemon juice and dried zest, but it won't have quite the same tart and tangy flavor.
Dairy-free, nut-free, and gluten-free
Calories: 164kcal | Carbohydrates: 66g | Protein: 12g | Fat: 7g | Saturated Fat: 1g | Polyunsaturated Fat: 4g | Monounsaturated Fat: 1g | Sodium: 14mg | Potassium: 593mg | Fiber: 4g | Sugar: 7g | Vitamin A: 27IU | Vitamin C: 73mg | Calcium: 104mg | Iron: 3mg
Recipe FAQs
What is the difference between a vegan custard and a regular custard?
The most popular type of custard recipe usually includes milk and eggs in the ingredients, as well as the occasional addition of gelatin or cheese (in savory custards). Our vegan custard recipe is free of eggs, dairy, milk, and gelatin. We wouldn't even think about adding cheese to this one!
Which is healthier ice cream or custard?
In both vegan and non-vegan recipes, custard seems to have a little less calories and fat than ice cream. Custard tends to have more protein than ice cream, as well. In our vegan version, the silken tofu contributes about 20-25 grams of protein per package, depending on the brand. That's pretty great!
What is vegan custard made of?
Our plant-based custard recipe uses only a few basic ingredients such as silken tofu, sugar, and lemons. The best thing about this recipe is that you can adjust the sweetness level (by adding more or less sugar) and also the tartness (reduce or increase the lemon juice and zest).
Thank you to our recipe testers, Ruth Havertz and Sarah Hudson!
This easy dairy-free lemon custard recipe was developed and written by Gina House and edited by Michelle Cehn. This vegan lemon curd content is copyright of World of Vegan, all rights reserved. Photos by J.J. Steele. Please note that this article may include affiliate links when available and shopping through these links supports World of Vegan.