These vegan matcha cupcakes are insanely delicious, colorful, and packed with an energizing dose of antioxidants from the star ingredient: matcha. This recipe was generously sponsored by my friends at Ujido, and you can find the recipe below. Enjoy!
St. Patrick's Day is just around the corner, so we're thrilled to bring you the most deeelicious green cupcake recipe you'll ever try. They're made with a simple vegan chocolate cupcake base and topped with an insanely delicious frosting colored green with something way better than food coloring. The age-old antioxidant-rich green tea: matcha.
If you've never tried or perhaps never even heard of matcha, don't let this recipe intimidate you! Read on to learn more about this incredible superfood, and then get your sweet tooth ready for these unbelievable cupcakes.
Chocolate Cupcakes
1½ cups all-purpose flour
1 cup granulated sugar
¼ cup cocoa powder
1 teaspoon baking soda
pinch salt
6 tablespoons vegan butter, melted but not hot
1 tablespoon apple cider vinegar
1 teaspoon vanilla extract
1 cup water, room temperature
Preheat the oven to 350 degrees F. Line a cupcake pan with 12 cupcake liners and set it aside.

Sift the flour, sugar, cocoa powder, baking soda, and salt into a large mixing bowl and set aside.

Gently melt the vegan butter until it is just melted, but don't let it get hot.

Add the melted vegan butter to a small bowl, along with the apple cider vinegar and vanilla extract and mix it to combine.

Create a well in the dry ingredients and pour in the liquid ingredient mixture. Before mixing, pour all of the water on top as well.

Gently fold the ingredients together with a spatula until it's combined. The batter will appear slightly bubbly. If there are any clumps you can work them gently with a whisk if needed.

Distribute the batter evenly between the cupcake liners.

Bake the cupcakes for around 22 – 30 minutes, until a toothpick inserted comes out clean. Remove the cupcakes from the oven and let them cool in the pan for 5 minutes, then transfer them to a wire rack to cool completely.

Store the cupcakes in the fridge or at room temperature for up to a few days.
Calories: 182kcal | Carbohydrates: 31g | Protein: 2g | Fat: 6g | Saturated Fat: 1g | Polyunsaturated Fat: 2g | Monounsaturated Fat: 3g | Trans Fat: 1g | Sodium: 160mg | Potassium: 20mg | Fiber: 1g | Sugar: 18g | Vitamin A: 1IU | Calcium: 6mg | Iron: 1mg
1 cup vegan butter
3 cups powdered sugar
2 teaspoons matcha powder
1 teaspoon vanilla extract
Measure 1 cup of vegan butter and place it in a bowl. Let it sit on the counter to allow it to get to room temperature. If you're in a hurry, set it near the oven and watch it closely until it's softened to room temperature, but don't allow it to melt.

When the butter is soft, transfer it to the bowl of a stand mixer (a hand mixer will work too) and whip it for a couple of minutes.

Add the powdered sugar half of a cup at a time and mix until it begins to form a frosting. Add the vanilla extract and whip until the frosting is smooth.

If you'd like all your frosting to be a uniform green color, add all the matcha and mix until the green color is well distributed. If you'd like to create a white and green blended frosting effect (as pictured), keep half of the frosting white (as is), and mix a single teaspoon of matcha into to the other half of your frosting. Feel free to add more matcha if a stronger matcha flavor or deeper green color is desired.

Once the cupcakes are fully cooled you can use a piping bag to pipe frosting onto the cupcakes. This frosting recipe generously frosts 12 cupcakes. If you don't have a piping bag, you may use a knife to spread the frosting onto the cupcakes.
Store the cupcakes in the fridge or at room temperature for up to a few days.
Calories: 130kcal | Carbohydrates: 31g | Protein: 0.4g | Fat: 14g | Saturated Fat: 3g | Polyunsaturated Fat: 4g | Monounsaturated Fat: 7g | Trans Fat: 3g | Sodium: 116mg | Potassium: 4mg | Sugar: 0.04g | Vitamin A: 33IU | Calcium: 1mg | Iron: 0.1mg
These cupcakes are super-easy to make. The only equipment you need other than your oven is a mixer to make the delicious and vibrant green frosting. You can use a stand mixer or a hand mixer—both will work perfectly.
More Matcha, Please!
If you want to increase the flavor of the matcha (I don't blame you!) go ahead and add more powder to the icing. I recommend adding half of a teaspoon at a time and tasting as you go. The color of the frosting will be more vibrant if you add more matcha, and it will be so pretty!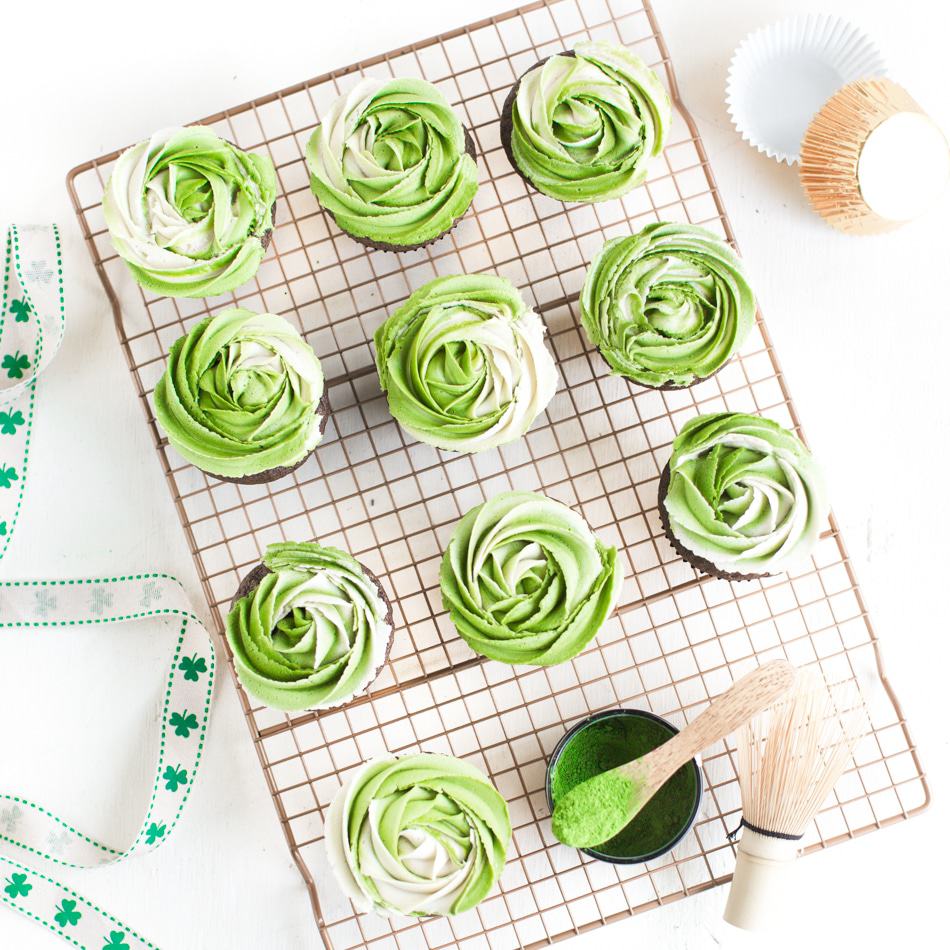 How Can I Get the Swirled Frosting Rose Effect?
You're welcome to smear the frosting onto the cupcakes with a knife, of course, but if you want to get fancy, here are some tips!
To get the rose frosting effect pictured above, you'll need a piping bag (I like these reusable silicone piping bags) and an extra large rose piping tip. This specific nozzle will enable you to transform your frosting into a lovely rose atop your cupcake by simply starting in the center of the cupcake and swirling outwards. A few quick YouTube tutorials will get you going in no time. That's how I learned!
If you'd like to get a white and green swirl effect in your frosting, it's easy. Instead of adding matcha powder to the full batch of frosting for a uniform green look, you can keep half of your frosting white and swirl the two together! To do this, simply smear the white frosting on one side of your piping bag and the green matcha frosting on the other half, and frost away!
Natural Food Coloring
We just love that you can whip up vibrant colorful foods using the power of nature. No artificial colors are used to make this beautiful green frosting. The color simply comes from the natural chlorophyll in the matcha tea which creates a deep green pigment.
A lot of food coloring is either not vegan or is made with artificial ingredients. But fret not! You can use matcha powder in many different types of recipes if you want a natural green food coloring.
You can also add some vegan sprinkles for and extra festive touch!
A St. Patrick's Day Favorite
These dreamy chocolate cupcakes pair beautifully with this vanilla matcha buttercream frosting that has just a hint of matcha flavor. Enjoy these wickedly delicious cupcakes to celebrate a vegan St. Patrick's Day, or any time of the year!
You can even make a batch of these cupcakes ahead of the big St. Patty's Day party if you're tight on time. Your friends will seriously love them and they won't have a clue that this recipe is vegan.
Let's Talk Matcha
We love matcha—not only for the incredible health benefits but also the delicious taste!
Matcha is the delicately ground powder of green tea leaves that can be dissolved in water and enjoyed as a beverage or used in recipes for a bright green, caffeinated, antioxidant-rich kick. Matcha has been a beloved ingredient for centuries, and a popular superfood all around the world. There are many brands of matcha, but their quality can vary greatly. In this recipe, I used Ujido matcha.
If it's a new flavor for you, these cupcakes are a perfect way to get acquainted. It's a very mild matcha flavor in this cupcake frosting, and…well…they're cupcakes! What's not to love?
Matcha powder is traditionally a vibrant green color which reflects it's high levels of phytonutrients and antioxidants. It is also a very nice fine texture, which enables you to add it to recipes or sip on matcha tea without having to worry about tea leaves.
Matcha has numerous health benefits. It's truly a magnificent superfood! Numerous studies have proven matcha to have astounding benefits. There's nothing better than a healthy and tasty superfood!
Matcha Health Benefits
Some of the benefits matcha is known for include:
Contain upwards of 130 times the antioxidants of brewed green tea
Scores 1,573 on the ORAC antioxidant scale (this is a very high level compared to Goji berries: 253, Dark Chocolate: 227, Pomegranate: 105, Wild blueberries: 93, Acai berries: 60, Broccoli: 31)
High in chlorophyll
High in L-Theanine which reduces physiological and psychological stress & relaxes and refreshes the body
Natural source of caffeine
Can improve focus
Great source of EGCG (a cancer-preventative polyphenol)
So… now that we know a little bit about all of the amazing benefits of matcha, let's get these cupcakes baking in the oven! Go, go, go!
And if you want to go all-out, you can serve these up with a frothy matcha latte made with your favorite plant-based milk and a touch of maple syrup. Cheers to that!
More Magical Vegan Treats
Psssst! Want some Matcha? You can use the coupon code WORLDOFVEGAN at checkout to get a special discount from our friends at Ujido.
I used ceremonial grade matcha (which is considered to be the highest quality and also has a slightly deeper green hue). Ceremonial grade matcha is made from the youngest tea leaves and is appreciated for being slightly sweeter, smoother, and less bitter. That said, you can also use culinary grade matcha which is less expensive and is intended for cooking.
Vegan Cupcakes With Matcha Buttercream Frosting recipe and food photography by Michelle Cehn.Content copyright World of Vegan, all rights reserved. This delicious cupcake recipe includes affiliate links when available and shopping through these links supports World of Vegan.