It's time to squeeze the day with a liter of this luscious lemon smoothie! It's a beautiful blend of sweet, ripe bananas and sharp, citrus notes that will remind you of hot, summer days and sunshine. Simply zest, juice your lemons, and blend for the best tasting smoothie you've had in ages.
You can easily change gears and transform it into a green smoothie by adding a handful or two of baby spinach or kale leaves (don't worry—you won't even taste them). Or, if you're a citrus rebel, substitute the lemon for lime (yum!). Take our word for it, this lemon smoothie is the zest!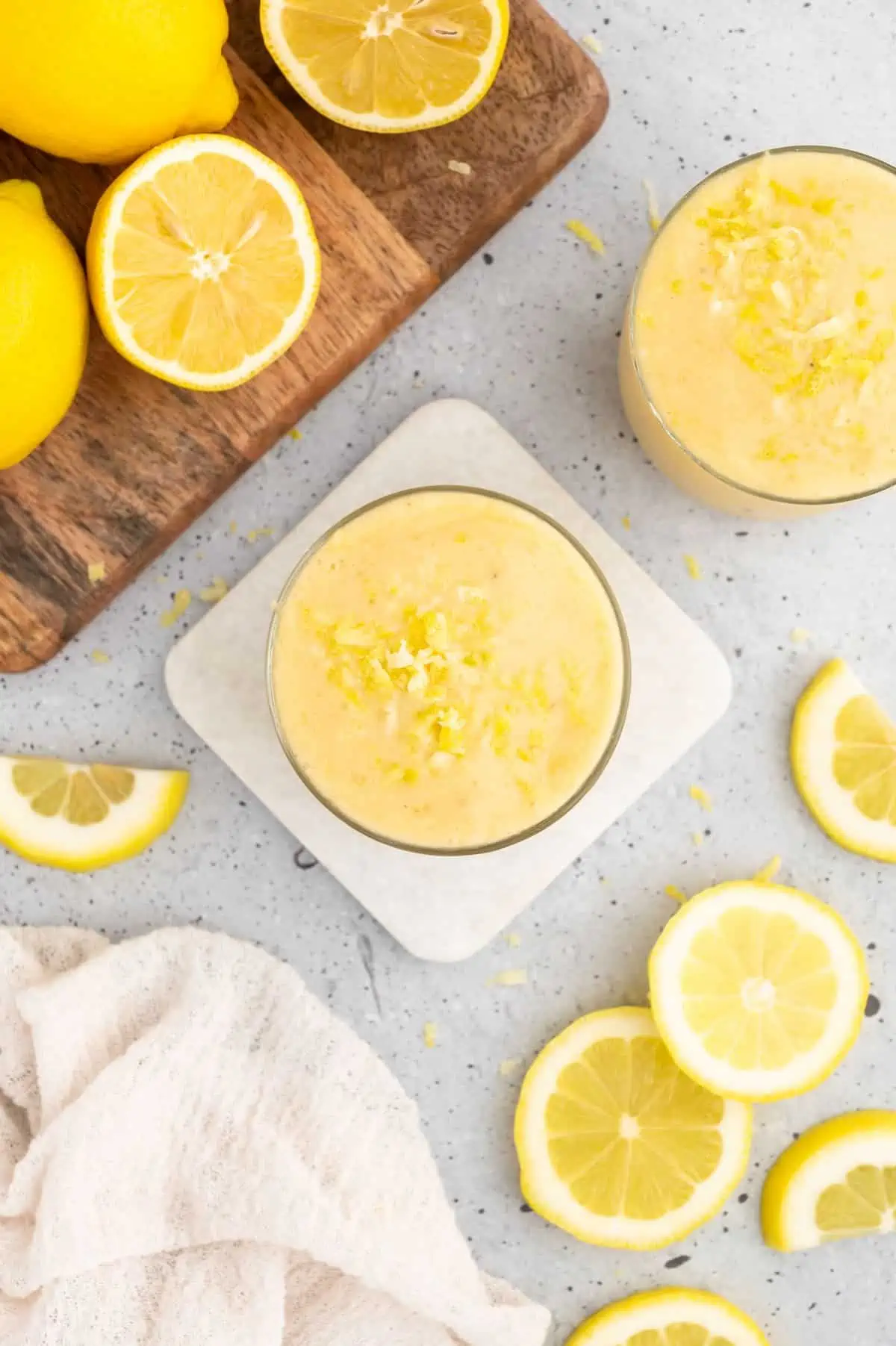 Why You'll Love This Lemon Banana Smoothie Recipe
There are so many reasons to love this lemon smoothie! As creatures of habit, we tend to make the same recipes over and over again. If you're in a smoothie-making-rut, this recipe is really worth a try.
Light, lemon-y, and refreshing. If you love sweet and sour lemonade, but hate drinking empty calories, this smoothie is for you!
Unique and fiber-filled. All of the fabulous flavor of tart lemonade with the added bonus of soluble fiber.
Dairy-Free, gluten-free, and full of healthy vitamins and minerals! If you use a soy or nut-free plant-based milk, the smoothie will be even more accessible.
How To Make This Lemon Smoothie Recipe
The only essential element for this recipe is a high-speed blender. A super smooth consistency is key and will result in the most luxurious texture once whipped up. Fill the blender with liquids first, then fresh (or softer) fruit and, lastly, the frozen fruit. Finally, blend, blend, blend!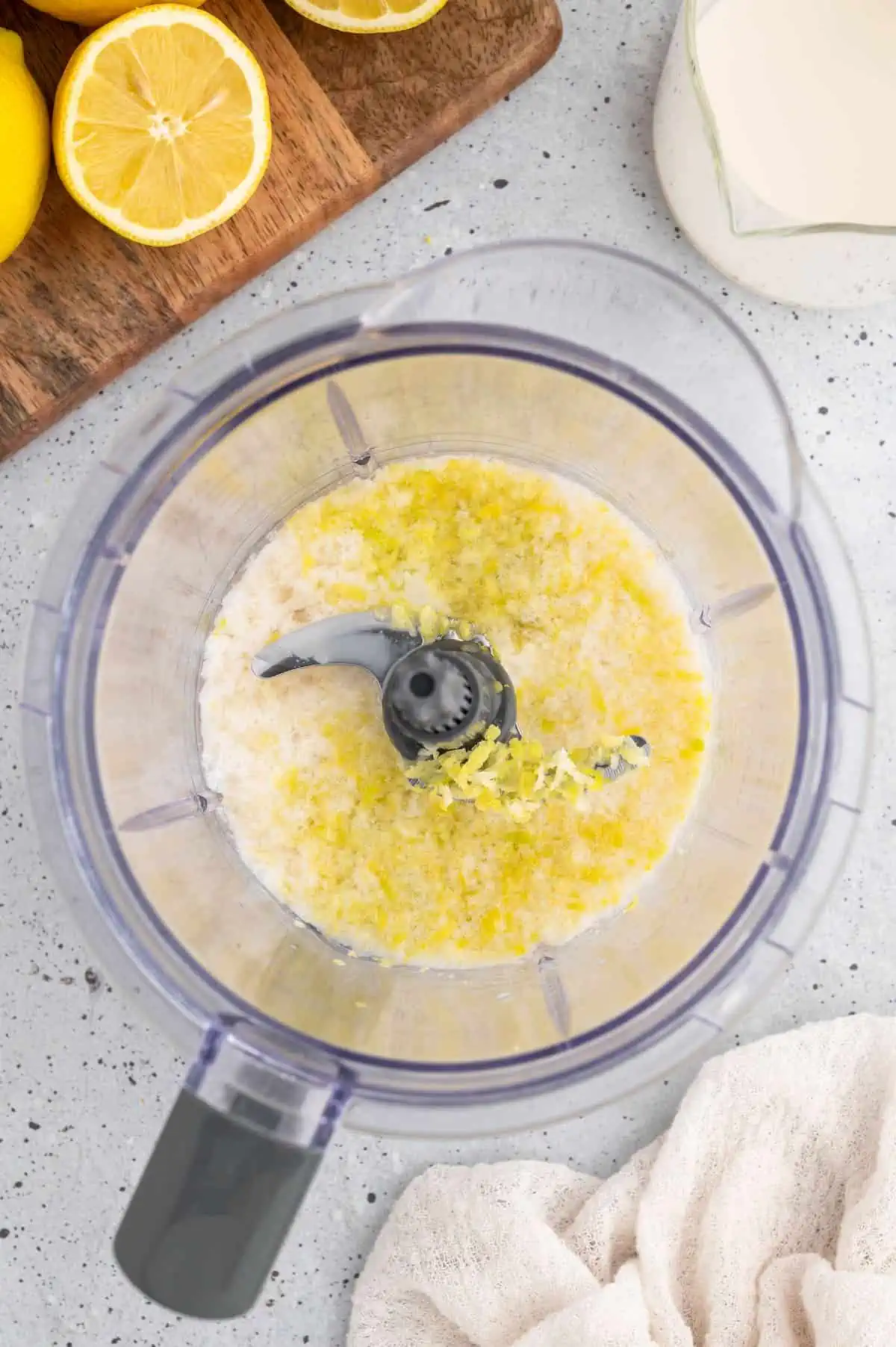 The summer season is an even better time to savor this smoothie. If you're lucky enough to have a lemon tree in your garden, make sure to take advantage of using freshly-picked fruit. Otherwise, visit your favorite local farmer's markets for the next best option.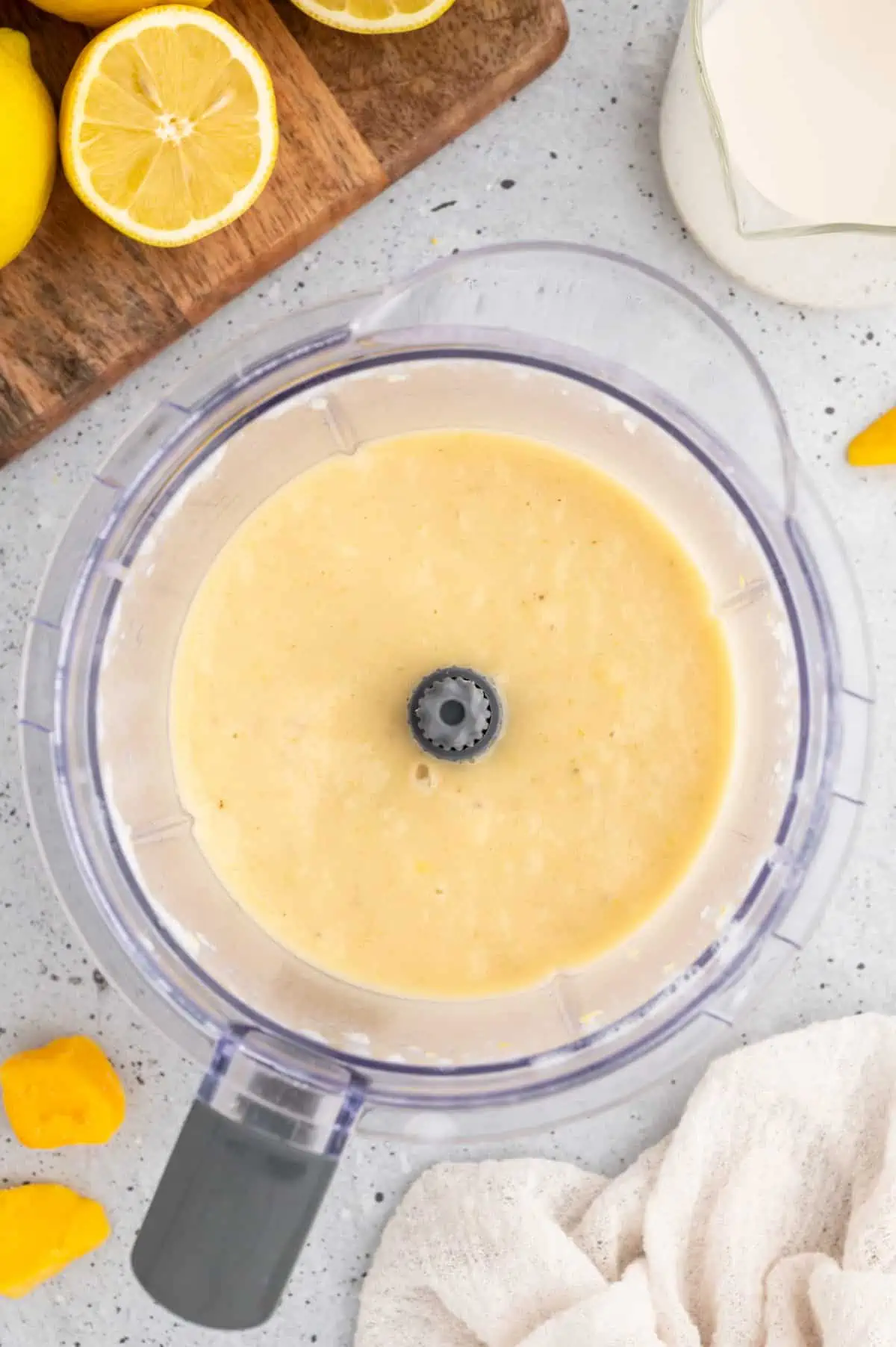 Lemonade Smoothie Variations
Variety is the spice of life, don't you think? The best thing about smoothies is that you can so easily create a brand new flavor from just one or two tiny tweaks. Here are a few fun ways to swap out ingredients or change things up a bit:
Lemon Meringue Smoothie Bowl – Reduce the plant milk by ½ cup to create a thicker consistency. Pour the blended smoothie into a bowl and top with a large scoop of lemon dairy-free yogurt, white chia seeds or hemp seeds, coconut whipped cream, crushed graham cracker cookies, and a drizzle of lemon sugar icing (Mix together ½ cup of powdered sugar, ¼ teaspoon vanilla, 1 tablespoon of dairy-free milk, and ¼ teaspoon lemon extract). Candied lemon peel slices would add a very pretty garnish, too!
It's Not a Crime to Use Lime – Swap out the lemon juice and zest for lime instead! This makes for a slightly different citrus flavor—like a frozen lime margarita. You will need 4 medium sized limes to get the same amount of zest and juice, or more if the limes are on the dry side.
Satisfy Your Sweet Tooth – You can easily adjust the level of sweetness by adding an extra tablespoon of agave or maple syrup to the smoothie, or a few soft, soaked, pitted dates. Too sweet? Leave out the sweetener or only use unsweetened dairy-free milk.
Turmeric Time – Boost the health benefits further by adding a dash of turmeric and black pepper! Turmeric is loaded with nutritional and disease prevention benefits, which is why it's so popular and included in Dr. Greger's Daily Dozen.
What are the Benefits of Lemon Juice in Smoothies?
Lemon juice is a great source of vitamin C. It's also fantastic for aiding in iron absorption and boosting our immune systems. Including lemon juice in this smoothie not only adds a tasty tang, but balances out the sweetness of the bananas.
Check out our Vegan Guide to Nutrition for even more benefits of vitamin C and other essential vitamins!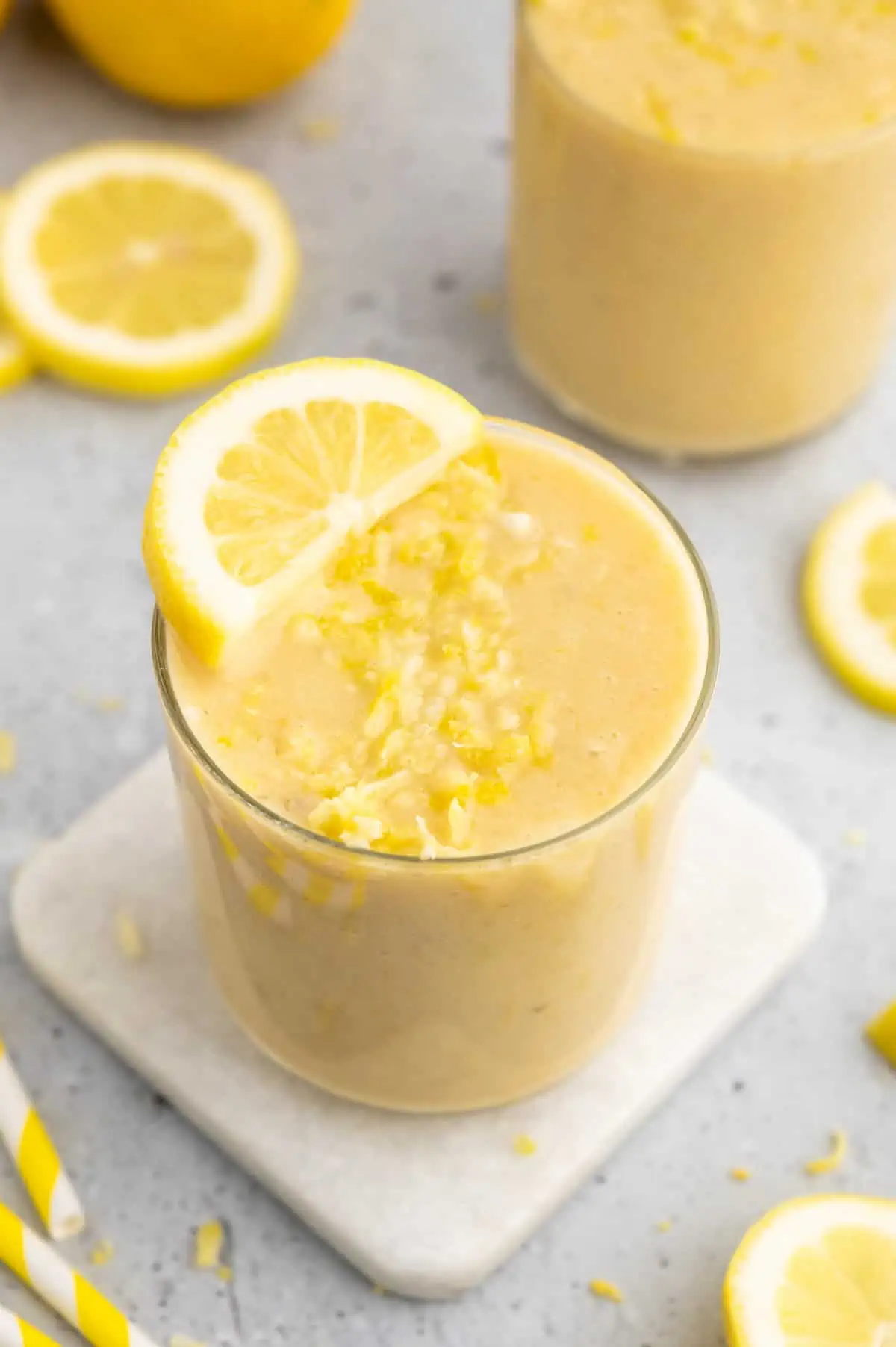 Lemon Banana Smoothie Q&A
Can you use a whole lemon in a smoothie?
It's tempting to just throw the entire lemon into the smoothie (or to juice up the whole lemon before adding into the smoothie itself). But, the white pith of the lemon is very bitter and won't give you the same sweet and tangy flavor. It's definitely worth the little bit of extra time and effort to collect the juice and zest separately.
Can I use bottled lemon juice in this recipe?
You can certainly use bottled lemon juice (preferably organic if you can), but it won't taste quite the same. Lemon juice from a bottle tends to be a bit more bitter and not quite as sweet as freshly squeezed. It's totally up to you.
How do I store my leftover lemon smoothie?
Smoothies are always best fresh, and they do lose their luster if you don't enjoy them immediately. But if you need to save this smoothie for later, it's easy-peasy! You have three options:
Pour the remaining smoothie into an insulated bottle and store in the fridge until ready to enjoy.
Fill up an ice cube tray (or two) with any leftovers and freeze. When you'd like to have the rest of the lemon smoothie, simply blend up the cubes with a tiny bit of water or plant-based milk.
Refrigerate the rest of the smoothie in a mason jar or covered glass container. To serve, blend the liquified smoothie with a handful of frozen banana and another tablespoon or two of fresh lemon juice. Viola!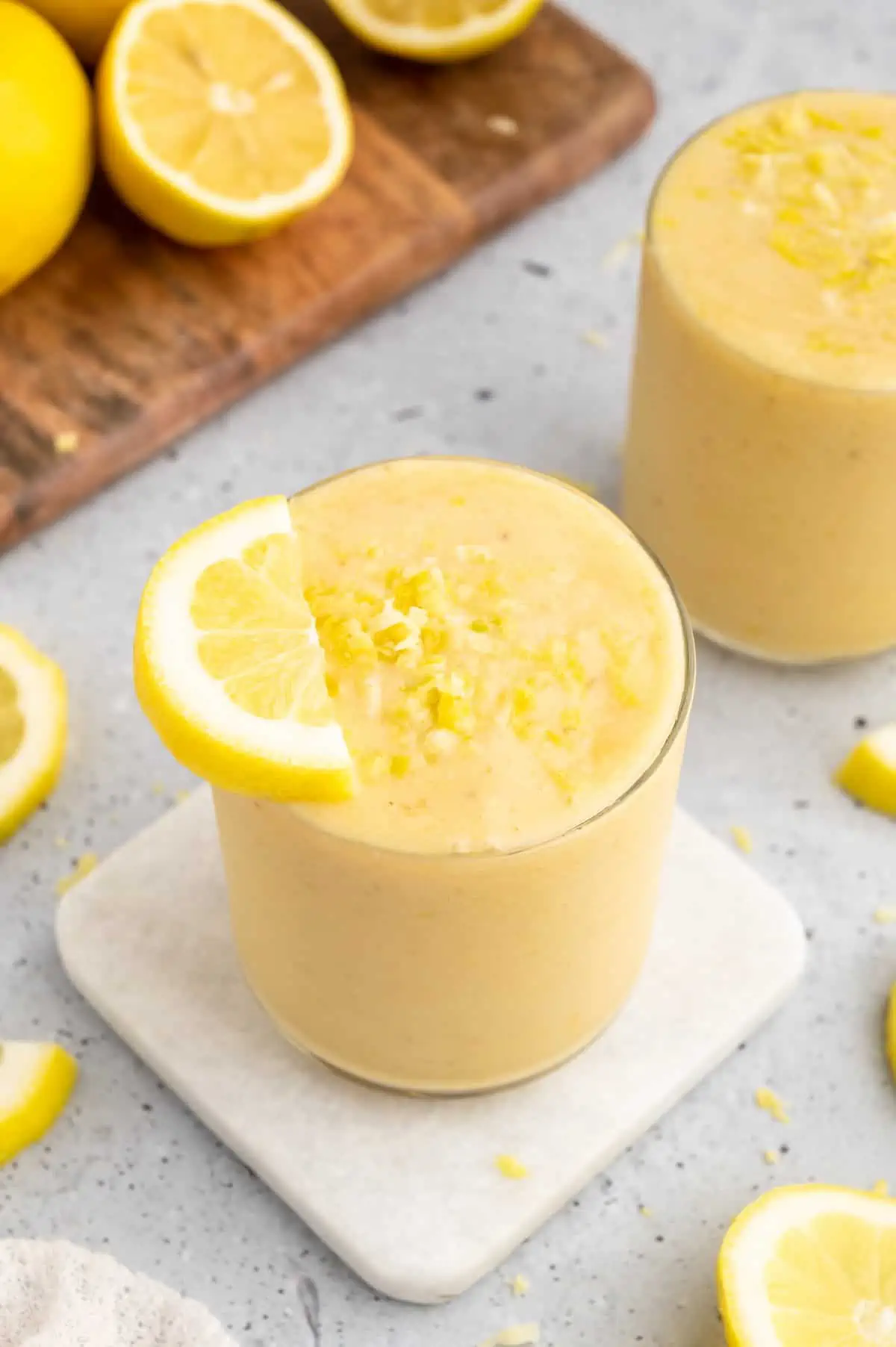 More Luscious Lemon Recipes
Whether you're loaded with lemons from a mature fruit tree, or just looking to add more citrus to your life, World of Vegan's lemon recipes are ripe for exploring.
1 ½ tablespoon fresh lemon zest, zest from 3 medium lemons
½ cup lemon juice, freshly squeezed
1 ¾ cup plant-based milk, sweetened, vanilla
2 tablespoons agave nectar, or sweetener of choice
2 cups frozen bananas, approximately 2 medium bananas
½ cup frozen mango
Optional
Fresh lemon wedges, or candied lemon peel; for garnish
Zest the lemons, and add the zest to the blender.

Slice each of the lemons in half and use a citrus juicer to squeeze out the juice. Add ½ cup of lemon juice to the blender.

Add the plant-based milk, agave nectar, frozen bananas, and frozen mango to the blender and blend on high until smooth and creamy.

Pour the finished smoothie into (2) 16 oz. or (4) 8 oz. glasses. Garnish with fresh lemon slices or candied lemon peel, if desired.
Calories: 167kcal | Carbohydrates: 35g | Protein: 4g | Fat: 3g | Saturated Fat: 0.3g | Polyunsaturated Fat: 1g | Monounsaturated Fat: 0.5g | Sodium: 53mg | Potassium: 488mg | Fiber: 3g | Sugar: 23g | Vitamin A: 680IU | Vitamin C: 39mg | Calcium: 156mg | Iron: 1mg
Lemon smoothie photos by Amanda McGillicuddy for World of Vegan, all rights reserved.