Everybody flips for pancakes, but sometimes that's exactly the problem. Flipping pancakes can be tricky, messy, and downright ugly.
Did you know there's a simple way to make breakfast time better? Ditch the skillet and pull out the sheet pan to stack up effortless, perfectly fluffy pancakes that never need to be flipped!
Banana Sheet Pan Cakes from The Everyday Vegan Cheat Sheet by Hannah Kaminsky offer a creative shortcut that could forever change your morning routine.
Why You'll Love Sheet Pan Cakes
By baking your batter all at once in a thin layer, it's a breeze to serve a crowd at once without the first plate getting cold. A quick trip under the broiler ensures a golden-brown finish before it ever sees a spatula.
Dress them up with all your favorite toppings and don't forget to pass the maple syrup! This is the last vegan banana pancake recipe you'll ever need.
These vegan sheet pan pancakes are truly the best! Here's a few reasons why:
Easy clean-up: You can skip the dish washing entirely if you line your sheet pan with aluminum foil. Simply throw away the mess when you're done!
Great for kids and beginner cooks: Anyone that can stir a batter can make beautiful pancakes, no experience required. It's a great way to get kids into the kitchen or help new cooks gain more confidence.
Feeds a crowd: If you're hosting friends and family, you need a morning meal that can start everyone's day on the right foot. Easily get 6 to 8 servings out of a single batch and scale up with a second sheet if needed.
Versatile and customizable: Divide and conquer to personalize each serving. Sprinkle different toppings over each quadrant to make sure everyone gets what they're craving.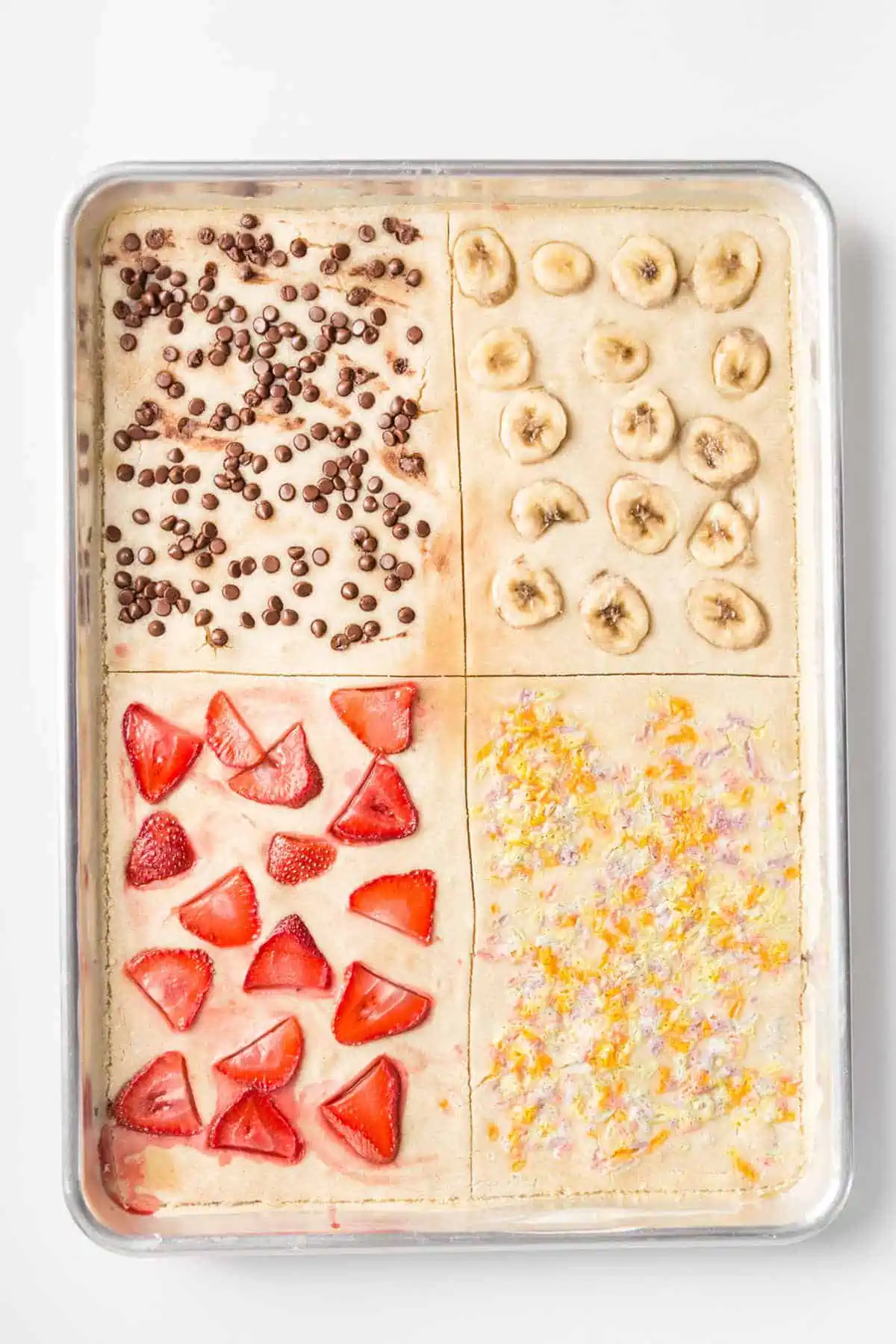 Key Ingredients
Bananas: More than just a tasty garnish, mashed bananas act as a binder in the batter to seamlessly replace eggs. It's easy to keep the added sugars low because they're naturally sweet, too.
Non-dairy milk: Almond, oat, soy, cashew, rice, coconut; you name it, it works here! Use any dairy-free milk that you prefer or already have on hand.
Vegan butter or coconut oil: Buttery pancakes are the stuff of childhood nostalgia. Good thing we have plenty of vegan alternatives with the same richness! Coconut oil is a good backup option, but make sure it's refined if you don't want the pancakes to have any coconut flavor.
Flour: All-purpose flour is the standard for light, tender pancakes, but you can amp up the fiber with whole wheat or white whole wheat instead.
How to Make Banana Sheet Pan Pancakes
Preheat your oven first so it's ready to go when you are. This batter comes together very quickly!
Mash two of the bananas in a medium bowl, leaving a bit of texture. You can puree them in a blender if you'd rather minimize the chunks. Mix in the other wet ingredients, whisking vigorously until smooth.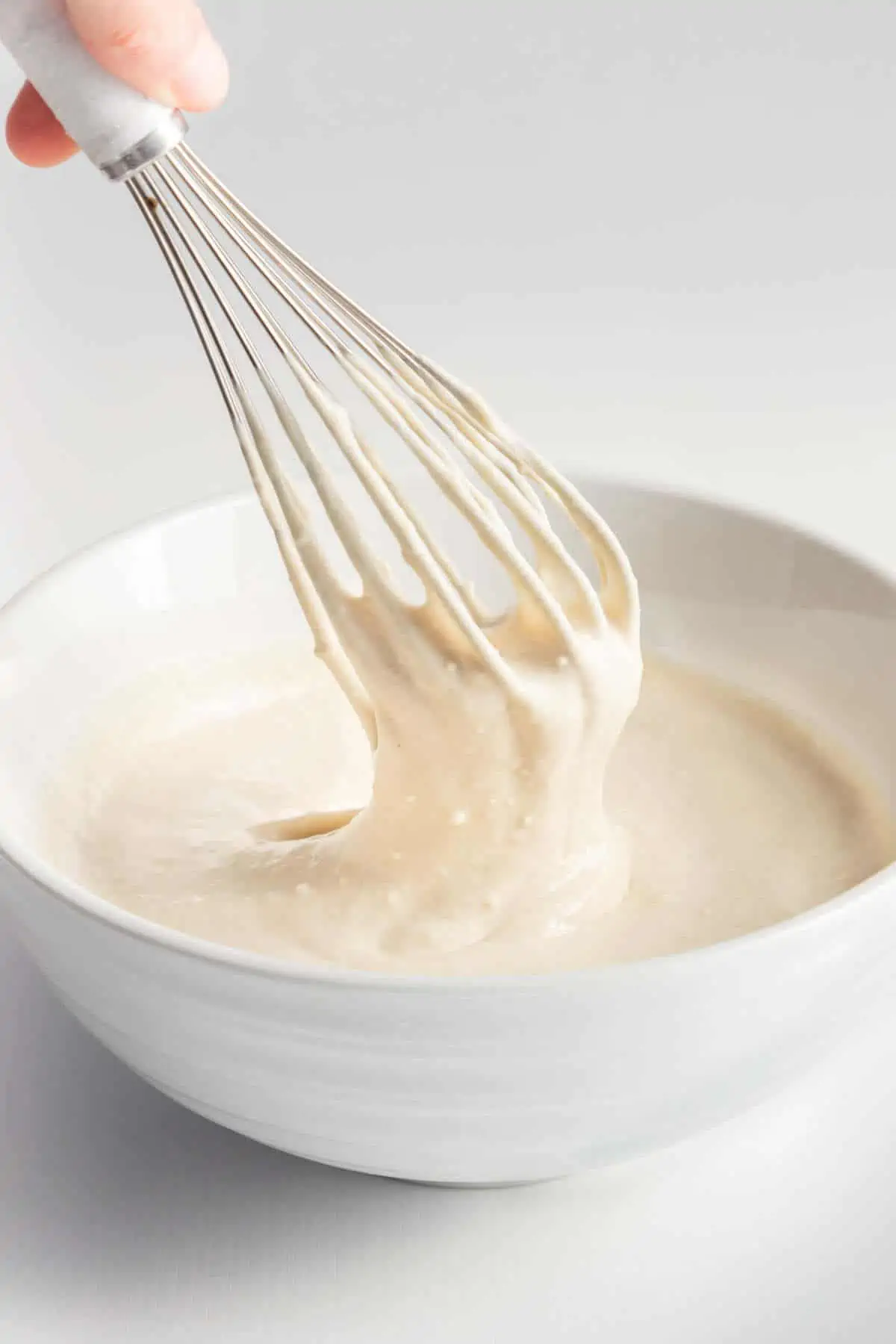 Separately, mix the dry ingredients in a large bowl. Pour the wet into the dry, then use a wide spatula to bring them together. Stir as little as possible; it's fine to leave a few lumps intact.
Spread the batter into a lightly greased sheet pan, smoothing it into an even layer. Sprinkle with banana slices and any additional toppings your heart desires.
Bake for 15 minutes until golden around the edges. Lightly brush with melted vegan butter or coconut oil, then broil for 5 minutes to brown the top.
Let cool for at least 5 minutes before slicing and serving. Enjoy hot, with plenty of maple syrup and extra vegan butter!
Flavor Variations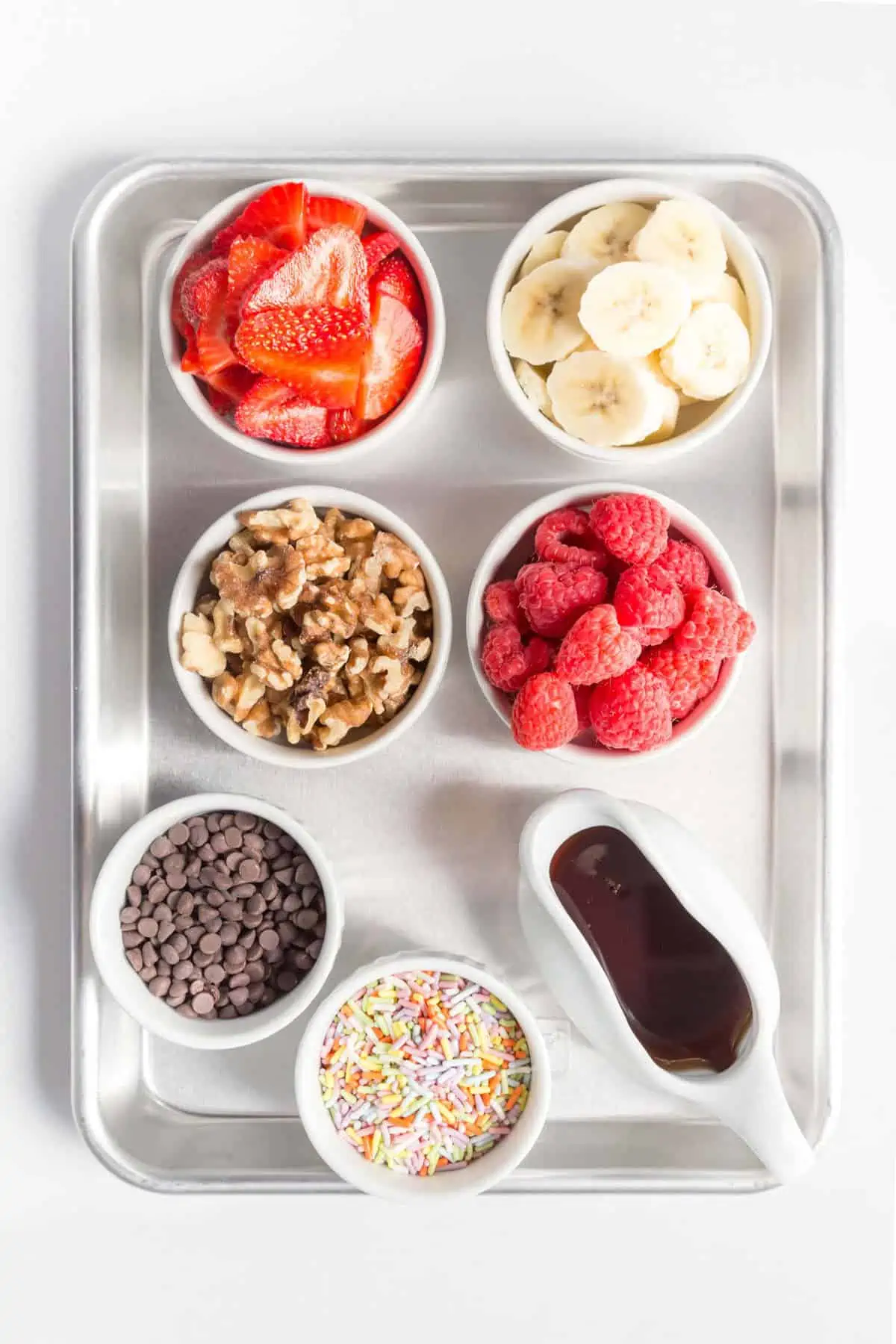 Topping Ideas
The only thing that can top a perfect stack of homemade pancakes is, of course, the toppings! Whether you like yours wholesome or indulgent, nothing is off the table. Here's a few of our favorites:
Sprinkles
Chocolate chips or chunks
Cacao nibs
Toasted nuts, roughly chopped
Berries (blueberries, strawberries, or raspberries)
Sliced apples, pears, peaches, or plums
Dollops of peanut butter, speculoos spread, or caramel sauce
Mix-In Ideas
Matcha powder
Cocoa powder
Greens (spinach or kale) powder
Cinnamon, ginger, or pumpkin spice
Instant coffee or espresso
Frequently Asked Questions
What's a half sheet pan?
A half sheet pan is the standard size for household sheet pans, measuring 18 by 13 inches with 1-inch-high sides. Full sheet pans are meant for commercial kitchens and wouldn't fit in most consumer-grade ovens.
How long will leftovers keep?
Stack leftover pancakes with parchment paper in between and pack them in an airtight zip top bag. They'll keep for 3 to 5 days in the fridge before getting a bit dry and crumbly.
Can you freeze pancakes?
Extra pancakes are perfect for freezing! Store in the same way as described for refrigeration, label with the date, and stash them in your freezer for up to 6 months. To reheat, simply pop them in your toaster for 1 to 2 minutes or microwave for 30 to 60 seconds.
Can you make this recipe gluten-free?
Absolutely! Use your favorite gluten-free flour blend instead of all-purpose flour to make this recipe celiac-friendly.
Can you make this recipe oil-free?
Easily! Use 3 tablespoons of unsweetened applesauce in the batter and lightly brush or drizzle the top with 1 tablespoon non-dairy milk instead of vegan butter or coconut oil.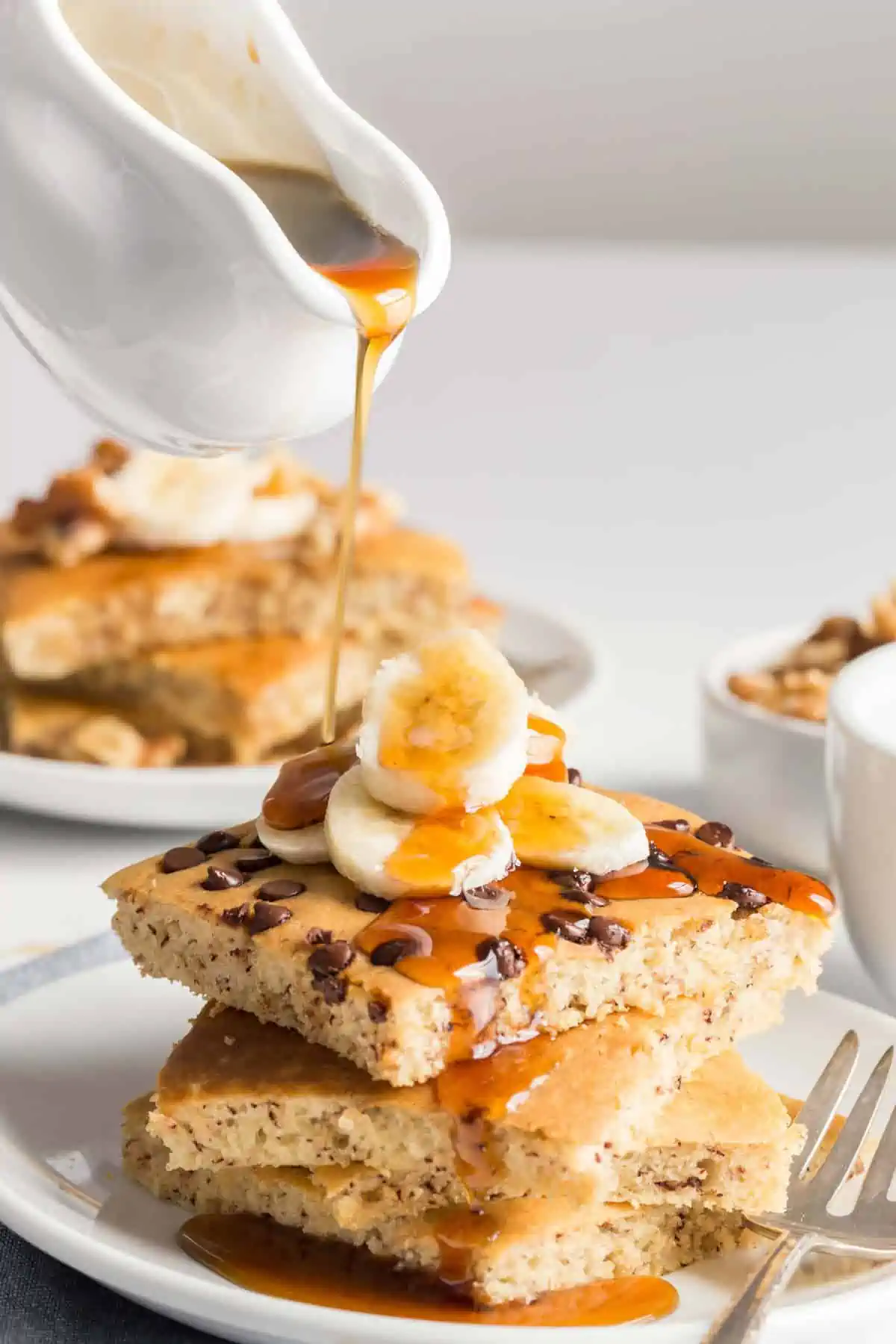 About The Book
The Everyday Vegan Cheat Sheet: A Plant-Based Guide to One-Pan Wonders by Hannah Kaminsky is your new go-to resource for quick, easy, and healthy meals, all made in the oven. Filled with tips and tricks for making the most of your ingredients throughout the year, you'll never run out of delicious inspiration. From breakfasts to snacks, soups to salads, entrees and plenty of sweet endings, there's something here for all occasions.
Hannah Kaminsky is a recipe developer, food photographer, and creator of the award-winning blog BitterSweetBlog.com. Passionate about big flavors and simple techniques, she strives to make plant-based food accessible and enticing to everyone.
Vegan Sheet Pan Pancakes
2 large bananas, very ripe
2 cups plain non-dairy milk
1 tablespoon apple cider vinegar
1⁄2 teaspoon vanilla extract
1⁄4 cup vegan butter or coconut oil, melted and divided
2 ½ cups all-purpose flour
3 tablespoons granulated sugar
1 tablespoon baking powder
1 teaspoon baking soda
½ teaspoon salt
Toppings (optional)
1 banana, sliced
¼ cup chocolate chips
¼ cup chopped nuts
¼ cup sliced strawberries
1-2 tablespoons vegan sprinkles
Preheat your oven to 400°F and lightly grease a half sheet pan.

In a medium bowl, vigorously mash the bananas until fairly smooth. Mix in the non-dairy milk, vinegar, vanilla, and 3 tablespoons of the melted vegan butter or coconut oil. Stir until fully incorporated.

Separately, in a large bowl, whisk together the flour, sugar, baking powder, baking soda, and salt. Pour the liquid mixture into the bowl of dry goods and use a wide spatula to combine. Stir until the batter is just blended; a few lumps are perfectly fine, and in fact encouraged! Over-mixing is the mortal enemy of tender, fluffy pancakes.

Pour the pancake batter onto your prepared sheet pan, spreading it evenly to reach all the sides in one smooth layer. Add topping if desired, sprinkling them evenly across the top.

Bake for 15 minutes until golden brown around the edges. Brush with remaining vegan butter or coconut oil, turn on the broil to high, and cook for an additional 5 minutes to give the top a fetching golden tan.

Cool for at least 5 minutes before slicing and stacking up.
Variations – Feel free to mix and match the toppings any way you like! Storage – Store leftover sheet pan pancakes in an airtight container in the refrigerator for up to 3 days.
Calories: 418kcal | Carbohydrates: 74g | Protein: 8g | Fat: 11g | Saturated Fat: 2g | Polyunsaturated Fat: 3g | Monounsaturated Fat: 5g | Trans Fat: 2g | Sodium: 907mg | Potassium: 351mg | Fiber: 4g | Sugar: 17g | Vitamin A: 51IU | Vitamin C: 7mg | Calcium: 275mg | Iron: 3mg
This vegan sheet pan pancake recipe was reprinted with permission from The Everyday Vegan Cheat Sheet, by Hannah Kaminsky, Skyhorse Publishing, 2022. Article written with support by Hannah Kaminsky and edited by Rachel Lessenden. Photos by J.J. Steele for World of Vegan, all rights reserved.