If you're lucky, you'll be able to pick these beautiful beauties by yourself (and maybe with your family) and create the most hydrating and happy beverage for a sinfully hot day. This recipe is simple and easy because it requires only 3 or so ingredients.
Grab your ripe and ravishing fruits, a fantastic flavored seltzer, and a plant-based sweetener (if desired) and let's get blending!
What Is A Spritzer?
A spritzer, or spritz, is a refreshing and light beverage made by combining a bubbly base such as sparkling water or club soda, with another liquid such as juice, wine, or flavored syrups.
The result is a fizzy and flavorful drink that's often served over ice and garnished with citrus slices, herbs, or other aromatic elements.
Spritzers are known for being a hydrating and lower-alcohol or alcohol-free mocktail option, making them a popular choice for casual gatherings or when you're looking for a lighter alternative to full-strength cocktails.
How to Serve Up Your Strawberry Peach Spritzer
Fruit-filled beverages are so much fun! You're not only cooling and hydrating your insides, but also giving yourself a whole lot of nutrition. What could be better? If you're not sure what to do with your spritzer once it's made, here are a few favorite options:
Fruit Buddies – If you'll be sharing your spritzer with a young person (or someone just young at heart!), consider using tiny cookie cutters to make fun, mini fruit shapes with the fruit. Hearts, stars, flowers, and other shapes are so much fun to enjoy either in (or out) of your special drink. Cut thin slices of strawberries and peaches and use the cutters to make shapes for snacking.
Amazing Accessories – One of the reasons why tropical drinks are so awesome is that they come with silly or cute additions, such as colorful paper umbrellas, adorable straws, or vegan sprinkles. This spritzer would be wonderful with any and all of those items. Make it a celebration!
Toned Down Texture – When someone is sensitive to the consistency of what they're consuming, it's important to honor that. We love the smoothie-like texture of this drink, but if you want it thinner, no problem. Just use a fine mesh sieve to remove any chunks from the blended fruit before adding them to the seltzer. For a truly translucent sip, pass your peaches and strawberries through a juicer in equal amounts and then add your desired amount of spritzer.
Just 4 Ingredients
We always try to keep our recipes simple, using as few ingredients as possible. With just four ingredients, this summery drink is about as uncomplicated as it gets. It's made with:
Fresh Strawberries
Ripe Peaches
Sweetener (agave nectar, maple syrup, or brown sugar)
Fizzy Water
That's it! If you're looking for a quick, non-intimidating, refreshing recipe, this is for you.
What if I Don't Like Seltzer Water?
If you're someone who doesn't like the familiar fizz or the alkaline taste of plain seltzer water, we have a few savvy suggestions for other liquids that you can easily use instead.
No-Fizz Followers
Coconut Water (Full of fiber, vitamin C, manganese, magnesium, and potassium. Vita Coco, Zico, and CocoGoods are excellent choices.)
Fresh Squeezed Lemonade (High in vitamin c, if using fresh lemon.)
Fruit-Infused Water (Lots of flavor without the calories or sugar. Give Lemon Perfect or JUST infused waters a go!)
Full-On-Fizz Friends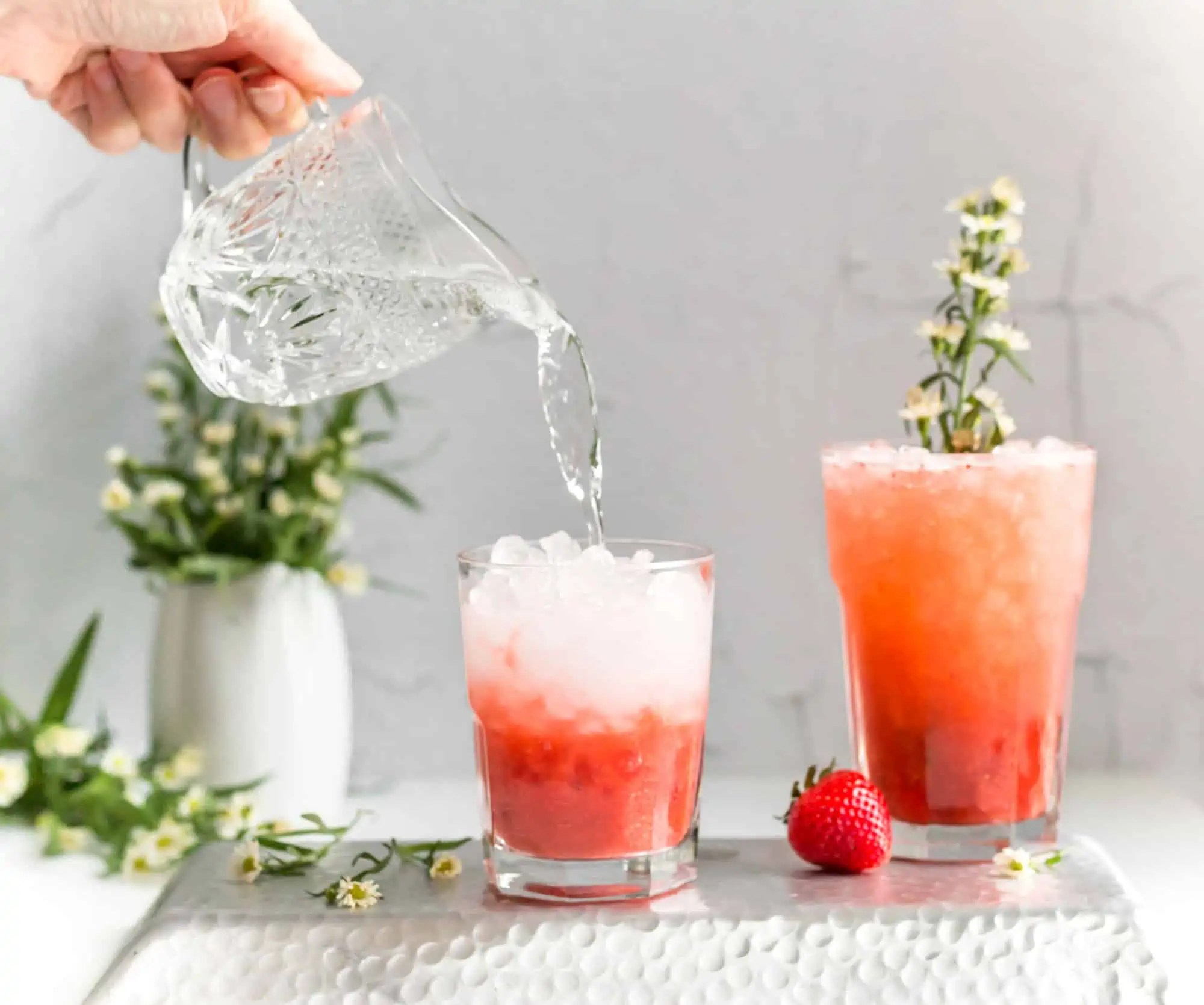 What are the Benefits of Eating Strawberries?
These glorious, bright berries are not only lovely to look at, but sweet and delicious as well. There are many reasons why consuming strawberries is beneficial to your health. Here's a list of the highlights:
Low in calories (less than 50 calories per cup)
High in fiber (3 grams per cup)
Packed with vitamins C, K, folate, potassium, manganese, and magnesium
Loaded with antioxidants and polyphenols
Health Benefits of Peaches
Along the same lines as the superfood strawberry, peaches are also powerful sources of vitamins, minerals, and have many health benefits. How does the peach compare? Let's find out:
Comparable to the strawberry in calories (about 60 calories per cup)
Healthy amount of fiber (2.3 grams per cup)
Rich in many minerals, like calcium, magnesium, iron, phosphorus, zinc, and copper
Storing Your Leftover Spritzer Drink
Any remaining Strawberry Peach Spritzer can be poured into a covered glass bottle or mason jar and refrigerated. Any extra beverage will also lose a bit of its bubble over time. Fresh is definitely best.
If you know you won't be drinking (or sharing) the two cups in one sitting, you can store the blended juice separate and add the seltzer water when ready. This will help to keep the cooler fresher long.
Another idea it to pour any leftover cooler in ice cube trays and keep in the freezer. They make a wonderful addition to clear beverages in the summertime, such as seltzer, tonic water, and club soda. The colorful, fruity cubes can be counted on for about three months stored this way. Awesome to have on hand for special occasions and delicious, too!
Equipment You'll Need
Sharp Knife
Cutting Board
Blender
Fine Mesh Sieve (optional)
More Delicious Drinks and Smoothies to Try
Want more strawberry peach drinks or other summer favorites?
If you try this Strawberry Peach Drink recipe, let us know what you think by leaving a comment and rating below! Be sure to follow along on Pinterest, Instagram and Facebook for even more vegan recipe inspiration.
1 cup sliced strawberries, tops removed and chopped
1 cup sliced ripe peaches, about 2 medium, without skin if preferred, chopped
1-2 tablespoons your favorite sweetener, maple syrup, brown sugar, agave, etc.
1 cup seltzer or tonic water, your choice of flavor, though lime works well
Wash, dry, and chop up the fruit. 

Add fruit to the blender, with the strawberries near the blade so that the mixture will blend more easily. 

Add your sweetener, cover, and blend for 30 seconds to a minute until your fruit mixture is completely smooth. 

Pour the mixture evenly over 2 glasses. Fill each glass the rest of the way with seltzer water.  

If you have any leftover fruit, slice and place on the side of the glasses as a garnish. You can even add a cute paper umbrella or glass straw if you'd like. Enjoy!
For an even tastier spritzer, make sure that your fruit is fully ripe and, if possible, in season. Early summer is the perfect time to make this recipe if you have access to a local farmer's market or grow your own. 
Experiment with sweetness. If your fruit isn't ripe, you might need more sweetener. If your fruit is super sweet, you might want less or leave it out all together. 
Enjoy this fruity drink by itself, if you don't like seltzer or bubbly water. You could even add fresh fruit juice instead. For a party, try mixing with lemon/lime soda (just make sure to exclude the added sweetener from the recipe or it might be too sweet). 
Makes a lovely breakfast or brunch beverage. Pair with bowls of salty, crispy popcorn for a special savory and sweet snack!
If you like a thinner texture, feel free to pour the fruit mixture through a fine mesh sieve before serving into glasses.
Calories: 88kcal | Carbohydrates: 21g | Protein: 1g | Fat: 0.5g | Saturated Fat: 0.03g | Polyunsaturated Fat: 0.2g | Monounsaturated Fat: 0.1g | Sodium: 36mg | Potassium: 207mg | Fiber: 3g | Sugar: 17g | Vitamin A: 260IU | Vitamin C: 47mg | Calcium: 21mg | Iron: 1mg
Strawberry Peach Spritzer recipe and article by Gina House. Vegan drink photography by J.J. Steele. Edited by Amanda Meth and Michelle Cehn.