We just debuted our new Guide to Vegan Knitting where you can find our list of many wonderful vegan yarn options available today. As an extension of that, we wanted to connect with other vegan knitting connoisseurs to see what knowledge they have to share with our readers at World of Vegan. Today we're excited to speak with Heidi, the owner and creator of the popular shop Vegan Yarn.
Heidi makes a gorgeous, plant-based yarn that I've personally used for my own designs and love.
If you've ever used an inexpensive, sturdy "kitchen cotton" for a project, you may think you know what it's like to knit with a plant-based, vegan yarn. But, I'm here to tell you that you're about to be blown away!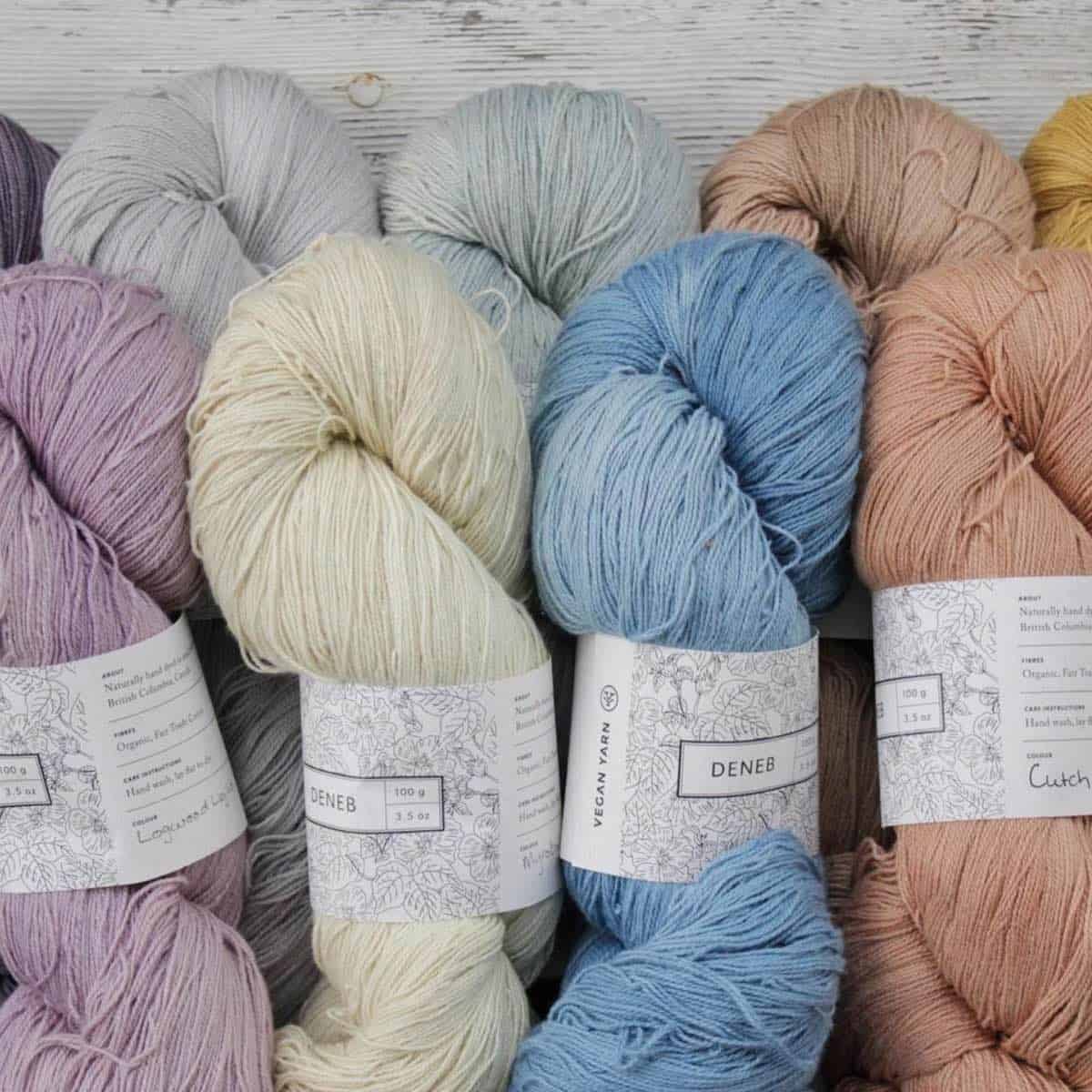 Get to Know Vegan Yarn
Knitting with Heidi's yarn is a heavenly experience. Her yarns are smooth, soft, and utterly luxurious. Vegan Yarn offers an amazing variety of yarn bases, like:
Bamboo
Organic Cotton
Eucalyptus
Tencel
…and other beautiful blends. They come in the most brilliant colorways in a variety of solids, variegated, tonals, and even sometimes striped!
Fall In Love With Ethically-Sourced Yarn
I've been completely spoiled knitting with this ethically crafted yarn and I have to tell you—it's brought my knitting to an entirely new, magical level of enjoyment. Instead of knitting for the purpose of wearing a lovely garment, I've found myself taking more time to just concentrate on the yarn and how it feels to my hands. The texture, weight, and softness of quality yarns are a pleasure to experience and I know you'll be as addicted as I am once you try it.
I also love how she offers eco-friendly packaging and other interesting and unique accessories, notions, and snacks on her website. Who doesn't want to grab a few awesome gifts for knitting friends (or for yourself!) once in a while? I know I do!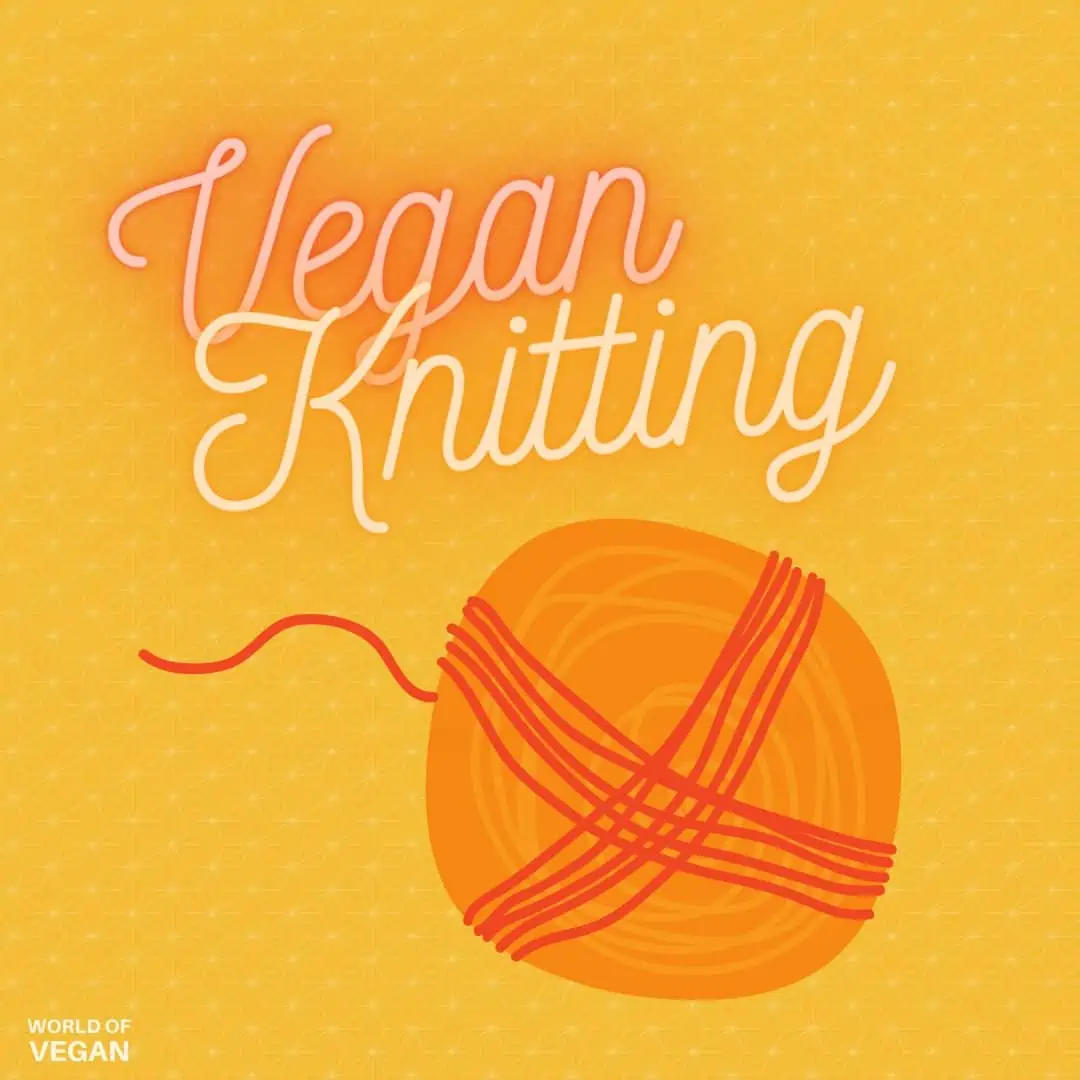 Interview With The Founder of Vegan Yarn
We wanted to chat with Heidi about her experience with vegan knitting and how she found her way to creating a totally plant-based vegan yarn shop. Well, are you ready to dive into our interview? Welcome, Heidi!
Hi Heidi! Would you please describe your vegan journey for us? How long have you been vegan? Why did you become vegan?
I've been vegan for about 13 years. I was vegetarian off-and-on before that, but I think it was just the simple matter of taking the time to learn about why going vegan is a good idea, and internalizing those things.
At first, I was really attracted to the health benefits, but they weren't enough for me to make the change permanently. It wasn't until I exposed myself to the extent of suffering that animal exploitation and speciesism causes that I became convinced. Watching a few vegan documentaries and reading books was really all it took to show me what was going on, and I no longer wanted to participate in something I considered so deeply unjust.
How and why did you start your company Vegan Yarn?
I've been a knitter since childhood, and once I became vegan, I decided I was going to transition my yarn stash as well.
At the time, the plant-based yarn selection was awful! There were very few options and the quality was very low (in my opinion). There were also no hand dyers working with plant-based yarns that could coax anything but faded and drab looking shades on flat, boring bases.
About 12 years ago I started with a few commercial yarns here and there, and tried dyeing them myself. At first, they weren't great, but I was intrigued by the various techniques, and kept at it. I took a spinning class, and that helped me understand yarn better as well. After a while I started listing the extras I had made on etsy to see if anyone else was interested, and in 2012 I started building the Vegan Yarn website, with yarn bases I had sourced from various producers that I liked, and dyed myself.
How do you find and purchase yarn for your online shop? Do you have a brick and mortar store?
It has been a long and steady process. I've tested all kinds of yarns, but very few become ones I use in the shop. It's quite tricky actually to track down mills that are willing to supply plant-based yarn to an independent dyer. I mostly work directly with mills, since most wholesalers that supply yarn for indie dyers only carry animal fiber, so I have to make very large orders and work my way through them.
Luckily, I have a family that's tolerant of having hundreds of kilos of yarn in our specially built yarn shed and the living room, half of which is also my office. Vegan Yarn is a home-based business, and I love running it that way. It gives me the freedom to work without interruption, and be flexible enough to spend plenty of time with my son, and do other fun side projects like volunteering and activism.
What is your vegan knitting philosophy in 3 sentences or less?
Practicing compassion and non-violence while deriving joy from color and nurturing activity. I try to evoke these values in every aspect of the business, and my hope is that it is apparent in every box that I mail out.
What do you love most about your company?
I'm so grateful that I am in a position to do what I love and get so much joy from it. I love participating in a process, where each knitter, crocheter, or weaver can take this yarn and interpret it in their own way, turning into something uniquely their own.
What are the greatest challenges that you face with your company?
Having to wear so many 'hats.' Since I'm a one-person operation, it's up to me to make things happen, and that can get a little overwhelming at times. It has gotten easier with practice, and just this year, I'm finally handing my accounting over to a professional, which is so exciting, since that's my least favorite part!
What is your most beloved yarn that you sell and why?
My favorite yarn is always the one I'm currently working with!
Which has been your favorite colorway that you've created?
I'm working on Ripple Bralette with Pleiades Sock in colorway Raspberry Speckle, and it's totally awesome! It's doing this really cool fade that was totally unexpected. I made one already, but this time I'm doing it as a long line bra by extending the hem quite a bit.
Favorite knitting accessories that you cannot live without (AKA What's in your knitting accessory bag right now)?
My stitch markers by Kristan MacIntyre. They're gorgeous, and I use them constantly.
Thanks, Vegan Yarn!
Heidi, thank you so much for sharing with the World of Vegan community! Vegan knitters are a growing group of like-minded people and your company really does make a huge difference in people's transition to veganism and also making their choice to become vegan even more secure knowing that they can continue their craft without contributing to animal cruelty.
For more information, please check out our Guide to Vegan Knitting and read about what's wrong with the wool industry (and why it's so important to choose vegan yarn).
HEIDI'S GIFT TO READERS:
Readers can get 15% off at veganyarn.com with the coupon code: worldofvegan
GINA'S GIFT TO READERS:
Readers can receive Gina's "Maitri" lace shawl pattern for FREE with the coupon code: worldofvegan here on Ravelry.
This Vegan Yarn article was written by Gina House for World of Vegan. If you have questions about vegan knitting, we invite you to contact Gina—you can find her on Instagram, Facebook, and Ravelry.