Ladle up a big bowl of comfort with every serving of this luscious vegan potato soup from Simple and Delicious Vegan by Michaela Vais. Thick, rich, and creamy, each bite tastes like a warm hug. Beginning from very humble ingredients, all it takes is a little time and love to create a memorable meal. The smell of it simmering away on the stove can lift spirits on a dreary winter day, or be cause for celebration on joyous events. There's always room at the table for more when potato soup is on the menu.
Also known as kartoffelsuppe, this version is easily the most popular soup in Germany. It's won over hearts and stomachs for centuries, and now you can enjoy the same beloved staple at home, and healthier than ever!
What Makes This Potato Soup Recipe Special
There are hundreds of thousands, if not millions, of recipes for potato soup out there, but you'll want to save this one as your go-to for just as many reasons. For starters…
Essential Ingredients For Vegan Potato Soups
How To Make Potato Soup
Don't worry about taking notes or studying for a pop quiz. After you've gone though the steps to make potato soup once, you'll ace this recipe every single time.
Heat the oil in a large stock pot over medium heat and sauté the onion for 3 minutes. Add all the remaining vegetables and spices and cook for another minute.
Pour in the vegetable broth, cover, and bring the soup to a boil.
Reduce the heat to medium-low and simmer the soup for about 20 minutes, or until the vegetables are fork tender.
Remove the bay leaves (if using) and compost or discard. Blend half of the soup either with an immersion blender or in an upright blender.
Pour the smooth, blended soup back into the large pot, add the dairy-free cream, and stir to combine. Simmer for a few more minutes, adjust the seasonings to taste, and enjoy!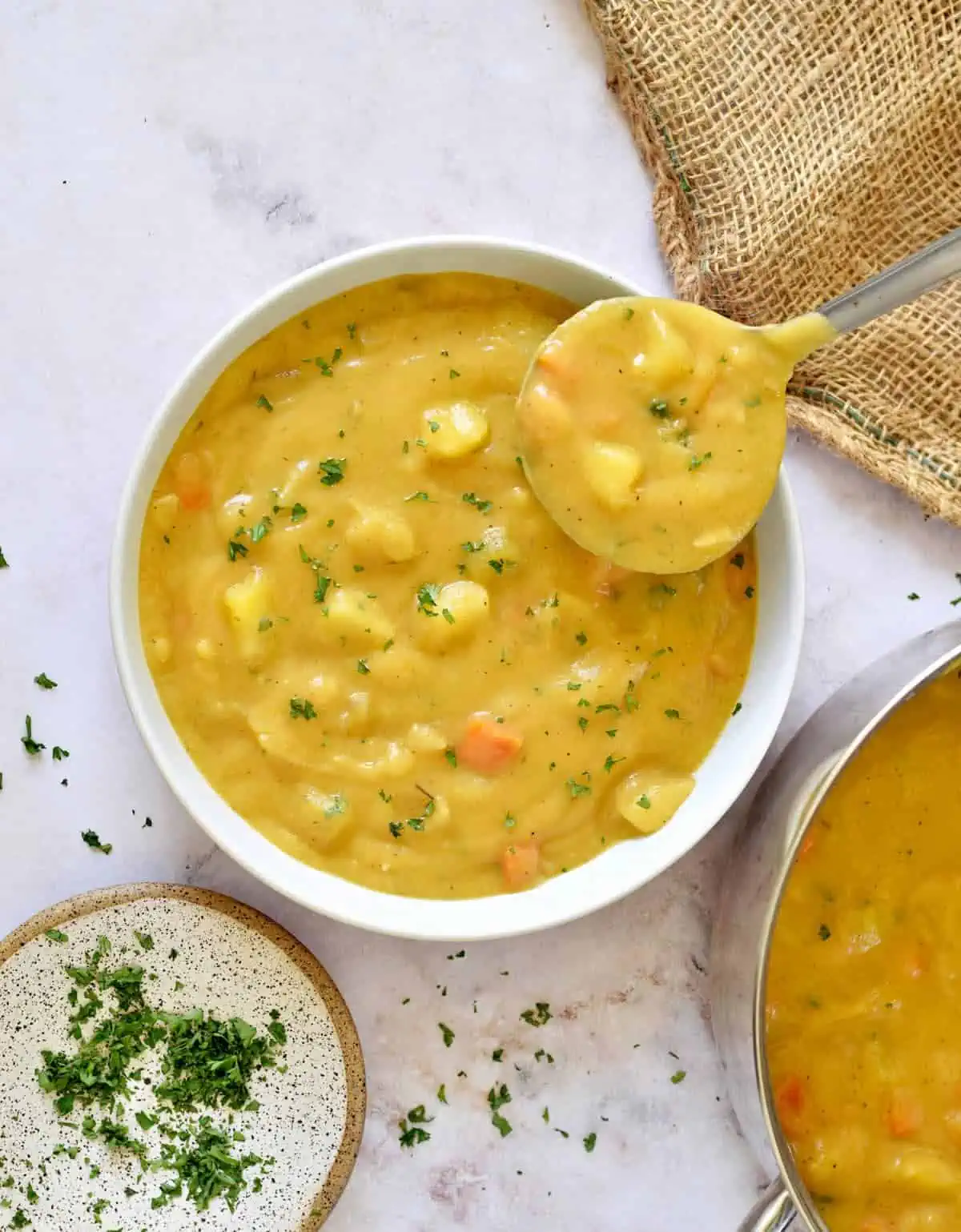 How To Serve Up Your Easy Potato Soup
The only way to top what's arguably the ultimate vegan potato soup recipe is with, of course, toppings! Think of it as a spoonable baked potato for inspiration and ideas. A few of my favorite finishes include:
To fill out a balanced meal, this soup pairs beautifully with a wide range of side dishes, such as:
FAQs
Is potato soup healthy?
Potatoes get a lot of flack as white starchy vegetables, but they have a whole lot of nutrition to offer! They're a rich source of B-complex vitamins, thiamin, niacin, pantothenic acid, and folate, in addition to many minerals such as iron, manganese, magnesium, copper, and potassium.
How long will leftovers keep?
Let the soup cool completely before storing in an airtight container for 3 to 4 days in the fridge. For long term storage, pack individual servings in separate containers and store in the freezer for up to 3 months. When you're ready to serve, let the soup thaw in the fridge overnight and then reheat in the microwave or on the stove top.
Can I make potato soup in the slow cooker?
Yes, this recipe is a great candidate for low and slow cooking! You can prep it in the morning and come home to dinner waiting for you at the end of the day. Cook the vegetables on the sauté function first, then add the broth and cook on low for 6 to 8 hours. Blend and serve!
More Perfect Potato Recipes To Try
If you love potatoes as much as we do, then here are more delicious and comforting recipes with potatoes at the forefront:
1 tablespoon oil
1 onion, diced
3 cloves garlic, minced
2 stalks celery (or 1⁄2 small celery root), diced (see notes below)
2 medium carrots, diced
4 cups Yukon Gold potatoes, chopped
½ teaspoon dried marjoram, see notes below
1 pinch nutmeg
½ teaspoon salt, plus more to taste
black pepper, to taste
4 cups vegetable broth or water
2 whole bay leaves, optional
⅓ cup dairy-free cream (see notes below)
red pepper flakes, optional, to taste
fresh parsley to garnish
Heat oil in a large heavy-based pot over medium heat and add the onion. Sauté for 3 minutes, then add the garlic, celery, carrots, potatoes, and all the spices. Sauté for a further minute.

Pour in the vegetable broth, add the bay leaves (if using), and bring the soup to a boil.

Then, reduce the heat and let the soup simmer for about 20 minutes, covered, or until the vegetables are tender.

Transfer half the soup to another pot, remove the bay leaves (if used), and blend one half with an immersion blender until smooth.

Alternatively, blend it in a blender, making sure to work in batches, hold down the lid, and avoid overfilling the blender.

This step helps to create an interesting texture of smooth and chunky, which makes this soup really delicious!

Pour the blended soup back into the large pot, add the dairy-free cream, and stir to combine. Allow it to simmer for a few more minutes, taste it, and adjust the seasonings (salt/pepper and red pepper flakes for heat) to your liking.

Serve in bowls, garnish with fresh parsley, and enjoy!
Celery: In Germany, it's traditional to use celeriac (celery root). However, if you can't find it, use celery stalks (ribs). Marjoram: I highly recommend using it as it adds wonderful flavor to this soup. If you don't have it, you can add a little thyme and/or rosemary. Dairy-free Cream: You can use any type (soy cream, oat cream, cashew cream, or canned coconut milk). Use plant-based milk for a low-fat version. Store leftovers covered in the fridge for up to 3 days.
Calories: 190kcal | Carbohydrates: 36g | Protein: 4g | Fat: 4g | Saturated Fat: 1g | Polyunsaturated Fat: 1g | Monounsaturated Fat: 3g | Trans Fat: 0.01g | Sodium: 865mg | Potassium: 825mg | Fiber: 5g | Sugar: 6g | Vitamin A: 3818IU | Vitamin C: 35mg | Calcium: 42mg | Iron: 2mg
About The Book
Michaela Vais, creator of Ela Vegan, has packed her new book Simple and Delicious Vegan with over one hundred recipes that are both vegan and gluten-free! This cookbook truly makes cooking healthy food simple and enjoyable. To make food prep even easier, recipes include ingredient shots, so you see what to buy—getting you cooking and eating faster! You'll find innovative gluten-free recipes for any time of day, allergy-friendly ingredient substitutions, delicious plant-based recipes like banana baked oatmeal, hearty lentil stew, and zucchini brownie and so much more!
Many thanks to our amazing recipe tester Ruth Havertz for testing this recipe! This vegan potato soup recipe and photos were reprinted with permission from Simple and Delicious Vegan by Michaela Vais. Published by Mango 2023.