Set sail on a seafaring adventure, complete with all the comforts of home! Vegan cruises are one of the most luxurious ways to travel, turning the journey itself into a large part of the fun, aside from the destination.
While in the past, you might have drifted into rough waters when traveling as a vegan, there's an incredible number of vegan friendly cruises now available for almost any destination. Before you pack your bags and hit the high seas, here's everything you need to know for smooth sailing.
How To Eat Vegan On A Cruise Ship
Not all cruises offer such robust vegan programs, especially depending on the time of year, destination, and specific ship. Don't panic! It's easy to cruise on a plant-based diet no matter the circumstances. It just takes a bit more prep work on your part.
Call ahead. Speak with an actual person, not just an automated chat bot, to let them know about any dietary restrictions (including and especially food allergies) well in advance.
Ask the waiter to confirm with the chef. Many ships include several different restaurants on board which is great for a more diverse selection of cuisines, but tough for consistent communication. Make sure everyone gets the note to keep it plant-based so nothing is lost in translation.
Hit the buffet. Especially for breakfast, you'll likely encounter a self-serve buffet to build your own plate. If all the ingredients aren't listed up front, don't be afraid to ask for details. Whole foods like plain white or brown rice, steamed, grilled, or roasted vegetables, beans, and cut fruits are almost always safe choices. Don't forget simple staples like pasta with marinara sauce or a good old veggie burger, hold the cheese!
BYOF (Bring Your Own Food). Whether I'm traveling across the globe or 20 minutes down the street, I always make sure I bring snacks. In case any meal planning should fall through, random cravings strike, or you just don't like what's being served, pack a plan B in the form of shelf-stable packaged foods. Protein bars, instant soup packets, trail mix, and granola are my go-to solutions. If you're staying in a room equipped with a mini fridge, stock up on fresh produce, hummus, and even prepared meals when you dock. Don't forget coffee creamer or non-dairy milk!
Special Vegan Cruises
Want to wine and dine with celebrity vegan chefs, enjoy a wellness retreat on the high seas, or participate in eco-friendly excursions? Join a special, all-inclusive program tailor-made for your needs.
Cruise the Caribbean on this annual departure that combines medicine, nutrition, and activism for the plant-based movement! Start the day with morning yoga, participate in inspiring workshops and lectures, unwind with nightly social events, and dig into fully vegan menus every step of the way.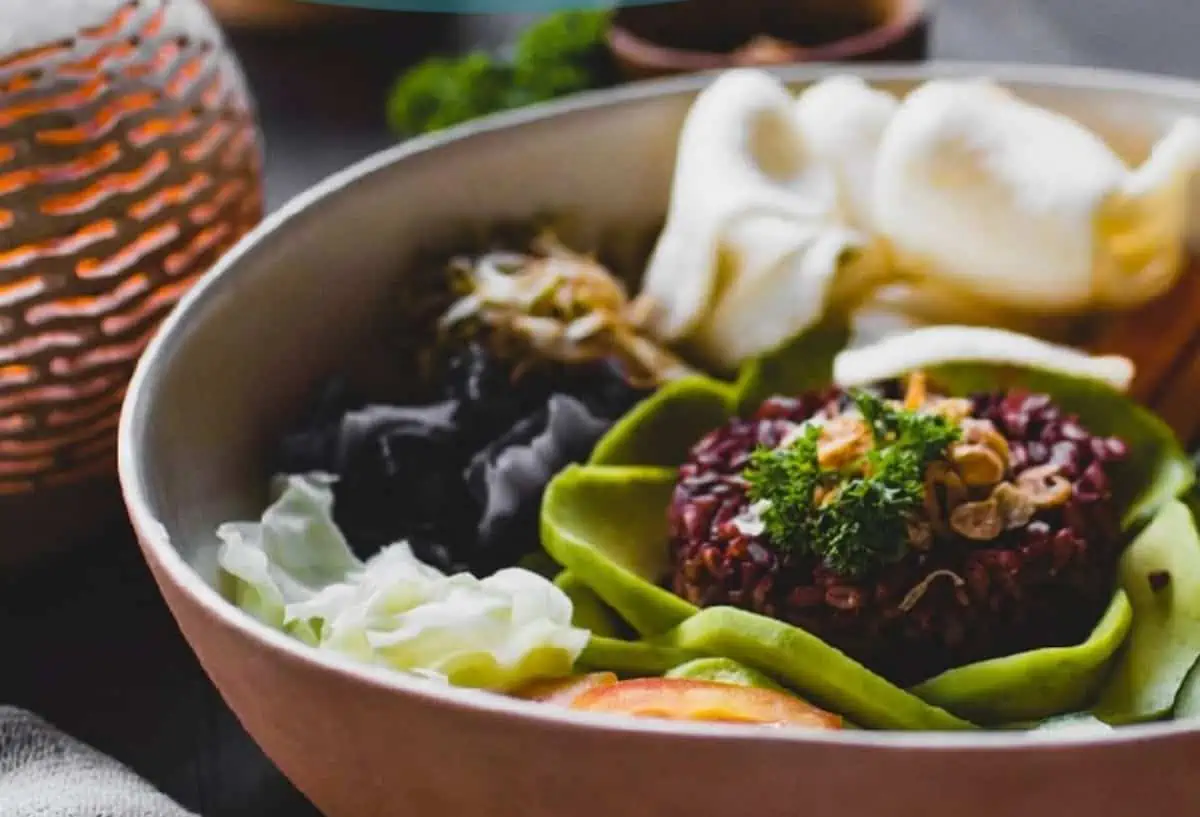 If you're the type of person that starts planning their dinner while still eating lunch, these are the food-focused adventures for you. Each unique vegan river cruise offers a menu curated by eminent vegan foodies, complete with tasting menus, wine pairings, and shore excursions to support local vegan businesses.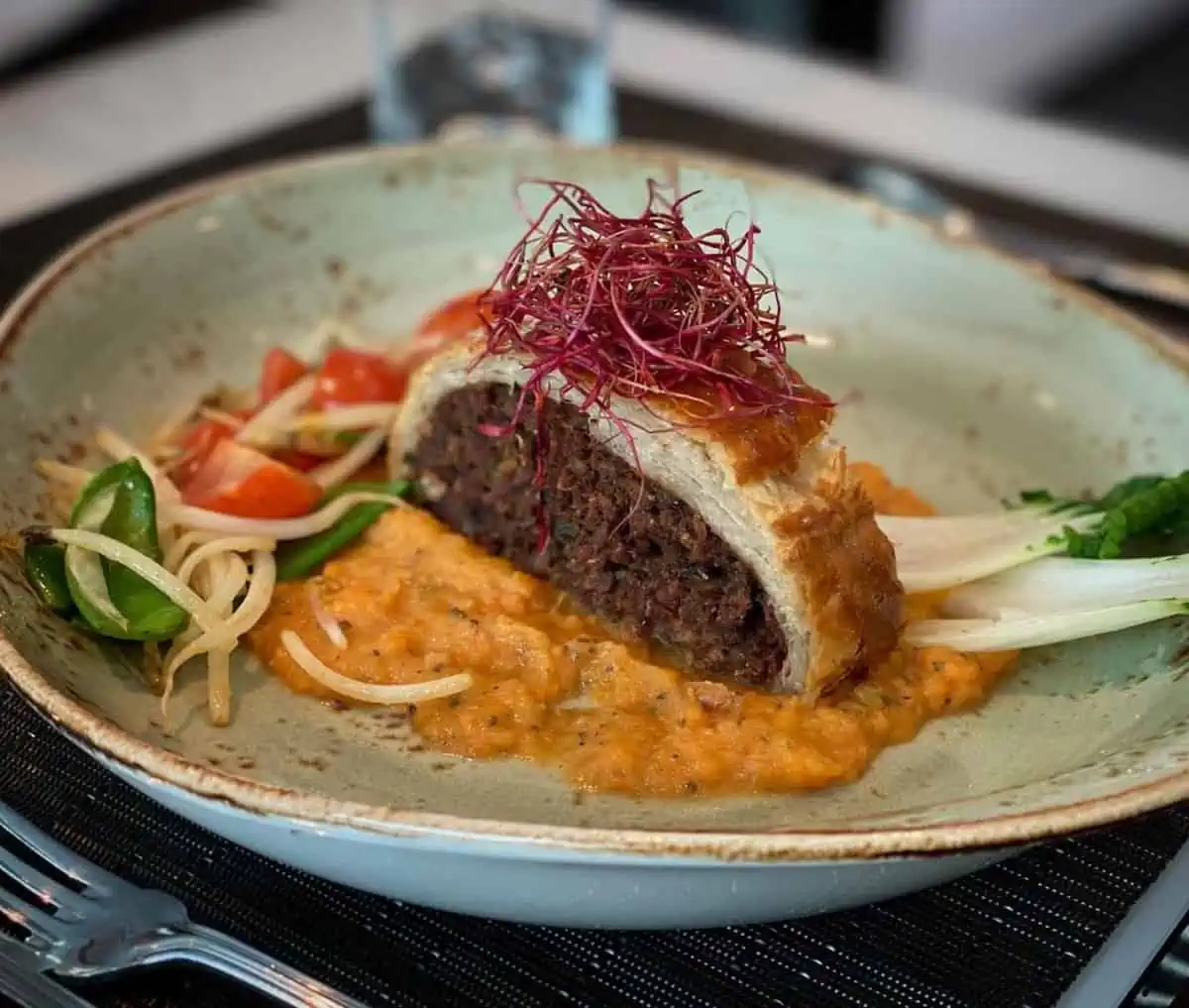 Vegan-Friendly Cruise Lines
Say "bon voyage" to the sad cafeteria fare of cruises past; these boats are truly floating cities, complete with fine dining, casual cafes, all-you-can-eat buffets, and everything in between. Enjoy a truly gourmet culinary experience without making any compromises to a plant-based lifestyle on these progressive, luxurious vegan-friendly cruises.
Disneyland and Disney World are famously vegan-friendly, so it makes sense that their newest cruise ship, Disney Wish, follows suit. Vegan options are available at every immersive dining experience, which means you can enjoy meatless stuffed cabbage rolls alongside the characters from Frozen and tofu udon straight from the Marvel universe.
Tour the world on a full stomach courtesy of the very vegan-friendly menus across all venues on these well-equipped ships. Some specialty restaurants offer separate vegan menus upon request, while others clearly mark vegan, gluten-free, and vegetarian options from one main listing. Tempeh kabobs and cauliflower steaks are standout entrees that shouldn't be missed.
There are literally hundreds of 100% vegan dishes to choose from onboard, available at the buffet, dining room, room service, and specialty restaurants. That's not just another sad salad, but crispy falafel, umami truffle mac and cheese, and spicy pad Thai noodles. Their two largest ships, the Marina and Riviera, also include a pool-side juice bar to keep you happy and hydrated.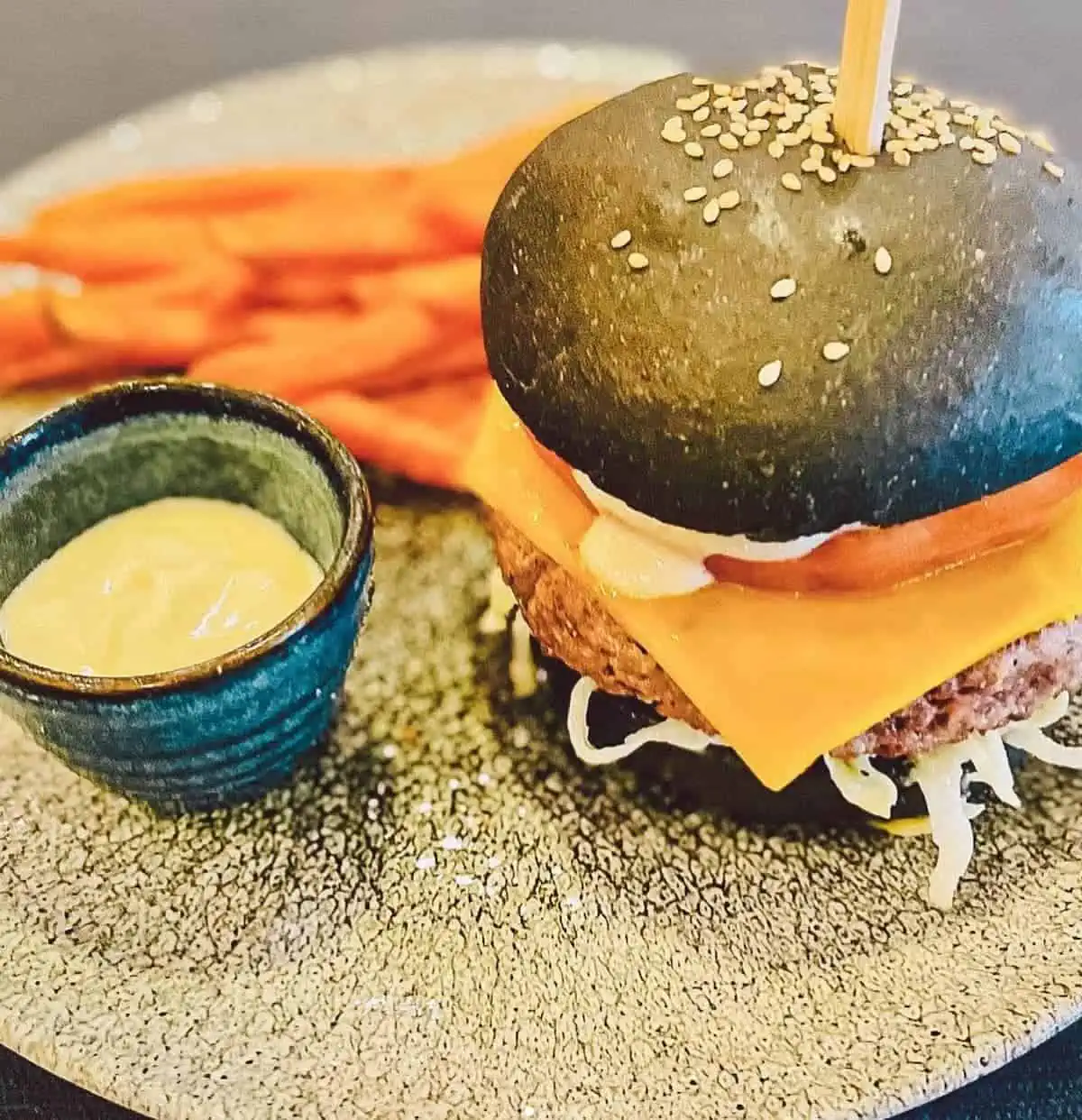 Princess Cruises now offers creatively crafted vegan menus in response to a growing demand for plant-based cuisine among its guests. These menus, available in the main dining rooms across their fleet of 15 ships, showcase gourmet vegan options that cater to various dietary preferences. The vegan offerings encompass a range of dishes, from starters like Black Beans on Toast to main courses like Plant-Based Shepherd's Pie. Guests can pre-order vegan options before their cruise or request them once onboard.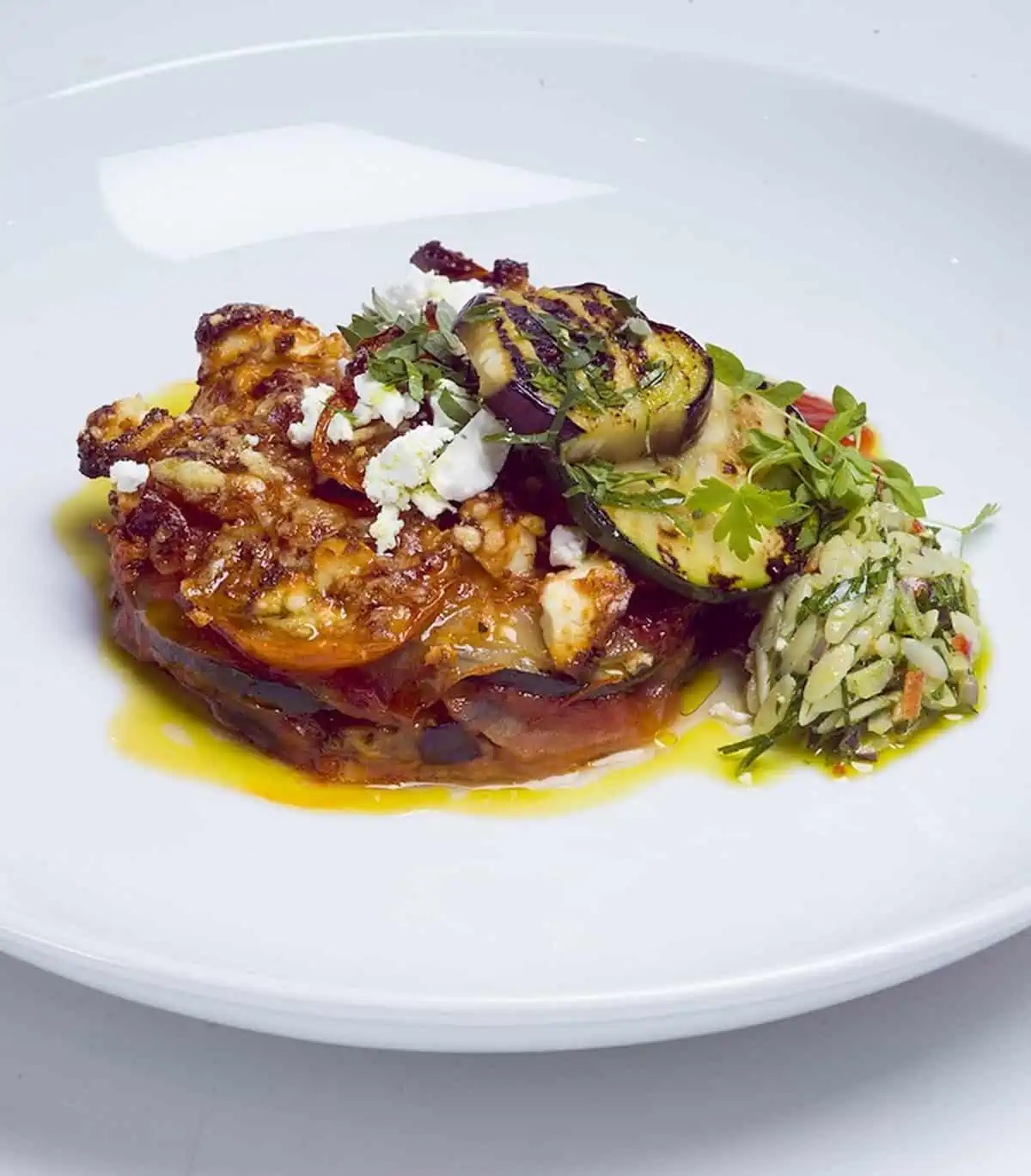 Dedication to all-inclusive luxury, this approach to gourmet travel extends to plant-based travelers too. There are over 200 completely vegan offerings woven within each distinctive dining experience, spanning the world's cuisines including Greek, Middle Eastern, Korean, Thai, Vietnamese, Mexican, Italian, Malaysian, and more. Embark on your journey to delicious adventures, where you can have your Summer Berry Pudding Chantilly and eat it, too.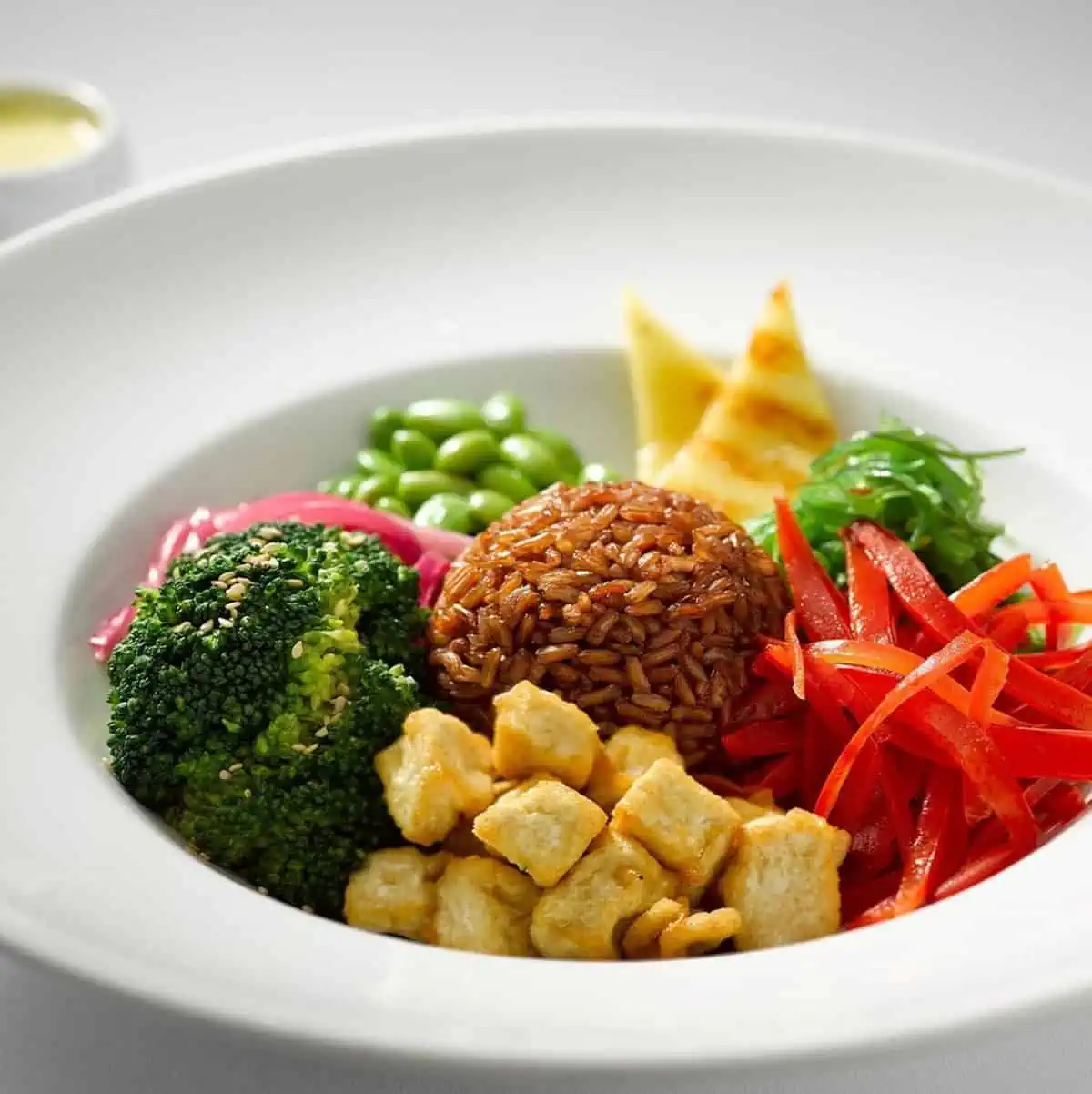 Vegan food was available only at the buffet or by special request for many years, but now everyone has the option to eat more plant-based meals! Dishes on the buffet may not be clearly labeled, so your best bet is to download the Royal Caribbean app, where you can also find specials not otherwise listed on the paper menu.
Separate vegetarian menus make it easier to pick out meatless mains, along with helpful markings indicating dairy-free dishes. Choices may be limited in specialty restaurants, but at the very least, you can always count on the pasta bar, cheese-less pizzas, and custom-made vegetable stir-fries.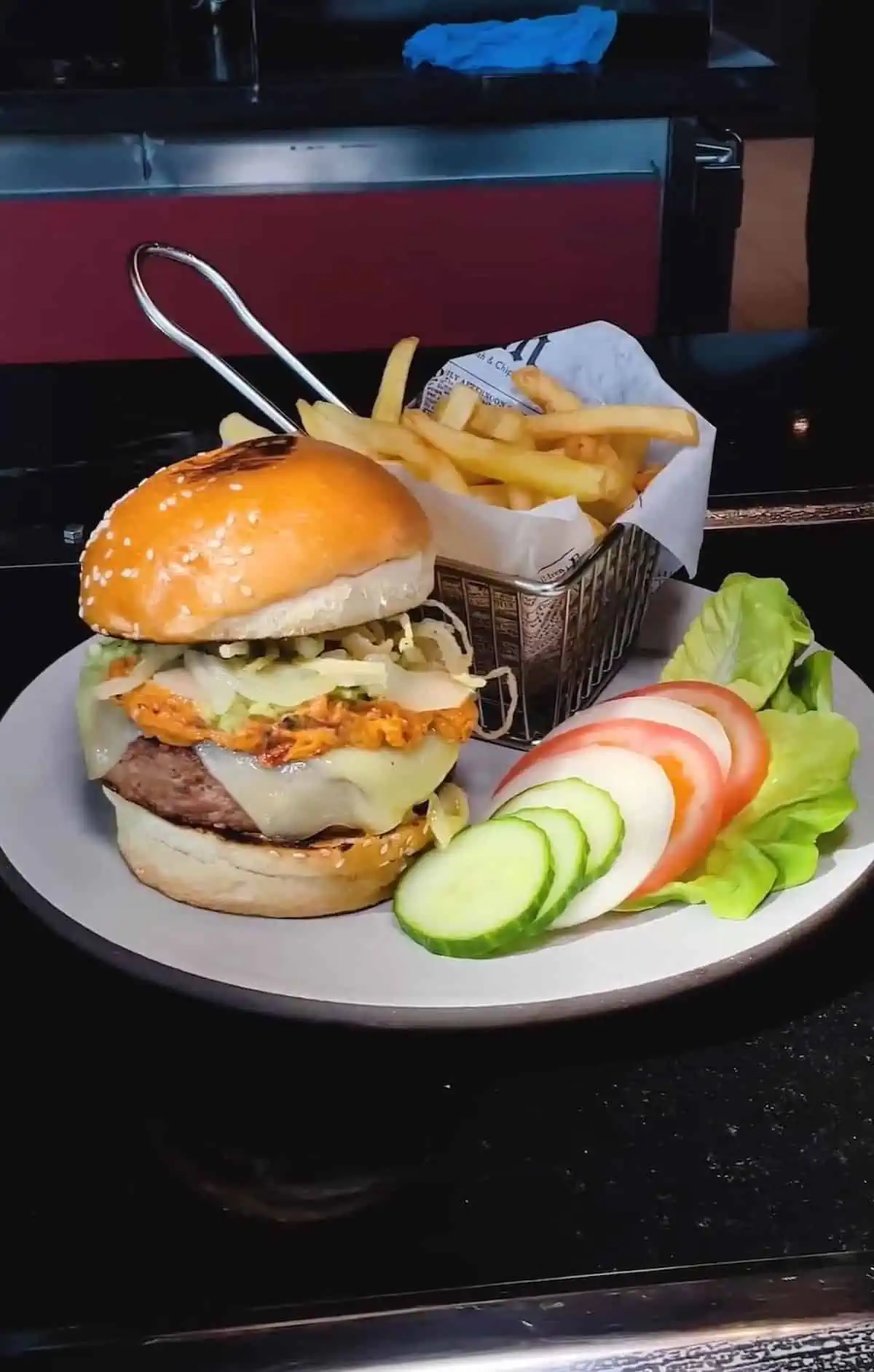 Vegan options are woven within the regular menus for each dining venue onboard, though dairy can be an omnipresent issue within set meals. At the very least, you can always count on flavorful Indian curries and hearty bean burritos. Rumor has it that the fancy steakhouse will even make you an off-menu special order if you ask, but your mileage may vary.
Sustainability and Ethical Considerations of Cruise Ships
Before you climb aboard the cruise ship, there are some ethical considerations to keep in mind.
If sustainability and ethics are important considerations in all aspects of your life, including travel, there are several concerns to keep in mind when it comes to cruises.
Food Waste
One of the main environmental concerns with cruises is waste. Cruise ships generate a lot of trash, including food waste, plastic bottles, and other materials that can harm marine life. To address this issue, many vegan cruises have implemented sustainability initiatives such as composting, recycling, and using biodegradable or reusable materials.
Another sustainability concern is the impact of cruise ships on local ecosystems and communities. For example, cruise ships can contribute to over-tourism, which can damage fragile ecosystems and put a strain on local resources. To mitigate this impact, many vegan cruises prioritize responsible tourism practices, such as supporting local businesses and minimizing their ecological footprint.
Treatment of Cruise Workers
In terms of ethics, there are also concerns around the treatment of cruise ship employees. Unfortunately, many cruise ship workers are not paid fairly or treated well, which can contribute to human rights violations. To address this issue, some vegan cruises partner with fair trade organizations or ensure that their employees are paid a living wage and have access to benefits and resources.
More Vegan Travel Advice And Inspiration