This vegan pad thai recipe is one of my favorite recipes of all time. I make it almost every week (sometimes two or three times) because it's that good. It checks all the boxes: it's budget-friendly, it's far healthier than the Pad Thai you find in restaurants, and most importantly, it's super delicious.
Better yet, you can easily modify this pad thai recipe depending on what veggies and other fun ingredients you have on hand (like tofu or vegan meat). I've made this with carrots, broccoli, kale, frozen peas, frozen spinach, tofu, and beyond. Any vegetables in my kitchen that need to be used up get tossed in! These are the Pad Thai noodles I use—but any will do.
Vegan Pad Thai
2017-02-09 16:37:34
Serves 2
This vegan Pad Thai is quick and easy to make, and is surprisingly reminiscent of that which you'd find at a restaurant—except it's healthier and far more budget-friendly. This recipe will make enough to fill two hungry bellies.
Ingredients
1 package brown rice pad thai noodles (8oz)
2 tablespoons olive oil
1 cup broccoli, chopped (plus other veggies you'd like to add)
1/4 cup julienned carrots
5 cloves garlic, minced
1 cup water
4 tablespoons soy sauce
2 tablespoons natural peanut butter
Juice of 1 lemon or 2 limes
3 tablespoons sugar
1 tablespoon Sriracha (plus more for topping)
Optional garnishes: grilled or fried tofu, sliced green onions, chopped peanuts, lime
Instructions
Soak brown rice pad thai noodles in hot water in a large bowl for 15 minutes or according to package directions.
In a large pan, sauté the broccoli, carrots, garlic, and any other veggies you add in olive oil for a few minutes.
In a separate bowl, whisk together the 1 cup of water with soy sauce, peanut butter, lemon or lime juice, sugar, and Sriracha.
Drain the soaked noodles and add them to the veggie stir fry pan along with the peanut sauce. Allow to cook until the liquid is absorbed, about 5 minutes.
Serve with optional garnishes like tofu, sliced green onions, chopped peanuts, Sriracha, and/or a sliver of lemon or lime.
World of Vegan https://www.worldofvegan.com/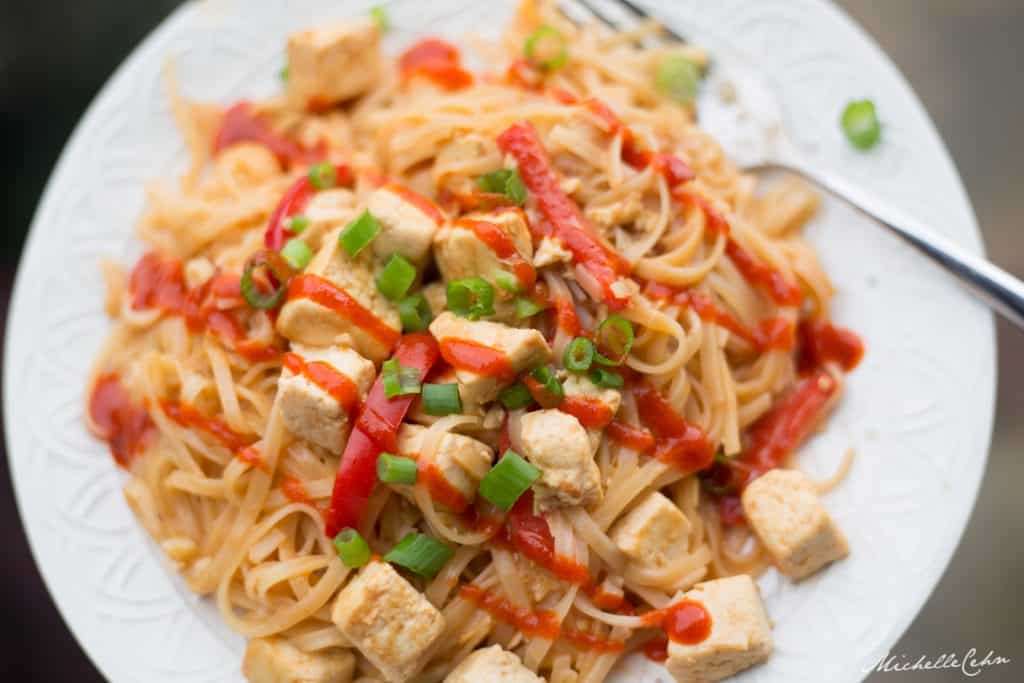 I hope you enjoy this recipe and that it becomes a staple in your kitchen as it has in mine.