This easy vegan pad thai recipe is one of my favorite recipes of all time. I make it almost every week (sometimes two or three times) because it's that good. It checks all the boxes: it's budget-friendly, it's far healthier than the pad thai you find in restaurants, and most importantly, it's super delicious.
Better yet, you can easily modify this pad thai recipe depending on what veggies and other fun ingredients you have on hand (like tofu or vegan meat). I've made this with carrots, broccoli, kale, frozen peas, frozen spinach, tofu, and beyond. Any vegetables in my kitchen that need to be used up get tossed in! These are the pad thai noodles I use—but any will do.
1 package of brown rice pad thai noodles, 8oz
2 tablespoons of olive oil
1 cup of broccoli, chopped (plus other veggies you'd like to add)
¼ cup of julienned carrots
5 cloves of garlic, minced
1 cup of water
4 tablespoons of soy sauce
2 tablespoons of natural peanut butter
juice of 1 lemon or 2 limes
3 tablespoons of sugar
1 tablespoon of Sriracha, plus more for topping
optional garnishes: grilled or fried tofu, sliced green onions, bean sprouts, chopped peanuts, lime
Soak brown rice pad thai noodles in hot water in a large bowl for 15 minutes or according to package directions.

In a large pan, heat olive oil and sauté the broccoli, carrots, garlic, and any other veggies you'd like.

In a separate bowl, whisk together the 1 cup of water with soy sauce, peanut butter, lemon or lime juice, sugar, and Sriracha.

Drain the soaked noodles and add them to the veggie stir fry pan along with the peanut sauce. Allow to cook until the liquid is absorbed, about 5 minutes.

Serve with optional garnishes like tofu, sliced green onions, chopped peanuts, Sriracha, and/or a sliver of lemon or lime.
Serving: 2g
Pad Thai Beyond the House
Pad thai is a staple in Thai cuisine and is commonly served as a street food and at most restaurants in Thailand. Vegan pad thai is easy to come by in many places, including Thailand! Here are some tips to abide by if you're ever ordering pad thai at a restaurant:
Fish-Free, Please – Pad thai traditionally contains fish sauce so if you're ever dining out, be sure to communicate that it's omitted or that soy sauce be substituted instead.
Rockin' the Mock Duck – Since tofu and seitan are Asian foods (though Chinese in origin rather than Thai), finding a solid meat substitute at a Thai restaurant or food cart should be no problem! Mock duck is incredibly common even at Thai spots that aren't all-vegan.
Leave Out the Egg – Scrambled egg is commonly used when preparing pad thai but tofu makes a great substitute! If you find yourself in a place (like a friend's dinner party) to be able to add an egg alternative like JUST Egg, then go for it!
How to Store Your Leftover Pad Thai
Since pad thai is a very filling dish, you may find yourself with leftovers! Pad thai will keep for up to three days in the fridge but may become soggy due to the noodles absorbing the sauce. Freezing is especially not recommended for this dish as the texture will be greatly affected, so try to make only what you plan to eat!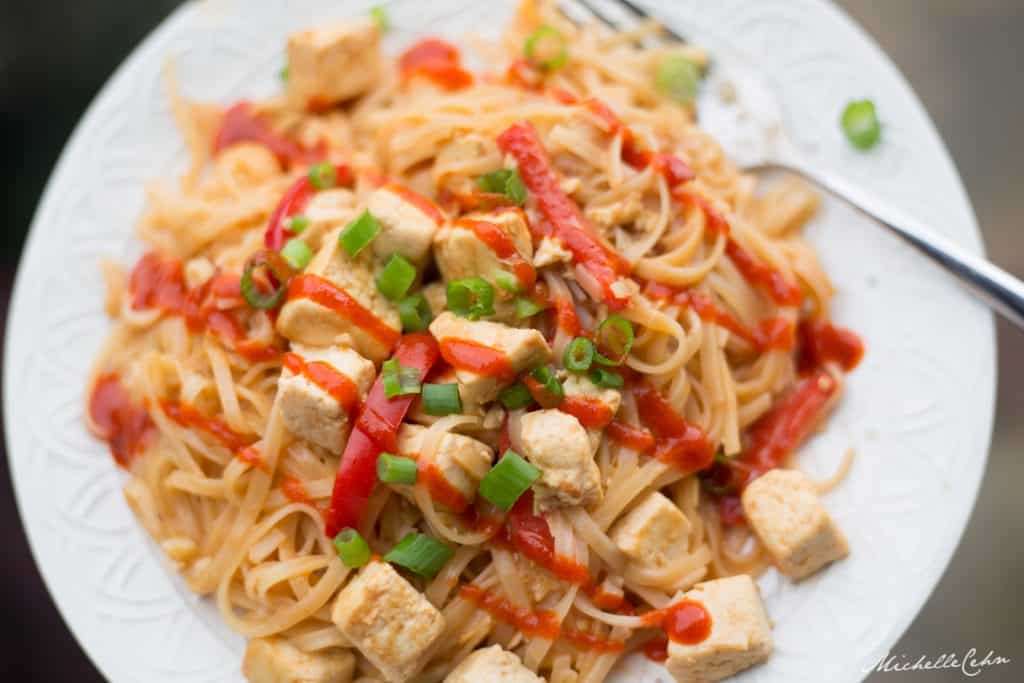 More Delicious Thai Recipes to Try:
Vegan Pad Thai recipe and photos by Michelle Cehn, copyright of World of Vegan, all rights reserved. Article written by Michelle Cehn and edited by Amanda Meth. Please note that this article may contain affiliate links which supports our work at World of Vegan.