The base ingredients in falafels are so healthy, but most falafels prepared in restaurants—or even pre-packaged in stores—are either deep-fried or filled with artificial ingredients (or both!).
This falafel recipe uses traditional ingredients like chickpeas, garlic, onions, and fresh herbs…but they're baked instead of fried and they're oil-free! You can even make them gluten-free if you'd like by using gluten-free bread crumbs (just double-check to make sure they don't contain eggs or dairy).
Homemade Baked Falafel Sandwiches
These homemade falafel balls are delicious stuffed in pita bread (which is usually vegan) and loaded with fresh vegetables like tomato, red onion, cucumber, mixed greens, fresh herbs, and avocado. A naturally vegan Middle Eastern classic!
I added very finely chopped parsley to classic lemon tahini sauce to make the dressing. But if you're not a fan of tahini (whaaaaat?), feel free to swap it out completely for hummus! This oil-free hummus works beautifully in these vegan falafel wraps. But you can also use this Jalapeno hummus or even roasted beetroot hummus for a fun pink pop of color! If you want to go one step further, make or buy some vegan tzatziki and you're set.
Ways to Enjoy These Baked Vegan Falafels
Falafel is traditionally served up in a warm pita bread with mediterranean fixins, but you can get creative with your falafel balls to make all sorts of filling vegan meals!
Falafel Served With Hummus, Cucumber, and Tomato
Vegan Falafel Pita
Hummus Wrap with Mashed Falafel
Hummus Sandwich With Falafel
Fresh Green Salad With Crumbled falafel On Top (great alternative to croutons)
Grain bowl (like a Buddha bowl, quinoa bowl, or rice bowl) with roasted veggies, tahini, and vegan falafels
Plain Falafels As a Finger Food With Your Favorite Tahini or Hummus Dip
Alternatives to Pita Bread
Admittedly, nothing beats fresh soft pillowy pita bread for the perfect falafel sandwich. But if you don't have pita on hand, you can use any tortillas! In a pinch, sandwich bread will work as well.
Aquafaba FTW!
If you haven't cooked with aquafaba yet, seriously get on it! This magical ingredient (the liquid from a can of chickpeas) is used in this recipe because it simulates eggs. Use just 1 tablespoon of aquafaba to bind all of the ingredients together. It's also helpful because it makes the falafels crispy, even though there's no oil and they're not fried.
No Food Processor…No Problem!
If you don't have a food processor, no problem! The method without a food processor is simple. Just mash the chickpeas in a bowl with a potato masher until they are mostly broken down, but there is still some texture. Finely chop the onion, parsley, and garlic, then add it to the bowl along with the rest of the falafel ingredients.
I typically don't have breadcrumbs in my pantry, so I have a little hack to make my own! Toast some plain white bread (I used 2 slices of toast for this recipe) until it is golden brown, then add it to your blender and blend! Voilà.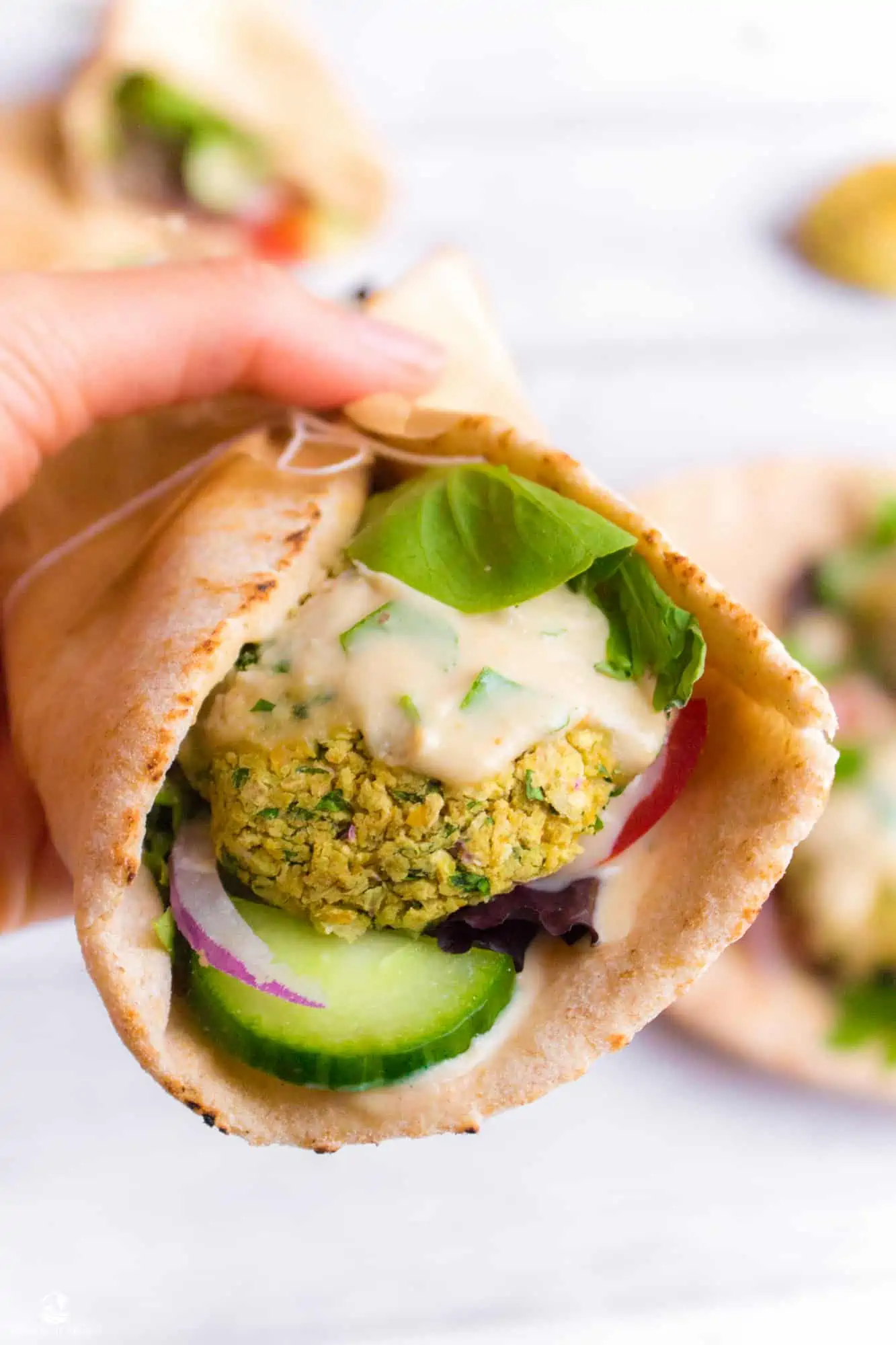 Baked, Fried, or Air Fryer Falafels
This recipe specifically teaches you how to make baked falafels, but falafels are traditionally fried! These days it seems like everyone has an air fryer, which is another great option—especially for reheating your leftover falafels!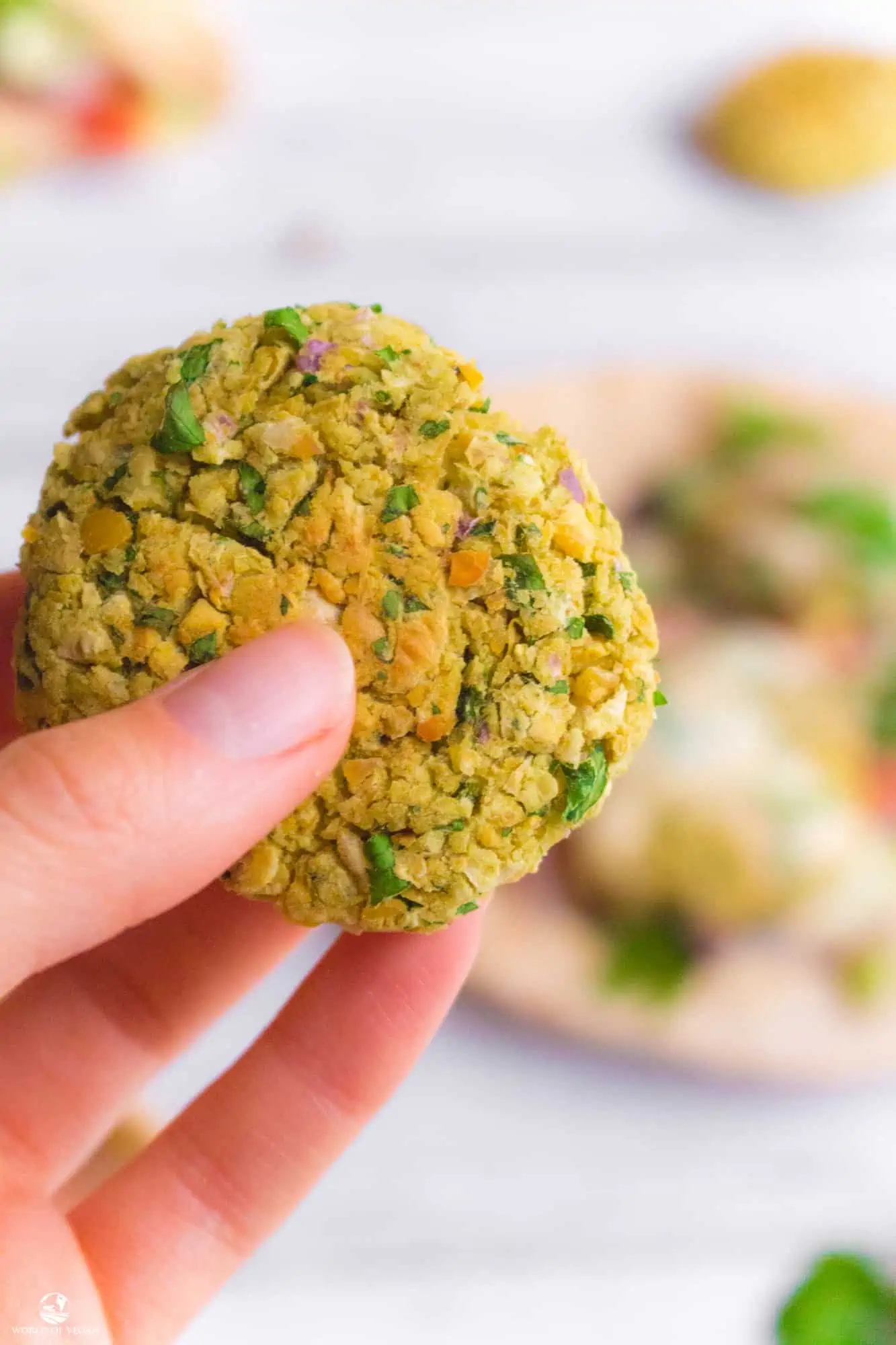 The Magical World of Chickpeas
Chickpeas (also known as "garbanzo beans") are quite magical and versatile beans. Yet often I hear from those who are new to plant-based cooking that cans of chickpeas sit in their pantry month after month gathering dust. Let's fix that right now!
Not only are chickpeas loaded with protein and healthful nutrients, but they can be tossed in salads, used soups, blended to make creamy hummus, and the brine from chickpeas can even be used to make fluffy whipped cream and meringue cookies.
Falafels
½ cup red onion
½ cup packed fresh parsley
2 cloves garlic
1 14-ounce can chickpeas
¾ teaspoon cumin
½ teaspoon salt
¼ teaspoon pepper
⅔ cup breadcrumbs
1 tablespoon aquafaba, the liquid from a can of chickpeas
Lemon Parsley Dressing
½ cup tahini
⅓ cup water
¼ cup packed fresh parsley, finely chopped
2 tablespoon lemon juice
1 teaspoon maple syrup
¼ teaspoon salt
pinch pepper
4 pita breads
Toppings Can Include:
Tomato, red onion, parsley, cilantro, mixed greens, cucumber, avocado, and more
Preheat your oven to 375 degrees F. Line a baking tray with parchment.

Add the onion, parsley, and garlic to a food processor. Pulse for a few seconds to chop the ingredients.

Add the chickpeas, cumin, salt, and pepper, and pulse a few times until the mixture is combined but some chickpeas pieces still remain (don't over process it to the point where it's completely smooth).

Transfer the chickpea batter to a medium bowl.

Add the breadcrumbs and aquafaba and mix the batter by hand until it's well combined.

Use a ¼ cup measuring cup to scoop the batter and form 9 falafel balls. Line them on the tray.

Place the baking tray on the center rack of the oven and bake for 15 minutes. After 15 minutes, gently flip the falafels and bake for an additional 10 minutes.

While the falafels are baking, whisk together all of the tahini sauce ingredients in a medium bowl. You can add more water if you prefer a runnier texture. Adjust seasonings to taste.

Remove the falafels from the oven.

Prepare your toppings and stuff your pitas with 2-3 falafels each. You can stuff these pitas with a variety of fresh vegetables such as tomato, red onion, parsley or cilantro, mixed greens, cucumber, avocado, and more.
Serving: 2g | Calories: 425kcal | Carbohydrates: 56g | Protein: 13g | Fat: 18g | Saturated Fat: 3g | Polyunsaturated Fat: 8g | Monounsaturated Fat: 6g | Sodium: 888mg | Potassium: 359mg | Fiber: 4g | Sugar: 3g | Vitamin A: 974IU | Vitamin C: 21mg | Calcium: 154mg | Iron: 4mg
More Vegan Chickpea Recipes:
Hungry for more vegan chickpea recipes? Check these out:
Also, check out 25+ more ravishing wrap recipes here!
This vegan falafel wrap recipe and photos are by Kathy Chrzaszcz for World of Vegan. Recipe and photographs copyright of World of Vegan™, all rights reserved. Article edits by Amanda Meth. Please note that this article contains affiliate links—shopping through them helps keep the lights on at World of Vegan!