Did you know that we have more readers in London than any other city? London has become one of the vegan capitals of the world. So we had to highlight some of the very best vegan restaurants in London that are inspiring massive waves of people to embrace a plant-based lifestyle. Whether you're looking for vegan afternoon tea in London, vegan bakeries, vegan brunch or breakfast spots in London, vegan butchers, or fine dining, we've got you covered.
Coming from a place where being vegan was "exotic," to say the least, living in London has been a life-changing experience. It's such a vibrant city full of buzz and history. I fell in love with its cultural diversity and the endless opportunities open to everyone to explore. When my family and I decided to move here I was a bit scared of the famous "London Fog," but it's really not as bad as they say it is.
If you're feeling homesick and craving a hearty plant-based patty, there's no shortage of all-American meatless burgers to chose from. Don't forget, French fries are "chips" across the pond here!
Best Vegan Breakfast & Brunch London Has to Offer
If you think Americans like their brunch, just wait until you see how they go about it in the UK. The very concept itself originated in Britain in the 19th century, making us the ones late in waking up to the trend. For real brunch done the right way, you need to try these vegan hot spots.
You will love this cute fully vegan restaurant with a stellar Saturday brunch! You need to try their vegan brioche with scrambled tofu, carrot lox, and hollandaise if you like a french twist but you can always go with their classic full English (seitan sausage, baked beans, garlic mushrooms, roast tomato, scrambled tofu, spinach, and sourdough toast). Saturday brunchin!
Mildreds: Worldly Flavors
Explore the world on your plate, starting bright and early with a kimchi toastie, harissa scrambled tofu, or a comforting stack of blueberry compote pancakes with maple cream. Find British classics cozied up to Indian curries, Middle Eastern mezze plates, and all the tea you can drink. Weekend brunch is the most popular time to visit, so come early or prepare to wait for a table until the crowd subsides.
Unity Diner: Old School Meets New School
For retro vibes and innovative plant-based takes on essential greasy spoon dishes, it's hard to beat such a perfect combination even in the states. The menu is the same 7 days a week, all hours of the day, but you'll never be disappointed by ale-battered tofish and chips, coconut-based mozzarella cheeze sticks, and an extensive list of cocktails to get the weekend started. Most drinks can be made into non-alcoholic mocktails as well.
123Vegan: Break with Tradition (100% Vegan)
Who goes to the mall for breakfast? Anyone who's in the know and heads straight to the basement of the Fenwick Mall, that's who! Morning fare is served until noon, when you can get your fill of fluffy buckwheat pancakes, avocado toast, fresh pressed juices, and a proper "Vinglish" breakfast with meatless sausage, tofu scramble, beans, toast, and the works. It feels like a completely different restaurant when the clock strikes 12, switching over to fish-free sushi, burgers, and quesadillas for lunch and dinner.
The British are renowned for their love of sweets. Rest assured that vegans aren't left out on that sugar rush. You can feel like a literal kid in a candy shop here, at any age.
Best Vegan Burgers in London
Inspired by a fateful trip to the west coast, these burgers are fast, fresh, and keep vegetables front and center. That means you have a wide range of meaty mains at the center of each sandwich, from simple Beyond Meat to crispy fried "chicken, and even a true veggie burger made with eggplant, tempeh, and chickpeas, all pile high with flavorful fixings. If you fall in love with the sauce, you're not alone; they bottle their mayo and cheezy sauce to take home with you for an edible souvenir.
Vburger: Fun and Unfussy
Fans rave that this is the best stall in all of Camden Market, which is quite lofty praise, indeed! As boldly seasoned as they are colored, turmeric-tinted buns practically glow alongside the rainbow of produce nestled within. Make no mistake, these are seriously rich hand-held meals that could satisfy the most monstrous appetites.
Though perhaps best known for their luscious mac and cheese, the Wulf Burger is by far the most popular entrée. It all starts with a seitan patty topped with pickles, sauerkraut, mayo and cheese, all made from scratch, in a seeded brioche bun. It's simple, classic, and simply done right. There are two convenient locations to get the same satisfying experience.
If there was ever a vegan butcher of London, it would be Rebecca McGuiness. Working her way up from market stalls, festivals, and special events, her handmade crispy chicken fillets and meaty burgers tasted like a whole different animal from conventional vegan options. There are now seven locations of the wildly popular restaurant across the UK, with a full-scale European invasion planned for the near future. Try the Temple Burger, made with a southern fried seitan fillet, ranch mayo, lettuce, pickles, and seitan bacon, and you'll become a believer too.
London's Healthy Restaurants & Juice Shops
This little cafe is located in one of the coolest parts of Westbourne Grove. It already has it's regulars so avoid going at peak lunch hours. Apart from the freshest and greenest juices, this place has the best Açaí Bowl I've ever eaten! They are massive and rich with special made chocolate granola on top. If that's not enough to lure you in, let me tell you that you can find delicious sandwiches and salads to go or eat in.
Psst! A little tip… you can buy their granola to take home with you!
Best Vegan Afternoon Tea Spots in London
No trip to London is complete without afternoon tea! Slow down, take a seat, and enjoy a gorgeous array of delicately decorated pastries, savory snacks, and sip-able tea. These are just a few of the many vegan afternoon tea options London has for you.
100% Vegan Afternoon Tea Spots:
High Tea With Vegan Options:
Vegan Cafes in London
Start with a bracing black coffee at this feline-friendly shop for an instant mood boost, even if the weather is grey and dreary. Though the breakfast specials are sporadic and frequently rotated, you can't go wrong with any sort of tofu scramble. There are always freshly baked muffins, pastries, and other light nibbles to tide you over through a long morning, too. The chefs pride themselves at rarely following recipes, so don't expect to ever get the same meal twice; cherish every bite!
Leaf Wild Cafe: The Breakfast With A Side of Laptop!
Okay, okay, this restaurant isn't 100% vegan. But it made it onto this list for a reason! This newly-opened vegetarian cafe is charming and cozy. It makes it easy to forget the crazy busy life that's going on outside its doors. Leaf Wild Cafe is the perfect spot for taking your laptop and working for a couple hours while enjoying a freshly made breakfast.
Their "Buckwheat Pancakes" are to die for, and with a creamy Matcha Latte on the side, this is a match you don't wanna miss. The vibe is friendly and laid back which is what I always look for in a work-friendly cafe. They even have a room to rent for events if you are planning your next meet-up or workshop!
Parle Pantry: The Pretty Village Cafe!
This beautiful fully vegan cafe located in Chiswick, West London has so many favorites of mine! The vegan almond croissant is amazing and their potato borek is a rare but successful find. They have fresh salads, a New York deli sandwich, and the classic vegan sausage rolls. It is truly worth a visit, and even better if you can combine it with the monthly Chiswick flower market (or their flea market) on a Sunday.
Date Night Worthy Restaurants
This small but extremely charming spot near Westbourne Grove is a gem! An exciting but precise menu with starters like "Corn Chips with Turmeric Hummus and Guacamole" and mains such as "Wild Mushroom Black Rice Risotto" (my favorite!). And the dreamiest "Banoffee Pie" with walnuts and coconut whipped cream. The atmosphere is cozy and romantic and would be ideal for a date night or a more formal catch-up with a friend.
Farmacy: The Pretty & Healthy!
This gorgeous place is full of green and makes you feel like you're sitting in a Pinterest home inspiration board! Guided by Hippocrates' motto "Let food be thy medicine and medicine be thy food," their menu takes healthy to a whole new level. From syringe shots to pharmaceutical teas, you're sure to leave feeling more zen than ever.
Don't be scared by the holistic names on the menu though because the food is amazing! Their "Sweet Potato Falafels" are a must, as is their "Mexican Bowl." But with such a wide selection of beautifully crafted dishes, it's really hard to choose. I advise you to look at the (very lengthy) menu beforehand and do your homework. One of the coolest things Farmacy offers is the experience of (vegan) High Tea. If you are visiting London this is a must!
Vegan Friendly & Vegetarian Restaurants in London
Farm Girl: The Quick Brunch! (Vegan friendly)
This is a cool place for sure, and very popular! Hidden in a courtyard at the beginning of Portobello Road, you'll notice the long queues at lunchtime during weekdays. The Australian-inspired vegetarian menu is perfect for a quick brunch with friends and has plenty of vegan options.
From their "Sunny Oats" and "Avocado Toast" to the amazing "Coconut BLT Sandwich" (my go-to!), you'll love it! This cute spot will support your late-morning breakfast cravings extremely well.
And wait! You cannot leave this spot before trying their beautiful (and yummy!) "Rose Latte" or "Lavender Latte." And don't forget to check out their Chelsea location!
The Gate: The Exquisite & Intimate! (Vegan & Vegetarian)
This cozy restaurant with more than 4 venues across London (Hammersmith, Marleybone, Islington & St Johns Wood), has few dishes but they are something to remember. My favorite is the green dragon salad and the wild mushroom risotto cake, but their chunky herb polenta chips are a must. If you have room for dessert, order the tiramisu!
Vegan Sushi in London
London Vegan Butcher
Vegan Asian Restaurants in London
Best Vegan Bakeries in London
Look ma, no allergens! You won't find any gluten, dairy, soy, nuts, eggs, or cane sugar in these pastry cases, though you'd never know it from the looks or taste. This is a real hidden gem within the Borough Market, so don't give up the hunt until you find sweet relief. Everyone raves about their fudgy brownies, tender shortbread cookies, and creative celebration cakes. You can also find some of these treats in nearby Whole Foods Markets if the original stand eludes you.
Order ahead, on demand, to pick up delicate tarts, tiramisu, layer cakes, and crisp meringue cookies made just for you. In keeping with Italian tradition, you can also get savory delights like lasagna, focaccia, and polenta that the most discerning Nonna would approve of.
Think outside of the pint to try more unique frozen flavors, like extra dark chocolate with Calabrian chili, or Sicilian pistachio, named as one of London's Best in UK Top 50. Vegan options are clearly labeled and even include milkshakes and a sweet potato waffle base when you want to mix up the standard sundae.
London's Vegan Donut Shops
Doughnut Time: Vegan Donut Shop Cravings Like Clockwork
There's never a bad time for doughnuts, especially if they're stuffed with Biscoff cookie butter, drizzled with caramel sauce, or dipped in chocolate fudge glaze. Find a decadent selection of vegan options at the numerous stands around the city, or get them shipped free to anywhere in England, Wales, or mainland Scotland.
Considered a luxury doughnut shop, every bit as much care and attention goes into their line of vegan fried treats. Chia seeds and coconut butter enrich the dough, alongside oat milk, and silken tofu to make the fillings and glazes. The Crosstown Marylebone, London store is dedicated to serving only vegan sourdough doughnuts, specialty coffee, and a selection of other vegan delights.
Restaurants of Yesteryear (RIP to these Closed Restaurants)
by Chloe London
This hip restaurant is not a new one if you've visited the By Chloe locations in New York or Los Angeles. But it was pretty neat that they opened shop in the middle of the hip and lively Covent Garden and next to tower bridge! But by Chloe closed their doors and are no longer an option in London.
And The List Goes On!
These are just a few of the many amazing vegan restaurants you'll find in London. New vegan restaurants in London are opening their doors all the time, which is quite exciting. And a lot to keep up with!
Want to go deep into the vegan London scene? Check out this "Vegan London" book!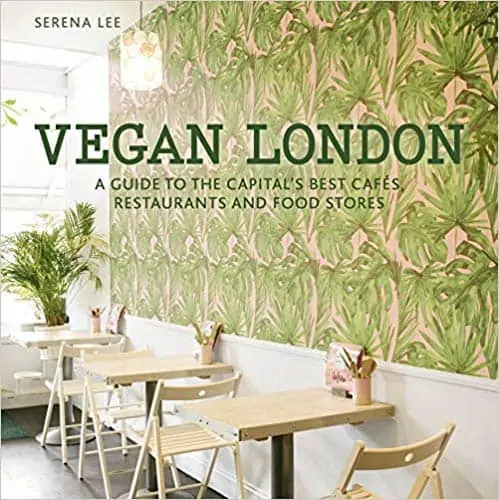 This city has enchanted me with all its unique areas and its child-friendly living. But what really blew me away is the vegan scene and the seemingly endless supply of vegan restaurants in London.
Whether you call London home or you're just visiting, one thing is certain. You'll have the chance to eat amazing vegan food. I can guarantee that! There are vegan markets everywhere (even vegan Christmas markets!) and almost too many plant-based events to choose from. You can even go on a Vegan Afternoon Tea Bus Tour! I mean, if this doesn't draw you closer to booking those flights, I don't know what will.
As you explore London, you'll find vegan options almost everywhere you go. Vegan restaurants and cafes of every type have settled here, with new ones popping up continuously. It's so hard to choose the best ones because, to be honest, I want to frequent all of them!
Want to find out more cool spots for your next European adventure? Check out picks for best vegetarian destinations!
More Vegan City Guides:
We hope you enjoyed this guide sharing the best vegetarian and vegan restaurants London has to offer! If we missed any of your favorite London vegetarian restaurants, we invite you to highlight them in the comments below. Many thanks to Hannah Kaminsky for her help with this article. This article may contain affiliate links that support our work at World of Vegan at no extra cost to you. Thanks for stopping by, and we hope to see you again!