Wake up to a better cup of coffee when you ditch the dairy and opt for vegan coffee creamers instead. Rich, smooth, and incredibly diverse, the days of chunky, curdled lattes are over. You don't need to be a barista to craft gourmet coffee creations at home when you've got the very best non-dairy creamer waiting for you at home. Save your money and the animals by making this easy swap!
What Is A Nondairy Creamer?
Not all coffee whiteners are created equally. Legally, "non-dairy" coffee creamer can in fact contain dairy derivatives. Sodium caseinate is a component of milk used by some mainstream brands as an emulsifier, making these options neither vegan nor safe for those with dairy allergies. They can even be labeled as "lactose-free" while containing trace amounts of lactose! Always read labels carefully to avoid these pitfalls.
Many creamers have added flavors, like vanilla, caramel, hazelnut, and more, adding to a more luxurious coffee experience. These often have a sweetener included to create an instant latte, no other ingredients needed. If you're sensitive to sugar, seek out unsweetened options. Many of these have a subtle, naturally sweet taste already, so you'll never feel like you're missing out.
Best Vegan Coffee Creamer Brands
You could easily try a different vegan creamer every day of the year and never taste even a quarter of all the options out there! Found right alongside conventional dairy creamers, plant-based alternatives take up an equal portion of the aisle these days. From shelf stable containers to fresh bottles, there's a wealth of creamy goodness out there to suit every need.
Silk has been at the vanguard of dairy-free innovation since 1977 when the only milk alternative was soy. Since then, their product lines have expanded to include all sorts of plants. Their creamers are readily available in mainstream supermarkets, featuring oat, almond, and soy bases. There's a flavor for every craving, too.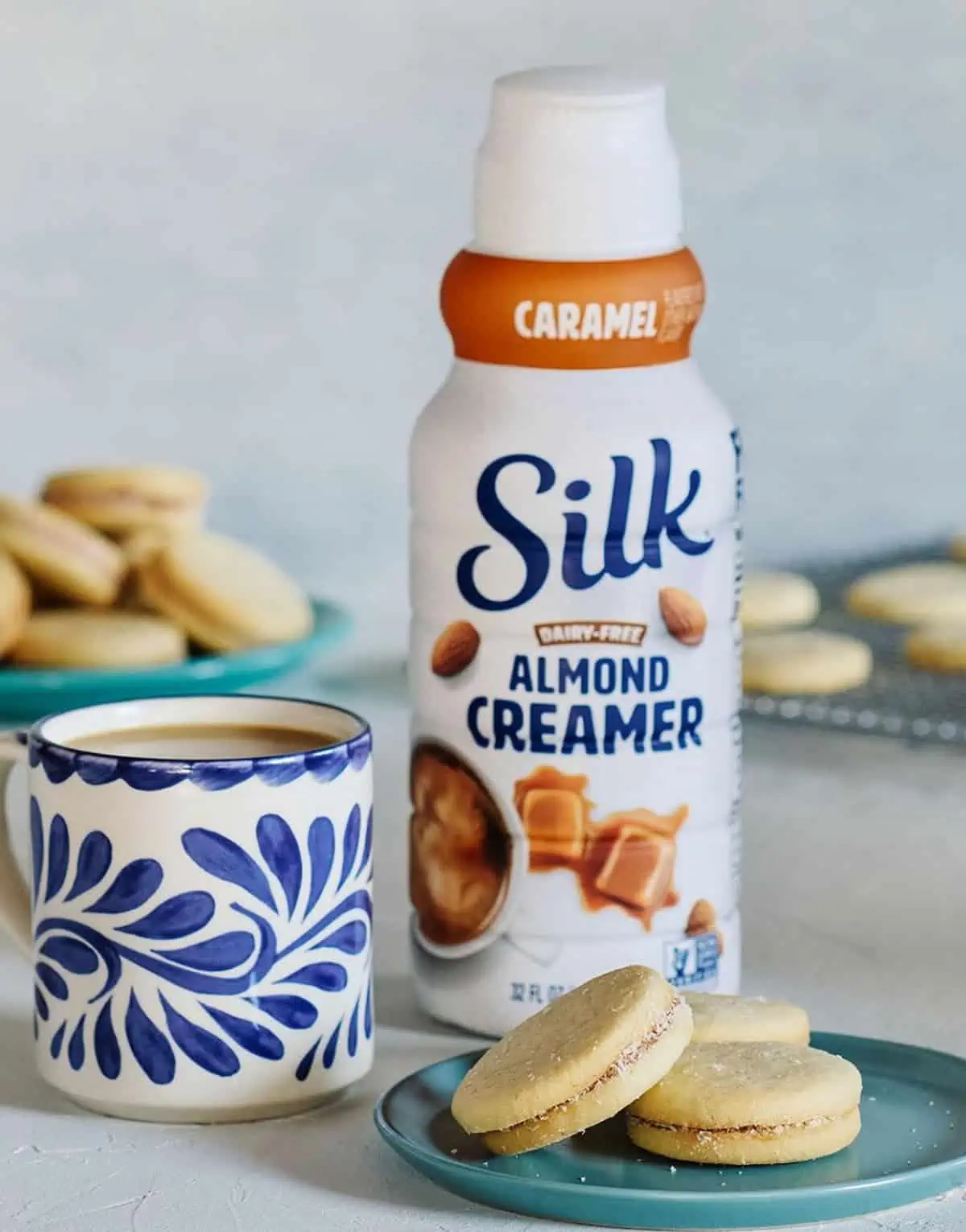 From cookie butter to mint chip, these unique varieties set Califia creamers apart from the pack. They have all the classics in stock too, using oats and almonds as the creamy foundations.
Crafted with organic coconut cream, choose from French vanilla and sweet & creamy for an easy coffee upgrade.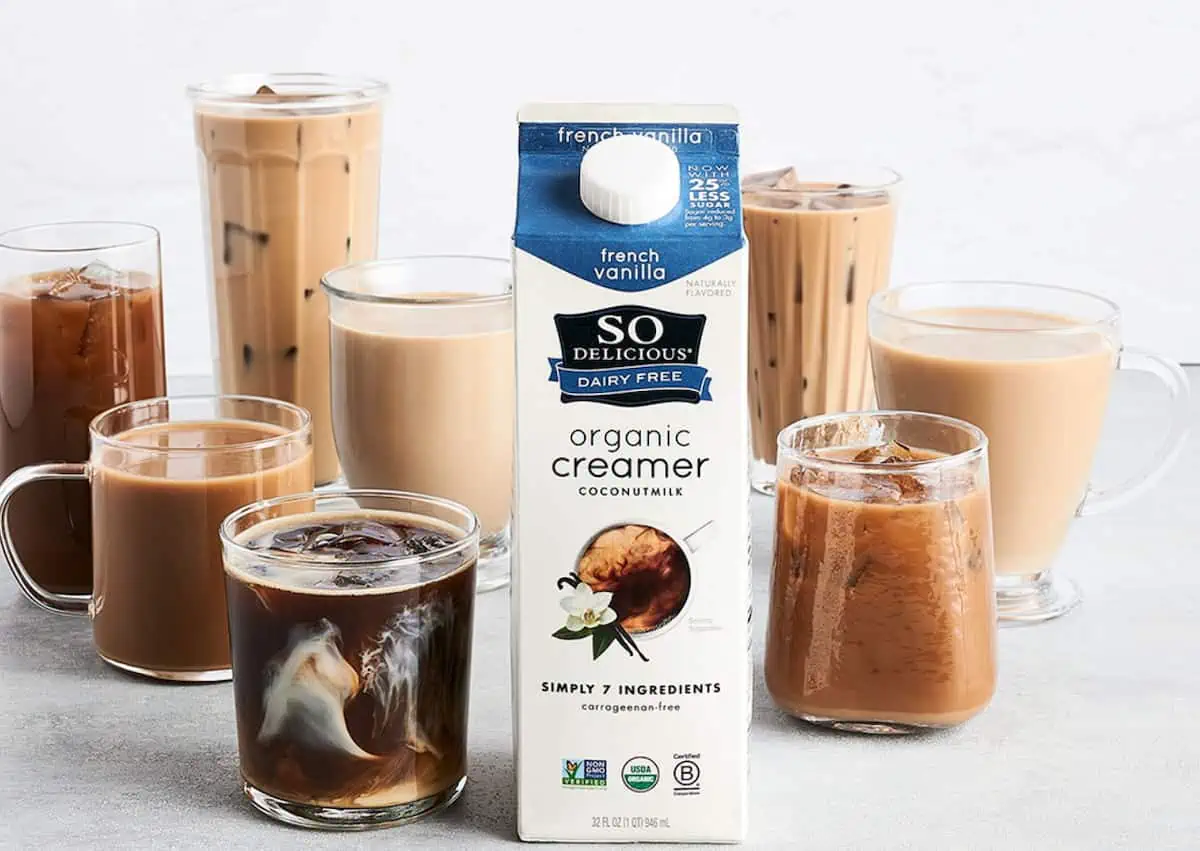 Don't compromise your wellness just to soothe a craving; these creamers are vegan, keto-friendly, and offer many Whole 30-approved options, too. Even the sweetened flavors are still sugar-free!
Though you'll still see their conventional dairy options on the same shelves, Chobani now has two lines of vegan creamers too. Double check that the cartons clearly state "plant-based" to avoid disappointment.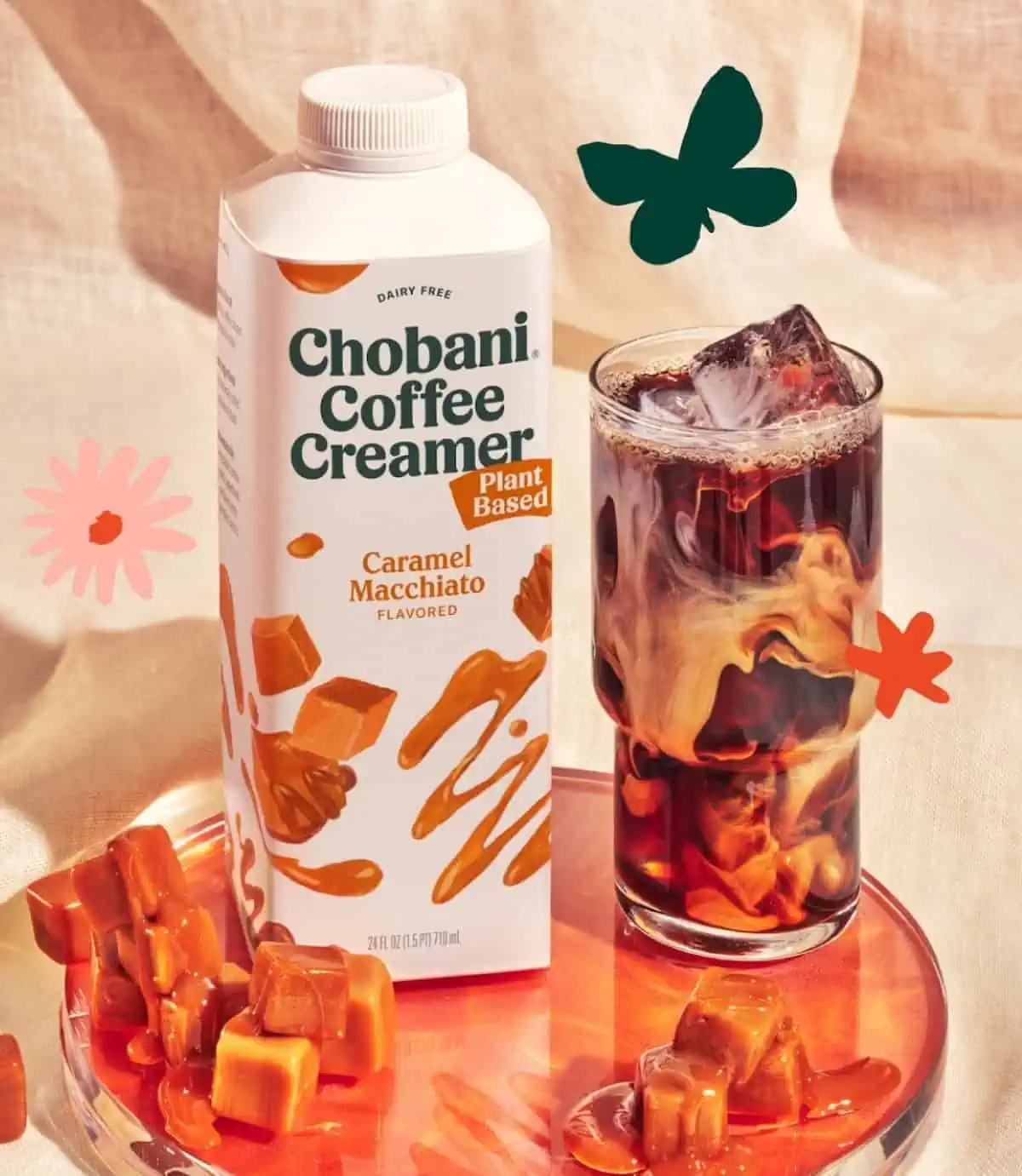 Blending health with high-end indulgence, these clean-label creamers are worth every penny. Buy online and stock up because these cartons are shelf stable at room temperature until opened.
Blue Diamond's Almond Breeze line of coffee creamers has classic flavors like vanilla, sweet crème, and caramel almond milk creamer will lighten your coffee and brighten your day. Just a little splash goes a long way.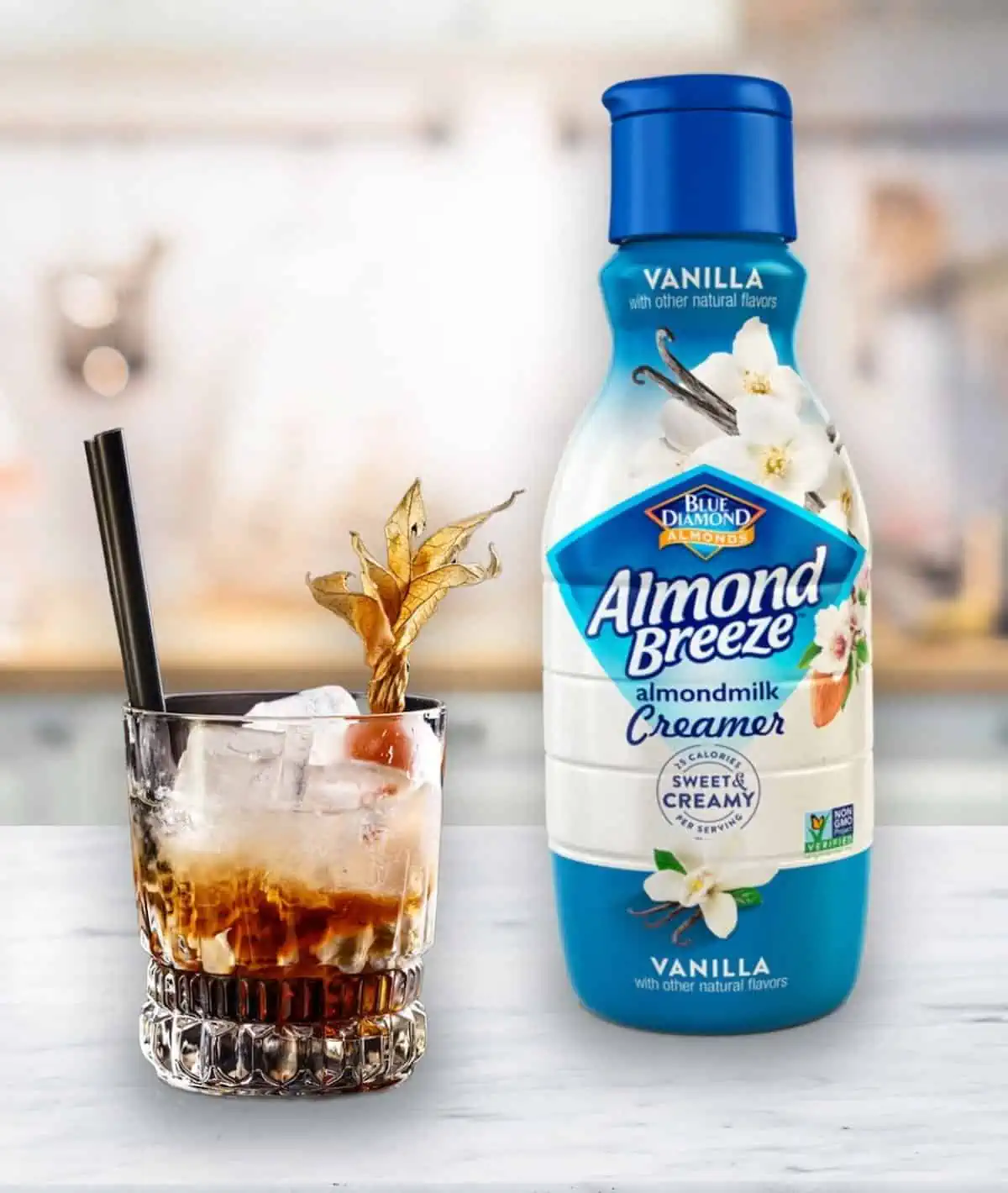 Homemade Dairy-Free Coffee Creamer Recipes
Why buy when you can DIY? Make your own vegan creamer from scratch to have complete control over the ingredients, nutrition, and flavor. Scroll to the recipe card below for our simple vegan coffee creamer that only requires 2 ingredients!
Here are more variations we love:
The Best Cashew Coffee Creamer is simply nuts—Literally! All you need are cashews, water, and 5 minutes to whip up a super smooth, luxurious, and yet wholesome dairy-free creamer.
Homemade Vegan Coffee Creamer can start with any plant-based milk you prefer, with options for a light and full-fat version.
Paleo Vanilla Coffee Creamer combines the best of all worlds for an allergen-free and diet-friendly option everyone can enjoy. Using thick coconut cream is the secret to success.
Creative Uses For Vegan Creamers
Beyond the morning brew, vegan coffee creamers make excellent additions to many other recipes, and particularly in desserts. Make the most of your supply with these delicious ideas:
FAQs
Is Coffee Mate vegan?
Good news! Coffee Mate recently came out with a new line of specifically plant-based, dairy-free creamers called Natural Bliss. They're made with either almonds or oats and come in five flavors in all. As the single most popular brand of coffee creamers in the US, you can expect to find these options nationwide in Target, Walmart, and more. 
Is International Delight vegan?
No, none of the coffee creamers made by International Delight qualify as vegan, as they all contain sodium caseinate.  
Can I use regular non-dairy milk as a coffee creamer?
Absolutely, any sort of vegan milk will work in a pinch. Plain dairy alternatives will be more watery and less sweet though, so you won't get that same rich texture or bold flavor. Additionally, bear in mind that some options may curdle in acidic liquids, AKA coffee. 
More Creamy Coffee Recipes To Try
If fall is your favorite season, you must try our Pumpkin Spice Latte recipe. It's creamy, warm, and has the perfect amount of amazing autumn vibes.
Raise a glass to an even happier hour with a Drunken Dalgona Cocktail at hand. This bold and boozy drink is both soothing and invigorating at the same time.
Don't wait for winter to enjoy a refreshing Vegan Peppermint Mocha. This classic combo never goes out of season.
Wash away your worries by using a DIY Vanilla Latte Coffee Body Scrub first thing in the morning. You'll be wide awake and ready to tackle the day when you're done.
1 cup raw unsalted hazelnuts or brazil nuts, soaked at least 4 hours, and drained
2 cups water
In a blender on the highest speed, process all ingredients for 1-3 minutes, depending upon how long it takes your blender to get it smooth.

Strain by holding a nut milk bag over a big bowl, and pouring the freshly blended milk through it. Gently squeeze the nut milk bag until the milk has passed through and the almond pulp remains in the bag.

Refrigerate, and use within 3 days.
This recipe makes 2 cups of vegan coffee creamer. Each serving is about 2 tablespoons.
Calories: 47kcal | Carbohydrates: 1g | Protein: 1g | Fat: 5g | Saturated Fat: 0.3g | Polyunsaturated Fat: 1g | Monounsaturated Fat: 3g | Sodium: 1mg | Potassium: 51mg | Fiber: 1g | Sugar: 0.3g | Vitamin A: 2IU | Vitamin C: 0.5mg | Calcium: 9mg | Iron: 0.4mg
Vegan Coffee Creamer recipe shared with permission from The Dairy Freedom Cookbook by Allison Rivers Samson and Michelle Cehn. Coffee creamer photo sourced from Canva.