I've been vegan for nearly a decade and got married this summer at the most gorgeous organic fruit farm in Oregon. We had a beautiful plant-based meal and even the non-vegan guests loved it. But was the wedding 100% vegan? No. And that's OK.
In reality, the likelihood of having an entirely vegan wedding might be lower than you'd hope. Yes, it's a big event, but it's also just one day. Veganism is about compassion, not perfection. And for many people, having a fully vegan wedding may not be accessible or feasible.
Like many vegans, I have a partner who isn't. My husband's attitude toward animals and consumption of animal products has changed drastically since we met more than four years ago and while he eats a mostly plant-based diet, he does not lead a vegan lifestyle. Just as your partner not being vegan isn't a deal-breaker for your relationship, a non-vegan wedding may not be a deal-breaker for your marriage.
Talk to Your Partner
This is the most important step and should happen before any planning happens. It's likely you've already had discussions about veganism and how you want to live your life together (if you haven't, start having those conversations ASAP). When it comes to succeeding in a relationship with someone who isn't vegan, it's all about open communication.
I've been in a couple relationships with non-vegans and I've learned that leading by example, sharing information when asked and giving your partner space to make their own informed decisions is way more effective than trying to convince or shame them into being vegan. The same goes for planning a wedding together.
Assuming you want the event to be as vegan as possible, see where your partner is willing to go vegan for the big day. Do they have any objections to the meal being vegan? What about attire? While I dressed cruelty-free as usual, my husband wore a custom wool suit and leather shoes he already had. Unfortunately vegan suit options are limited and my husband was not interested in any of them, or purchasing new shoes. And that was his prerogative.
Determine Your Priorities
Money is a big topic when it comes to wedding planning. First and foremost, I would have none of my money go toward anything that wasn't vegan. But my husband and our families also contributed to the cost of our wedding and wedding-related events, and they didn't have the same stipulations.
For example, we had a welcome party the night before our wedding, which my husband's parents generously funded. We served both vegan and non-vegan pizzas (most guests weren't vegan — but of course the vegan pizzas went the fastest!). This was a battle I chose not to fight as no one in my husband's family is vegan and he was fearful of complaints if there were only vegan options.
However, it was important to me that all food at the wedding was vegan. We had the most delicious hors d'oeuvres during cocktail hour, numerous beautiful dishes for dinner, and a variety of vegan donuts for dessert. From the get-go, my husband knew the wedding food had to be vegan, and this wasn't an issue. Our guests raved about the food and if any meat-eaters were disappointed, we didn't hear about it.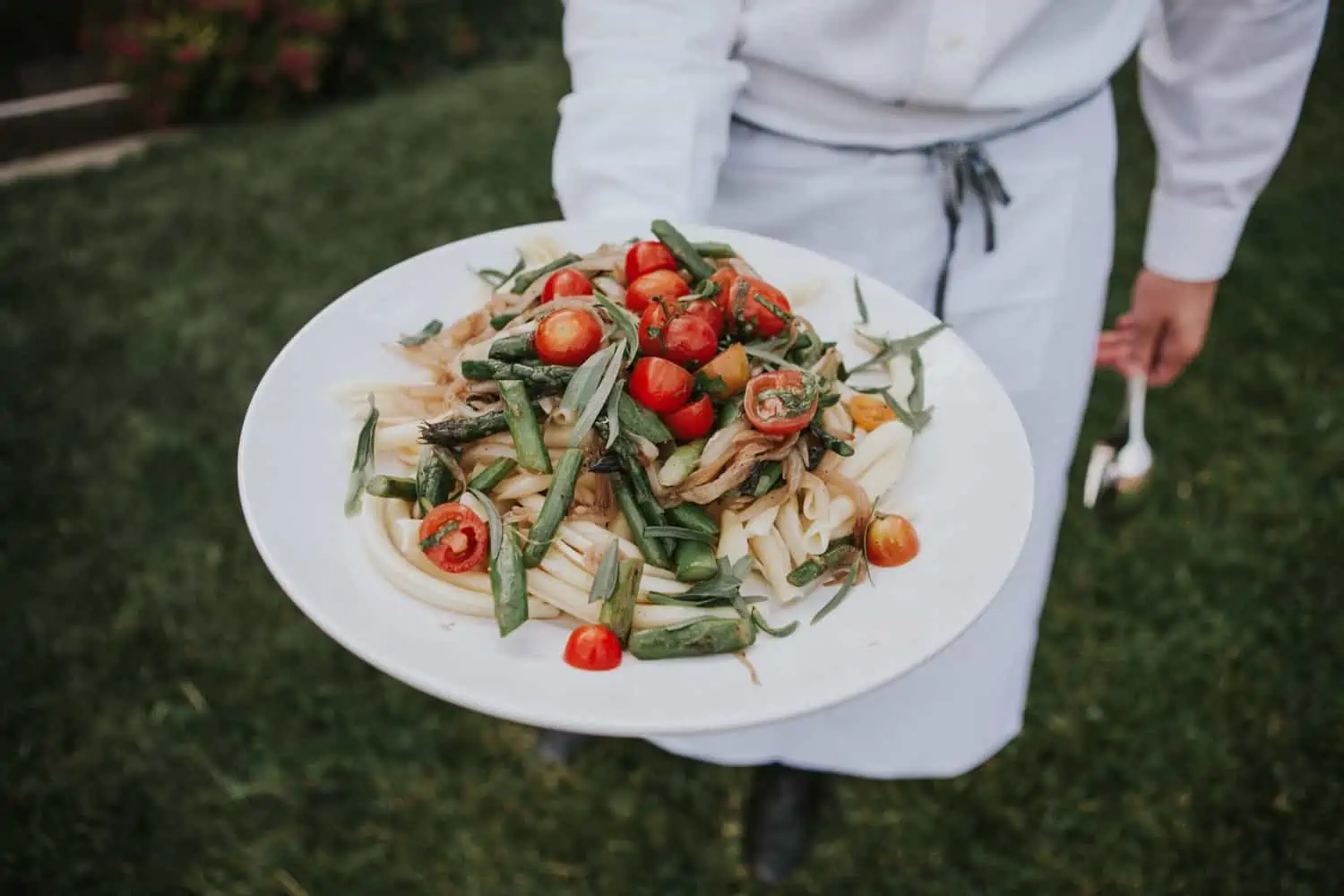 It also was important to me that the wedding venue was animal- and eco-friendly and I lucked out that the owner of my venue just-so-happened to be vegan (I found this out when asking if the menu could be vegan). While this is rare, you could search specifically for vegan wedding venues.
Do Your Best
Just as every other day, you're doing your best to minimize harm to animals. At first, I was a little nervous about being judged by vegan friends attending my wedding events when they realized everything wasn't vegan, especially since I've attended some of their vegan weddings. I thought these people don't have all-vegan families and they managed to have 100% vegan events, so why can't I? But I reminded myself that my wedding was unique to my partner and I and my vegan friends love me and were there to support me, not to judge me.
Remember, while your wedding is a big day for you, it's also a big day for your partner, and it's only fair they have a say in things, too. Everyone is on their own journey and it's likely that your partner is leading a much more compassionate life with you by their side.
You can learn more about Taylor. Photos by Here Today Photography.
Want to learn about ditching dieting for good, honoring your body's hunger and making peace with food? Check out Taylor's Website!