Unwind and relax with a glass of vegan wine. Balancing out acidity, tannins, sweetness, alcohol, and fruit, the best bottles don't have to be expensive to tempt the taste buds.
Given the expansive range of choices, it can be daunting to dive into this world at first, especially if you're trying to be a conscious consumer and only support plant-based options. Sounds like an easy task, right? Not so fast! Do you really know what's going into your favorite wines and if they're actually vegan to begin with?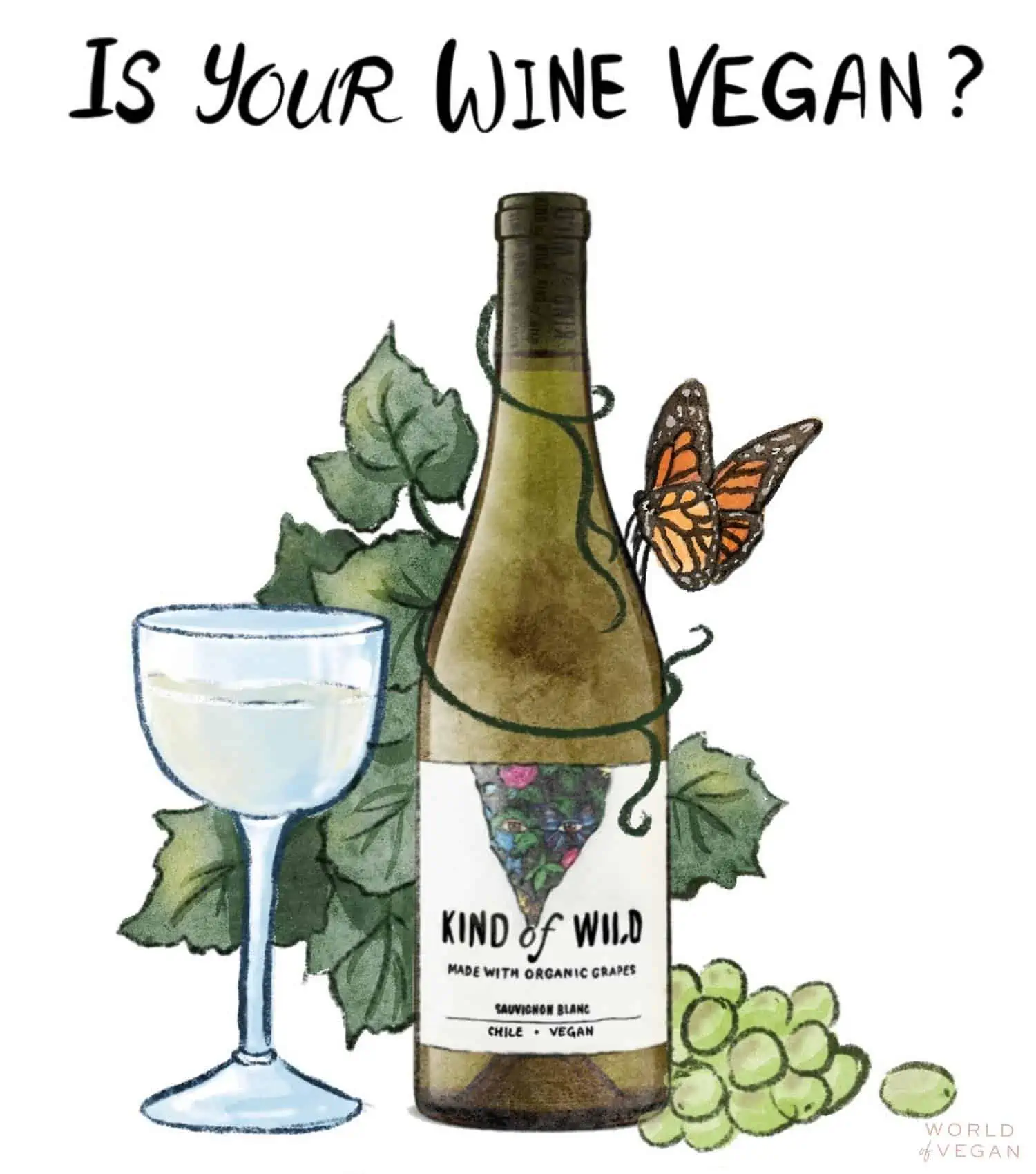 Is Wine Vegan?
Crushed, pressed, and fermented grapes are aged and bottled to make this time-honored beverage in every color and flavor imaginable. Every factor, from the type of grape to the place it's grown, has a big impact on the finished flavor. With such a simple ingredient list that starts from pure fruit, it should be easy to assume that all wine is vegan, right? Not quite! There's a lot that goes into each glass that doesn't show up on any labels.
Why Is Wine Not Vegan?
Certain brands of wine use processes to refine their vino that makes the resulting liquid not vegan. Those fining agents can include:
Isinglass: No one wants to say "fish bladders" are involved as they swirl a very expensive glass of sauvignon blanc, but that's often the case. Particularly in young, white wines, this animal-based collagen is used to remove harsh tannins and impurities.
Gelatin: The source of many disappointments for those who love gummy candies, this thickener and stabilizer is derived from boiled hooves, bones, and ligaments, often from pigs, cows, and horses.
Bone char: Just like white sugar, ground bones and hooves can be used to clarify and brighten colors, but don't need to be mentioned anywhere on the bottle.
Egg whites (albumin): Particularly dangerous for those with egg allergies, egg whites (also known as albumin) are popular for their high protein content which helps to remove sediment particles.
Fortunately, many of these are becoming antiquated as better materials are being uncovered through food science and good old-fashioned experimentation.
How Can You Find Out If Your Wine Is Vegan?
More brands are becoming aware of the need for transparency through every step of the process. To better accommodate discerning consumers, some have begun to clearly label their bottles as vegan or plant-based right up front. Others have taken to sharing more in-depth information on their websites, so it could take a bit of online sleuthing to get clear answers. When in doubt, a quick email or phone call to ask directly should clear things up.
A great resource that covers many brands of wine worldwide, in addition to beer, cider, liqueurs, and more is Barnivore. As this is a crowd-sourced compendium, it's still a good idea to double-check with the manufacturers, especially if the last update was made over a year ago, since formulations are subject to change.
Vegan Wine Pairings
With so many unique varietals and flavor profiles to choose from, it's time to pop open your sense of adventure. So pick your grape, select your style, and sip your way to the perfect pour.
Red Wines
Red wine, the classic wine. It's rich, bold, and full of flavor. Made from red grapes, it gets its color and tannins from the skins of the grapes. The tannins in red wine make it a great choice for aging, so don't be afraid to buy a bottle and save it for a special occasion.
Cabernet Sauvignon – Bold, powerful, and full of flavor, a Cab-Sauv is the king of red wines. Its robust tannins and complex dark fruit flavors and notes of oak and vanilla. So put on your fancy pants and indulge in a glass of this regal wine.
Malbec – Rich, bold, and full of character, Malbec offers fruity notes that make it the perfect pairing for spicy dishes.
Merlot – A medium-bodied red wine with soft tannins loved for its fruity flavors.
Pinot Noir – A light-bodied red wine with delicate flavors and a silky texture, Pinot Noir is a popular choice for those who prefer lighter wine with earthy undertones.
Syrah – A full-bodied red wine with bold tannins and spicy flavors, Syrah (known as Shiraz in Australia) is a popular wine in many regions of the world.
Zinfandel – A medium to full-bodied red wine with bold fruit flavors and a spicy finish, Zinfandel is a popular wine in California.
Vegan Red Wine Pairings: This wine pairs well with hearty meals like plant-based pasta dishes, vegan meats, and roasted vegetables.
White Wines
When life gives you lemons, make lemony white wine! Made from green grapes, white wine is known for its zesty, citrusy taste. It's crisp, light, and refreshing, making it the perfect wine to enjoy on a hot summer day.
Pinot Noir – Smooth, silky, and oh-so-elegant, Pinot Noir has a light body and fruity flavor making it the perfect choice for a fancy dinner party or a romantic evening in.
Sauvignon Blanc – This zesty and refreshing wine is the ultimate thirst-quencher. Its citrusy notes and crisp finish make it the perfect choice for a summer day spent lounging by the pool.
Chardonnay – Buttery, oaky, and indulgent, Chardonnay is the ultimate comfort wine.
Vegan White Wine Pairings: Vegan white wine pairs well with vegan seafood, mushroom risotto, vegan fettuccini Alfredo, colorful salads, and grilled vegetables. It's a great choice for your next barbecue.
Rosé Wines
Rosé all day, baby! This wine is made by letting the grape skins sit with the juice for just a short time, giving it a light and fruity taste. A little bit sweet, a little bit sassy, and a whole lot of fun, Rosé is the perfect wine for any sunny occasion. Whether you're brunching with friends or picnicking in the park, its light and fruity flavor will keep you sipping all summer long.
Vegan Rosé Pairings: It pairs well with light bites like salads, fresh fruit, vegan cheese, hummus boards, and crackers.
Sparkling Wine (Champagne, Prosecco, Cava, etc.)
Pop the bubbly, it's time to celebrate! Sparkling wine is perfect for any festive occasion, or just when you feel like treating yourself to something special. It's light, refreshing, and of course, has those delightful bubbles.
Vegan Sparkling Wine Pairings: This wine pairs well with anything salty or fried, like our air fryer potato skin chips or popcorn. It's also a great choice to pair with brunch dishes like tofu scramble or eggless quiche.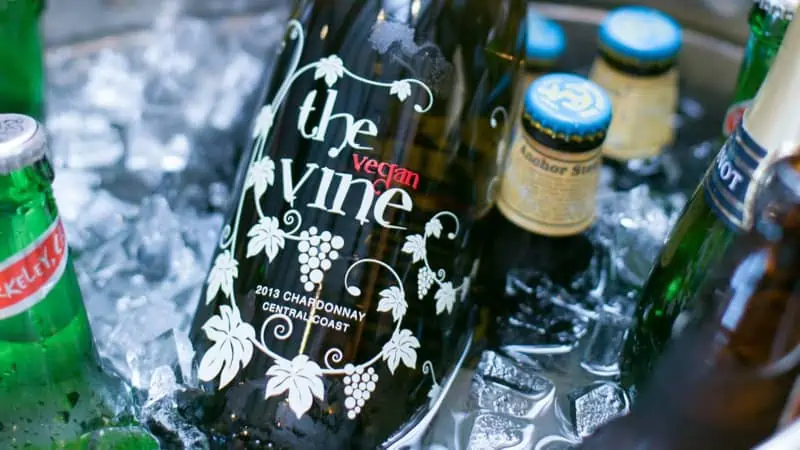 Best Vegan Wines
There are hundreds of thousands of vegan-friendly wine options on the market, and like all other things, the "best" option is a matter of taste! For fool-proof picks that are guaranteed to be 100% plant-based, you can't go wrong with any of these brands.
Vegan Wine Brands
Avaline
Bellissima
Besa
Bluenose Wines
Carmel Road
Charles Shaw
China Bend
Domaine Carneros
Fresh Vine Wines
Frey Vineyards
Gerard Bertrand
Girasole Vineyards
Harney Lane Winery
Hip Chicks Do Wine
Kind of Wild
La Cantina Pizzolato
Las Jaras Wines
Layer Cake
Michael David Winery
Metro Wines
Mountain Cove Vineyards
Obvious Wines
Our Daily Wines
Proudly Vegan
Red Truck Wines
Santa Margherita
Scout & Cellar
Sea Change Wine
Snoqualmie
Souleil
Stellar Winery
The Vegan Vine
Whitecliff Winery
Wonderful Wine Co.
Sparkling Wine, Prosecco, and Champagne Brands That Are Vegan
Avaline
Bellissima
Domaine Carneros
Fresh Vine Wines
Frey Vineyards
La Cantina Pizzolato
Las Jaras Wines
Metro Wines
Obvious Wines
Proudly Vegan
Red Truck Wines
Santa Margherita
Scout & Cellar
Sea Change Wine
Souleil
Vegan Wine Delivery
For the connoisseur or wine newbie, a great way to experience a wide variety of different bottles is to sign up for a wine club. Experienced sommeliers will curate boxes based on your preferences and give you something new to try monthly, quarterly, or biannually, depending on your subscription. Specifically vegan wine clubs or those with solely vegan shipments make the process easy.
Vegan Recipes Using Wine
If you have a leftover wine or just crave the rich flavor it imparts to both cooking and baking, there are plenty of options for infusing your favorite vino into everyday dishes. From sweet to savory, a little splash goes a long way to enhance the overall flavors.
Raise a Glass to Vegan Wines—L'Chaim!
The Hebrew word L'Chaim literally means: "To life!" What better way to cheers to to life than by choosing wines that are crafted consciously, with respect to all life?
Vegan wines are a delicious and ethical choice for wine lovers who want to enjoy their favorite beverage while also supporting a cruelty-free lifestyle. With a growing number of wineries and vineyards offering vegan options, there has never been a better time to explore the world of vegan wines.
From fruity rosés to bold reds, there is a vegan wine out there to suit every taste preference and occasion. So whether you're sipping on a glass of vegan wine at a dinner party or enjoying a bottle with friends on a warm summer evening, you can feel good knowing that you're supporting a sustainable and compassionate industry.
Cheers to vegan wines and all the amazing flavors they have to offer!