Are you ready to mix up a batch of mouthwatering vegan chocolate mousse? This is a dessert that's as fun to make as it is to eat. If you thought tofu was only meant for savory dishes, think again, as this velvety chocolate confection made from silken tofu is about to take your taste buds by storm.
You won't believe the surprising magic that happens when smooth and creamy silken tofu meets the luscious charm of chocolate! But be prepared—there may not be leftovers. If you're on board, let's get blending!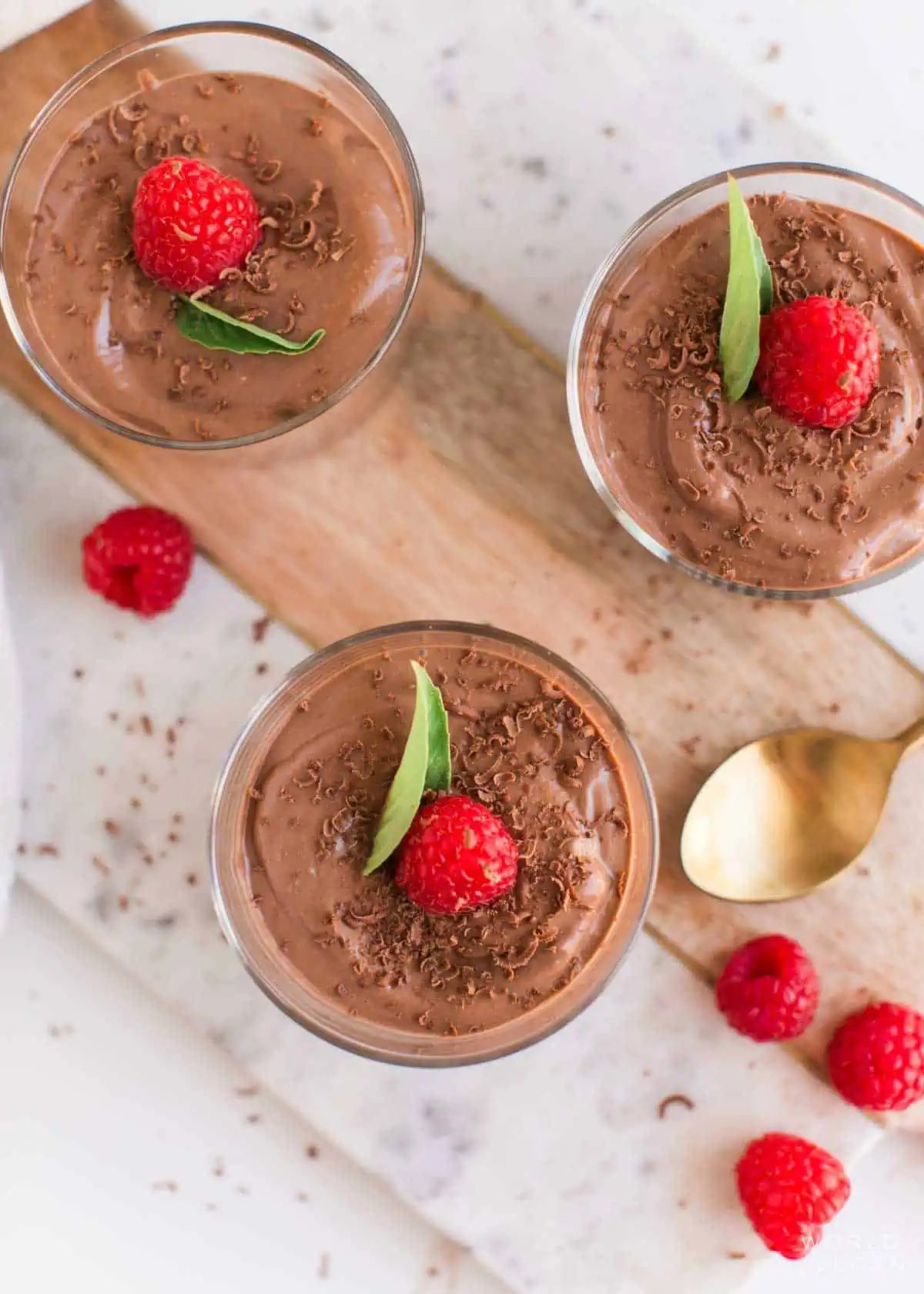 What is Mousse?
A traditional mousse starts off with a pureed base (of any kind) and is then gently mixed with whipped egg whites or heavy cream to create a lovely, light texture. This vegan version of mousse uses silken tofu instead of eggs and cream. This substitution leaves you with a wonderful, airy texture, just like the traditional version, but without the animal ingredients.
Why You'll Love This Vegan Chocolate Mousse Recipe
Do you want to know the number one reason why this silken tofu mousse recipe is worth making? It's absolutely delicious! But, since we're slightly biased about this brilliant recipe, here are a few more reasons why this plant-based dessert is so awesome.
Only 3 Ingredients. Can it get any better than this? Raid your pantry for shelf-stable silken tofu, chocolate chips, and vanilla extract.
Simple and Easy to Make. Melt, blend, and chill for the most decadent chocolate dessert. No baking required!
High in Protein. Around 5 grams of additional, plant-based protein in only 3 ounces.
Healthy. No added chemicals, preservatives, or artificial flavors (like most packaged pudding brands). Just straight up real food.
Perfect Prep for Parties. The best dessert recipe to make the night before a celebration, cookout, or get-together. You'll save yourself a whole lot of time and effort and be able to present your party with this pretty pudding!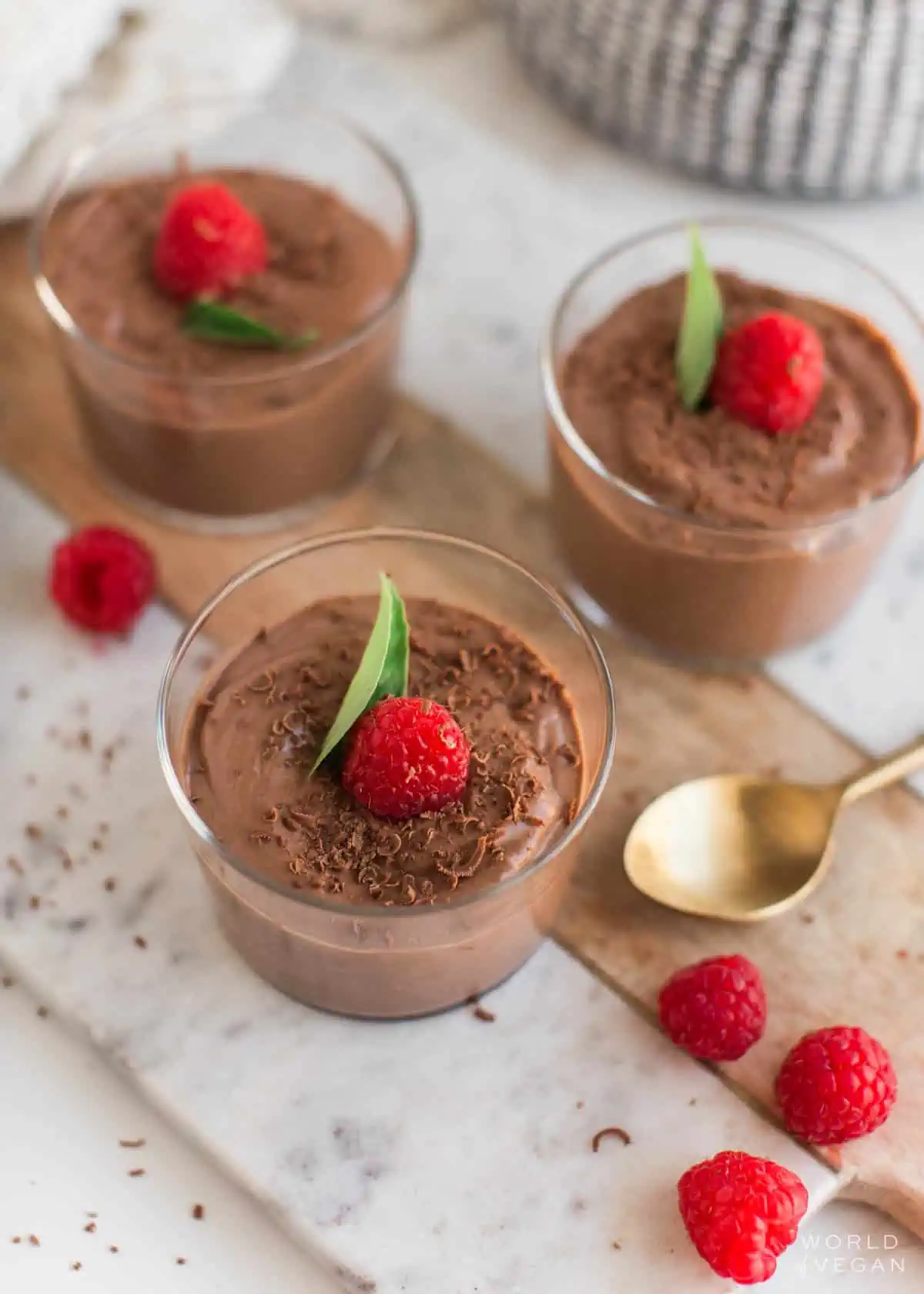 Key Ingredients
With such few ingredients, the quality of each certainly counts. If you're able to splurge on a high-quality vegan chocolate, it's totally worth it. Adding a pinch of salt seems unnecessary, but it truly gives a deeper dimension to the silken tofu mousse and enhances the sweetness.
Silken Tofu – As long as you use a shelf-stable (not refrigerated) silken tofu, your recipe will be ravishing! Remember, soft tofu is not the same as silken. As long as the package says "silken", you can choose any type.
Vegan Chocolate Chips – You'll have to decide whether to use semi-sweet, dark, or plant-milk chocolate chips for this recipe. If you like a bit of bite, choose the dark. When sweeter is better, choose the oat milk chips. Completely undecided? Go with semi-sweet—a great balance between the two.
Vanilla Extract – Time to use your very best! Pure vanilla extract has an extra sweetness and mellow flavor that an imitation extract is missing.
Salt – Choose Himalayan pink salt, sea salt, or fleur de sel if you have any of those in your pantry. These types of salt offset any bitterness in dark or semi-sweet chocolate. If you only have table salt, it will still work fine.
Silken Tofu vs. Regular Tofu
What is the difference between silken and regular tofu? Silken tofu is a type of tofu with the softest consistency. The texture is silky and smooth, so it's perfect for making creams, puddings, dessert fillings, smoothies, or (in this case) vegan chocolate mousses! If you have a nut allergy, you can use it as a versatile substitute for cashew cream.
You can always check out our silken tofu guide for more information!
What Type of Silken Tofu Should I Use?
Make sure to use shelf-stable silken tofu stored in aseptic containers. You can easily find these in the Asian food aisle in the grocery store. Beware—if you use silken tofu stored in water from the refrigerated section, your melted chocolate chips will immediately harden once blended in. You won't get that silky smooth consistency of mousse and it will end up a chocolate-y, chunky mess (though a very tasty one)!
The most popular brand of shelf-stable tofu is Mori-Nu. Don't worry too much about which type of silken tofu you purchase. As long as it's room temperature and is "silken," you should be all set.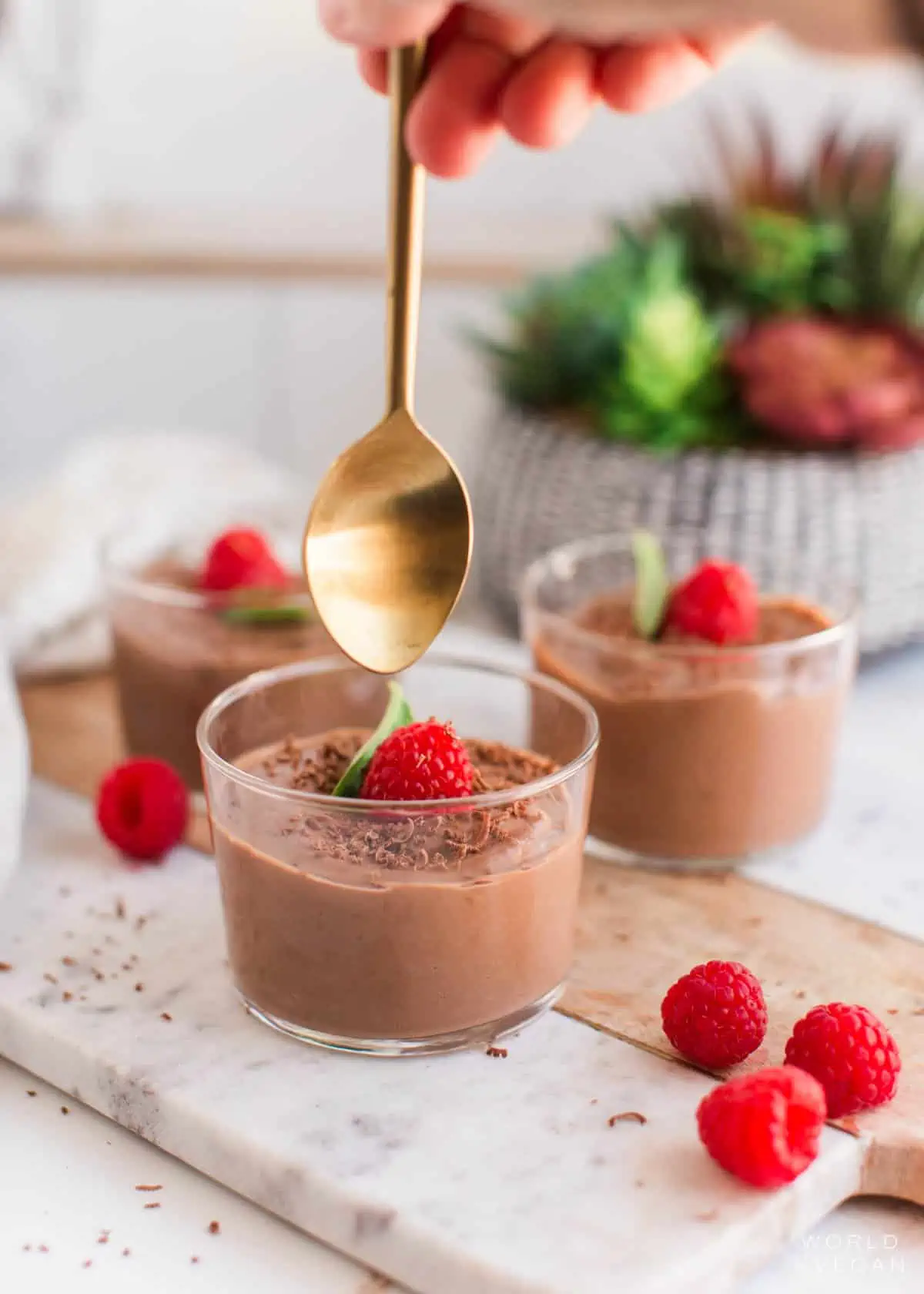 How To Melt Chocolate Chips
Melting vegan chocolate chips can seem daunting, but it's actually pretty easy. There are two simple methods you can choose. We've used both with great results. If you have more time and aren't in a rush, we recommend the double boiler method. On the other hand, if you're dying to taste this sweet and creamy dessert, use the microwave!
Microwave
Place your chocolate chips in a small microwave-safe container (a glass measuring cup works well!) and heat in 20-30 second intervals (depending on the power of your microwave). After each heating, stir well before continuing the process. Sometimes, a good stir can make the softened chips melt into the rest. A small rubber or silicone spatula can be really helpful with this step.
Double Boiler
Even though this sounds a bit old-fashioned, it's actually a more foolproof method. If you don't have a double boiler (two saucepans that stack on top of each other), a regular saucepan and a heat-proof bowl (glass or ceramic) can also work.
Pour a couple of cups of water into the bottom saucepan and add the bowl on top. Make sure the bowl is larger than the opening of the saucepan. You want the bowl to sit above the water in the saucepan beneath. Add the chocolate chips to the bowl and turn the burner to medium high. As the water simmers, frequently stir the chocolate chips in the bowl until they are completely melted. This might take a little longer than the microwave method, but there is much less chance of the chocolate chips burning or hardening.
Turn off the burner, take the pan off the heat, and use your melted chocolate right away.
Silken Tofu Chocolate Mousse Add-ons and Mix-ins
Ooh, the fun part!! The list of ingredients you can add in (or on!) is endless. It's all up to you and your tastebuds. Here is a list of our all-time favorites:
Coconut Flakes
Fresh Fruit (banana slices, berries, etc.)
Crushed Cookies or Pretzels
Mini Vegan Marshmallows and Graham Crackers (S'mores Mousse!)
Vegan Sprinkles (rainbow, chocolate, or an assortment of colors!)
Dairy-Free Whipped Cream (coconut, aquafaba, oat milk)
Shaved Chocolate (use a cheese grater or vegetable peeler on cold chocolate for best results)
Pretty Edible Flowers (nasturtiums, marigolds, violets, pansies, honeysuckle, chamomile, lavender, etc.)
Chopped Nuts and Seeds (chia, hemp, walnuts, pistachios, macadamia nuts, peanuts, cashews, almonds, etc.)
Spring of Fresh Mint (peppermint is particularly pleasant)
Vegan Mousse FAQs
What is vegan chocolate mousse made of?
You can make a vegan mousse of any type using silken tofu, aquafaba, or canned coconut cream. All three are thick, creamy bases for a plant-based, whipped mousse.
Does mousse have dairy?
Traditionally, mousse contains either whipped egg whites or heavy cream. The heavy cream version will have dairy. You can easily substitute both ingredients for plant-based alternatives like silken tofu, aquafaba, coconut cream, or plant-based milk bases.
Can I make this mousse without the chocolate?
Yes! Simply omit the melted chocolate chips and blend with the same amount of pureed fruit, canned pumpkin, lemon jelly, or even a margarita mix with lime juice!
More Delicious Vegan Chocolate Desserts to Try
This Silken Tofu Chocolate Mousse offers a delightful fusion of health and indulgence, making it a must-try treat for all chocolate lovers. Embrace the velvety goodness of this vegan dessert, and savor the guilt-free pleasure it brings with every heavenly bite. Cheers for chocolate!
high-powered blender

Ramekins
1 package shelf-stable silken tofu, approx. 12 ounces
1 cup vegan chocolate chips, melted
Splash vanilla extract
Pinch salt
In a blender add the silken tofu (make sure it's not cold), melted chocolate, vanilla extract, and salt. Blend until smooth.

Pour into ramekins and chill overnight, or for at least 6 hours.

Remove from the refrigerator, decorate as desired, and serve chilled. 
OPTIONAL TOPPINGS
Shaved Chocolate
Spring of Fresh Mint
Edible Flowers
Sprinkles
Vegan Caramel
Calories: 273kcal | Carbohydrates: 30g | Protein: 7g | Fat: 17g | Saturated Fat: 9g | Polyunsaturated Fat: 1g | Monounsaturated Fat: 0.4g | Sodium: 4mg | Potassium: 153mg | Fiber: 3g | Sugar: 22g | Calcium: 85mg | Iron: 4mg