Making your own hummus is quick, easy, and will save you loads of money over time (especially if you eat hummus as frequently as I do). I've stopped buying tubs of hummus at the store for the most part and instead will whip up a batch in my food processor whenever I need more.
Hummus is traditionally made with a huge amount of olive oil—something like a ¼ cup! Today I'm excited to share a classic hummus recipe that is just as good but without any added olive oil.
Oil-Free Hummus Recipe
2018-07-30 15:24:31
This oil-free hummus recipe is delicious with pita chips, on toasted bread, in wraps, or scooped up with carrots and other chopped veggies. Enjoy!
Ingredients
1/2 Cup Tahini
Juice of One Lime
2 Cans of Chickpeas (aka Garbanzo Beans)
1/4 Cup of Chickpea Liquid
2 Cloves of Garlic
Salt to Taste (About 1 Teaspoon)
1/2 Teaspoon Cumin (Or More If You Love Cumin!)
Optional: Olive oil, paprika, and chopped parsley for garnish.
Instructions
In a food processor (ideal) or high-powered blender (such as a Vitamix) add the tahini and lime juice and blend together for one minute.
Add the remaining ingredients (chickpeas, chickpea liquid, garlic, salt, and cumin) and blend until creamy (at least one full minute).
Plate in a serving bowl and using a spoon, spread some waves in the hummus. Drizzle with olive oil (optional) and garnish with paprika and chopped parsley. Enjoy!
Notes
This recipe is made without added oil in the hummus, although of course there is some oil in the tahini, even though it's just ground up sesame seeds!
World of Vegan https://www.worldofvegan.com/
My dad has been making homemade hummus since I was a little kid, so he joined me to make a video showing how to make it! Enjoy!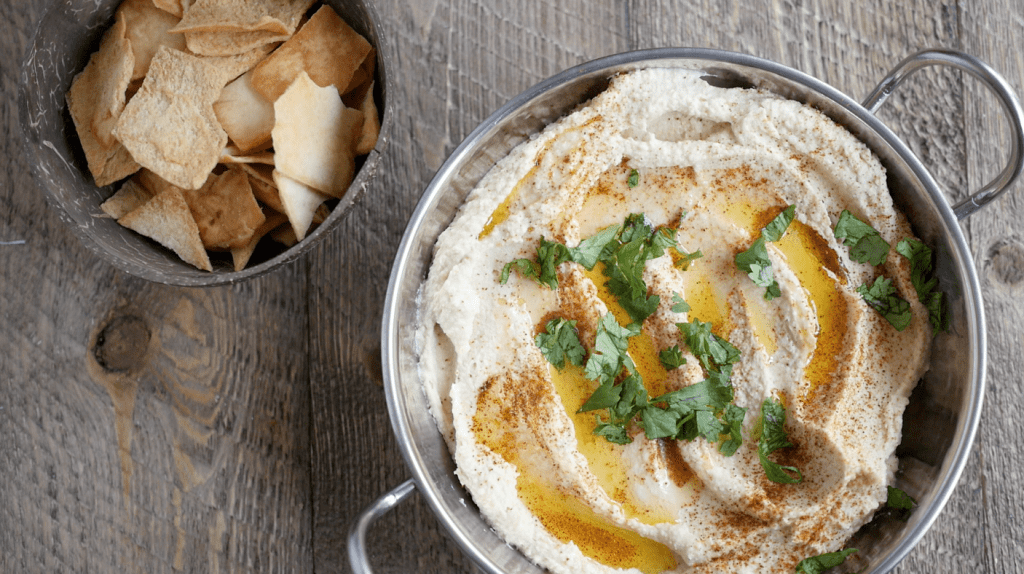 Many thanks to my dad, Joel Cehn, for joining me in this video! If you want to see more videos with my dad, you can check out our "Dad Makes His First Tofu Scramble" recipe video here.