I don't know about you, but I'm always in the mood for some nourishing noodle soup. Especially a pretty purple vegan udon noodle soup full of cabbage, green onions, and a tantalizing toasted sesame flavor. Add a couple shakes of crushed red pepper and my stomach is in soup paradise!
Where can you go to get this undeniably brilliant udon brew? Why, right in your own kitchen, of course! I'll show you how to make this one-pot, super easy, soul-warming vegetarian udon noodle soup recipe in less than thirty minutes. You'll be enjoying many mouthwatering bowls before you can even say souper-duper.
Superstar Ingredients
We try to add as many healthy (and tasty!) ingredients that we can into our recipes to boost up your nutrient buck. These are just a few we wanted to highlight:
Purple Cabbage – This is the star of the show, because simmering purple cabbage in this soup crates a beautiful purple broth. We're huge fans of cabbage noodle soup. Plus, cabbage is low in calories, a good source of fiber, and high in vitamins A, C, K, and B6.
Super Firm Tofu – We love tofu! It's high in plant-based protein, healthy isoflavones, and calcium. Plus, it's affordable, easy to find at any grocery store, and lasts a while in the fridge.
Garlic – The flavor king! Packed with vitamins B, C, manganese, selenium, and iron, garlic is always a health win. Plus, it's incredibly good for your immune system. If you're like us and can never add enough garlic to recipe, feel free to ramp it up in this soup!
Onions, celery, and zucchini – Bring on the veggies! These are all very low in calories, while still adding a good amount of soluble fiber, antioxidants, vitamins, and minerals. Isn't it amazing how many benefits you can get from a single bowl of soup?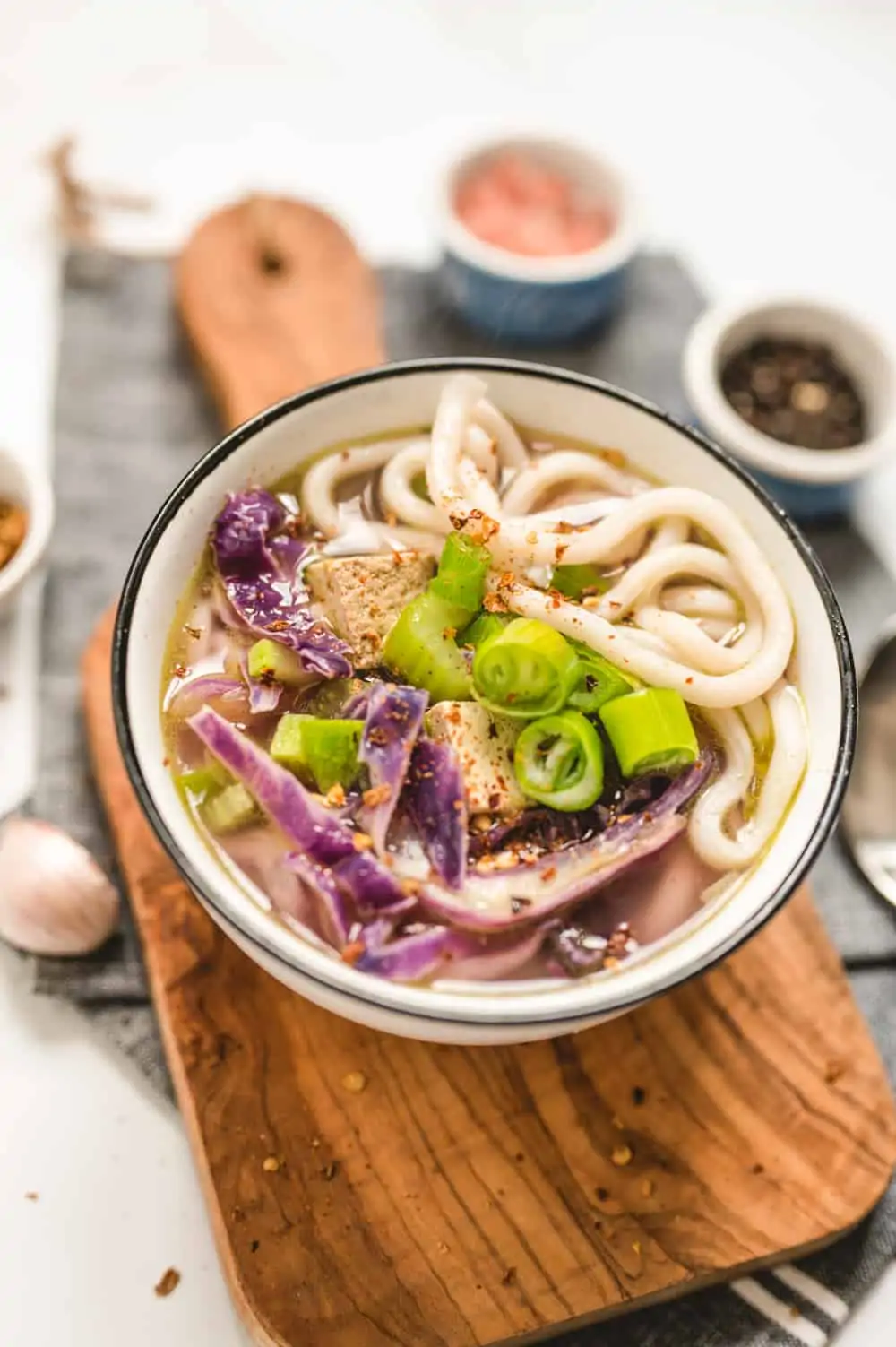 Are Udon Noodles Vegan?
Yes, udon noodles are almost always vegan! Udon is typically made from just three main ingredients:
As with all things, it's wise to check the packaging as the udon noodle ingredients may vary by brand, but when eating at restaurants or at friend's houses, we generally assume udon noodles are vegan. You can find dozens of vegan udon recipes online, but this is one of our favorites!
Oodles of Noodles
If you're gluten-free or maybe you just think that udon is ugly, feel free to find other neutral noodles that you do love. Here's a quick Noodle 101:
Wonderful World of Wheat – Udon, soba, lo mein, egg-free wonton, ramen
Under the Sea-Weed – Kelp noodles
Rice Rice Baby – Rice vermicelli (thick or thin), chow fun
The Sides of Starch – Mung bean threads
With all of these vegan noodle options, you can create an entirely new style of soup by switching out the noodles, veggies, or toppings. Let your imagination run wild!
How to Serve Up This Vegan Udon
Here are a few fun ways to slightly alter this vegetable udon recipe––though, sometimes, a simple slurp right out of the bowl is best!
Vary Your Veggies – Swap out the purple cabbage and zucchini for sliced snow peas and carrot circles. You can choose any vegetables you like for this satisfying soup. The options are endless!
Pick a Different Plant Protein – If you're not fond of tofu, substitute tender tempeh, easy edamame, or even a sprinkling of salted peanuts (or cashews).
Heat Up With Hot Sauce – Whether you like a little bit of spice or a whole lot of heat, consider adding a drop or two of your favorite fire in the hole. Savory Sriracha, tantalizing Tabasco, or cheeky Cholula would definitely do the trick!
Equipment You'll Need
1 tablespoon toasted sesame oil
1 medium yellow onion, sliced or diced
3 stalks celery, sliced into crescents
3 large cloves garlic, minced
⅓ medium purple cabbage, roughly sliced into ribbons
1 small zucchini, diced
8 cups flavorful vegetable broth, or water and vegan bouillon
8 ounces udon noodles, one standard package
½ block super-firm tofu, cut into small cubes
½ teaspoon red pepper flakes
2 green onions, thinly sliced (for topping)
In a large pot over medium heat, add the toasted sesame oil, onion, celery, and garlic and sauté for 3-5 minutes until onion starts to become translucent.

Add purple cabbage, zucchini, and vegetable broth and bring to a boil.

Add udon noodles and cook according to package instructions, stirring regularly to prevent the noodles from sticking. Toss in cubed tofu.

Serve topped with red pepper flakes sliced green onion.
This vegan udon soup recipe is very versatile. Use this as a base and add in any vegetables you'd like! For a more savory tofu, feel free to bake or sauté your tofu prior to adding to the soup.
Calories: 325kcal | Carbohydrates: 56g | Protein: 14g | Fat: 6g | Saturated Fat: 1g | Polyunsaturated Fat: 2g | Monounsaturated Fat: 2g | Sodium: 2643mg | Potassium: 472mg | Fiber: 6g | Sugar: 15g | Vitamin A: 2110IU | Vitamin C: 50mg | Calcium: 79mg | Iron: 2mg
Storing Your Leftover Soup
Any liquid leftovers can easily be stored in a covered glass container for a few days in the fridge. To reheat, simply place in a microwave safe bowl and heat for 2 minutes or pour into a saucepan and heat over medium-high for about 5 minutes (or until desired temperature). If you wish, add extra veggies, noodles, or broth to the mixture before heating to stretch the soup farther.
You can also freeze any leftover soup for later use. Allow the liquid to cool and come to room temperature before pouring into freezer safe containers. Seal completely and then store in the freezer for up to 3 months. To defrost, take your soup out of the freezer and allow to thaw overnight in the refrigerator. Re-heat as instructed above. Your soup will still be scrumptious!
If you give this vegan udon recipe a try, we'd love to hear what you think! Leave your star rating and thoughts down below. Noodle cheers!
More Vegan Asian-Inspired Noodle Soup Recipes:
This Vegan Udon Noodle Soup recipe was developed by Michelle Cehn. Article written by Gina House and edited by Amanda Meth. Content copyright World of Vegan, all rights reserved. Photos by Zhoro Apostolov. This delicious cake recipe includes affiliate links when available and shopping through these links supports World of Vegan.