The land of mai tais, fresh coconuts, and mangoes galore must be incredibly vegan-friendly, right? While you might expect Kauai, Hawaii to be a vegan's paradise, it does take a little research and know-how to navigate the island to find the best of vegan in Kauai. And that's exactly what we're here for—to make vegan travel on Kauai simple, enjoyable, and oh-so-delicious.
Aloha, my dear friends! During my recent 10-day trip to Kauai, I made it my mission to explore all the vegan-friendly spots I could find on the island. I took detailed notes, so many photos that my phone ran out of storage space, and filmed a "Vegan in Kauai" video that will be coming soon to YouTube.
Before we get started, feel free to set the mood by mixing yourself a tropical drink. Drop one of those colorful paper drink umbrellas in it for vibes, and pop on a brimmy beach-style sun hat (yes, even indoors). Prop your feet up lounge-chair style, and let's dive in!
Exciting Notes About Eating Vegan in Kauai
Acai Bowls Galore. Where there's food, there's usually an acai bowl nearby! You can find them on restaurant menus, of course. But if you'd like a more authentic island experience, swing by a juice stand on the side of the road. You can often find stands that serve fresh juices, smoothies, and acai bowls. My favorite is Kalalei Juice Hale on the drive north from East Kauai (more on that below).
Beyond Burgers Everywhere! I found Beyond Burgers on hotel bar menus, grocery market menus, and in restaurants big and small. If you keep your eyes open, a vegan burger shouldn't be hard to find. Unfortunately, most of the Beyond Burgers I saw on menus required some adjustments to be vegan. Hold the cheese, swap the bun—you know the drill.
Coconuts Are Nowhere & Everywhere. From the moment the plane touches down on a Hawaiian island, all I want is a fresh coconut to drink. They are supposedly everywhere, but also surprisingly elusive! It took me several days to track down a whole coconut. But once I got one, I started seeing them everywhere. Look for "Cold Coconuts" signs at stands on the side of the road or restaurants, bars, and shops on popular streets in Kauai. Many farmers markets in Kauai also have coconuts available, but the lines there can be long.
The Downsides of Eating Vegan in Kauai
Limited Restaurant Hours. Many restaurants and food trucks have limited hours, and some are closed several days of the week.
Inaccessibility & Road Closures. Eateries that are an easy short drive may still become inaccessible due to road blockages. The only road to the north of the island was only open for select hours of the days when we were there.
A car is an absolute necessity. Forget public transportation in Kauai—there is little-to-none. A rental car is essential if you hope to explore the island and visit a variety of vegan eateries.
Prepare Yourself for "Island Time"
Everything moves slower in Hawaii. "Island Time" is what I call this slower paced life. There's only a single road leading from the North side to South side of the island (and back), and when I was visiting, a big portion of that road was closed for many hours every day. Traffic on the few main roads can also back up, so check the traffic and road closures and plan accordingly. Or better yet, go about your days without rigid plans so you can go with the flow!
Similarly, many of the eateries we visited moved at a snail's pace. When you're trying to squeeze all-the-things into a short trip, this can drive your anxiety up-and-up-and-up, but if you approach your dining experiences without a schedule and listen to the overall Hawaiian message to slooooooow dooooooown, it can actually be quite enjoyable. If you're generally an impatient person, perhaps some early morning yoga on the beach can help keep your restlessness at bay.
Tips for Eco-Conscious Travelers
Bring your own reusable cutlery and straws!
Most of the vegan-friendly spots we visited on Kauai were extremely eco-friendly. They served up to-go food with compostable straws and compostable utensils, which is fantastic! But if you throw these "compostable" items in the garbage can, they won't actually compost (listen to this zero waste vegan episode of the Plant-Powered People Podcast for more on that). You can do the planet a solid by packing your own metal or bamboo straws and utensils wherever you go. Pick up a set or two of To-Go-Ware and you'll never need a disposable utensil again. I used mine almost daily in Hawaii!
Plastic bags are banned on the island, so you'll get paper wherever you go (yay!). If you're getting take-out food and plan ahead, you can bring your own reusable containers that many restaurants would be more than happy to use to package up your food. Eco-conscious to-go containers are actually quite pricey, so you're doing the restaurant a favor by bringing your own!
17 Must-Visit Vegan Restaurants & Veg-Friendly Eateries on the Island of Kauai
Russell's by Eat Healthy Kauai
Potions Kombucha Bar & Indian Food Restaurant
Kalalei Juice Hale
Kauai Juice Co.
Papaya's Natural Foods Store
Hoku Foods Natural Market
Vegan Cakes & Desserts (Food Truck)
Scorpacciata (Food Truck)
Kilauea Market & Cafe
Holey Grail Donuts
Nourish Hanalei
The Spot North Shore
Trilogy Coffee & Tea Bar
Wishing Well Shave Ice
Fresh Bite Food Truck
Leahi Health
Aloha 'Aina Juice Cafe
Vegan Spots in East Kauai:
Russell's by Eat Healthy Kauai
Russell's is a fully plant-based restaurant and was one of my favorite spots on the island. We went back several times so we could explore more of their menu. They serve up smoothies, scrambles, soups, wraps, burgers, and beyond. You'll find a quaint pink house set back from the road with plentiful parking. Look for the big beautiful "HEALTHY" sign made of succulents. Take a seat and they'll serve you elegant plated dishes that cost around $15 with a chill back patio vibe. You can also easily swing by and pick up your order to-go.
My Top Picks: The Tex Mex breakfast burrito with vegan cheddar cheese was phenomenal, as were the fresh spring rolls served with peanut sauce (decorated with a beautiful peanut sauce drizzle spelling "Aloha"). The ranch salad dressing is outstanding—so good that they sometimes sell mason jars of their ranch that you can bring home!
Come for breakfast and come back again for lunch or dinner, as different parts of their menu are available at different times of the day.
Kalalea Juice Hale
This is my favorite juice stand that serves up acai bowls, delicious smoothies, and cold coconuts. The Kalalea Juice Hale is located on the side of the road on the drive from the East side to the North Shore. Note that it's not open every day, so be sure to check their hours!
Going for the fresh coconuts? They will open the cold coconut and pop a compostable straw in for you to drink. I got one and it was delicious—sipping that hydrating subtly sweet coconut water with my toddler with the warm Kauai sunrays hitting our skin felt like the epitome of Hawaii. Plus, when you're done drinking your coconut the folks at Kalalea Juice Hale will crack it open so you can eat the coconut meat, which you can scoop out with a spoon
The stand is adorable—bright orange and surrounded by palm trees—and they have a smaller stand to the right where they typically have an array fresh local produce you can purchase (such as bananas and pineapples). There are several picnic tables where you can enjoy your bowls, juices, and smoothies. It's an overall happy, friendly, fun atmosphere that made me fall even more in love with the island life.
Kauai Juice Co.
Praise the juice gods! Kauai Juice Co. makes outstanding fresh grab-and-go juices, and they have several locations so they're easily accessible. They also sell very healthy salads, chia pudding parfaits, wellness juice shots, a whole line of house made hot sauces, and other merch.
Nearly everything comes in beautiful custom glass bottles, which you're welcome to keep and save as a souvenir, or you can bring them back for store credit through their bottle return program (a planet-conscious sustainability initiative).
I highly recommend their Avatar juice—you'll recognize it because it's a stunning aquamarine color with chia seeds at the bottom. It's made from coconut water, blue majik, pineapple, and chia seeds. It's super hydrating and as close as you'll ever get to a healthy natural gatorade.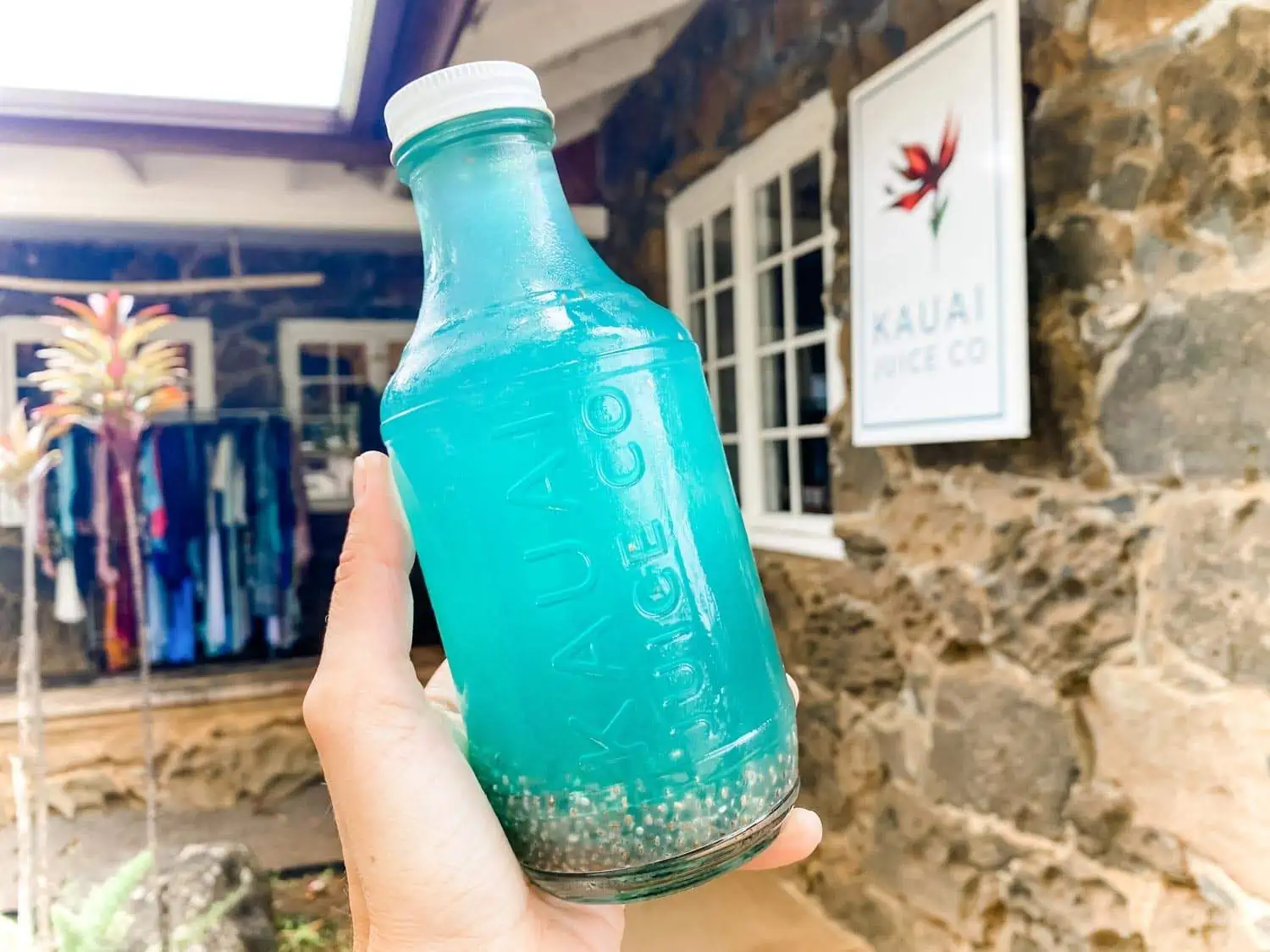 If you're a raw vegan you'll likely appreciate their kelp noodle salad tossed in a peanut coconut satay sauce with tamari roasted zucchini and fresh bell pepper, cucumber, sprouts, and sesame seeds.
Papaya's Natural Foods Store
Is any vegan vacation complete without a visit to the local natural foods store? Not in my world! I stopped by Papaya's Natural Foods multiple times during my visit to stock my kitchen with exciting vegan goodies. While it may feel pricey at checkout, keep in mind that even fun pricey vegan specialty items will save you money if they keep you from eating out.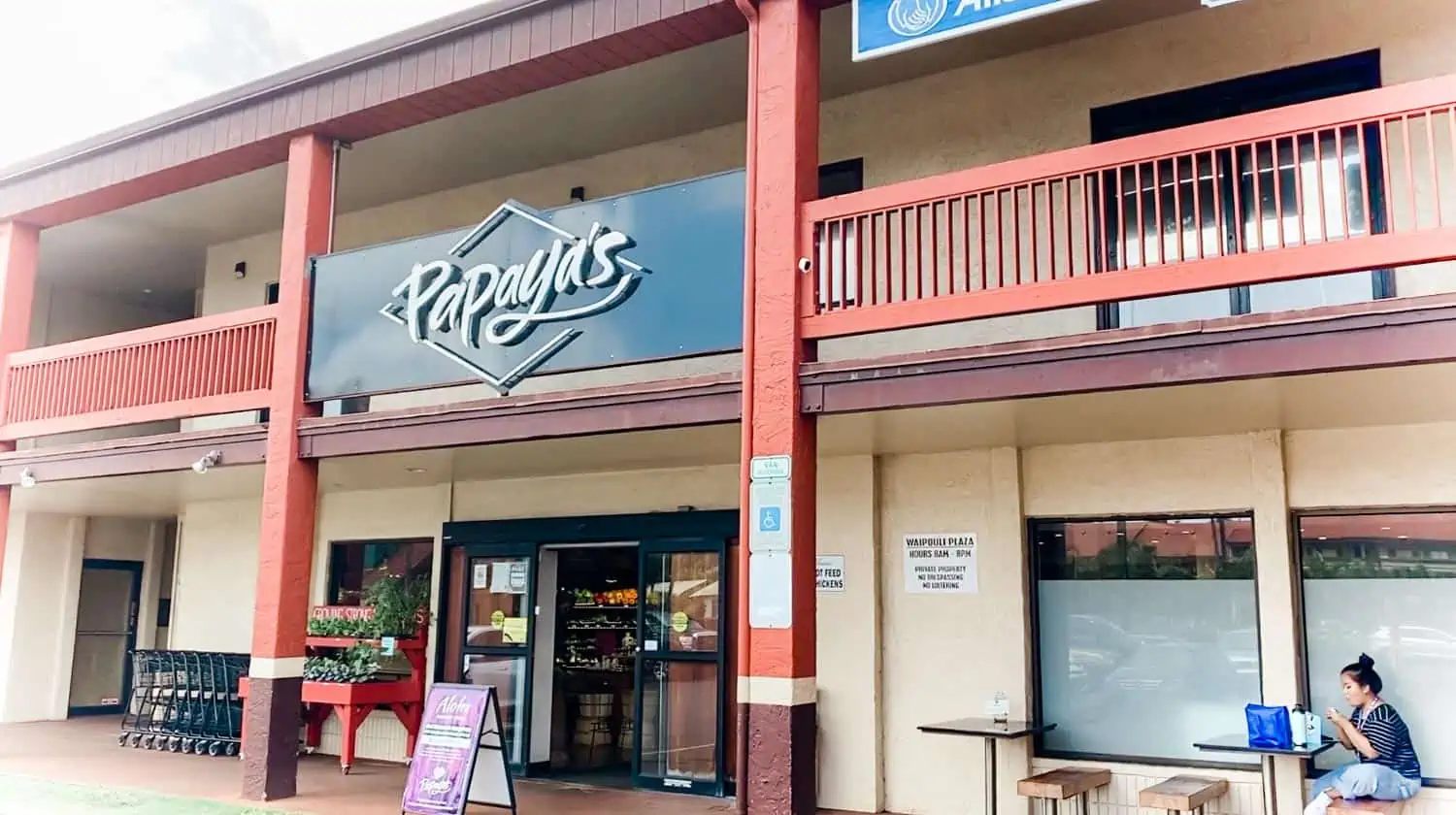 Papaya's Natural Foods Store is stocked with all the vegan essentials: snacks, cheese, meat, yogurt, butter, ice cream, sweets, chocolate, and beyond. You can also find personal items like cruelty-free toothpaste, bamboo toothbrushes, sunblock, sustainably made sunglasses, vegan vitamins, supplements, and more. Finally, they have a small-but-mighty fresh produce section with a modest selection of local fruits and veggies.
If you're looking for a quick bite to-go or picnic foods to pack with you for the day, Papaya's has delicious fresh made food that you'll find in the refrigerator in back. Many of them are vegan. I got the sesame noodles, vegan potato salad, spicy garlic edamame, loaded salad with tahini dressing. It was pricey but it was all outstanding.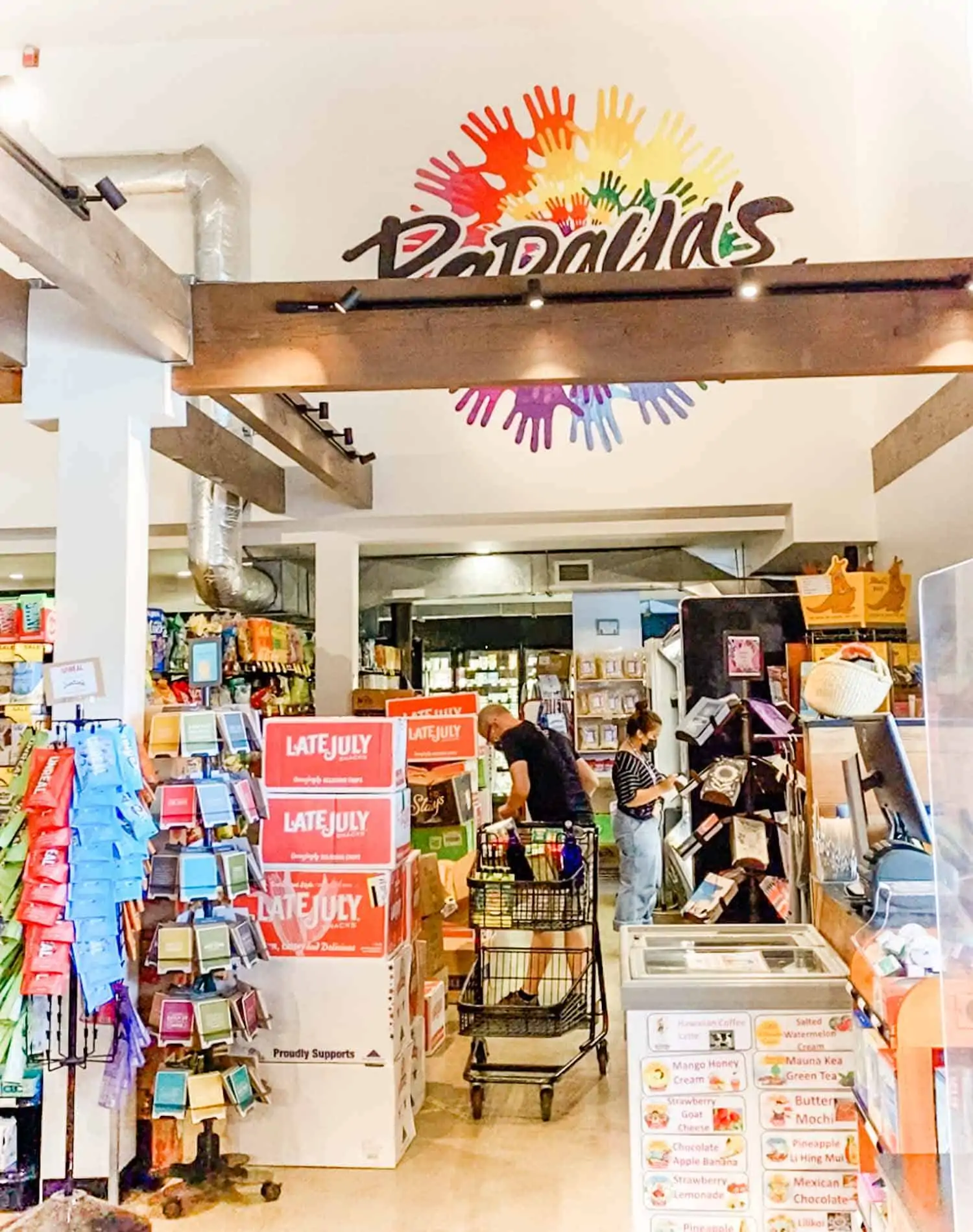 Hoku Foods Natural Market
Holy guacamole—another natural foods store! Just a few blocks from Papaya's Natural Foods, Hoku Foods is a similar treasure trove of vegan specialty foods, groceries, drinks, prepared wraps and grab-and-go vegan lunches. We picked up several wraps and sushi items to bring on the plane for our flight home, and they were all delicious!
They have an enormous bulk foods section, produce, grocery items, beer and wine, health and body care, baby, pets, and household items, and fun local crafts and products. I only wish I had discovered this gem sooner, because I would have come back again and again!
Cake Time (Fully Vegan Dessert Truck in Kauai)
We stumbled upon this hot pink food truck in a parking lot thanks to the bright signs that say "Vegan Cakes!" This spot has very limited hours but if you can catch the Cake Time stand while they're open, they make divine raw vegan cakes. Before you turn your nose up at the raw factor, take note. These are not your standard grainy cashew cakes. They're perfectly smooth, creamy, decadent vegan cheesecakes decorated to perfection with elegant fresh berries. 5-stars!
Check out the Cake Time Instagram feed for more photos and updates about where and when you can find them.
Potions Kombucha Bar & Indian Food Restaurant
You'll find Potions just around the corner from Russel's vegan restaurant. It's a funky, small, moody, eclectic spot with stellar kombucha and solid Indian food. The majority of their menu is clearly labeled as vegan, and it's all vegetarian! If you're a kombucha lover, this spot is a must-visit, as many Yelp reviewers declared it to be their favorite kombucha of all time. We stopped by for a peek inside and some vegan Indian food take-out, which was filling and the server was really friendly. Since it is a small place, the hours may be a little less reliable though. When we went they were almost out of many of the vegan dishes. So if you're traveling a ways to visit, perhaps call ahead!
Scorpacciata (Food Truck)
Scorpacciata is an unassuming food truck nestled on a happening street on Kuhio Hwy. It's a pizza lover's dream! While it's by no means a vegan food truck, they serve up authentic Italian pizza and they do have a vegan pizza on the menu. Spoiler: it's absolutely delish!
Their vegan pizza is made without any cheese (say whaaaat?!) but before you write it off, I was shocked that I didn't miss the cheese one bit. Their vegan pizza is loaded with flavorful ingredients like caramelized onions, kalamata olives, pepperoncini, sun dried tomatoes, and truffle oil. My hubby and I each got our own pizza (since they're not very large), and we enjoyed every bite.
This food truck has plenty of seating so you can "dine in" (outside), or you can order ahead and bring home your vegan pizzas for movie night.
Eating Vegan on the North Shore of Kauai
Holey Grail Donuts
If you need a break from acai bowls or are just looking for something to do on the North Shore in the early morning, head to the Holey Grail Donuts food truck in Hanalei! This popular spot opens earlier than most spots in Hanalei, and is bustling all day long. They serve up freshly made taro cake donuts fried in coconut oil with 4 special flavors that change each week. You can pick up a beautiful tasting box of all four flavors for $12. The service is fast and the donuts come out piping hot! But if you can't enjoy them immediately, don't worry, they're still good at the end of the day.
To pair with your donuts, you can also order a draft latte, chai latte, matcha latte, and even chocolate milk for the kiddos!
The Holey Grail food truck is nestled up to a big deck with tables where you can casually enjoy your donut delights and sip your iced beverage. It's a perfect spot to meet up with friends!
Holey Grail Donuts also has locations in Oahu, Honolulu, and Waikiki.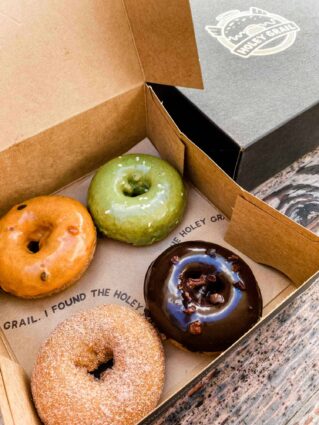 The Spot North Shore
This was another gem we stumbled upon when the road further North was closed. Located in a very nice outdoor shopping area, The Spot North Shore first caught my eye because it had a line stretching all around the restaurant courtyard. While that madness would usually make me run the other way (who has time for that?) I was intrigued enough to take a peek at the menu.
Lo and behold, it was loaded with vegan options.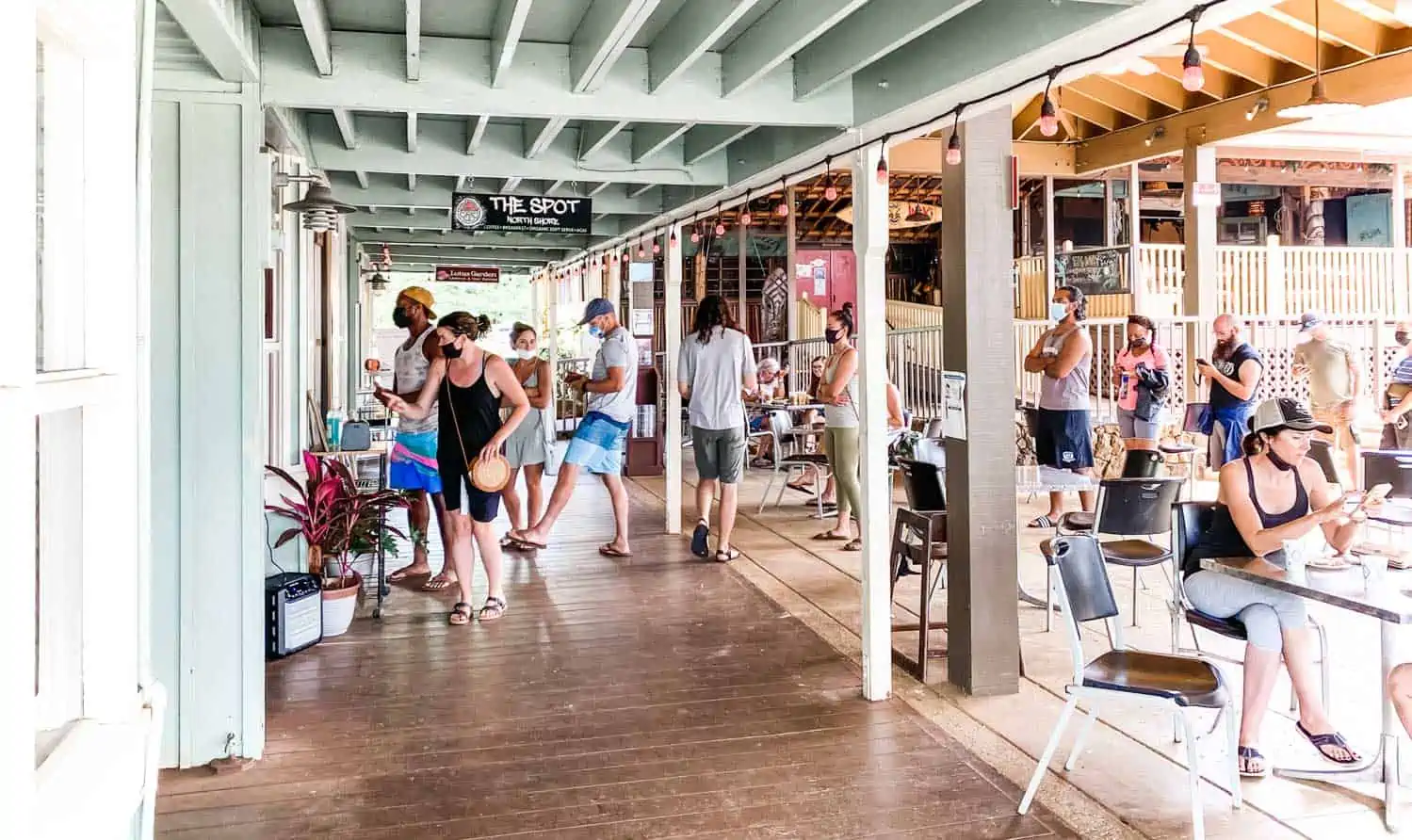 We got the smashed avocado toast with added tofu scramble (delicious) and the "Green Machine Bowl" which had organic quinoa, sautéed veggies, tahini green goddess sauce, roasted pepitas, and tofu scramble (also delish). We also got one of the "Spot Bowls" which is essentially a soft serve swirl made from frozen bananas or a coconut base. You can add your pick of blend-ins and toppings (think: Oreos, coconut cream chunks, papaya, peanut butter, tahini, chia seeds, macadamia nuts, and lilikoi drizzle). The wait in line was an hour long, but if you've got the time and are ready to embrace that "Island Time" I was talking about, I highly recommend this spot!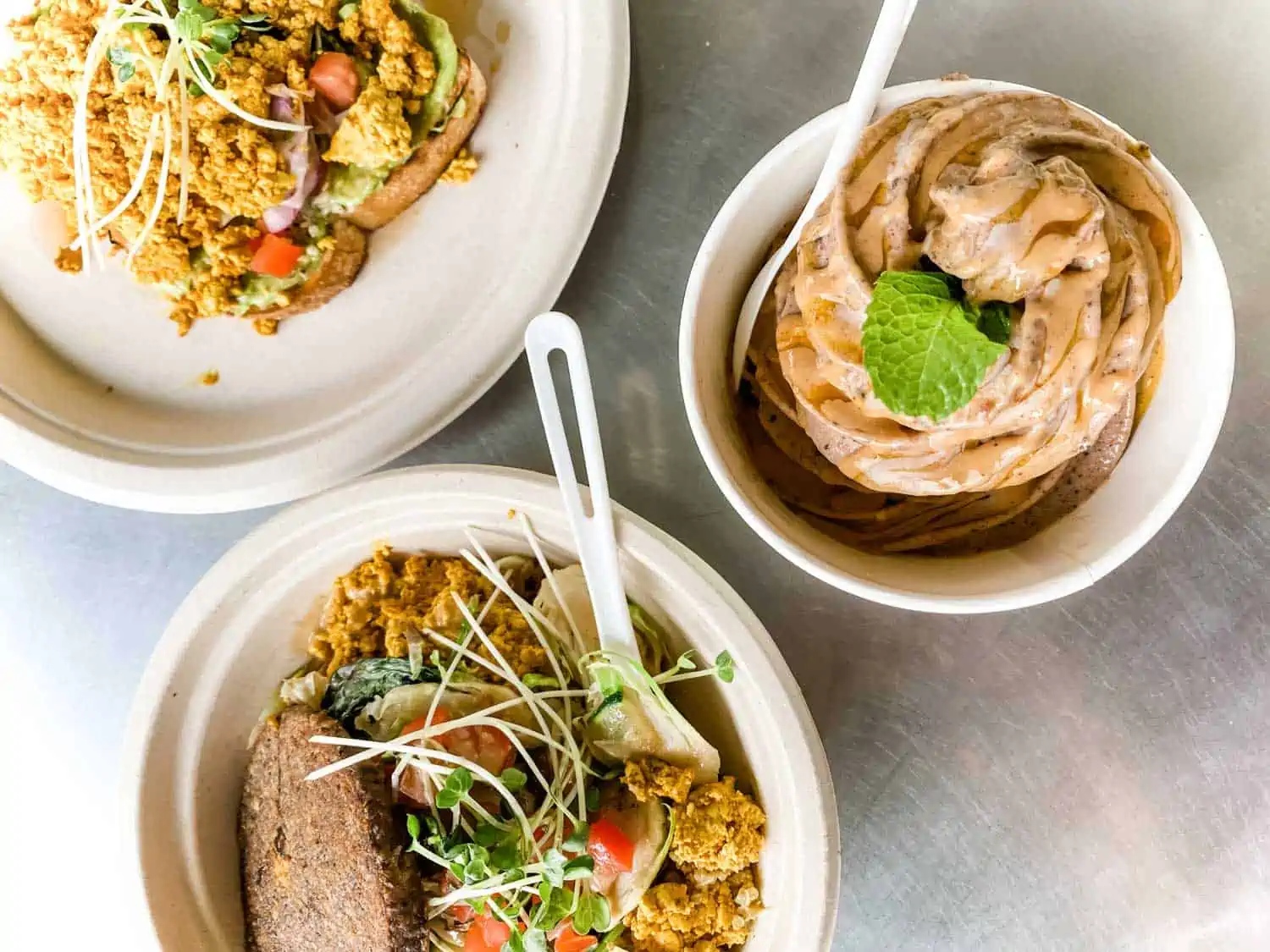 Be sure to peruse the other shops in the area when you're there. If you're traveling with kids, there is a small but mighty toy store where you can find a fun selection of games, Hawaiian-inspired stuffed animals (sharks galore!), little hippie vans with surf boards on top, Hawaiian dolls, art supplies, and more. Your kids will love you for bringing them there—and even the adults will have fun!
Trilogy Coffee & Tea Bar
Trilogy is an awesome cafe and bakery that we stumbled upon while we were in Kilauea (North Shore). We were there visiting a shop that my friend Jason Wrobel highly recommended called Hunter Gatherer—a pretty neat spot, even for a vegan. My husband popped into Trilogy to get a cup of coffee and quickly came back out nearly squealing about all the vegan options there. You know the feeling, right? When you stumble upon a vegan gold mine you never expected to be there? Pure delight.
We both headed back in to check out the plant-based offerings, and were very impressed with all their clearly-labeled vegan goodies. They had mountains of vegan, raw, gluten-free, and organic delights including cookies, biscotti, cake, and more.
A few delicious-looking items I spotted:
White Chocolate Rose Pistachio Cake (vegan, raw, gluten-free – $9)
Raw Cranberry Pistachio Biscotte (vegan, gluten-free – $7)
Chocolate Chip Almond Butter Spelt Cookies (vegan – $4)
Hazelnut Fudge Brownies (vegan, raw, gluten-free – $6)
Everything was beautifully presented under delicate glass cake stand covers and in their pastry case. We weren't hungry for sweets but we did spot bagels with house-made garlic and herb vegan cream cheese and ordered that. Absolutely delicious.
There is lots of seating next to the cafe so it's a perfect spot to meet friends or hang out with your family. My toddler was running around through the grass, playing with rocks, and stayed pleasantly occupied in that courtyard for some time.
Plus, this artisanal cafe is in the same complex as Kauai Juice Co. and across the street from Kilauea Market, so you can hit a few vegan-friendly spots in one visit. Latte cheers!
Wishing Well Shave Ice
Shave ice is an essential treat when visiting Hawaii, and Wishing Well Shave Ice is an awesome spot to support. They've been serving up refreshing shave ice out of an old bus at the entrance to Hanalei, Kauai since 1983, and they are incredibly vegan-friendly! Amazing, right?
They now sell shave ice, smoothies, acai bowls, coffee, matcha, turmeric lattes, and hibiscus lemonade. Check out their gorgeous menu! Their mission is to serve the highest quality, sustainable eats using locally sourced ingredients. And when I visited, even their granola was vegan! Plus, if you order an iced beverage, they'll serve it up in one of their custom glass mason jars that is yours to keep! I still drink out of my glass every day—a perfect souvenir.
This was my first ever shave ice and I must say, I'm smitten! I got the organic house-made shave ice with passion fruit and strawberry topped with fresh papaya, and it was perfect. If you want to go for an epic wow-factor, ask for a rainbow shave ice. It will cost a bit more for extra flavors, but you'll have the most beautiful edible rainbow.
Speaking of rainbows, I saw three that morning on my way to Wishing Well. Hanalei is lush and rain is often sprinkling somewhere nearby, so keep an eye out for rainbows decorating the sky.
Fresh Bite
Fresh Bite is another popular vegan-friendly food truck we didn't get to try since it was closed while we were in town. But we did walk by since it's in the same little food truck park as Holey Grail Donuts and snapped this picture.

If you are able to visit Fresh Bite in Hanalei, please do share how it was and any menu recommendations you have in the comments below! They do have very limited hours of operation so check that they're open before making the drive.
Note: there were also a few other food trucks in this area that had vegan options on their menu, including:
Nourish Hanalei
Sadly, I wasn't able to visit Nourish because they have limited hours and the road closures made it an impossibility for us. But I've heard great things about this tiny roadside stand. You can get wraps and all sorts of other mealtime munchies, and enjoy it right there while looking out at the lush mountain backdrop, or take it to-go. I'm still dreaming of the wrap I never got from this spot, so if you're able to go, please share so we can all live vicariously through you!
Kilauea Market & Cafe
If you're missing your local Whole Foods Market, Kilauea will make you feel at home. It's a large grocery store with a Whole Foods-y vibe, where you can find lots of vegan packaged and refrigerated foods.
This market also has fun artisan made gifts like candles with pressed flowers (which were labeled vegan and made in Hawaii), soaps (also vegan) that are beautifully wrapped and make perfect souvenir gifts, bags, and notebooks.
The Kilauea Market Cafe, which is located inside the grocery store, wasn't very vegan-friendly. But they did have a vegan avocado toast that looked heavenly and tofu steaks as a side dish, which struck me as quite unique. They also have smoothies (make sure you ask them to skip the honey) and spiked kombucha, if that's your thing. We didn't get anything but groceries here so I can't speak to the cafe personally, but I'm sure they can whip you up something vegan if you're hungry for a bite!
South Shore Vegan Eateries in Kauai
Leahi Health
I was excited to stop at Leahi Health because it's one of the few 100% vegan restaurants in Kauai. It also has stellar ratings on Yelp and Happy Cow, and the menu looks outstanding! There are several locations in Kaimuki, Kailua, Aina Haina, and Koloa, and we stopped by their newest location in Koloa.
Our experience was a little underwhelming, but I'm guessing it was just an off day and perhaps they were understaffed. The location is marked by an inviting sign, drawing you into the order window where you'll likely be met with a line if you visit at lunchtime. They have some tables and benches set up and sectioned off from the parking lot where you can wait and enjoy the sunshine.
It took a really long time for our food to come out, but that seems to be typical for Hawaii. It's like all the restaurants are trying to help you "find your chill" by making you wait just past your comfort zone for your food to come. It's slightly harder to stay "zen" when you have a hungry 1-year-old running around and starting to lose it, but thankfully there were lots of chickens providing smiles and helping to pass the time.
Here's What We Got:
We ordered two smoothies and honestly, they weren't great. But the tacos were delicious! We got the rainbow tacos and the vegan tuna tacos. Both are served in a fluffy pita bread as the taco shell which is certainly unique. We didn't get to try the bowls (since they accidentally made us two tacos plates). But my friend (hey, Crystal!) got the mock tuna bowl and loved it.
If you'll be eating there be sure to let them know so they serve up your food in a nice wooden bowl rather than the kindergarten-style paper bowls they use for to-go orders. Those flimsy blue paper bowls do detract from the natural vibe/feeling of your fairly expensive plant-powered food.
While I wouldn't rate our meal 5-stars, I would love to come back to Leahi Health next time I'm in Kauai and give it another shot. I feel confident that next time I'll have the experience so many people are raving about. If you give it a try, please do share how you liked it (you can drop a comment below)!
Aloha 'Aina Juice Cafe
We stumbled upon this juice and smoothie shop thanks to Happy Cow, the Yelp-style vegan app that shows the vegan-friendly spots near you. Aloha 'Aina Juice Cafe was highly-rated and we were craving some fresh healthy eats, so we swung by!
The pitaya bowls are really special here—not only are they a beautiful pink color, but they're served up soft-serve style! If you'd like to feel like you're eating ice cream for breakfast, lunch, or dinner with zero guilt, this is juicery is your jam.
We got the pitaya bowl and asked them to leave off the granola since it contained honey, and also got an order of their fresh avocado toast (which isn't a permanent fixture on their menu, but they said they often have it). Both were perfection! Highly recommend. And this shop was in a parking lot, so it's super-easy to swing by and grab a bite.
More Vegan Travel Resources
Mahalo for stopping by! If you've visited Kauai and have ay tips to share for fellow readers, please do share in the comments. This article features 17 must-visit plant-based eateries and the best vegan restaurants in Kauai. Article and photos of vegan food in Kauai by Michelle Cehn for World of Vegan. Copyright of World of Vegan™, all rights reserved. This post is not sponsored and we don't have a relationship with any of the Kauai vegan restaurants mentions.