Rich, incredibly flavorful, and also slightly sweet, this Italian pasta sauce recipe is sure to become a family favorite. With just a few simple ingredients and even less activity, you'll have the most heavenly sauce on hand to spoon over pasta, pizza, or soft, crusty bread.
Adorn yourself with an adorable apron, put on an Italian opera (or find a fine Italian cafe video to play), and let's get cooking! Buon appetito!
Why You Need to Make This Authentic Italian Pasta Sauce
Not only is this homemade Italian sauce incredibly delicious, it's also a wonderful staple recipe to have in your kitchen. You can easily keep the ingredients on hand in your pantry and have a savory sauce simmering on the stove in no time!
Super simple to make
Only a few ingredients needed
Chock-full of antioxidants
Perfect for meal prep
A deep, rich flavor that you can't get from any jarred sauce
Gluten-free, soy-free, dairy-free, and nut-free
How To Serve Up Your Italian Pasta Sauce
There are endless ways to use this scrumptious pasta sauce and we think you'll love all of them! Having a supply of homemade sauce in the freezer is also a great way to be prepared for any dinner emergency. Just set the frozen sauce into a large saucepan (or dutch oven) and heat over medium until beautiful and bubbly.
Layer With Lasagna – Use this savory sauce with any lasagna recipe. Alternate layers of pasta sheets with sauce and add your favorite vegan cheese in between. Delicious!
Pour on Top of Pizza – You don't need special sauce to make your pizza pie––this recipe works wonderfully with any vegan pepperoni, vegan cheese, and other tasty toppings.
Flavor Your Fried Dough – If you've never had fried dough, it's an iconic Italian treat. It's similar to a small, light, personal pizza crust that you can sprinkle with tomato sauce, sugar, or olive oil and herbs. This pasta sauce recipe is absolutely perfect for fried dough.
Pair With Pasta – An everyday classic! Boil up a batch of al-dente pasta and slather with as much Italian pasta sauce as you wish. Add a mound of vegan meatballs, season with a few shakes of vegan parmesan, and you've got yourself the most satisfying meal.
Delve Into Dipping Sauces – Replace that dusty jar of marinara with a few tablespoons of this super fresh pasta sauce. You'll love dipping french fries, onion rings, jalapeño poppers, or pretty much anything in this thick, rich sauce.
Star Ingredients
This recipe is literally loaded with some of the best and most nutrient-dense ingredients. If you serve your sauce over a whole grain or legume pasta (such as whole wheat, quinoa, black bean, lentil, or chickpea), you'll be adding even more amazing health benefits to your meal.
Tomatoes – Great source of vitamin C, potassium, folate, vitamin K, and lycopene
Basil – Rich in vitamins and minerals, as well as full of antioxidants such as lutein, zeaxanthin, and beta-carotene
Oregano – Antibacterial, packed full of antioxidants, and an excellent source of fiber, vitamin K, manganese, iron, vitamin E, tryptophan, and calcium.
Bay Leaves – Also antibacterial, with small amounts of calcium, copper, iron, zinc, magnesium, and vitamins A, C, and K
Olive Oil – Good source of antioxidants, as well as rich in monounsaturated fat
My Family's Tip for Enjoying This Homemade Sauce
I have one more suggestion that is a favorite in our family and I really wanted to share it with you. When I was little, both my Great-Grandma Lena and my Grandma Catherine would let me (and my little sister) taste the simmering sauce as a snack. They would hand me a large slice of soft Italian bread (if it was Scali bread dotted with sesame seeds in the crust, I was in heaven!) covered in homemade sauce very close to the time when the rich red "gravy" would be ready. Please give this a try. The combination of soft bread and warm sauce is so satisfying!
Frequently Asked Questions
Can you use fresh tomatoes instead of canned? Of course! If you don't want to use canned, crushed tomatoes, you can use fresh. But, for the same finished texture and consistency, you will need to process your own tomatoes by dip boiling to remove the skins, taking out the core and other green areas, cutting the tomatoes into chunks, and using a potato masher or blender to blend up at least half of the tomatoes before using in the sauce.
What if I don't like vegan meats? The vegan meats aren't a necessity for this sauce, but they do give the sauce a more savory depth of flavor. If you decide not to add any vegan meats, consider adding a little bit of fennel seed (which is often used to flavor pepperoni, meatballs, and sausages) along with roasted red peppers, chopped meaty cremini or portobello mushrooms, or a cup or two of brown lentils.
Do I have to cook the sauce for two full hours? When cooked along with the spices for the full two hours, the sauce develops a lovely, slightly sweet flavor and thick consistency. While it's not absolutely necessary to cook for the full amount of time, I would say that 30 minutes is the minimum. The longer you let the tomatoes bubble and brew, the better the taste will be.
Can I freeze this sauce? Absolutely! As soon as the sauce is at room temperature, pour into a freezer-safe container (or bag) and seal well. The sauce can be frozen for up to 3 months. To reheat, simply add to a saucepan on medium and stir occasionally until it comes to desired temperature.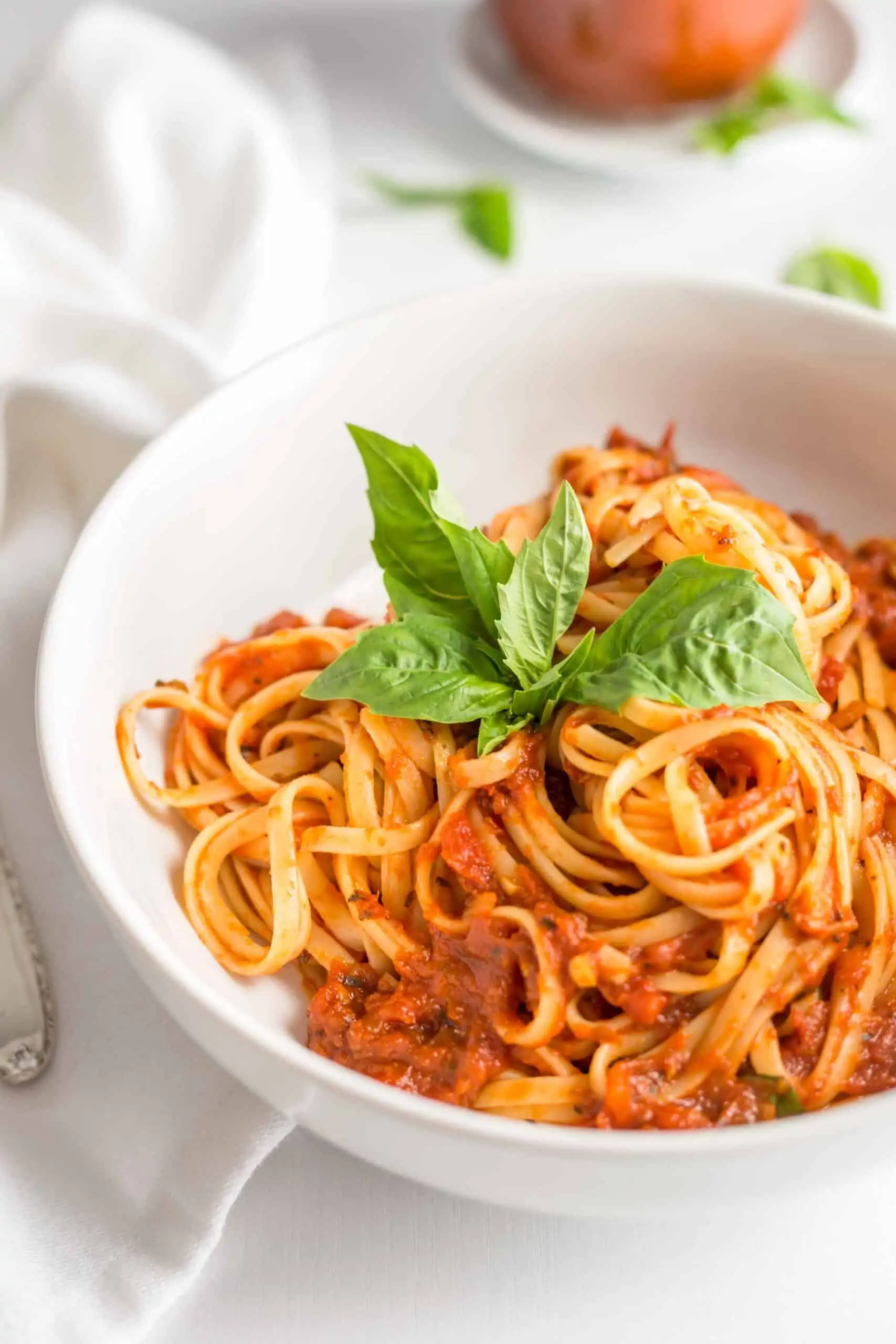 More Vegan Italian-Inspired Recipes to Try:
How To Make This Vegan Pasta Sauce
Nothing could be more simple than making this sauce. If you've been trying to find a few extra minutes to read, relax, or just unwind, now you have the perfect excuse. Get the sauce on the stove and, other than an occasional stir, you're free to put your feet up for at least an hour and a half.
Open the cans of sauce and pour into the pan.
Pour half a can of water to the pan.
Sprinkle in the spices and stir well.
Let simmer over medium-low heat for one and a half hours.
(Optional) Add your plant-based meats and continue cooking for another 30 minutes.
That's all! Strain out your meats and the bay leaves and enjoy right away. You can also let the sauce cool completely and then put into a freezer-safe container for use in a month or so.
Equipment You'll Need
Luckily, to make an authentic homemade pasta sauce, you don't need a lot of equipment––just time and patience. Here's what you'll need to get started:
Large Dutch Oven or cooking pot with lid
Wooden Slotted Spoon (for stirring and to help take out the vegan meats)
Servings 8 cups, approximately
2 28-ounce cans crushed tomatoes, (Pastene is a popular Italian choice)
½ can water
1 tablespoon olive oil
2 medium dried bay leaves
1 tablespoon dried oregano
1 tablespoon dried basil
1 teaspoon garlic powder
½ teaspoon salt, or to your liking
½ teaspoon pepper, or to your liking
½ pound frozen Italian-style veggie meatballs, optional
½ pound Italian-style veggie pepperoni or sausage, sliced into chunks (optional)
Open up both cans of tomatoes. Place your large saucepan or dutch oven over medium high heat. Pour tomatoes and water into the pan. 

Add in the olive oil, bay leaves, and spices. Stir well.

Bring your sauce to a low simmer and then reduce heat to medium low. Cook (slightly covered) for 1½ hours, stirring every half hour or so (at least). 

If using veggie meatballs, pepperoni, and/or sausage, add them in, stir well, and simmer for another ½ hour.  

When your sauce is done, turn off the heat, pull out the bay leaves, and scoop out  the veggie meats onto another plate for serving. Buon appetito!
This amount of sauce is enough for 2 meals of 4 people—either with pasta, lasagna, stuffed shells, etc. The finished sauce (and veggie meats) can be refrigerated for up to 5 days. You can also freeze a large portion of sauce in a covered, freezer-safe container for up to 3 months. Defrost overnight in the refrigerator and heat up in a saucepan on medium or medium-high until desired temperature.
The plant-based, vegan meats are not required to make this sauce. If you do cook the sauce with these foods, the sauce will have a richer, deeper flavor, but it's still very flavorful without them. My family loves it both ways. 
When the sauce is just done, try spooning some hot sauce over a slice of fresh Italian bread (un-toasted) and enjoy. If you have a loaf of Scali bread with sesame seeds in the crust, it's even better! An Italian tradition at our house. 
Serve with a fresh green salad, vegan parmesan cheese or nutritional yeast, and (if you like spiciness), a few shakes of crushed red pepper flakes.
Calories: 120kcal | Carbohydrates: 9g | Protein: 9g | Fat: 5g | Saturated Fat: 1g | Polyunsaturated Fat: 1g | Monounsaturated Fat: 2g | Sodium: 469mg | Potassium: 217mg | Fiber: 3g | Sugar: 1g | Vitamin A: 26IU | Vitamin C: 3mg | Calcium: 100mg | Iron: 2mg
If you try this Italian pasta sauce recipe, let us know what you think by leaving a comment and rating below! Be sure to follow along on Pinterest, Instagram and Facebook for even more vegan recipe inspiration.
This Recipe Was Passed Down Four Generations
Below you'll find photos of my Italian grandmother and great grandmother who each passed down this recipe to my mom, and then to me, and now to you!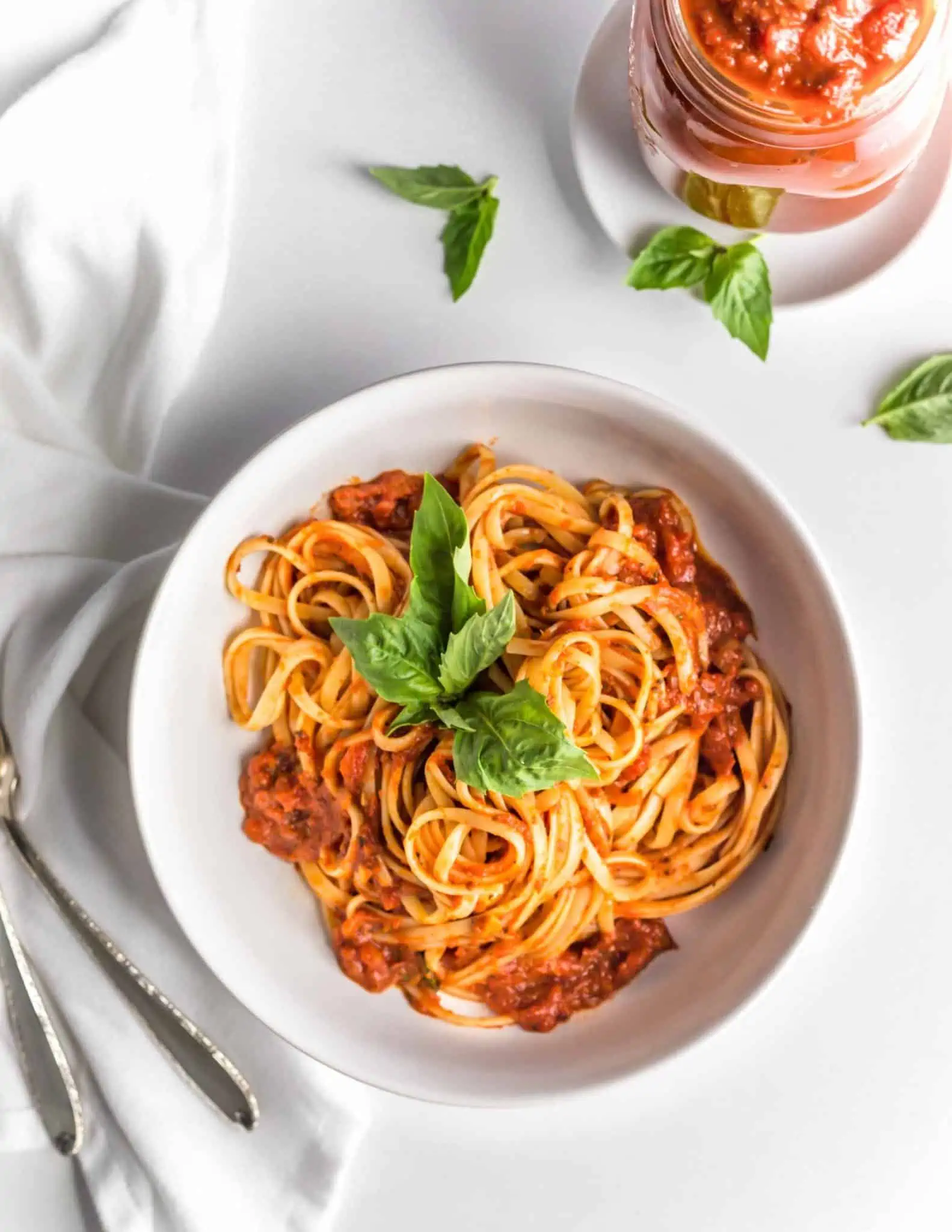 Authentic Italian Pasta Sauce recipe by Gina House. Vegan food photography by J.J. Steele. Article written by Gina House and edited by Amanda Meth. Special thanks to our recipe testers Annie Sparks, Lexia Cicone, and Andi Combs. Please note that this article may contain affiliate links which supports our work at World of Vegan.