Have you ever eaten a dish that was so good, it almost made you angry? If so, you'll know exactly what I'm talking about when I mention spaghetti arrabiata. Literally translated as "angry spaghetti" from Italian, the original name is in reference to the spicy red sauce that glows with the fury of hot chili peppers.
Each bite is an explosion of flavor, not unlike a sudden outburst of rage. Just as it's healthy to experience a full range of emotions, the low, smoldering burn of this classic pasta masterpiece will ultimately leave you feeling whole and satisfied.
This recipe was kindly sponsored by Magnifico Food, where you can find high-quality authentic Italian ingredients. This is where we got many of the ingredients we used in this recipe.
What Is Arrabiata Sauce?
Pasta all'arrabiata is a relative newcomer to classic Italian cuisine. Said to have been first created at the beginning of the twentieth century in a Roman trattoria, it was a creative twist on the standard, mild fare.
It starts with tomatoes, garlic, and plenty of extra virgin olive oil (just like marinara). Then it takes a sharp turn with a generous handful of pungent dried chilies (or chili peppers in oil). They're simmer together with italian spices to create a rich, thick, and intense saucy gravy that's utterly irresistible.
Penne all arrabbiata was the original version, allowing the ridged pasta tubes to fill up chili-infused sauce without spilling a drop, but any noodle will do. Since then, linguine arrabiata and spaghetti arrabiata have become front runners, while further experimentation has given rise to gnocchi arrabiata and beyond.
Why This Will Be Your New Favorite Arrabiata Sauce Recipe
Homemade tomato sauce is like an edible hug. No matter the season, mood, or reason, simple red sauce is the perfect blanket to wrap up any meal for instant comfort food. Arrabiata especially has several things going for it: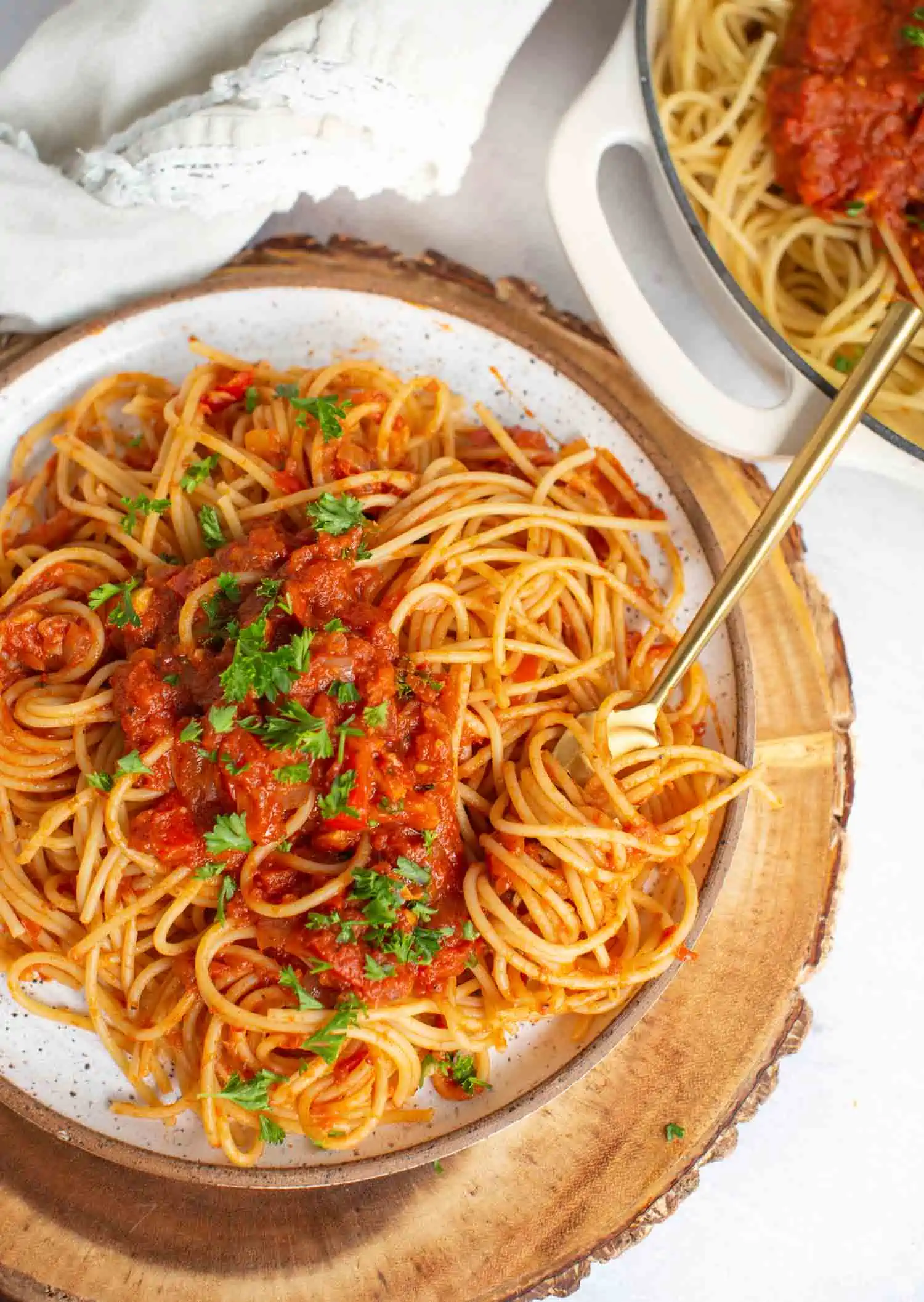 Key Ingredients
When there are so few ingredients in a recipe, every single of one of them counts! Here's what you need to know to maximize your efforts:
We shopped at Magnifico Food online to get the Italian spaghetti, tomato puree, organic extra virgin olive oil, Calabrian crushed chili peppers in oil, and salt and pepper we used in this recipe.
How To Make Arrabiata Sauce
Use a large pot or Dutch oven, which holds heat well and cooks evenly, while having high sides so you can stir easily without fear of splashing. Set over medium heat and add the Extra Virgin Olive Oil. Wait until the oil is shimmering before adding your vegetables.
To test if the oil is ready, wet your hand under water and drop a little water into the pot—if the oil sizzles when the water touches it, it's ready!
Once the oil is hot, add the onion and bell pepper and sauté until softened. These take the longest time to cook which is why they need to go in first. The garlic and oregano should be added next, cooking until highly aromatic.
Add the tomatoes and seasonings, stirring well to incorporate and deglaze the pan. That means you should use your spatula to scrape up any of the golden-brown aromatics that may be sticking to the bottom; that's where all the flavor is! Cover and simmer for 10 minutes.
Uncover, reduce the heat to medium-low, and continue to simmer gently for 30 minutes. Don't walk away though, since you'll need to stir periodically to make sure it cooks evenly without burning on the bottom.
Once thick and rich, it's time to blend. You can use an immersion blender to keep it all in one pot, or transfer to an upright blender or food processor if that's what you had. Either puree it for a completely silky-smooth sauce or keep it slightly chunky for more texture. Season to taste and keep warm while you cook the pasta.
In a separate large pot, cook the spaghetti (or linguini, penne, gnocci, or any pasta of choice), following the directions on the package.
Want to learn a fun way to test if your spaghetti is ready? Take a strand of cooked spaghetti and throw it against the wall. If it sticks, it's ready!
Serve sauce over al dente pasta and top with additional fresh herbs, if desired. Enjoy hot!
What Else Can Arrabiata Sauce Be Used For?
The best part about arrabiata sauce, beyond its incredible depth of flavor, is its limitless versatility. Pasta is just the tip of the iceberg for arrabiata uses. Next time, consider the following possibilities:
More Italian Pasta Recipes You'll Love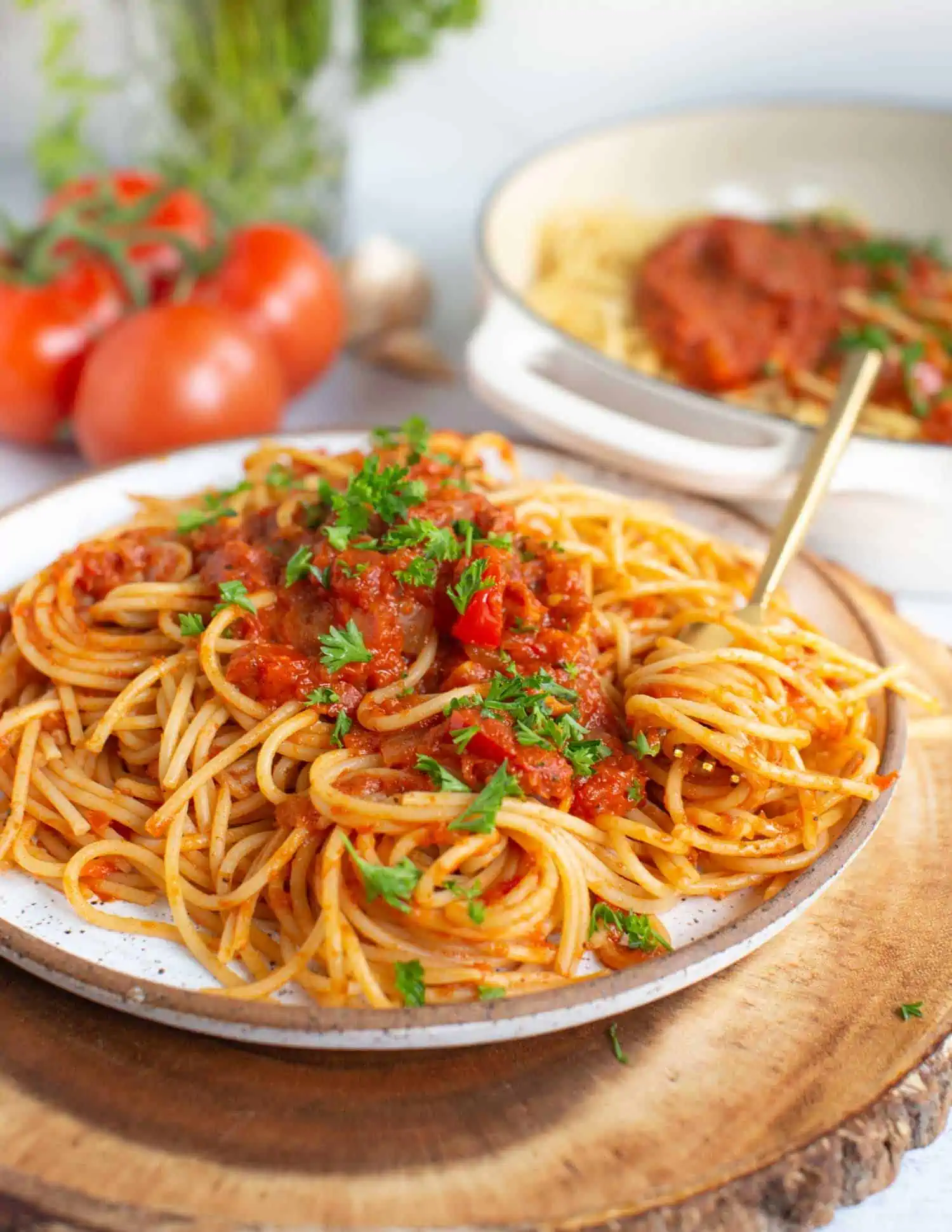 ¼ cup extra virgin olive oil
1 medium yellow onion, diced
1 red bell pepper, diced
6 large cloves garlic, roughly chopped or minced
1 teaspoon dried oregano
1 container tomato puree, 18-28 ounces will work
1½ cups roughly chopped fresh tomatoes, any type
½ teaspoon salt
¼ teaspoon pepper
½ teaspoon dried basil
¾ teaspoon red pepper flakes, or 2 teaspoons chili peppers crushed in oil, adjust to taste and heat preference
1 16-ounce package, Spaghetti (or penne, linguini, gnocchi, or your favorite pasta)
Fresh Italian parsley, finely chopped, to taste
Fresh basil, to taste (optional)
In a large pot or Dutch oven, add olive oil and turn on medium-high heat. 

Once oil is hot, add the diced onion and red bell pepper and sauté for 5 minutes. Add the garlic and oregano and sauté for 1 minute. Add tomatoes and cook for 2 minutes. 

Reduce heat to medium-low and add the tomato puree, fresh tomatoes, salt, pepper, dried basil, and red pepper (flakes or crushed in oil). Cover and simmer 10 minutes. 

Uncover and simmer for 30 more minutes, stirring occasionally to prevent the Arrabiata sauce from sticking to the bottom of the pot. 

Using an immersion blender, blend the sauce to your desired consistency. I like my sauce partially blended, keeping some chunks for texture, but you can also fully blend the sauce so no chunks remain. Taste and season with more salt and spice, if needed. Keep sauce over low heat until ready to serve. 

Cook pasta according to package directions, drain, and toss with olive oil. 

Ladle Arrabiata sauce over the cooked pasta and sprinkle parsley (and basil if desired) over the top. 
For storing: allow sauce to cool fully before pouring it into an airtight container (or clean reused pasta jar or mason jar) to store in the refrigerator. 
Calories: 159kcal | Carbohydrates: 9g | Protein: 2g | Fat: 14g | Saturated Fat: 2g | Polyunsaturated Fat: 2g | Monounsaturated Fat: 10g | Sodium: 303mg | Potassium: 274mg | Fiber: 2g | Sugar: 4g | Vitamin A: 1520IU | Vitamin C: 49mg | Calcium: 35mg | Iron: 1mg
Where Can I Find Authentic Italian Ingredients?
The most basic Italian ingredients can be grown in your own backyard. Tomatoes, onions, garlic, fresh herbs—with healthy soil, water, sunshine, and some TLC you can nurture these foods to life yourself. But if like me, you're busy and haven't fully immersed in the homesteading everything-from-scratch life (maybe one day!), make things easy by shopping for the essentials online.
Visit Magnifico Food, an online platform designed to bring the highest quality foods straight from Italy to American kitchens. They ship to your door and guarantee quality, convenience, fair pricing, and lots of Italy-inspired recipes and inspiration to support your cooking journey.
Their slogan, "Magnifico, Italy out of the box!" has a double meaning. It's about unboxing a small piece of Italy as well as their "out of the box" way of thinking. And when you spiral this spaghetti on your fork and take a bite, we can almost guarantee you'll be saying: "Magnifico!" (while doing a classic chef's kiss).
This recipe for arrabiata sauce was developed and photographed by Michelle Cehn. Copyright of World of Vegan, all rights reserved.
Thank you to our recipe sponsor, Magnifico Food. We love their Italian ingredients that can be delivered to your doorstep so you can make this dish and get a taste of Italy without even leaving the house. This article contains affiliate links when available and shopping through these links supports World of Vegan. Thank you for stopping by, and enjoy the recipe!