This holiday season is a beautiful opportunity to reconnect with loved ones and slow down our otherwise hectic lives.
Instead of buying into the consumerist shopping frenzy and gifting stress, what if we made a very intentional effort to shift the focus? A shift from shopping big to shopping consciously, from consuming to reusing, from stress to self-care, from accumulating to letting go of the material and giving more of what really matters: love.
Giving more time to the most important people in your life, calling more, and just being present. These are the things that really matter, and a little extra effort can be oh so rewarding.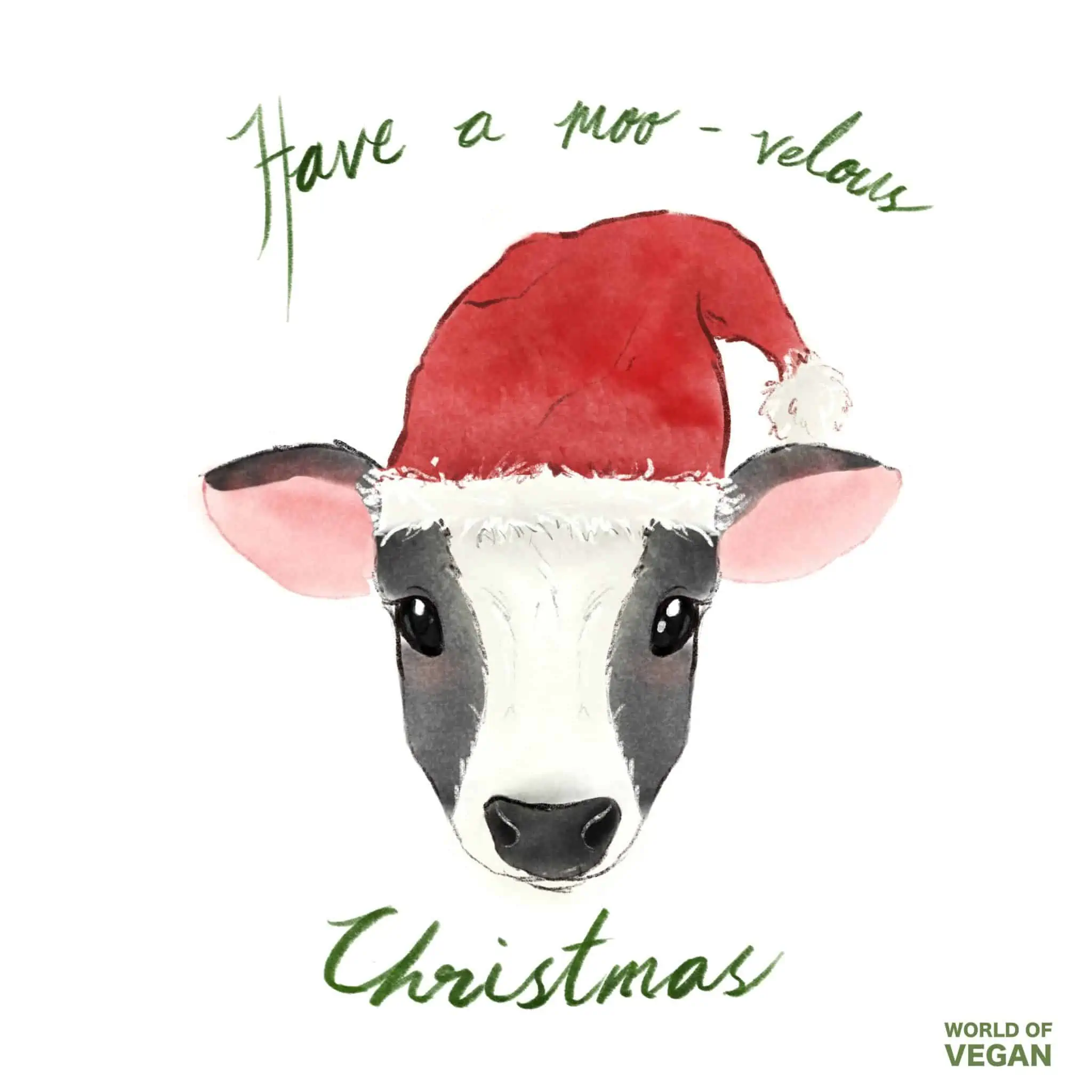 How to Make Christmas Traditions Vegan
Starting off with some of the most popular Christmas traditions, we're sharing our best tips to make them more vegan-friendly. Read on for these simple swaps and make sure to tell us in the comments which are your favorite Christmas traditions!
Bake Vegan Christmas Cookies
We have a delicious recipe for vegan sugar cookies that you can use with your favorite cookie cutters and decorate as a family with this incredible vegan royal icing.
Beware of sprinkles, as many are made with non-vegan dyes and coated with non-vegan waxes. You can find the most fun vegan sprinkles from Fancy Sprinkles! We also adore these vegan gingersnap cookies that are easy and foolproof even for the novice baker. 
Start A Vegan Advent Calendar (Store-Bought or Homemade)
If you haven't already adopted this nordic tradition you should really consider it! It's a special way to lengthen Christmas and a great opportunity to organize all of your holiday activities. We have an entire guide showing the many vegan advent calendar options available to you!
Make Vegan Snacks For Santa
Santa Clause works literally around the clock to deliver all those presents so it's no surprise he'll need to refuel after each errand. This tradition must include the little ones! They take this task very seriously. Choose the yummiest plant-based milk (like oat milk!) and either bake some vegan cookies or grab a pack at the store (even Oreos will do).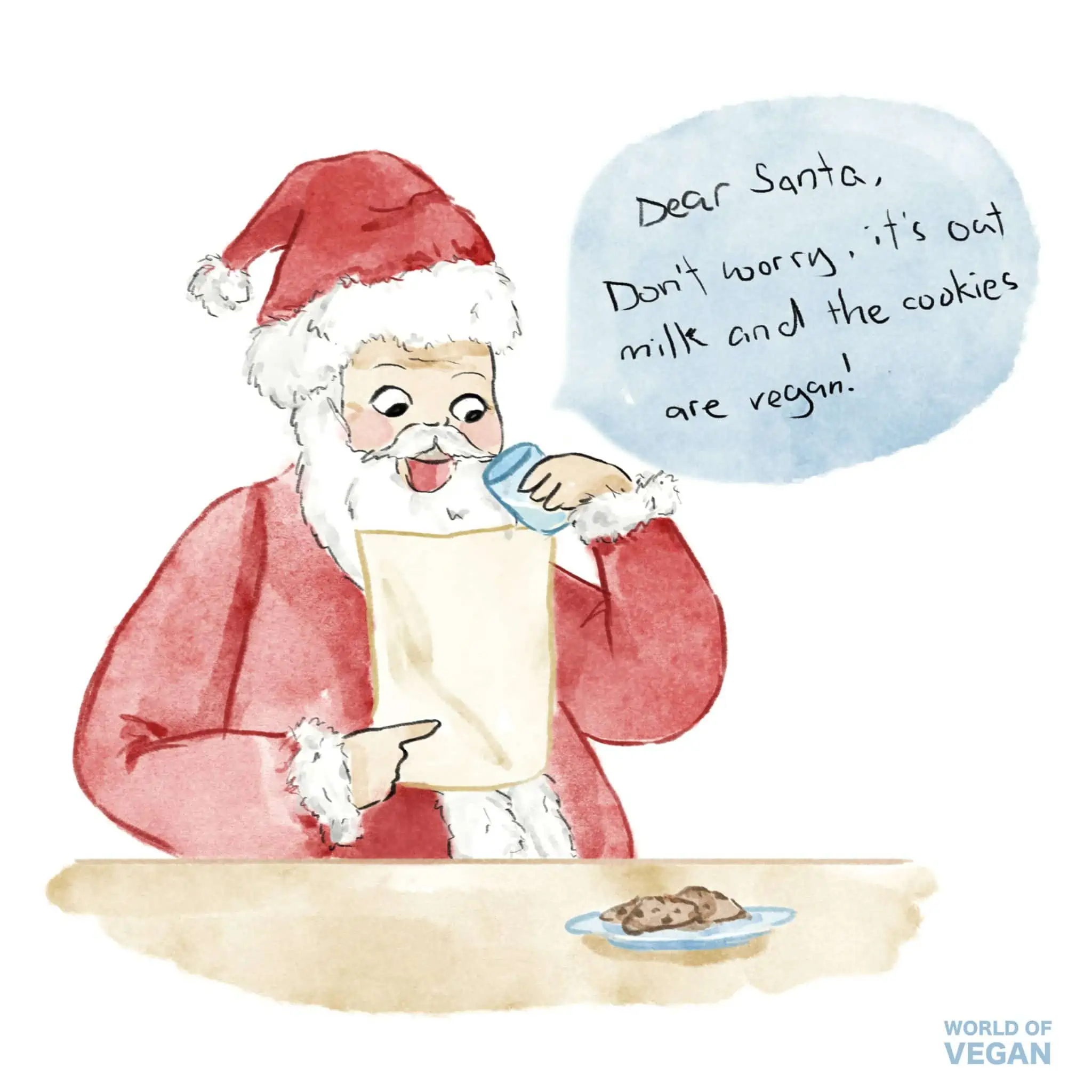 Build a Vegan Gingerbread House
This tradition is a fun and memorable experience for the kiddos, and who doesn't want to pride themselves in making the best gingerbread house? Gingerbread recipes are generally quite easily veganized (just swap the eggs with an egg replacer, milk with soymilk, and butter with vegan butter).
Check out this vegan gingerbread cookie recipe from "The Little Blog of Vegan" and use this vegan royal icing to assemble! If you're lucky, you may also be able to find some "accidentally vegan" gingerbread house kits—just read the ingredients and look out for milk, casein, whey, butter, and other hidden animal ingredients.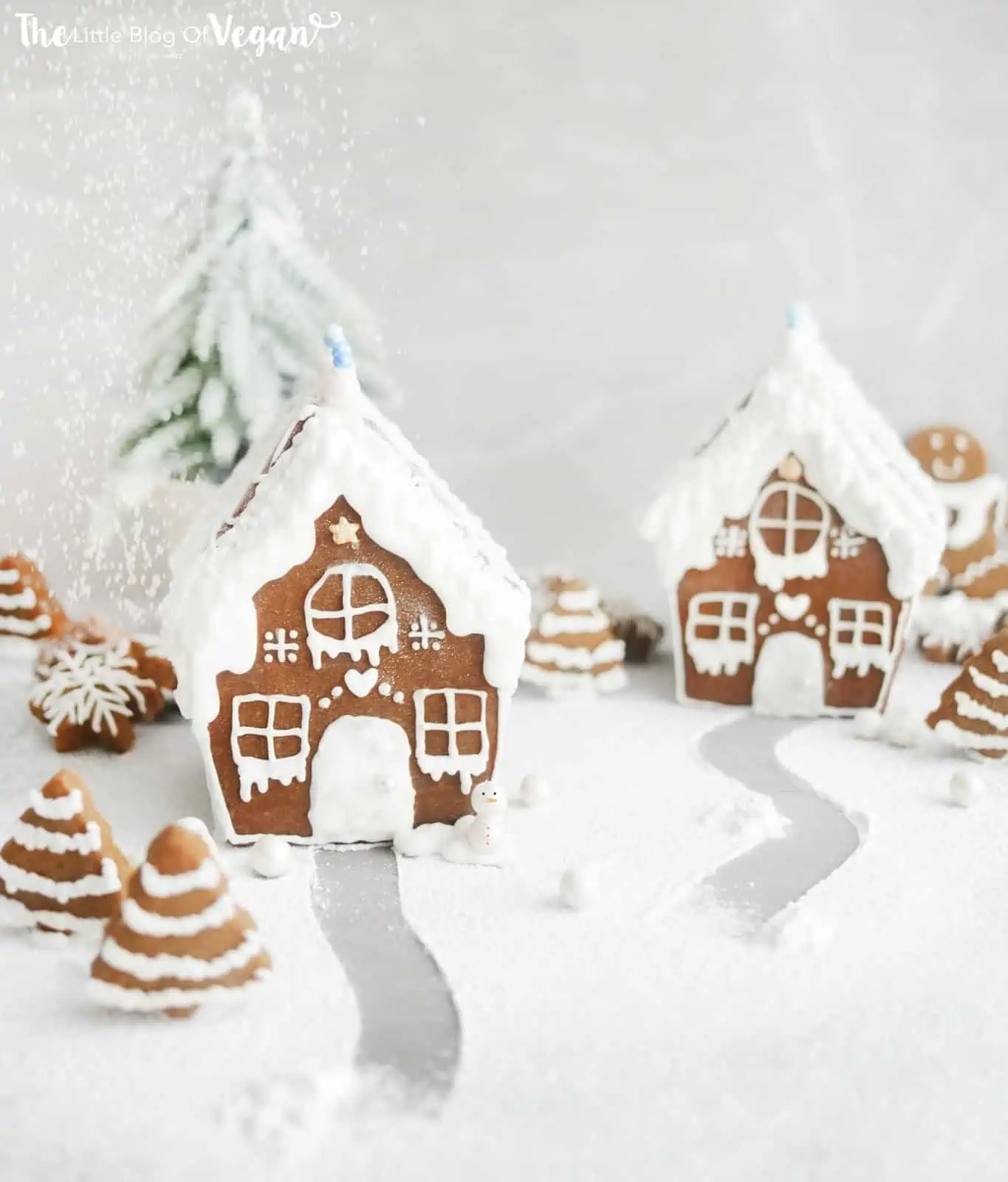 PHOTO CREDIT: THE LITTLE BLOG OF VEGAN

Vegan Holiday Gifts
Gifting gifts is such a beautiful tradition—how can you not love thinking about someone special and choosing something to brighten them up? But let's face it, it can get a bit hard to expand the mind and look beyond the "typical" gift ideas.
That's why we've put together several vegan gift guides to help you out—and also included several ideas below. We hope these resources will help you pick the best vegan gift!
World of Vegan Christmas Gift Guides
Vegan Gift Ideas
First, check out our vegan gift guide with more than 100 vegan gift ideas for everyone in your life! Here are a few categories of gift ideas that can get you started:
And let's not forget…
Vegan Stocking Stuffers! There are so many small and inexpensive vegan goodies that you can slip in those stockings. Some yummy vegan candy or chocolate? A cruelty-free soap or nail polish? Gift cards to a veg-friendly restaurant, natural grocery store, or vegan shop? We have lots more vegan stocking stuffer ideas outlined here.
These are just a few of the countless ideas out there. Be sure to visit our comprehensive vegan gift guide for more!

Shift The Focus: From Things to Gestures and Experiences
When you're shopping for the holidays, it's wonderful to support small businesses (and vegan businesses!) rather than superstores. And choosing handmade or homemade products can be a much more ethical and sustainable path.
But what if we shifted the focus away from shopping? One simple change we can make is focusing on giving gestures more than items.
Tips For Keeping The Gift Frenzy At Bay
Instead of buying an expensive item why don't you take the opportunity to host a Christmas party (or pre-Christmas party) and introduce your loved ones to some amazing vegan food? You'll get to create memories while spreading some vegan love in the most delicious way.
Establish Family Gifting Guidelines
Another great way to keep the gifting frenzy at bay is to create very simple family rules. For adults, you can set a gift budget or gift limit (such as one gift per family member), or ask that any gifts be thrifted, recycled, or handmade.
Or, you can apply the "Secret Santa" model to your house and groups of friends so each person is only responsible for one gift rather than a dozen (or more)! It's way more affordable and it makes it so fun trying to guess who it's from.
Make Gifting Guidelines For Kids
Now to the hard part! Kids adore Christmas and they are bombarded with advertising about the latest toys to ask for. It can get tricky to keep the focus away from "things." But what if I told you there's one rule that can come to the rescue and save this holiday from going overboard?
Meet: the rule of the three presents. It might be the oldest trick in the book, but it works like a charm. The idea is that kids can only ask for three presents: one to play with, one to read and one to wear. So simple and down to earth. I love it!
Don't hesitate to talk to your kids or your family about why you are initiating these gifting guidelines. Any compassionate human being, especially kids, have the capacity to understand and appreciate the idea of being kinder to animals, gentler on our planet, and creating a more sustainable world.

Vegan Holiday Cards
There are some super-cute vegan holiday cards out there, many of which can be purchased directly from artists on Etsy. Simply search "vegan holiday cards" and tons will pop up.
This can be a fun way to integrate your love for animals, people, our planet, avocados, or delicious plant-based foods into a subtle message in the cards you send out. And of course, you'll get big bonus points with any vegans in your life for sending them a card like this, showing how well you know them.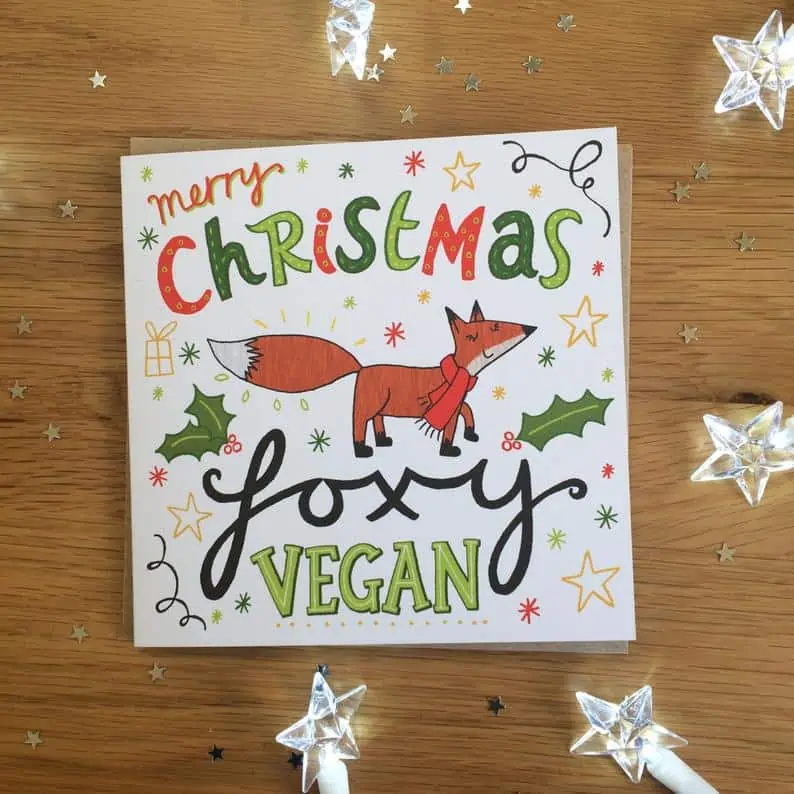 PHOTO CREDIT: FORVEGANS ON ETSY
How to Host a Vegan Christmas Dinner
If you're hosting Christmas dinner, you have a beautiful opportunity to share delicious festive plant-based foods with your friends and family. Let your inner vegan chef shine!
Or, if you'll be attending a Christmas dinner (or breakfast or brunch), bring along some food you know you'll love (and make sure to bring enough to share).
Here are some of our favorite vegan Christmas dinner foods that regularly make the rounds over the holidays.
Vegan Christmas Dinner Recipes:
Vegan Christmas Desserts and Drinks:
Vegan Stollen: This traditional German cake filled with Marzipan is heavenly! It basically a bread filled with nuts and dried fruits, covered in powdered sugar with a center of pure marzipan (or almond paste). What's not to like? I haven't been able to find a proper vegan ready-made version yet so this recipe should do the trick!
Vegan Panettone: Panettone is a typical Italian Christmas cake. It's a spongy texture and it's usually filled with dried fruits like oranges, lemon zest, and raisins. It's best enjoyed with sweet wine or just a delicious cup of coffee (or hot chocolate?). The process of preparing it takes several days (the traditional way) but if you're lucky you may be able to find a vegan-friendly ready-made alternative.
Surviving the Holidays As A Vegan
One of the most difficult aspects of the holidays is not figuring out what to eat—it's surviving being surrounded by friends and family who you love, but just don't "get it." We've created an entire Vegan Holiday Survival Guide and recorded Plant-Powered People Podcast episodes, videos, and beyond covering this topic. Here are some resources we hope will be helpful to you.
We also put together a Guide to Answering All Those Annoying Vegan Questions that we're asked again and again. We filmed an entire "VegAnswers" video series with vegan speaker and author Colleen Patrick-Goudreau so you can see a real-life example of how you might respond.
And friends, remember that you're not alone. Yes, you're doing something different from the norm—but choosing to be vegan is a beautiful thing, and that struggle you feel during the holidays of being misunderstood is something we can all relate to. Sending big hugs!
Conscious Vegan Christmas Decorations
A huge part of Christmas is decorating our house and our Christmas tree! You might be thinking—what's not vegan about Christmas trees, lights, and ornaments?
Well, for one, many ornaments are made from felt, which often comes from wool that has been sourced in not-so-kind ways from sheep. And many of us have long turned to wasteful single-use decorations and festive touches made from plastic, plastic, and more plastic.
Here's your chance to be a little more thoughtful about the items you bring into your home for the holiday season.
First of all, let's get one thing straight: just because you've gone vegan doesn't mean you need to throw away your old decorations and replace them altogether. That's wasteful and doesn't help anyone.
Instead, focus on your buying choices going forward, transition over time and slowly build up a more conscious vegan Christmas decoration collection.
Here are a few ideas to integrate compassion for animals into your Christmas decor:
Hang an animal Christmas wreath: Wouldn't it be amazing to transform a simple traditional Christmas wreath into a lively animal themed one? It's super easy! You can find animal-themed Christmas decorations and glue them to the basic wreath or you could use your typical small animal toy figures and spray paint them in silver or gold. Like pigs and cows with some vegan messages. Or a herbivore dinosaur themed one (my kids want it this year).
Animal & vegan messages decorated tree: Focus only on animal shapes, avocado decorations, etc… Basically, anything which conveys kindness would be an amazing addition to this symbolic tree.
Plastic-free ornaments: This is not only better for the planet but it's also way cuter! Having decorations made with natural materials (like wood) gives Christmas a much more rustic feel which gives us a feeling of the original true sense of this holiday. These can convey the Christmas spirit a lot better than a plastic garland could, don't you think?
Make salt dough ornaments: Ready for a fun vegan kids project? When I came across the idea of making your own decorations with salt dough I knew it was something we needed to try! It's an easy and inexpensive way to make your own personalized, customizable ornaments.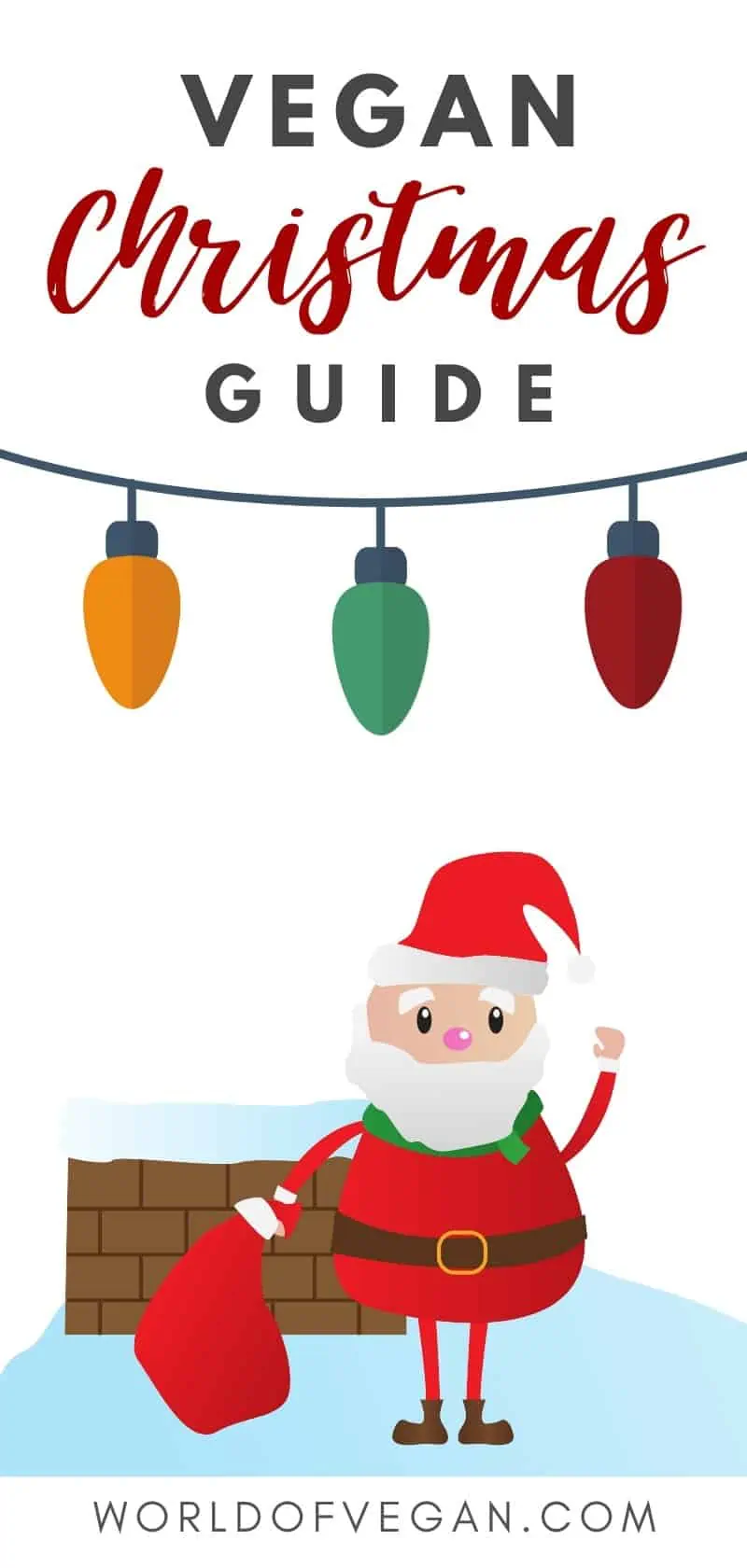 More Vegan Christmas & Holiday Resources
Article written by Beatriz Buono-Core and edited by Rachel Lessenden. Cover photograph for this vegan Christmas guide was designed by Michelle Cehn with Canva. This Ultimate Vegan Christmas guide is not sponsored by any of the brands or companies mentioned, and we only share products and companies we sincerely adore! . Merry Christmas!