Is there anything cozier than a hot mug of delicious hot chocolate? This spiced vegan hot chocolate from The Colorful Family Table by Ilene Godofsky Moreno is very exciting for us hot-chocoholics. It's different from any we've had before because it's made extra-creamy with almond butter! It's vegan, crazy easy, and, most importantly, creamy and delicious. Ready to feel the warmth? Let's go!
Pssst…need an extra energy boost? Swap in coffee for half of the milk.
4 cups unsweetened almond milk
¼ cup creamy almond butter, see below
¼ cup cocoa powder
¼ cup maple syrup
1 teaspoon ground cinnamon
½ teaspoon vanilla extract
dash salt
¼ cup vegan chocolate chips
Heat the almond milk in a small saucepan over medium-low heat.

Add the almond butter, cocoa powder, maple syrup, cinnamon, vanilla extract, and salt, and whisk every 30 seconds or so until the mixture is smooth and almost simmering, 4–5 minutes.

Add the chocolate chips and whisk for about 1 more minute, until they melt.

Transfer to mugs, top with marshmallows (if using), and add a cinnamon stick (if using) to each mug to stir with.
Note: If your almond butter is less creamy and more grainy, you may want to blend the almond milk and almond butter together before warming the hot chocolate.
Calories: 275kcal | Carbohydrates: 30g | Protein: 6g | Fat: 17g | Saturated Fat: 4g | Polyunsaturated Fat: 4g | Monounsaturated Fat: 7g | Trans Fat: 0.02g | Sodium: 392mg | Potassium: 165mg | Fiber: 4g | Sugar: 23g | Vitamin A: 2IU | Vitamin C: 0.02mg | Calcium: 403mg | Iron: 2mg
Choco Dream!
When we think about hot cocoa, we think of a rich, sweet, and creamy beverage. Do you think that a vegan version of this cold-weather classic would be less indulgent? Think again! The richness of the almond butter and the intense chocolate flavor of the vegan chocolate chips make this recipe one fo the best cocoa recipes out there.
The added cinnamon makes this drink very festive and extra warming. The truth is, you can add any spices you like, and it will be dreamy! This hot cocoa could be such a great way to curve those mid-afternoon sweet cravings and get a boost to keep on going with your day. Such a great treat, right?
Can I Use a Different Plant Milk?
Absolutely! Almond milk is great because it's dense and creamy, but there are so many fantastic vegan milk alternatives to make this recipe a winner! If you want a sweeter beverage you can use vanilla soymilk.
My favorite? Oat milk! It's sweet and delicious, and it foams super nicely. It works amazingly with the classic consistency of hot chocolate as we know it. Coconut milk would also be a great choice, but skip the very thin plant milks like rice.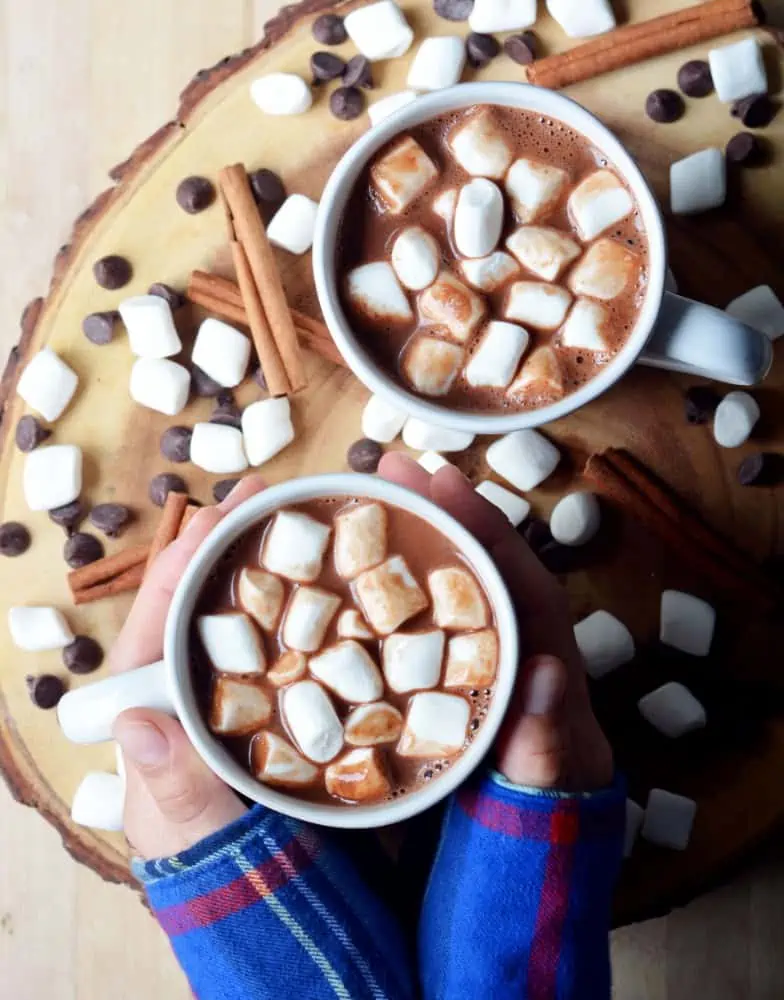 Bring On The Vegan Hot Chocolate Toppings!
Let's get very serious now. It's time to discuss vegan hot chocolate toppings, and this is not something you analyze lightly. There's a whole world of amazing hot cocoa toppers out there, and some of them are simply indispensable. Shall we begin:
Vegan marshmallows (like Dandies!)
Coconut flakes (highly recommend the toasted ones!)
A dash of cocoa powder or cinnamon powder
Rice Crispies (may sound weird, but my kids absolutely love it!)
Do you have any other favorite? Please let us know! One can never have enough hot chocolate toppings in life.
The Cookbook
Ilene Godofsky is the author of this brilliant book: The Colorful Family Table. Her food blog The Colorful Kitchen is like an explosion of confetti balloons along with all sorts of delicious plant foods. A vegan dream come true!
You can't say enough good things about this precious book. It uses super simple ingredients, and because it has gone through the process of having recipes tested by readers, it's family foolproof. If you're keen on getting your hands on some pumpkin stuffed mac & cheese or some everything bagel pancakes and spring veggies with hollandaise sauce, this book is for you.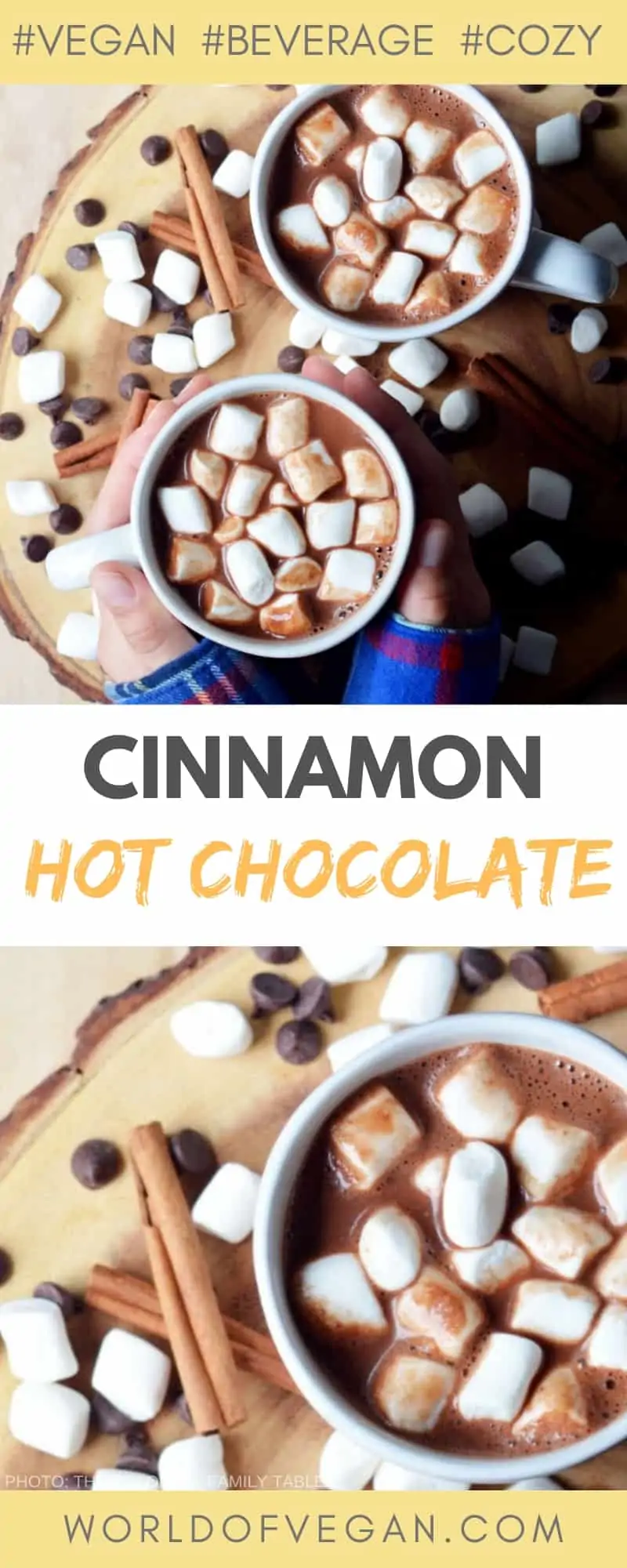 Inspired To Try More Cozy Vegan Drinks?
This cinnamon vegan hot chocolate recipe is reprinted with permission from The Colorful Family Table by Ilene Godofsky Moreno, Benbella Books Inc. 2019. Please note that this article contains affiliate links that help support our work at World of Vegan. Thank you!