Why These Cookies Will Make You Say, "I Do!"
Minimal, simple ingredients: Just six basic pantry staples go into the mix, making them a great choice even when you don't have much on hand.
Great for company: One batch makes a couple dozen cookies which should go a long way in feeding last-minute guests. For larger gatherings, it's a snap to double the quantities, too.
Ready in minutes: You can go from zero to cookies in under an hour! From start to finish, it only takes 40 minutes before you'll have a fresh platter of homemade sweets to share.
Perfect for holidays: Mexican wedding cookies are a popular addition to Christmas cookie platters, since they're synonymous with special occasions. They're excellent gifts, especially for loved ones that are difficult to shop for.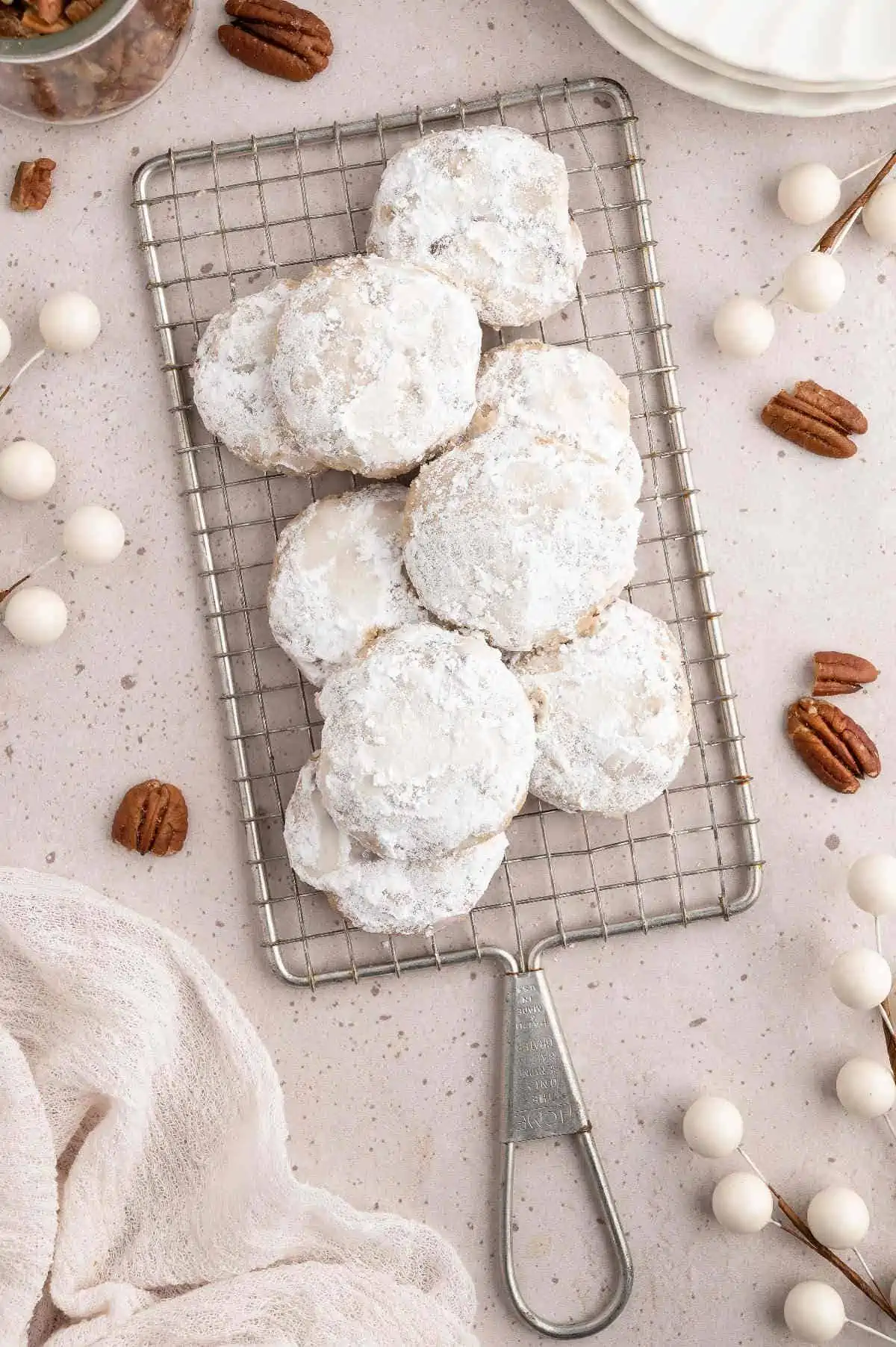 History Of Mexican Wedding Cookies
Names can be deceptive; food historians believe that these treats didn't start in Mexico at all, tracing their origins back to medieval Arab baking which emphasized nuts, sugar, and spices. It spread through European traders and eventually reached Central America by the 16th century. Of course, many other cultures have very similar sweets, given how simple and universally beloved the combination is.
A Few Other Names For Mexican Wedding Cookies:
Snowball Cookies
Pecan Sandies
Pecan Butter Balls
Russian Tea Cookies
Swedish Tea Cakes
Polvorones
Ingredient Notes
You only need six simple ingredients to make these Mexican wedding cookies and there's a good chance you probably already have all of them. For exact measurements, reference the recipe card at the bottom.
Coconut oil: Instead of conventional dairy-based butter, coconut oil is a naturally rich plant-based alternative. Look for "virgin" coconut oil if you like the inherent tropical taste of coconuts, or "refined" if you'd prefer a more neutral flavor.
Powdered sugar: Simply granulated sugar that's finely ground and mixed with a small amount of corn starch, powder sugar also goes by the names "confectioner's sugar" and "10x sugar."
All-purpose flour: The most versatile flour in any baker's pantry, this blend of white wheat is ideal for everything from muffins to bread. The neutral flavor is perfect for highlighting the other ingredients that bring this recipe to life.
Pecans: Unsalted, toasted pecans are ideal here, for their rich nutty flavor and buttery texture. Chop them finely by hand or toss them into your food processor, pulsing a few times, for a coarse grind.
Vanilla extract: Splurge on the good stuff since the lush, floral notes really stand out in such a simple preparation. Vanilla extract can be used interchangeably with vanilla paste if you want a touch of real vanilla bean seeds in the mix.
Himalayan salt: Lightly pink in color due to trace minerals, many people believe it's healthier than plain table salt, but can be used equivalently. The most important thing is to make sure it's finely ground for even distribution.
How to Make Mexican Wedding Cookies
This step-by-step walkthrough shows the easy process of making Mexican wedding cookies. Exact times and temperatures can be found in the printable recipe card below.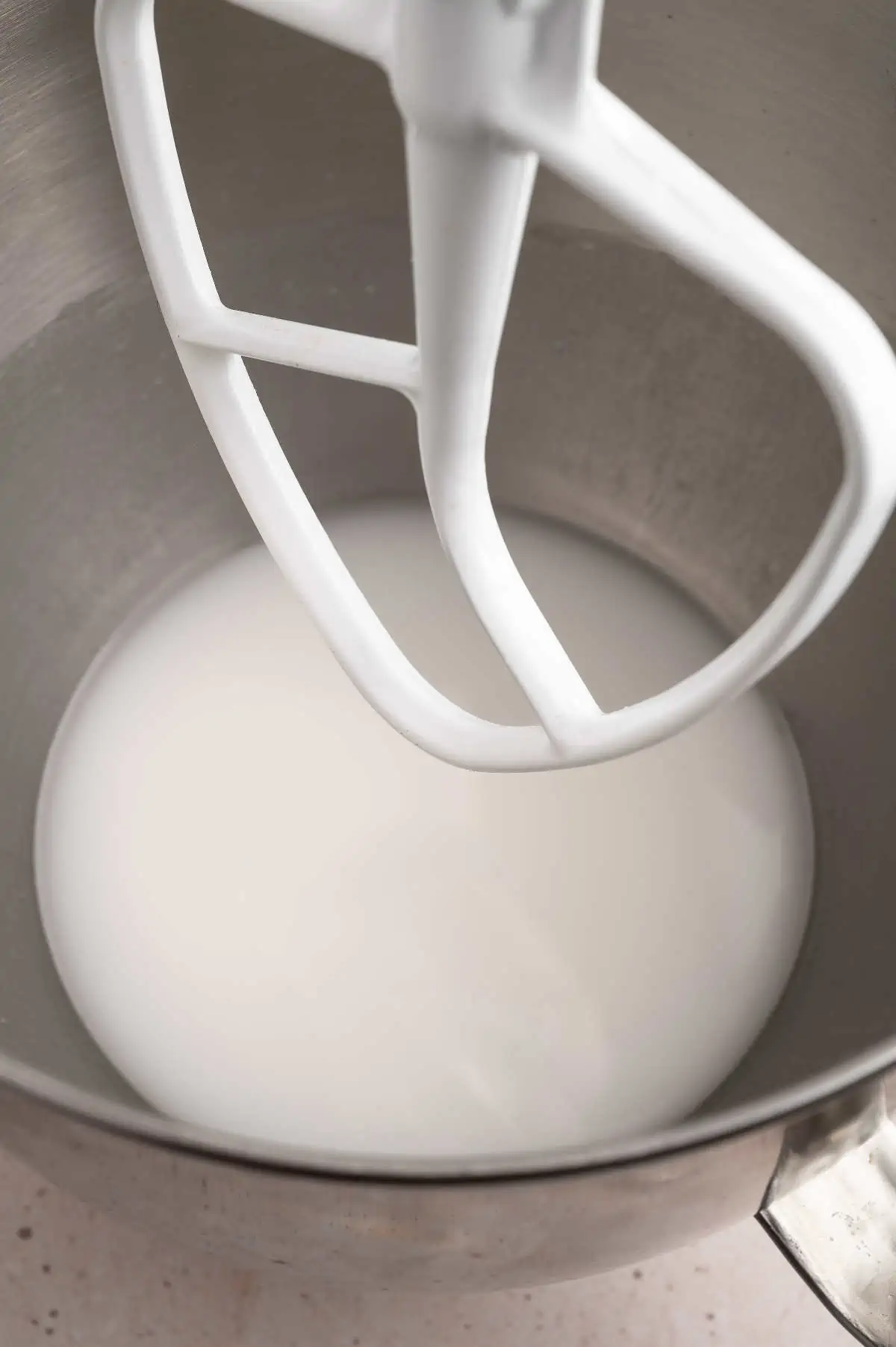 1. Use a stand mixer to beat the coconut oil and powdered sugar until thoroughly combined. Add the flour, pecans, vanilla, and salt and mix on low speed until the dry ingredients are fully incorporated.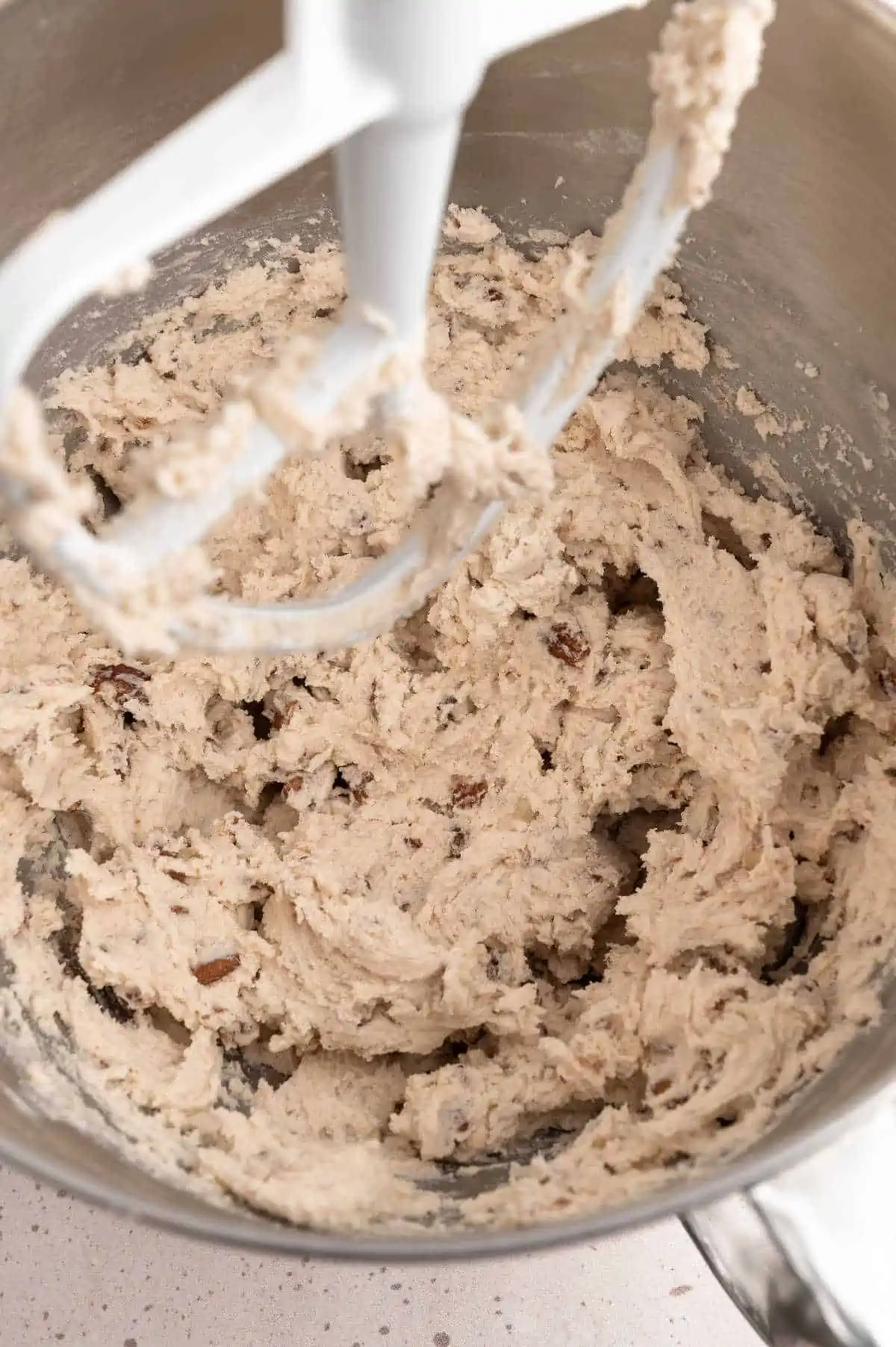 2. Scoop the dough out in rounded tablespoons onto prepared baking sheets. You can use a small cookie scoop for consistency, or two spoons. Lightly flatten the cookies to about ½ inch thick, using lightly moistened hands to prevent the dough from sticking. Chill for about 10 minutes so the cookies don't spread too much in the oven.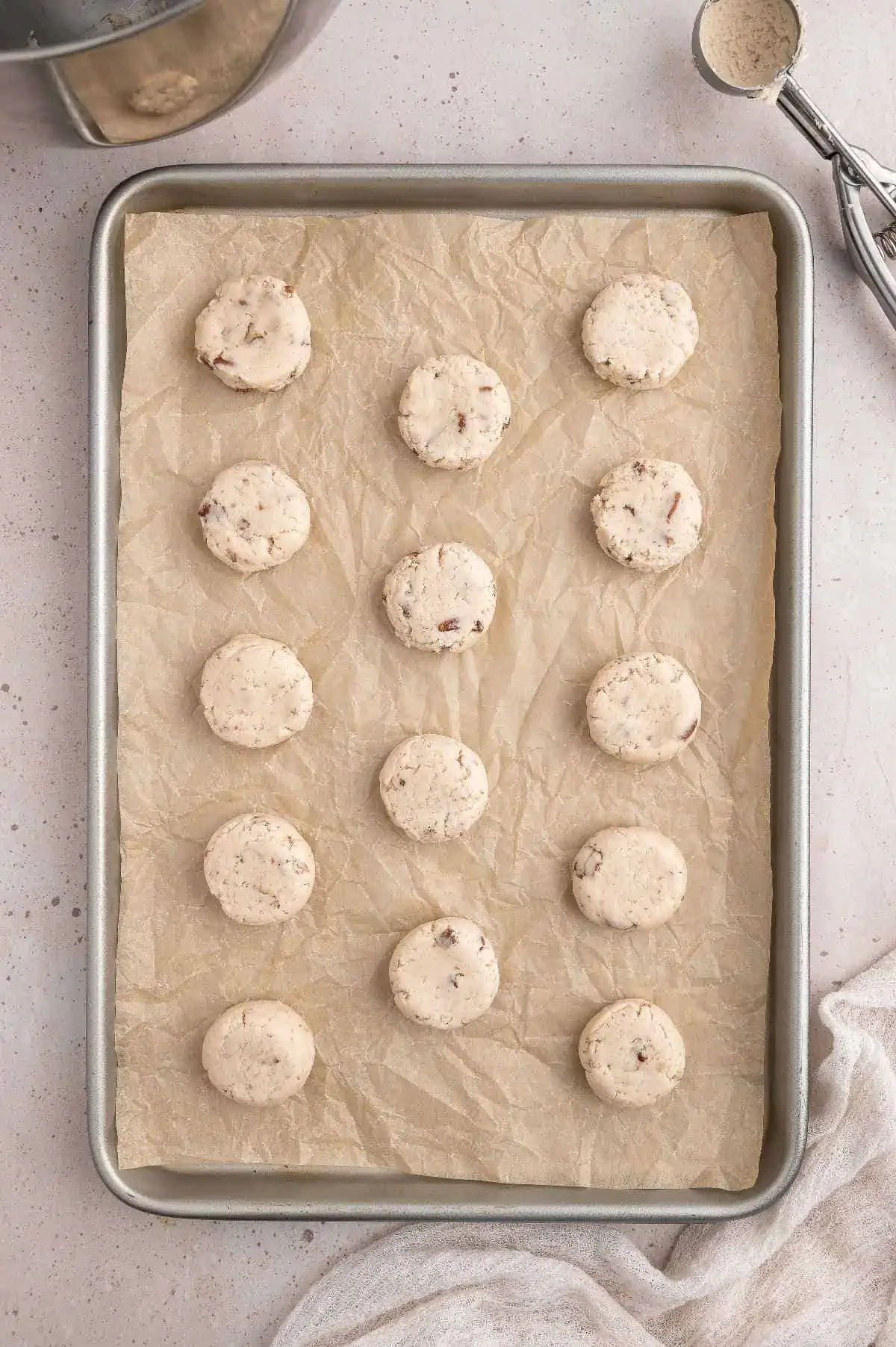 3. Bake for 10 minutes at 350 degrees, rotate the pans, and bake for another 10 minutes, or until very lightly golden. Let rest for a few minutes before transferring to a wire rack to finish cooling completely.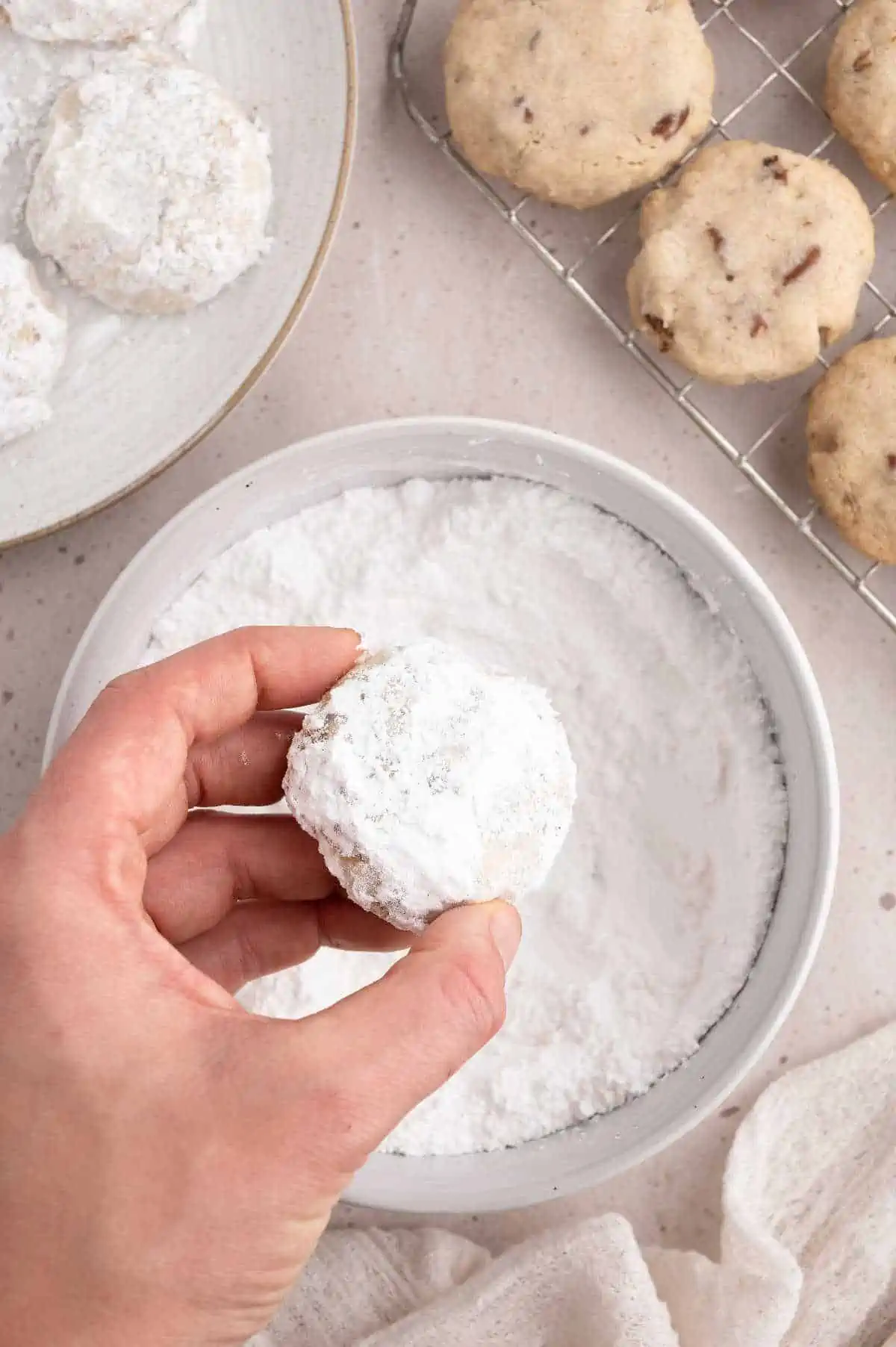 Gently toss the cooled cookies in powdered sugar, to coat. Enjoy!
Expert Tips
Unlike most traditional cookie recipes, this one has never contained any eggs for binding. Instead, it relies on the fat to bring everything together. In this case, that means coconut oil, which should be melted to absorb the sugar and flour more easily. Make sure it's cooled for a few minutes so it's just warm, not hot.
As with any treat using standard flour, be careful not to over-mix the dough, which will make it tough, rather than soft and tender. Stir just until the batter comes together, without any pockets of dry ingredients remaining.
Golden-brown coloring is a good indicator of doneness, but you don't want too much color on the top of the cookies; they only need a few minutes and can over-bake quickly. Pull them from the baking sheets once finished to prevent them from drying out.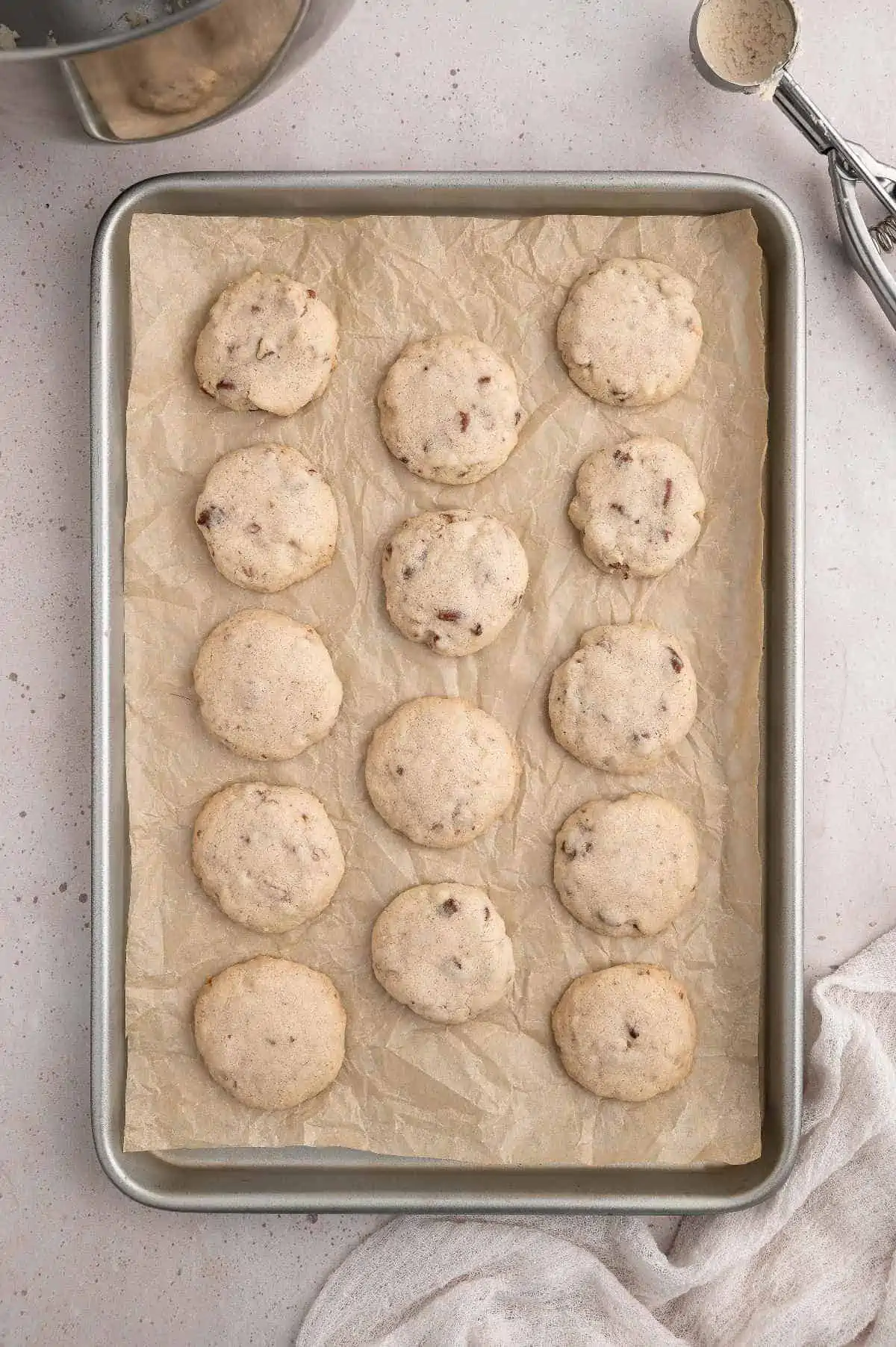 Frequently Asked Questions
Can I make this recipe gluten-free?
Yes! You can use your favorite gluten-free flour blend instead of all-purpose flour for an easy 1:1 swap.
Can I use other nuts? What if I have a nut allergy?
Go ahead, go nuts! Many common substitutes for pecans include walnuts, hazelnuts, almonds, pistachios, and peanuts. To make these cookies nut-free, you can use an equal amount of pepitas (hulled pumpkin seeds,) or sunflower seeds.
How long will these cookies keep?
Stored in an airtight container at room temperature, the finished cookies should keep for about one week. The powdered sugar may absorb into the cookies over time, so you might want to toss them in a fresh coat before serving.
What can I use instead of coconut oil?
If you'd like a more traditionally buttery base, feel free to use an equal amount of vegan butter. Oils that are liquid at room temperature, like olive oil or avocado oil, wouldn't work well in this recipe, and would result in rather greasy cookies instead of light and crisp ones.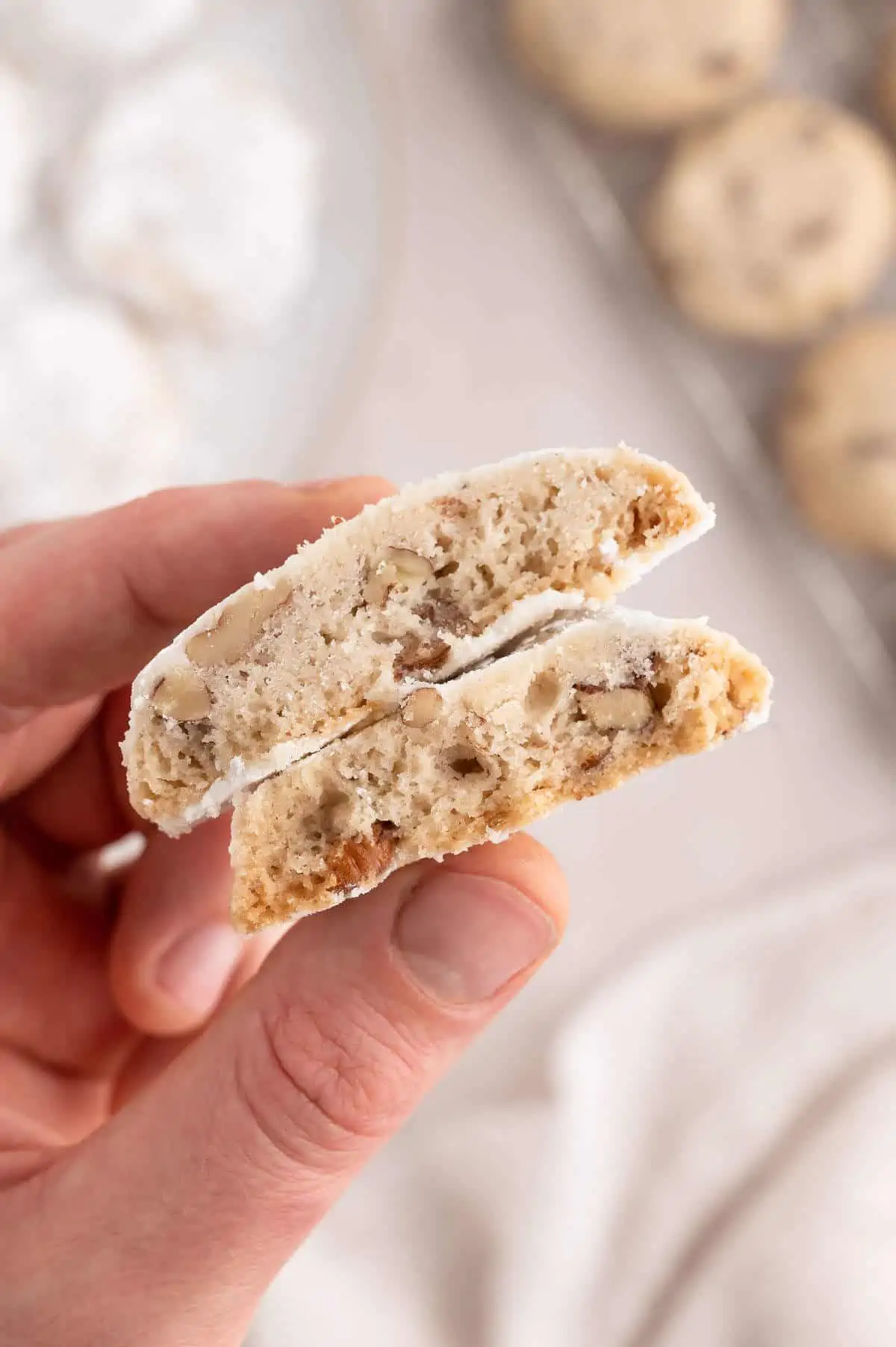 About The Book
This easy egg-less recipe for Mexican wedding cookies comes from The Gracias Madre Cookbook: Bright, Plant-Based Recipes from Our Mexi-Cali Kitchen by Gracias Madre. Gracias Madre means thank you, Mother in Spanish, and this L.A. Cali-Mexican eatery's mission embodies just that—love for Mother Earth, reverence for all mothers, and a purpose to provide traditional Mexican cuisine made plant-based, using local, organic ingredients.
You'll find 125 simple, entirely plant-based recipes for the home cook to make Cali-Mexican classics, including Calabaza and Onion Quesadillas, Tamales Verdes, Coffee Flan and of course these incredible Mexican Wedding Cookies.
More Cookie Recipes You'll Love
Super-Easy Vegan Chocolate Chip Cookies
Peanut Butter & Jelly Vegan Thumbprint Cookies
Vegan Aquafaba Almond Meringue Cookies
World's Best Vegan Oatmeal Cookies
1 cup coconut oil, melted
½ cup powdered sugar, plus more for dusting
2 cups all-purpose flour
1 cup chopped pecans
1 tablespoon vanilla extract
½ teaspoon Himalayan salt
Preheat the oven to 350°F. Line two baking sheets with parchment.

In the bowl of a stand mixer fitted with the paddle attachment, add the coconut oil and powdered sugar and beat at medium speed until thoroughly combined, about 3 minutes. Add the flour, pecans, vanilla, and salt and mix on low speed until the flour is incorporated. Increase the speed to medium and beat until the mixture is fluffy and well mixed, about 5 minutes.

Scoop the dough out in rounded tablespoons onto the prepared baking sheets. Using your hands, gently flatten the cookies to about ½ inch thick. Chill the cookies for about 10 minutes before baking.

Bake for 10 minutes, rotate the pans, and bake for another 10 minutes, or until the cookies are just beginning to look golden around the edges. Let cool for a few minutes on the pan, then transfer the cookies to a wire rack to cool completely.

Spoon a few tablespoons of powdered sugar into a bowl. Gently coat the cooled cookies in the powdered sugar, adding more sugar to the bowl as needed.
Nut options and alternatives: Walnuts, almonds, pumpkin seeds.
Calories: 126kcal | Carbohydrates: 10g | Protein: 1g | Fat: 11g | Saturated Fat: 7g | Polyunsaturated Fat: 1g | Monounsaturated Fat: 2g | Sodium: 42mg | Potassium: 26mg | Fiber: 1g | Sugar: 0.2g | Vitamin A: 2IU | Vitamin C: 0.04mg | Calcium: 4mg | Iron: 1mg
Reprinted from The Gracias Madre Cookbook by Gracias Madre in arrangement with Avery, a member of Penguin Group (USA) LLC, A Penguin Random House Company. Copyright © 2022, Gracias Madre. Photos by Amanda McGillicuddy for World of Vegan, all rights reserved. Thanks to our recipe testers Jessica Sabbagh and Anna Vuolo. Article written with support from Hannah Kaminsky and edited by Rachel Lessenden.