The holiday season is a time of celebration, reflection, and giving. While we often focus on spending quality time with our loved ones and family, it's equally important to remember those who play a vital yet often unsung role in making our holidays special – delivery workers.
Whether they're from USPS, UPS, FedEx, Amazon, Doordash, Grubhub, or any other delivery service, these individuals work tirelessly to ensure our packages reach us during this bustling time of year.
In recent years, a heartwarming trend has gained momentum – the idea of creating holiday snack carts for delivery workers. This simple yet profoundly meaningful gesture allows us to express our appreciation, make them feel valued, and spread a little random act of kindness during the holiday season.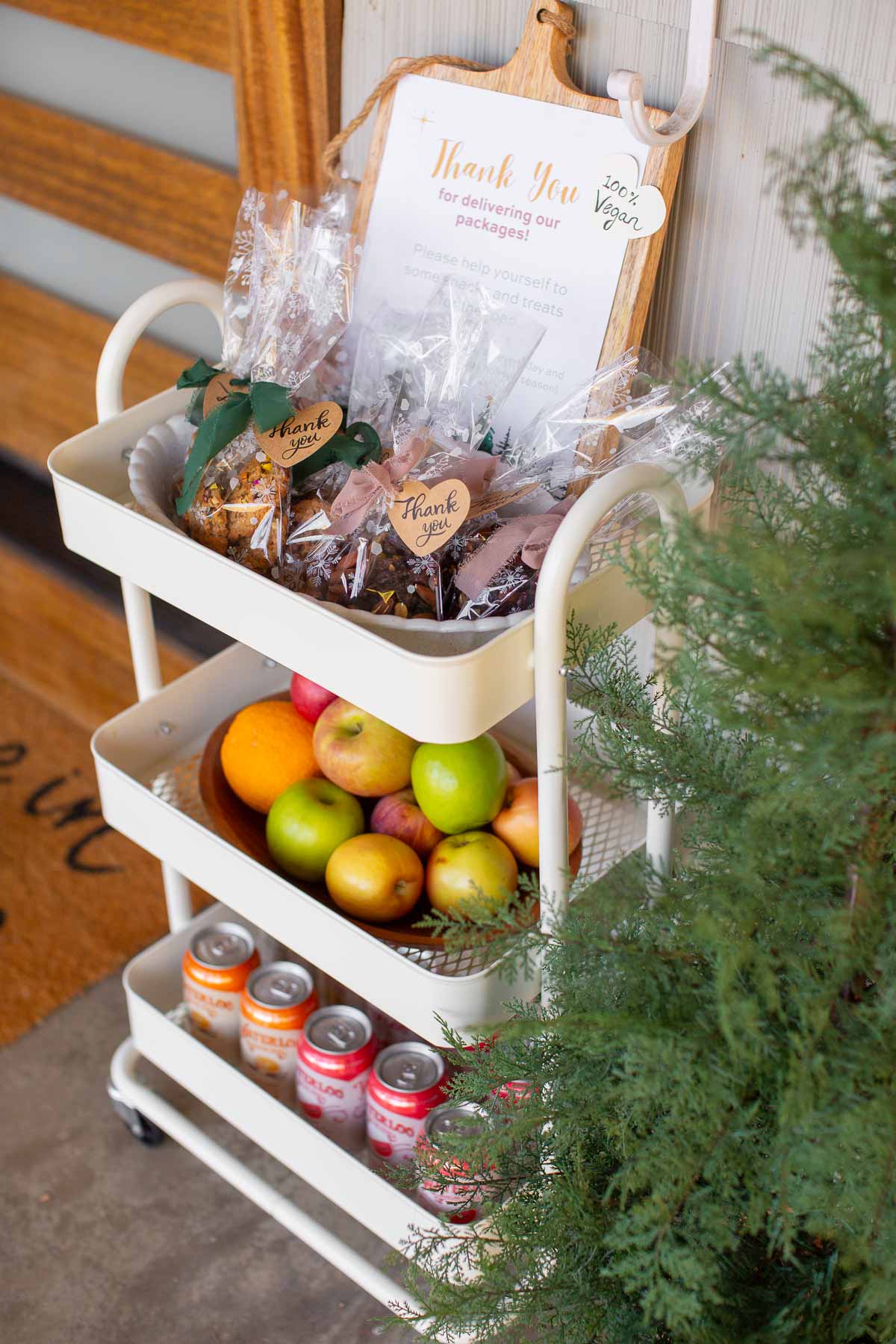 The Spirit of the Holidays
The holiday season is synonymous with warmth, compassion, and the spirit of giving. It's a time when people come together to celebrate love, unity, and the joy of sharing.
By extending our gratitude to the hardworking delivery workers who ensure our gifts and parcels reach their destinations, we embrace the true spirit of the holidays. This tradition embodies the values of empathy, community, and thoughtfulness that define this time of year.
Here are a few reasons why this annual tradition is a beautiful idea:
Expressing Gratitude: The holiday season offers the perfect opportunity to express our gratitude to the dedicated individuals who work diligently to deliver our packages. A small act of kindness can go a long way in brightening their day and reminding them that their efforts are appreciated.
Fostering a Sense of Community: Creating treat baskets encourages a sense of community and goodwill. It's a wonderful way for neighbors and communities to unite, showing that we care for the people who work tirelessly to serve us.
Spreading Joy: A simple treat or snack can bring a smile to someone's face. By leaving out snacks, drinks, or small gifts, we can spread an extra dose of holiday joy to those who deserve it.
Providing Vegan and Inclusive Options: In a world where dietary choices are diverse, including vegan snacks ensures that everyone can enjoy a little something special.
Printable Thank You Sign for Delivery Workers
With our printable thank you sign for delivery workers, it's easy to set up and customize your own snack station to spread joy this season. Simply print it off, hang it on your snack cart. You can also attach it to a clipboard or cutting board and set it on a small table next to a snack basket.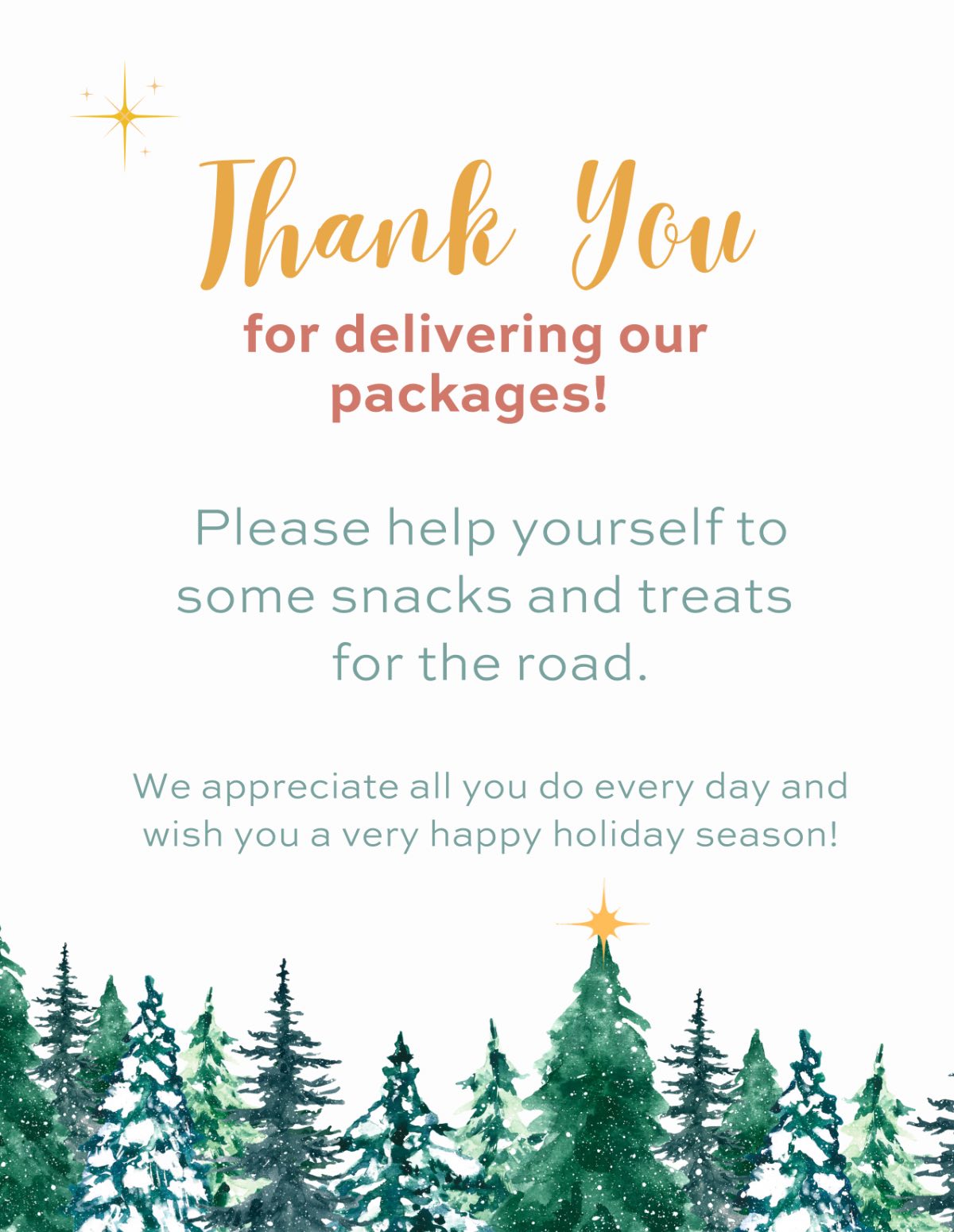 Creating a Holiday Snack Cart (or Basket)
Choose a Convenient Location: Select a visible and easily accessible spot near your front door where you can place your treat basket or cart. Ensure that it won't obstruct the delivery worker's path.
Pick a Basket or Snack Cart: We used this this white snack cart on wheels, but you can use any cart, small shelves, or a basket set on a small table by your door.
Stock Up on Treats: Gather an array of snacks, sweets, fresh fruit, drinks, or small gifts. When selecting snacks, consider vegan options to ensure inclusivity.
Some great options include:
trail mix
fresh fruit (apples, oranges, bananas, persimmons)
envelopes with $5 – $10 gift cards or cash inside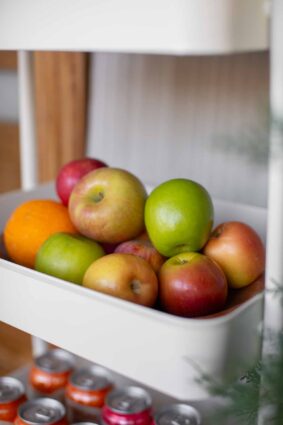 Decorate Your Basket or Cart: Get creative with the presentation. Decorate your basket or cart with festive holiday decorations, twinkling lights, and a cheerful sign that warmly invites delivery workers to help themselves.
Attach a Thank You Sign: Secure this heartfelt thank you sign to your snack cart or basket. This note serves as a token of your appreciation, letting delivery workers know that these treats are for them as a symbol of gratitude. Without the sign, they may feel hesitant to take a treat.
If all of the items are vegan, be sure to add a "100% Vegan" note so your vegan visitors know they are considered and welcome to enjoy the treats!
Maintain Regular Stock: Make it a daily or weekly tradition to refill the basket or cart with fresh treats to ensure that every delivery worker gets a chance to enjoy a little something special.
How to Make Your Own Treat Bags
Creating custom treat bags adds an extra layer of thoughtfulness and personalization to the act of spreading holiday cheer to delivery workers. When you craft your own treat bags, it's an opportunity to make a personal connection, even if you never meet the recipients face to face.
Crafting your own treat bags allows you to pay attention to the smallest details, from choosing ribbon colors to writing heartfelt thank you tags or notes. Overall, making treat bags adds an element of charm and thoughtfulness to your gesture of kindness. The effort and creativity you invest in each gift demonstrates your genuine care and appreciation.
These personalized tokens of appreciation can brighten the holiday season for both the recipients and the givers, leaving a lasting impact and a warm memory of kindness shared.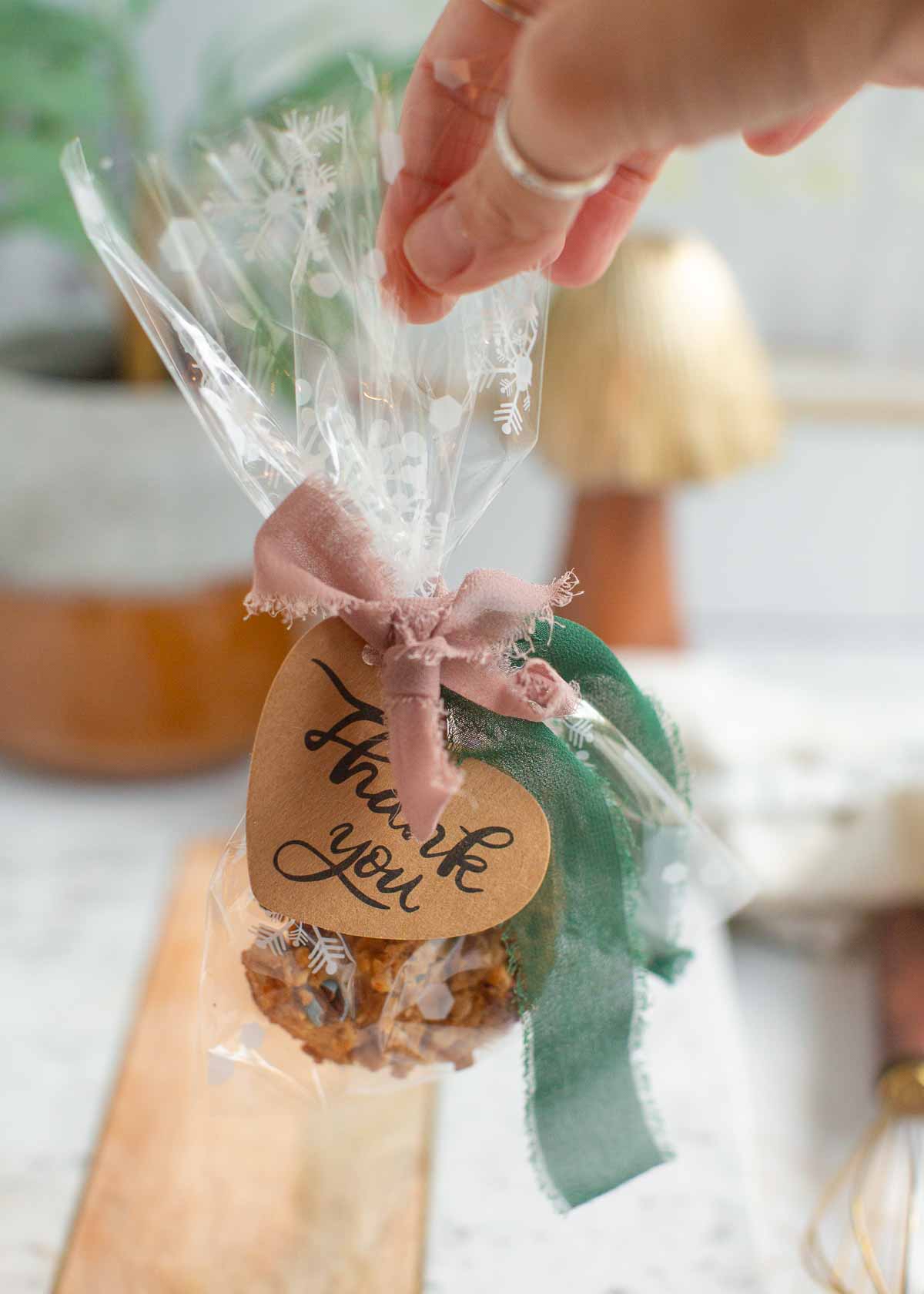 Gather Your Supplies
If you're making your own treat bags, you'll need small plastic treat bags, an assortment of vegan snacks, colorful ribbon or twine, and thank you tags.
Here's what we used:
Assemble Your Snacks and Treats
If you're making your own treat bags, carefully fill each bag with an assortment of treats. This could be vegan cookies, trail mix, or dairy-free chocolates.
Use ribbon or twine to attach a thank you tag to each bag to convey your appreciation in a more personal way. Tie a beautiful bow to secure it closed and make it extra festive.
Arrange these custom treat bags in your snack cart or basket, making them easily accessible for delivery workers to grab on their way.
If You're a Parent—Involve Your Kids!
One of the most beautiful aspects of the holiday season is the opportunity it presents to teach our children the values of kindness, empathy, and giving back. Involving kids in the process of creating thoughtful gifts for delivery workers is an excellent way to impart these important life lessons.
Spread Kindness All Season Long
The holiday treat cart trend for delivery workers embodies the essence of the holiday season – kindness, appreciation, and sharing. By creating a welcoming display filled with vegan snacks and treats, you can make a meaningful impact on the lives of those who tirelessly ensure our packages arrive on time during this festive season.
Let us unite as a community to show our gratitude and illuminate the holiday season for our delivery heroes. In doing so, we uphold the true spirit of the holidays and make it a time of joy, love, and generosity for all.